Cougar CMX V3 850-Watt 80 PLUS Bronze Power Supply Review
Cougar updates its CMX series of power supplies with a reduced footprint, fourth-gen Haswell support and more. Let's see what Zac thinks of it right now.
Published
7 minute read time
Introduction & Specifications, Availability and Pricing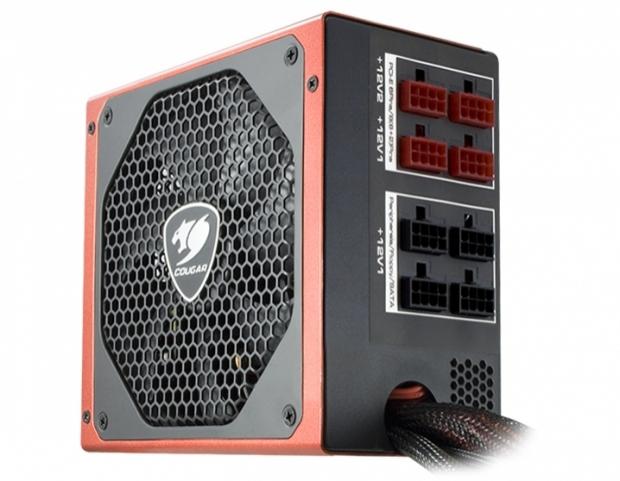 It has been a little while since we have had a Cougar power supply cross our bench. So long that many of our readers may not even be aware of the brand. Cougar is still relatively new to the power supply market; if you've not heard of them, don't feel like you've been living under a rock for fifteen years or so.
To date, we've only looked at two of their units, the Cougar GX800 and the PowerX 550W. Both of these units have performed well, and even though they may not quite be ready to compete with the likes of Enermax or SilverStone, Cougar has some fine units that deliver where it matters.
Cougar recently updated their CMX line of power supplies and that is just what we have today. The CMX V3 850W power supply is a natural progression of the line. The new CMX V3 units are smaller in dimensions and maintain their build quality and efficiency. On top of that, Cougar has added support for fourth-generation Haswell processors.
This is becoming increasingly important as the power requirements for processors are progressively getting lower, and idle states are now using a very minimal amount of power. Older units can often have problems supplying clean and stable power in very low power states, and that is why they have the certification.
The CMX units are also aimed at making sure you don't over spend on a power supply. We know out of the gate that the CMX V3 isn't designed to raise the bar when it comes to outputting power, but it is designed to give you bang for your buck. Just how well it delivers is yet to be seen, though, so keep reading as we go over the unit inside and out.
Specifications, Availability and Pricing

The Cougar CMX V3 850W power supply features a pair of 50A 12V rails with a maximum output of 69A or 828W. Both the 3.3V and 5V rails are rated for 25A each with a maximum combined output of 160W. The CMX V3 850W does have a very strong 4A 5VSB rail, which is rapidly becoming more important. I'm quite sure we haven't seen any units that have a higher 5VSB output, and we've seen only a handful of units that have the same output. The CMX V3 850W power supply is rated for a maximum of 850W of continuous power.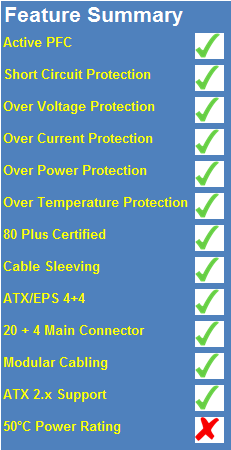 Overall, the CMX V3 does a good job when it comes to features. It scores a clean sweep when we talk about protections, covering SCP, OVP, OCP, OPP, and OTP. The unit features both native and modular cables, all of which are fully sleeved. All modular cables are sleeved to be flat ribbon-like cables, utilizing a rubberized sleeve instead of the more typical nylon mesh. The CMX V3 850W power supply is rated for 80 PLUS Bronze efficiency. Finally, the Cougar CMX V3 is not rated for 100 percent continuous output at 50C; however, it is rated to do so at a more modest 40C.
Cougar has an MSRP of $119 on the CMX V3 850W unit. This is a very middle of the road price for an 850W Bronze rated power supply, and we expect it to perform accordingly. The CMX V3 850W model wasn't available for purchase at any reputable sites at the time of review. However, there were several sites with the higher wattage 1000W model. We suspect that we couldn't find the unit due to limited supply at launch and that it will be available very soon. Cougar backs the CMX V3 unit with a three-year warranty.
Package & Inside the Box
Package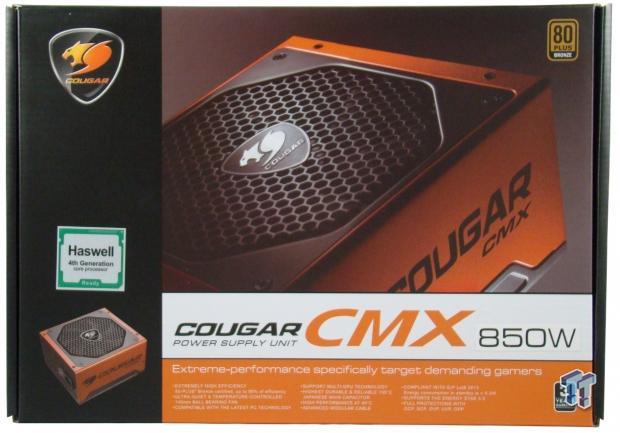 Typical orange and black adorn the packaging for the CMX 850W V3 power supply. The front gives us a decent shot of the power supply, and the list of features at the bottom should cover what most are after.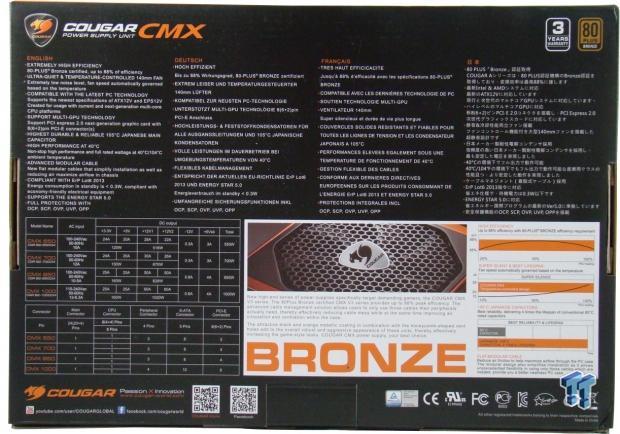 For those who aren't satisfied by the highlights on the front, there is a lot more detail present on the back of the box, including I/O specifications, connector availability, and more.

The top, bottom, and both sides lack anything of importance other than showing the colors of the power supply.
Inside the Box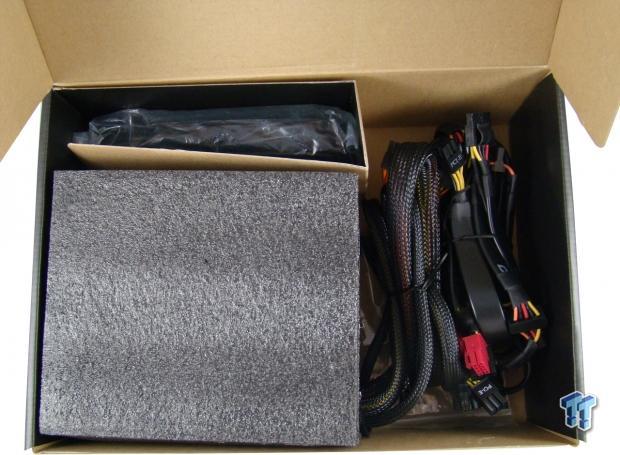 Inside, we find that things are packed well with plenty of foam on all sides of the unit. The bundled cables and accessories occupy the remaining space inside the box.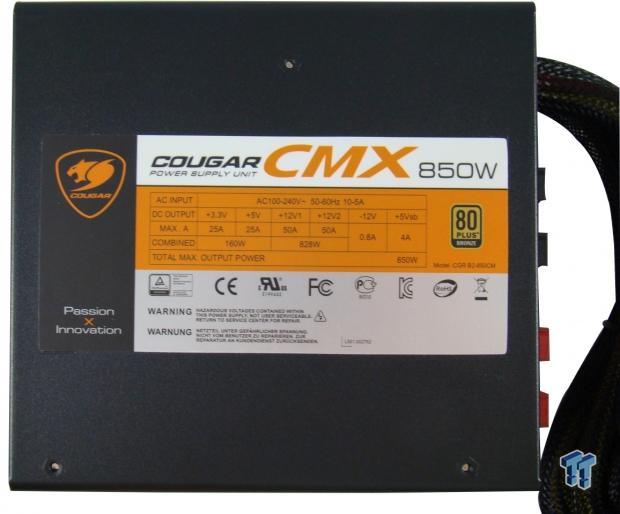 The top of the unit houses the I/O specification label for the CMX V3 850W power supply. Here we can also see the semi-gloss finish on the top.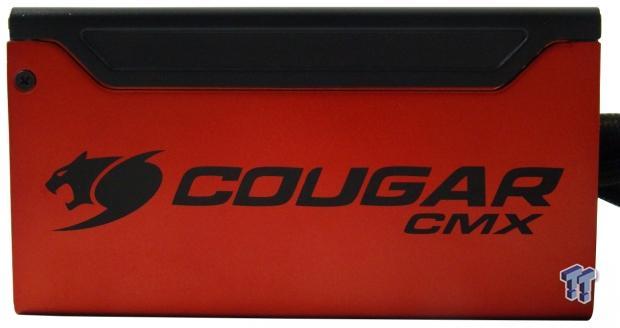 Both sides feature the Cougar CMX logo, with the other side being inverted. This is our first glimpse at the Cougar red, which tends to resemble more of a candied metallic orange that feels like it changes color depending on lighting and angle.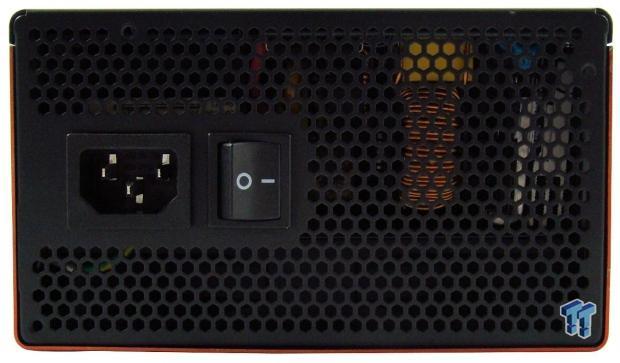 There's nothing special going on in the back of the unit. Here we see the standard honeycomb mesh with AC input and heavy duty on/off rocker switch.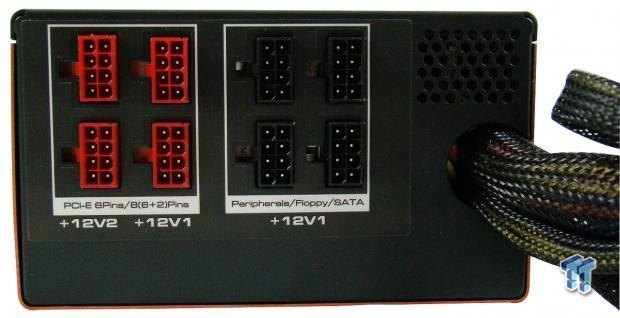 Turning around to the front, we find that the modular connectors are clearly labeled for both rail and connector type. The only thing lacking here is labelling for the natively wired cables.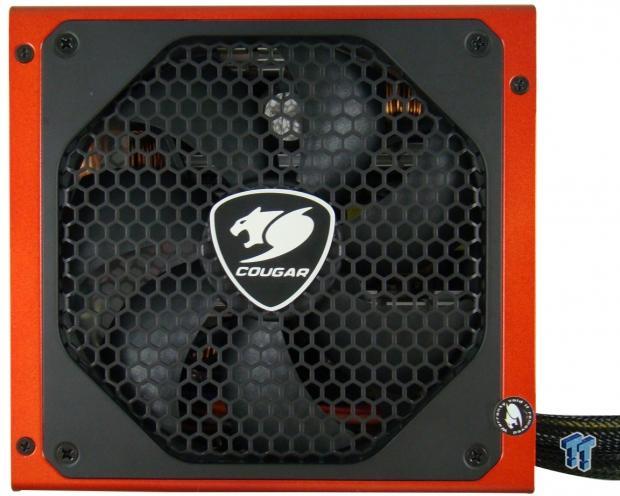 Moving to the bottom of the unit, we see that the orange shows up a bit more red this time, just as I said before. We'll get to the 135mm fan in a bit.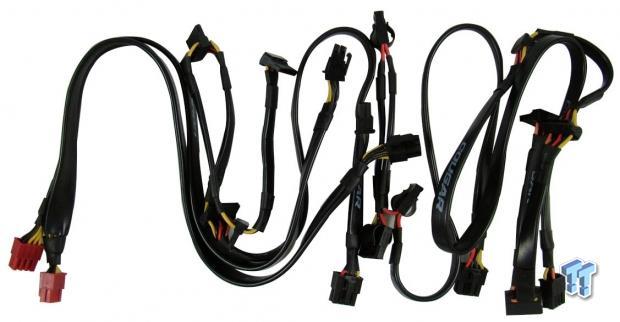 As stated before, all of the modular cables are fully sleeved and have been made into flat cables. This technically helps with airflow but can make routing cables difficult from time to time if you need to twist the cable.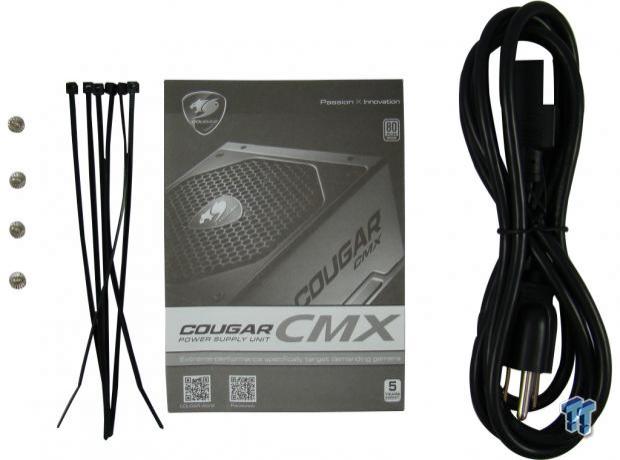 Also included inside the box are mounting screws, cable ties, the user manual, and AC input cord.
Cabling Arrangement & A Look Inside
Cabling Arrangement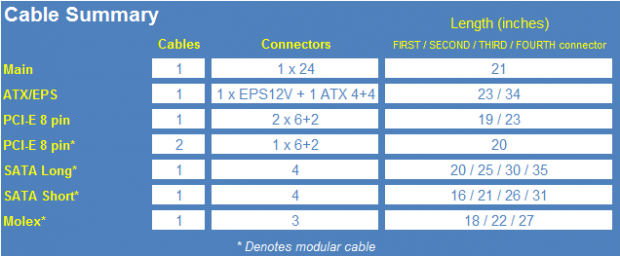 Cougar does a relatively decent job when it comes to the connector availability and cable summary chart. There are certainly more modular connectors available than modular cables provided, so you can move cables around as needed to balance the load across the dual 12V rails.

Speaking of 12V rails, let's look at the dual 12V rail layout for the Cougar CMX V3 850W power supply. 12V1 consist of the 24-pin Main, the native PCIe cables, half of the modular PCIe connectors, and all of the connectors labeled for your peripherals. 12V2 takes care of the rest, providing power for the natively wired EPS12V connector along with the second half of the modular PCIe connectors.
A Look Inside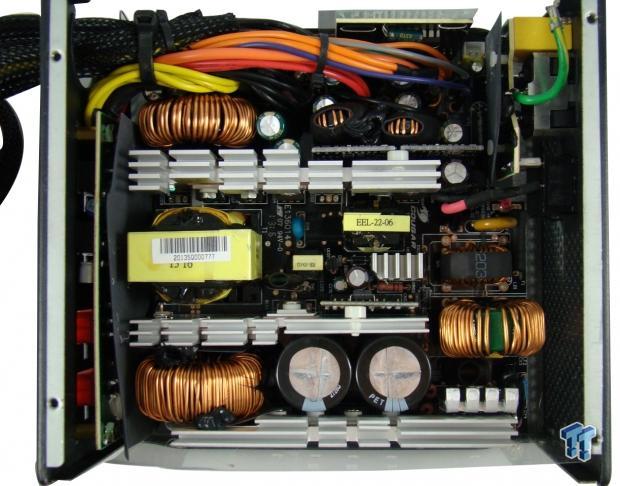 Inside is a clean layout with three large heat sinks and a few smaller ones to draw heat away from the unit. Cougar couldn't have gone much smaller on the unit as the PCB is packed and there isn't any space to spare.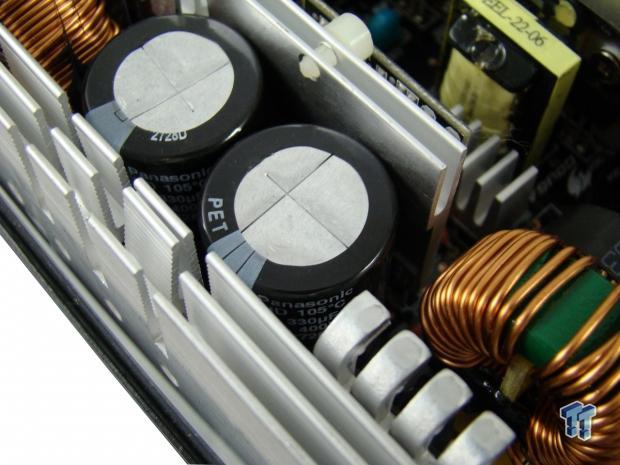 A pair of Japanese manufactured Panasonic capacitors are found on the primary side of the unit.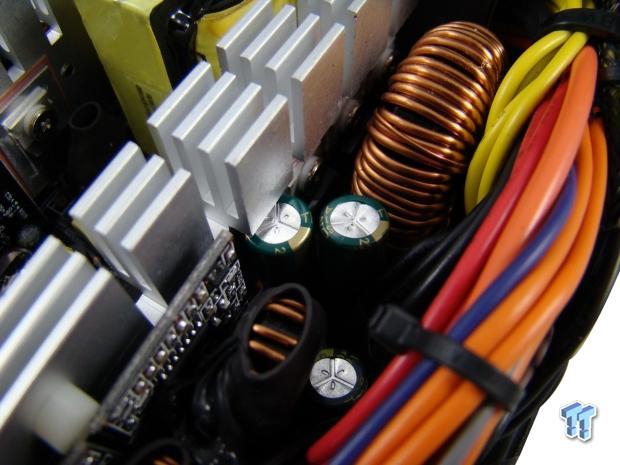 The secondary side is filled with Teapo caps.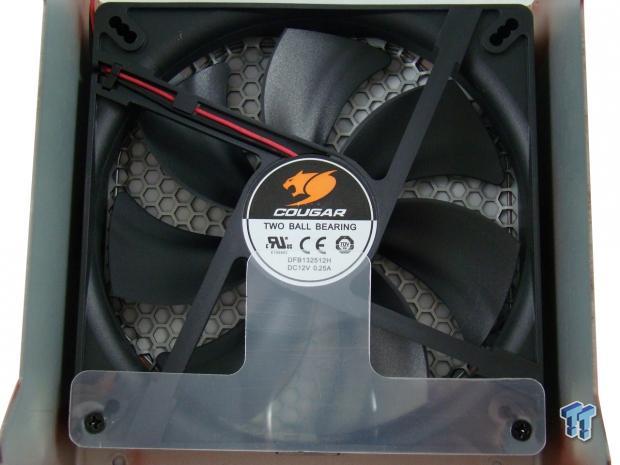 Cougar uses the Young Lin Tech DFB132512H fan to provide the active cooling in this power supply.
Test Results & Final Thoughts
Test Results
Our load tests utilize a couple of FAST ATE active load testers and a variety of other equipment such as an oscilloscope, power conditioner, temperature probe, and a power consumption meter. You can read more about our standard testing approach here.
The tests performed are based around six conceivable setups that are out there, and they progressively load down the PSU up to the power supply's limits or 1000W, whichever comes first. Since our test equipment's limits are higher than that of the Cougar CMX V3 850W power supply, we can test it to the maximum.

The above tests represent typical loads that we have measured from various systems and are meant to give a rough idea of where your computer might fall in line with our tests. Please keep in mind that each system is different and actual loads can vary greatly, even with similar hardware.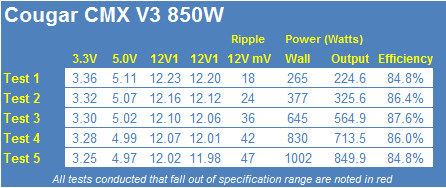 Let's start by taking a look at the voltages to see how well this unit did during testing. Starting with the 12V1 rail, we see two percent regulation from start to finish, with a total drop of .21V. 12V2 showed two percent regulation as well, with a total drop of .22V. The 5V rail managed to stay within three percent of specification, with a total drop of .014V from start to finish. Moving towards the 3.3V rail, we see that regulation was within two percent of specification, with a total voltage drop of .11V.
DC Output quality for the Cougar CMX V3 850W was good and well within specifications. During Test One, we saw 18mV of noise on our scope at 25 percent load. When we increased the loads in Test Three, the ripple climbed to 36mV at just over half load. Increasing loads even further showed that the noise on the 12V rail climbed to 47mV at full load.
The Cougar CMX V3 850W is rated for 80 PLUS Bronze efficiency. This means that the power supply must perform at 82% / 85% / 82% efficiency at 20% / 50% / 100% loads, respectively. As you can see, the CMX V3 850W passed on our bench without issue.
Final Thoughts
The CMX V3 850W power supply is the third unit from Cougar that we've seen here at TweakTown. As I said from the start, we've been pleased with what we've seen from Cougar so far, and the CMX V3 is not an exception to that. With that being said, it also isn't a unit that we'd go out of our way to recommend hands down over a number of other units that we've looked at.
The problem with the CMX V3 certainly isn't performance. For your middle of the road 80 PLUS Bronze unit, the CMX V3 performs well all the way around. DC output quality falls well within specifications. Both of the 12V rails and 3.3V rail stay within two percent, while the 5V rail manages to barely slip into the three percent range. Ripple on the 12V rail wasn't too bad, but at 47mV under full load, it can't be classified as anything better than average. Efficiency is certainly one are that we have to say the CMX V3 excelled in as it showed near Silver levels of efficiency.
The problem with the unit isn't the price either. At $119, the Cougar CMX V3 850W power supply is priced right in the middle of the pack. The problem here is that aside from the beautiful orange/red color of the unit, it simply doesn't have anything to help differentiate it from the rest of the 5000 identical units on the market. It doesn't have any outstanding features or performance numbers to boast, and there isn't anything revolutionary or record breaking to talk about either.
This is an unfortunate trend that we've seen in a lot of middle of the road units that we've looked at. Everyone wants a piece of the pie and they make a unit that fits right in. It fits in so well that it is easily overlooked because it is missing something as a single connector someone needs or there are ten units that are five dollars cheaper and someone doesn't scroll down far enough to see the next unit.
With that being said, this is definitely one of the units that you want to pay attention to when you're trying to wade your way through the list of random units that fit what you're looking for. It is a unit that you can trust and know that you're not wasting your money on.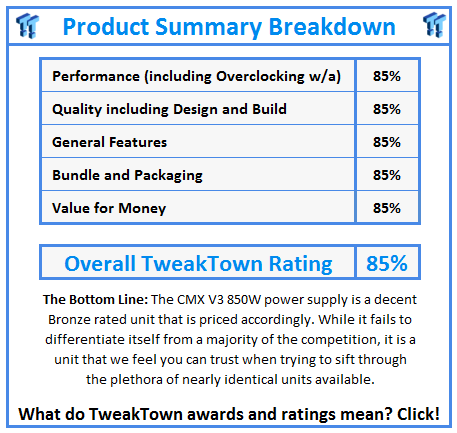 PRICING: You can find products similar to this one for sale below.

United States: Find other tech and computer products like this over at Amazon.com

United Kingdom: Find other tech and computer products like this over at Amazon.co.uk

Australia: Find other tech and computer products like this over at Amazon.com.au

Canada: Find other tech and computer products like this over at Amazon.ca

Deutschland: Finde andere Technik- und Computerprodukte wie dieses auf Amazon.de
We openly invite the companies who provide us with review samples / who are mentioned or discussed to express their opinion. If any company representative wishes to respond, we will publish the response here. Please contact us if you wish to respond.
Related Tags