Cooler Master V1000 1000-Watt 80 PLUS Gold Power Supply Review
Cooler Master launches its new flagship PSU, the V series. Find out what teamwork and buzz between them and Seasonic is all about with our review of the V1000.
Published
6 minute read time
Introduction, Specifications, Availability and Pricing
With Computex Taipei 2013 less than a month away, tech companies are scrambling for a number of reasons. Some are using this week as launch to bring forth many products seen at CES, while others are putting finishing touches on things that will be seen at the event. The unit that we have on our bench today is one of the former and it is meant to bring Cooler Master back to the top of the power supply market.
The new V-series power supplies are meant to be their flagship units and were designed in conjunction with Seasonic. Cooler Master offers the new V series power supplies in three wattages: 700W, 850W and 1000W. These three models will take care of most enthusiasts, but those needing a bit more power will have to look towards their other models. All V series power supplies are rated for 80 PLUS Gold efficiency and feature a five year warranty.
So far things sound good, so let's take a deeper look at some of the specs, and find out what the new V1000 can do.
Specifications, Availability and Pricing

I/O specifications are quite typical for a 1000W power supply with nothing out of the ordinary. The V1000 utilizes a single 12V rail rated for 83A or 996W. Both the 3.3V and 5V rails are rated for 25A each with a maximum combined output of 125W. The 5VSB rail is rated for 3A or 15W. Maximum combined output for the Cooler Master V1000 is 1000W.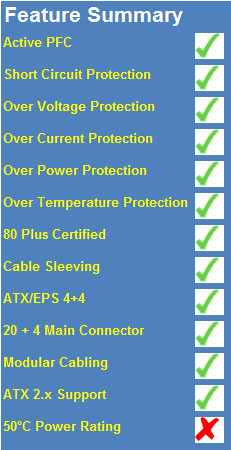 All the protections that we look for are present including SCP, OVP, OCP, OPP and OTP. The V1000 is a fully modular power supply and features flat ribbon cables with the exception of the 24-pin Main and it is sleeved in nylon mesh. Cooler Master's V1000 is rated for 80 PLUS Gold efficiency, but is not certified for 100% continuous output at 50C. Instead, the V1000 is rated for 100% continuous output at 40C. This isn't because the unit cannot handle the temperatures, but because this is what Cooler Master certifies all of their units for.
Cooler Master has placed an MSRP of $209.99 on the V1000 power supply. As we've written this review prior to launch, we can't provide a link to the unit for sale or find a better deal. Cooler Master has said the unit will be available in the US and Canada at the very least and if you live outside these regions, you'll have to order from one of the two at launch. Cooler Master backs the V1000 with a five year warranty.
Packaging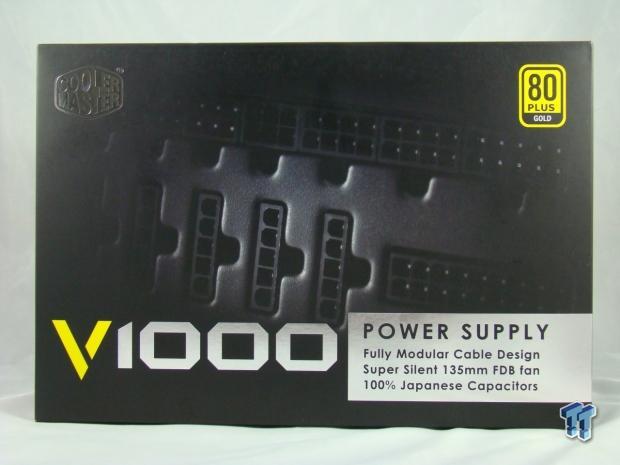 Cooler Master's V1000 packaging is dominated by their purple and black design. The front hints at the modular connectors on the front of the power supply, as well as lets us know it features 100% Japanese capacitors.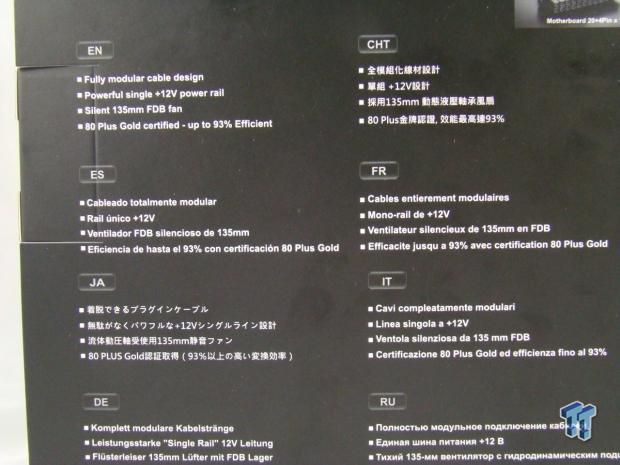 The left half of the back repeats everything on the front, plus tells us that it features a single 12V rail.
Shifting to the right lets us know the connectors that are present and provides us with two charts. One gives us information pertaining to the fan, while the other gives us the efficiency of the power supply.
This side of the box rounds out the information of the V1000. It gives us a few more things, such as the dimensions of the unit and I/O specifications.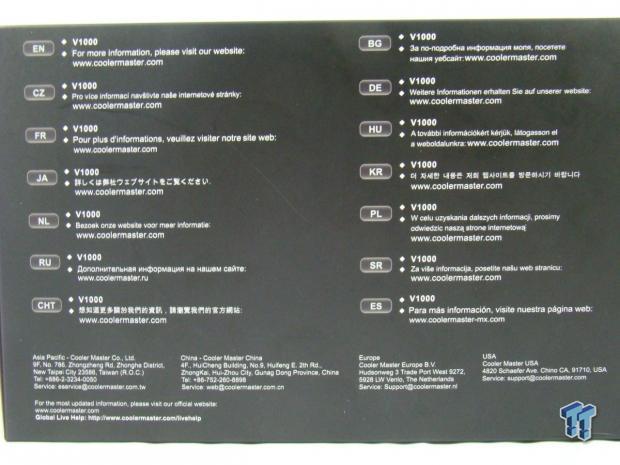 If that isn't enough info, you can always follow the directions on the other side of the box and go visit their website.
Inside the Box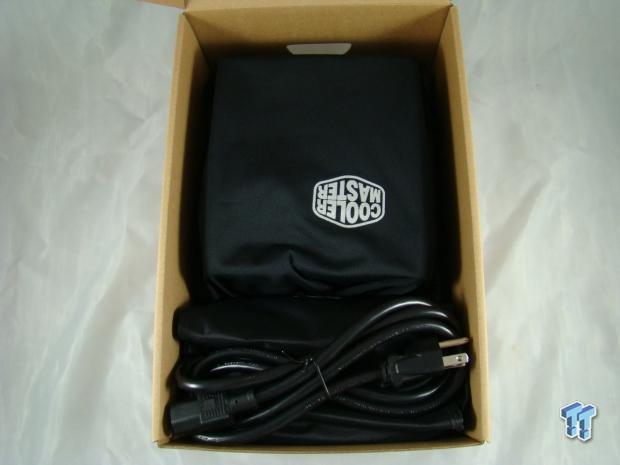 The V1000 is well packed with a half inch of foam on all sides plus a PSU cozy.
As usual, the I/O specification label is on the top of the unit.
Both sides feature the same V1000 logo with the opposite being inverted. Also preset are four horizontal lines stamped in the side of the case to add a bit of flair.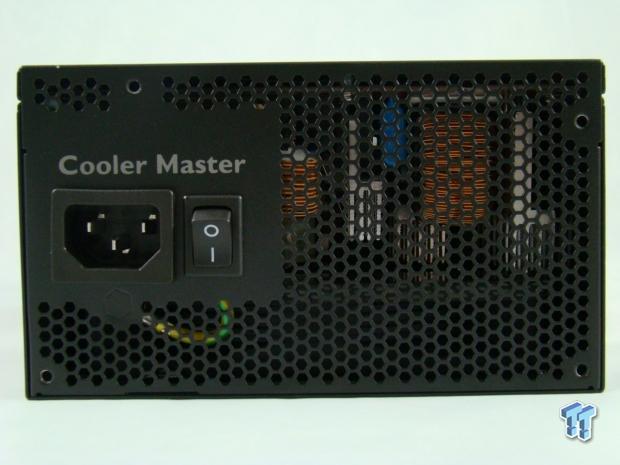 Standard honeycomb mesh provides the exhaust ventilation alongside the AC input and on/off rocker switch.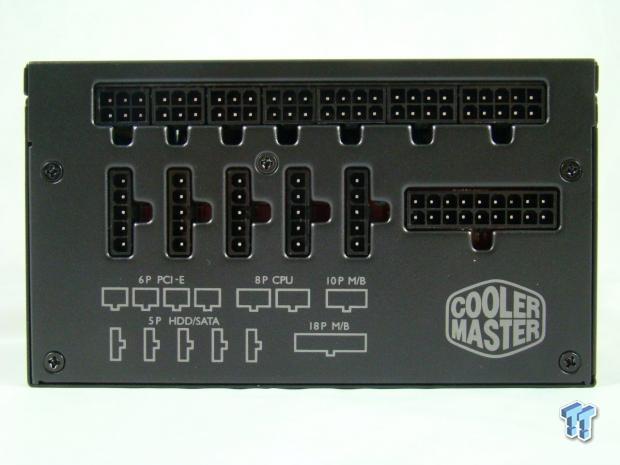 All of the modular connectors are clearly labeled for your reference.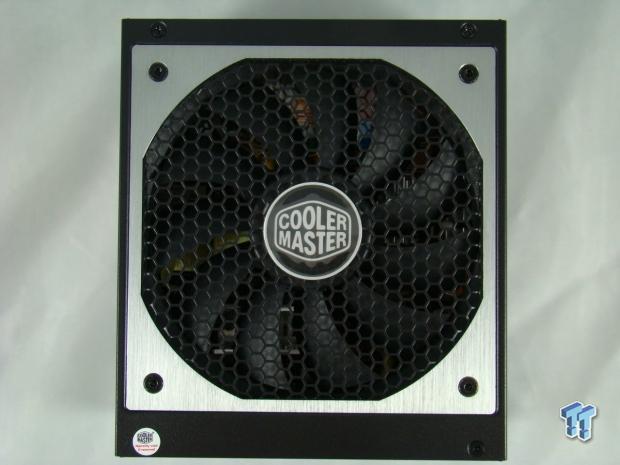 The 135mm fan is surrounded by brushed aluminum trim for added visual appeal.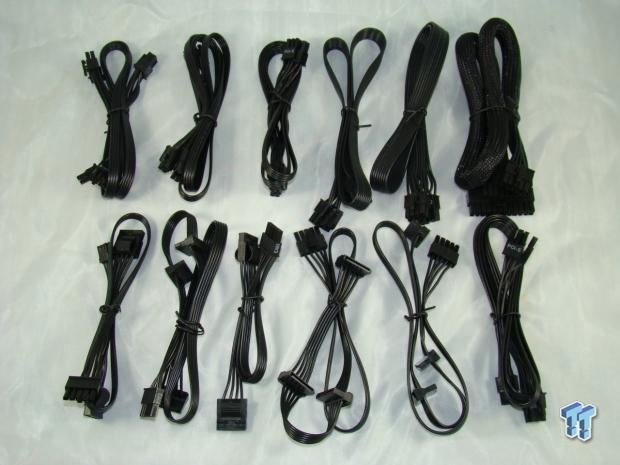 As stated before, all of the cables are fully modular. Aside from the 24-pin Main connector, all of the cables are flat.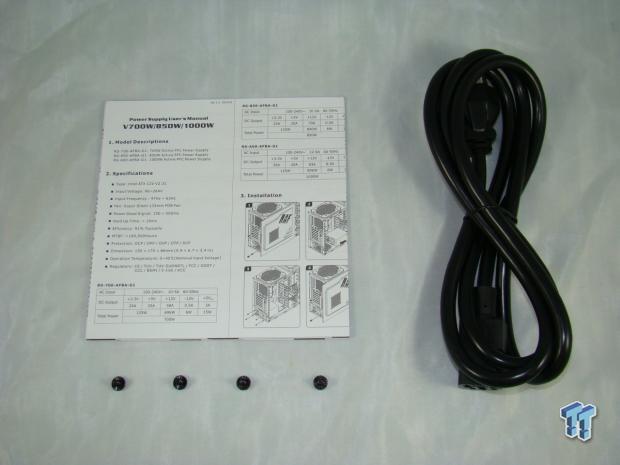 Also included with the unit are mounting screws, AC input cord and a user manual.
Cabling Arrangement and A Look Inside
Cabling Arrangement

The cable arrangement for the V1000 is somewhat basic, but should be more than enough for 95% of users. There are a total of eight PCI-E connectors over four cables. While it may not be able to power four top-end video cards, it is nice to have the option there for those utilizing mid-range cards.
The nine SATA and four Molex connectors should take care of all your peripherals, and the dual ATX 4+4 pin connectors will take care of those in need of additional power directly to the motherboard.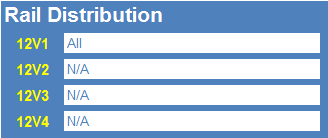 Rail distribution is as simple as it gets with a single 12V rail. There is no need to worry about load balancing here.
A Look Inside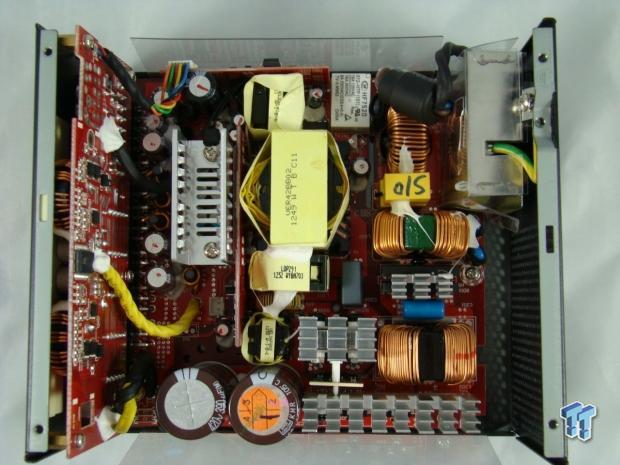 Recently we've seen a lot of shrinkage of the components inside power supplies. One of the effects of this is a reduction in heat. The V1000 follows along these trends and as such we see several smaller heat sinks instead of massive ones that prevent fresh air from flowing deep down to the PCB.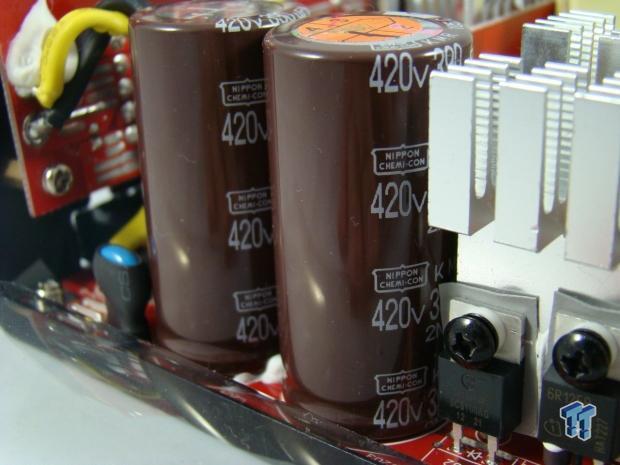 A pair of Nippon Chemi-Con bulk capacitors sit on the primary side of the power supply.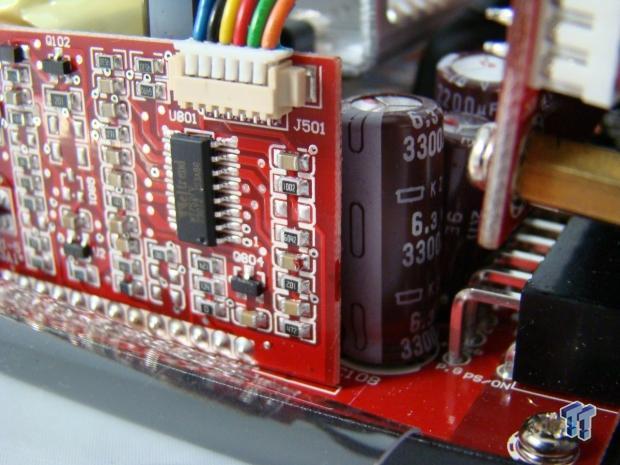 The secondary side is littered with more Nippon caps.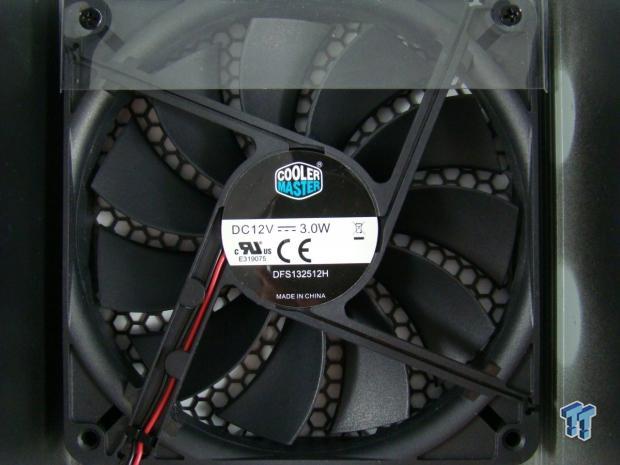 The Cooler Master DFS132512H fan provides all the active cooling for the V1000 power supply. One of the interesting things about this unit is that the fan is nearly silent until around 70% load, operating between 800 RPM and 1600 RPM depending on the temperature of the unit. This makes the V1000 ideal for those seeking a quiet power supply.
Test Results and Final Thoughts
Test Results
Our load tests utilize a couple of FAST ATE active load testers and a variety of other equipment such as an oscilloscope, power conditioner, temperature probe and a power consumption meter. You can read more about our standard testing approach here.
The tests performed are based around six conceivable setups that are out there and progressively load down the PSU up to the power supply's limits or 1000W, whichever comes first. Since our test equipment's limits are equal to that of the Cooler Master V1000 1000W power supply, we can test it to the maximum.

The above tests represent typical loads that we have measured from various systems and are meant to give a rough idea of where your computer might fall in line with our tests. Please keep in mind that each system is different and actual loads can vary greatly even with similar hardware.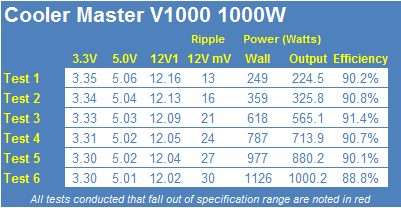 Let's start by taking a look at the voltages to see how well this unit did during testing. Starting with the 12V rail, we see 2% regulation from start to finish with a total drop of .14V. The 5V rail managed to stay within 2% of specification with a total drop of .05V from start to finish. Moving towards the 3.3V rail, we see that regulation was within 2% of specification with a total voltage drop of .05V.
DC Output quality for the Cooler Master V1000 was great and well within specifications. During Test 1, we saw 13mV of noise on our scope. When we increased the loads in Test 3, the ripple climbed to 21mV at around half load. During Test 5 under a load of 1000W, the oscilloscope showed a maximum of 30mV on noise on the 12V rail.
The Cooler Master V1000 1000W is rated for 80 PLUS Gold efficiency. This means that the power supply must perform at 87%/90%/87% efficiency at 20%/50%/100% loads respectively. As you can see, the Cooler Master V1000 passed on our bench, and wasn't close to failing at any point. It was in fact a very efficient unit, staying very close to Platinum levels of efficiency throughout most of the tests.
Final Thoughts
It is very apparent that Cooler Master has made a wise move in choosing to partner with Seasonic for the design and production of the new V series power supplies. Seasonic has been an industry leader in the power supply market for decades and leveraging their experience and quality is never a poor choice. The result of this collaboration represents the some of the best that both companies have to offer.
Just from a performance standpoint, it is clear that the V1000 will be a winner for years to come. Voltage regulation is within 2% across all rails, and it wasn't far from the 1% mark on the 12V and 5V rails. DC output quality is also great as the unit shows relatively low noise on the 12V rail throughout all of our tests. The efficiency results are also great as the results are darn near on par with what we expect from a Platinum rated unit, not a Gold one. I'm actually surprised that there wasn't a tiny bit more work put into this unit to raise the efficiency a bit just to up the rating, but those reading reviews will know that the difference between this unit and a Platinum unit is so subtle that they will never know the difference.
Rounding things out for this unit are the price tag and warranty. At an MSRP of $209, the V1000 sits where it should appropriately right from launch. There are others with a tiny bit better performance or features, but they are all priced above this unit, and there are others that are a tad worse priced just below this unit. Aside from the perfect positioning for launch, that means this unit will drop in price a bit in 3-6 months a be a steal for anyone in the market for a 1000W power supply.
Mark my words, the V1000 is going to be a power supply that will be a great performer both now and years to come. Perhaps it will even become one of the models that everyone knows about as it is great on every level, not just one.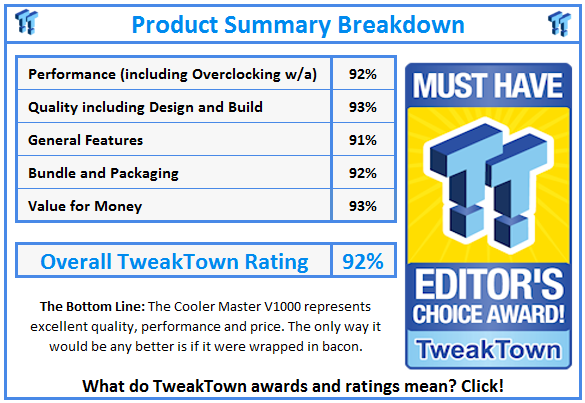 PRICING: You can find products similar to this one for sale below.

United States: Find other tech and computer products like this over at Amazon.com

United Kingdom: Find other tech and computer products like this over at Amazon.co.uk

Australia: Find other tech and computer products like this over at Amazon.com.au

Canada: Find other tech and computer products like this over at Amazon.ca

Deutschland: Finde andere Technik- und Computerprodukte wie dieses auf Amazon.de
We openly invite the companies who provide us with review samples / who are mentioned or discussed to express their opinion. If any company representative wishes to respond, we will publish the response here. Please contact us if you wish to respond.
Related Tags