Corsair CX750M 750W 80 PLUS Bronze Power Supply Review
Corsair adds modular cables to the CX series to give you even more bang for your buck. Read the full review to find out just how much bang that is.
Published Wed, May 6 2015 3:05 PM CDT
|
Updated Tue, Nov 3 2020 6:59 PM CST
Introduction & Specifications, Availability and Pricing
There certainly is no doubt that Corsair makes some of the best power supplies currently available for consumers to purchase. Their HXi and AXi series units are spectacular examples of what it means to be an enthusiast grade unit. Many spend their time building dream rigs and drooling over having a unit of such quality, but it is unfortunately out of reach for them to obtain. This is usually due to monetary constraints.
The CX series from Corsair seeks to alleviate some of those issues by providing units with a few less features and a little less quality for a much more reasonable price. The CXM series takes it one step further and provides that value with the addition of modular cabling. It is the CX750m that we are looking at today, so let's start looking at the specification of this unit and get to testing.
Specifications, Availability and Pricing
The Corsair CX750M features a single 12V rail rated for 62A or 744W. This is equal to 99.2% of the rated output of the CX750M. Both the 3.3V and 5V rails are rated for 25A each with a combined maximum output of 130W. The 5VSB rail is rated for 3A or 15W. Combined maximum output of the CX750M is 750W.
Protections are usually one of the first items to go when a value unit is created. Corsair knows that these features are important even in a budget unit and thus our feature summary is almost a complete pass. SCP, OVP, OCP, OPP, and OTP are all present. The CX750M is rated for 80 PLUS Bronze efficiency. The CX750M is semi-modular and all cables are either fully sleeved or of the flat ribbon type. Corsair does not rate the CX750M for 100% continuous output at 50C. It is, however, rated for 30C.
Corsair has an MSRP of $99.99 on the CX750M. This makes it competitively priced with the competition. Some quick searching will yield much cheaper prices though, some of which equate to about 40% off MSRP. Corsair backs the CX750M with a three-year warranty.
Package & Inside the Box
Package
Corsair's packaging is always simplistic on the front yet informative. Here we can get a small shot of the unit, it tells us that it is modular, 80 PLUS Bronze certified, and has a three-year warranty.
Moving to the back we find connector availability, fan and sound information, efficiency, and a few features.
This end gives us some compatibility information and dimensions of the unit.
Inside the Box
Opening the box, we find the power supply protected by a cardboard surround. The modular cables take up the rest of the room in the box.
The CX750M features Corsair's standard semi-gloss black. The top of the unit houses the I/O specification label.
Both sides feature the same logo with the opposite being inverted.
The back of the unit features standard honeycomb mesh for ventilation along with AC input and on/off rocker switch.
The front isn't much to look at as there are only a few connections for modular cables. They are labelled so that they are easily identified.
Looking at the bottom of the unit we can see the black fan with wire grill that provides the active cooling for the CX750M.
All of the modular cables are of the flat ribbon type.
Included with the CX750M are the warranty and safety guides, AC input cord, zip ties, and mounting screws.
Cabling Arrangement & A Look Inside
Cabling Arrangement
It doesn't get any more basic than this for a 750W power supply. There are a pair each of PCI-E, SATA, and Molex cables that should take care of most of what you need. If you find that there just isn't enough of any particular connector here then you will likely find that this isn't the power supply for your needs.
Rail distribution is as simple as it gets with a single 12V rail. There is no need to worry about load balancing here.
A Look Inside
Inside the CX750M, we find a single passive heat sink to aid with cooling.
Nippon Chemi-Con caps sit on the primary side of the unit.
Taiwanese CapXon capacitors adorn the secondary side of this unit.
The Yate Loon D14SH-12 140mm fan provides the active cooling for the Corsair CX750M.
Test Results & Final Thoughts
Test Results
Our load tests utilize a couple of FAST ATE active load testers, and a variety of other equipment such as an oscilloscope, power conditioner, temperature probe, and a power consumption meter. You can read more about our standard testing approach here.
The tests performed are based around six conceivable setups that are out there, and progressively load down the PSU up to the power supply's limits, or 1000W; whichever comes first. Since our test equipment's limits are higher than that of the Corsair CX750M 750W power supply, we can test it to 1000W.
The above tests represent typical loads that we have measured from various systems, and are meant to give a rough idea of where your computer might fall in line with our tests. Please keep in mind that each system is different, and actual loads can vary greatly, even with similar hardware.
Let's start by taking a look at the voltages, to see how well this unit did during testing. Starting with the 12V rail, we see 2% regulation from start to finish, with a total drop of .18V. The 5V rail managed to stay within 2% of specification, with a total drop of .13V from start to finish. Moving towards the 3.3V rail, we see that regulation was within 2% of specification, with a total voltage drop of .09V.
DC Output quality for the Corsair CX750M 750W was excellent, and well within specifications. During Test One, we saw 10mV of noise on our scope at 30% load. When we increased the loads in Test Three, the ripple climbed to a mere 19mV at around 75% load. Increasing loads even further showed that the noise on the 12V rail climbed to 26mV at 750W.
The Corsair CX750M 750W is rated for 80 PLUS Bronze efficiency. This means that the power supply must perform at 82% / 85% / 82% efficiency, at 20% / 50% / 100% loads respectively. As you can see, the Corsair CX750M 750W is performing exactly as it should.
Final Thoughts
Time and time again we've seen quality power supply units from Corsair. There is little to be said about their units that we haven't said already. They have proven their worth and are a frequent choice for custom builds that I do on a regular basis.
The Corsair CX750M is no exception to this and is another quality unit from Corsair. Looking at the regulation of the unit, all rails are within 2% of specification. DC output quality was good with a maximum of 26mV at max load. These may not be the results that we are used to seeing from their enthusiast grade units that cost three times as much as this unit, but that is to be expect.
This is a value unit and it performs as such. Anything more and it would be competing with middle of the road units and any less would mean that it wouldn't have some of the protections and modular cables. Corsair has packed just the right features for just the right price in the CX750M and it is highly recommended for those on a budget.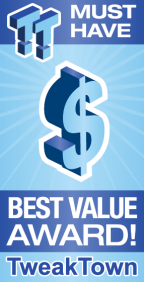 | | |
| --- | --- |
| Performance | 90% |
| Quality including Design and Build | 85% |
| General Features | 90% |
| Bundle and Packaging | 90% |
| Value for Money | 95% |
The Bottom Line: Corsair's CX750M PSU comes in under $100 and gives you modular connections along with 750W of stable, quality power. What more can you ask out of a budget unit?
PRICING: You can find products similar to this one for sale below.

United States: Find other tech and computer products like this over at Amazon.com

United Kingdom: Find other tech and computer products like this over at Amazon.co.uk

Australia: Find other tech and computer products like this over at Amazon.com.au

Canada: Find other tech and computer products like this over at Amazon.ca

Deutschland: Finde andere Technik- und Computerprodukte wie dieses auf Amazon.de