Introduction, First Look, Pricing and Availability
To tell you the truth, Analogix Semiconductor aren't a company I know off-by-heart, but judging from this first review of one of their products, I'll remember them for quite sometime to come.
My first contact from the company had some cables being sent to me, and days later our own Managing Director, Cameron, posted an article covering the SlimPort Summit 2013 in Shanghai, asking 'What is SlimPort?'. His article covers pretty much what an introduction might cover, so you might want to check that out.
For a quick introduction, Analogix Semiconductor is a champion of high-performance mixed-signal semiconductors that enable HD everywhere. In layman's terms, they make cables that connect up to your smart device and allow you to plug them into your big-screen TV.
First Look
Before I received the SlimPort cables, I seriously expected them to be bigger, but the SlimPort HDMI adapter, which is the one we'll be concentrating on today, is just so tiny. I'll be using the SlimPort HDMI Adapter on my trusty Nexus 4.
The other set we have here to test today is a Samsung Galaxy S III and some MHL-based cables. Let's take a look at what we have here today.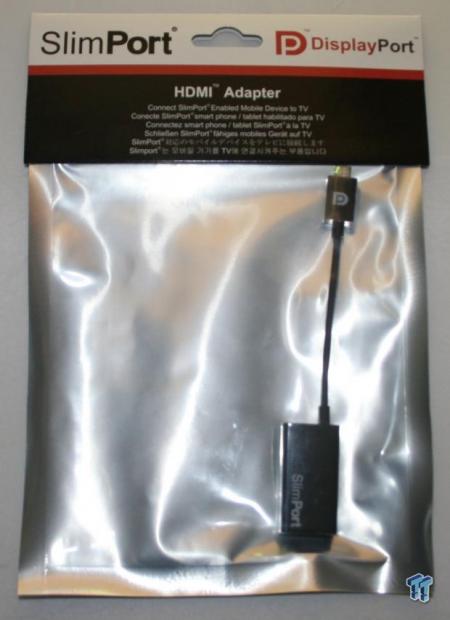 Pricing and Availability
One of the downsides to Analogix's SlimPort adapters are their price. Amazon sell the SlimPort HDMI Adapter for $71.42, which is quite expensive. The next entry on Amazon's website when searching for "SlimPort" is the Skiva MHL-based HDMI Adapter, which sells for just $9.99.
This is a huge difference in price, and something you'll need to consider. I think the SlimPort cables will eventually come down in price, especially if their technology becomes a standard in the future. Keep reading and you'll find out why I think that price is still justified.
How SlimPort Works
SlimPort's technology isn't just some plug-and-play device that works; there are some serious going-ons within the device itself, too. SlimPort connects via your smart devices' microUSB port - do keep in mind that not all devices with a microUSB port are supported since the device itself needs SlimPort tech inside of it. Currently the Google LG Nexus 4 (of course), Google LG Optimus G Pro, Fujitsu Stylistic QH582 and ASUS PadFone Infinity are supported. More supported devices are on their way, we're told.
SlimPort supports resolutions of up to 4K, but most people will use it to output their smartphone's display resolution, which is limited to 1080p for now.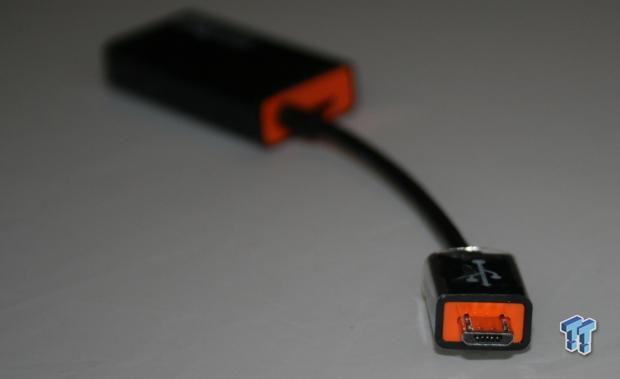 When comparing SlimPort against its main rival, MHL, SlimPort comes out on top, in virtually every category. SlimPort is based on an open standard, where MHL is a proprietary standard. SlimPort is administered by VESA, where MHL is a subsidiary of Silicon Image.
The use of SlimPort is free, versus MHL carrying a license and royalty fee and finally, SlimPort plays nicely with all displays, DisplayPort, HDMI and VGA where MHL is largely just HDTV bridge connectivity.
Analogix have had to put some serious work into SlimPort, but it is 4K ready. 4K may not be a 'here and now' tech for consumers, but it is coming very fast. It's better to build support in and have it ready to go, something SlimPort is capable of. SlimPort supports resolutions right up to 4096x2160 at 30Hz. Where it gets interesting, is what MHL actually supports.
MHL 2.0 is only capable of around 3.0Gbps of bandwidth, which is good for 1080p at 60Hz. SlimPort, with its support of up to 4K resolutions, is capable of 6.5Gbps of bandwidth, which is over double what MHL is capable of putting out.
Analogix have also done this all in the aforementioned super-small cable, compared to the bulky MHL cable. I don't know how they've done it, but they've done it - they've made a 4K-capable connectivity cable that is tiny.
Setup, Testing and Image Quality
We set up the Nexus 4 first with our SlimPort HDMI adapter, and all that is required is to simply plug it into the microUSB port on the Nexus 4, and then plug your HDMI cable into the SlimPort HDMI adapter and voila - it works.
You could not ask for much more than that, and I'm a huge fan of pure simplicity. The easier it is to setup, the more mainstream this technology will become. I'll write a little about the quality, but it's hard to capture great images, or video, without losing quality.
The SlimPort HDMI adapter is simple as pie to setup, just plug your smartphone up to your TV and it just... works. The one thing I noticed instantly was how smooth it reacted on the TV from the Nexus 4. There was no lag, which I thought there would be, or at least some - it's an instantaneous communication between the N4 and your TV.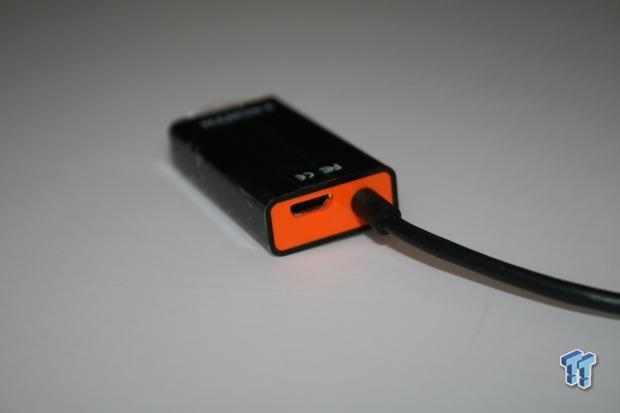 I could stop my review there, because the SlimPort HDMI adapter just works, as it says it should. It's a couple of seconds, tops, before you're up and running. There's even a spare microUSB port on the adapter itself, which you can plug a charger into it. This is a key part of its use, as you can keep your device charging, while it's outputting something to a TV, since of course the SlimPort is taking up the charging port on your supported device.
This means you could use Analogix's SlimPort HDMI adapter for business meetings, where you might keep a video, or document on your device, plug it up and have it playing, all while it's charging at the same time. Beautiful.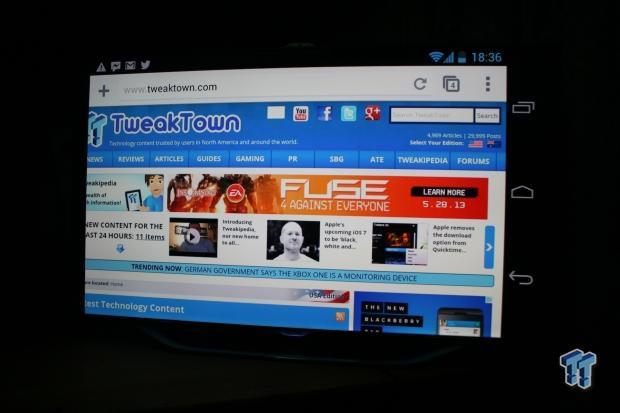 Picture quality on the SlimPort HDMI adapter is nothing short of perfection - TweakTown looks quite stunning on a 55-inch Samsung LED TV.
Let's move onto the MHL-based Galaxy S III accessories that we have for comparison sakes. First off, I have a Samsung Smart TV that I had the joy to plug this into, so luckily I had a MHL connector on the TV to play with. Without that, we'd not even be talking about the MHL cables we have here today. Plugging the MHL cable and the S III into a non-MHL HDMI port didn't even detect the port had anything plugged into it, but moving it into the MHL port worked a treat and away we go.
Ok, yeah. That's what the difference is. The supplied MHL-capable cables for the Galaxy S III were connected in, and there was a difference. It's not a huge difference, but the colors on the SlimPort tech are much better, and the picture is sharper and more defined.
There was a nice difference in terms of portrait and landscape use, which the MHL cable went directly into portrait mode (how you would use your phone) and I needed to go into Settings and change it to auto-rotate, and we were fine once again. But the quality is no match for Analogix's SlimPort, which is beautiful - no lag, perfect picture quality, and is instantly visible to be the superior product.
Considering MHL is meant to be 'Mobile High-Definition Link', I didn't feel like I was receiving a high-definition experience. It felt very subpar, and the SlimPort product felt like I was receiving the gold class cable experience, period.
Final Thoughts
As I stated in the beginning of this review, I didn't know about SlimPort until the e-mails regarding this review started coming in and now I'm interested to see what they do next. Their cables can be perfect for many uses - gamers, multi-taskers, professionals and more.
The ease of use is SlimPort's technology is what makes it streets ahead, with the quality equaling this. The quality on the SlimPort HDMI adapter was nothing short of breathtaking, even more so when compared to the MHL-based device, which felt like something from around 2005.
There are two downsides to SlimPort's technology, the first of which is that it's only for a few devices on the market, for now. We have the device we're using today, the Nexus 4, but there is also the LG Optimus G Pro, Fujitsu Stylistic QH582 Windows 8-based tablet and the ASUS PadFone Infinity which are supported.
The second downside is the price, at $70+ for an adapter; it is quite an exclamation point in your face, considering the cheaper, MHL-based products can be had for around $10. The quality and experience of Analogix's SlimPort adapters are still worth it, especially if you want to output at perfect quality.
Adoption will most likely spread, but the days are young for Analogix for now. We should expect more devices to feature SlimPort support in the coming months, and a bunch of devices before the end of the year. Analogix are pushing to make SlimPort a standard, and I truly hope they reach this goal, and quick.