The folks over at Analogix were kind enough to send me over to Shanghai, China to attend its SlimPort Summit 2013 here at the lovely Marriott City Center hotel. You've got the brief introduction, now let's dig in deep for a bit and talk about SlimPort.
If you don't like reading, hit play on the embedded video above. What is SlimPort? Today at the event I heard a few different variations to the definition of SlimPort. I'd like to explain it in my own words. SlimPort is a technology standard that is use to easily get more out of your smart device and connect it up with one simple cable to a larger, secondary display via VGA, HDMI or DisplayPort.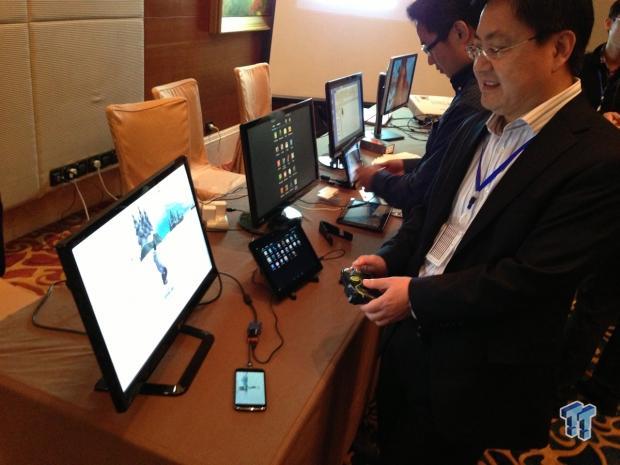 Analogix is the company responsible for creating SlimPort and the company is one that is a semiconductor and has its roots in display and digital media. One of its biggest projects right now is SlimPort, a relatively new standard that has already had quite a lot of success in the market. You can already find SlimPort technology in popular devices including the Google Nexus 4 smartphone, LG Optimus G Pro smartphone, Fujitsu Stylistic QH582 Windows 8 tablet and the ASUS PadFone Infinity Android tablet. Analogix is working hard currently on securing more design wins, and while I didn't hear any specific brands or models, I'm told to expect more in the next 2 or 3 weeks, and more throughout the year. Analogix are working hard to cement SlimPort as a standard, cable and connector for many years to come.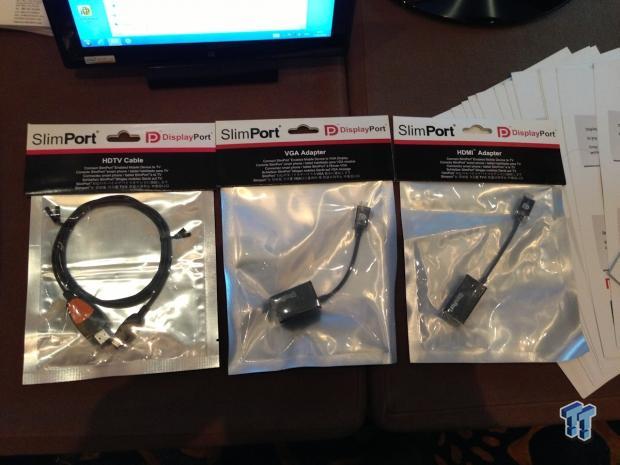 So, SlimPort uses the Micro-USB port on your smart device that has SlimPort IC (transmitters, receivers and such) built-in to the device itself. Over the SlimPort cable accessory, you can output uncompressed HD video to a secondary VGA, HDMI or DisplayPort display such as a monitor, HDTV or projector. The requirements are that the smart device is SlimPort compatible and that you use a SlimPort cable or adapter. Your display does not need to be SlimPort compatible, the IC inside the source device and cable / adapter take care of everything for you.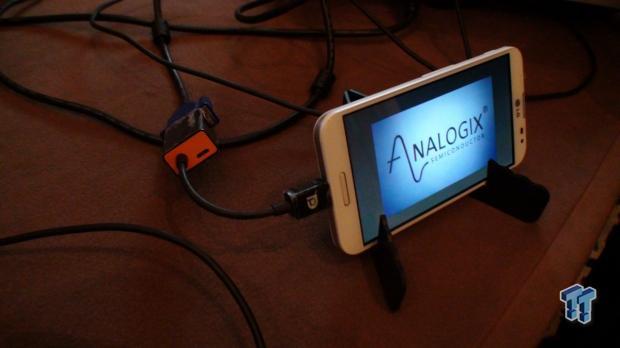 SlimPort supports resolutions including 1080p at 60Hz and even 2160p (4K) at 30Hz. It's important to remember that SlimPort is a standard and as result it must stick to the guidelines set in reference specs for HDMI and DisplayPort. I was told as the demands are known from consumers, we will see SlimPort increase resolutions and refresh rates, as the market requires it. It's pretty safe to say, though, at the moment 4K at 30Hz as a maximum is enough. At this point it time it's not like gamers are going to need any higher than 30Hz for gaming on a smart device. It's not like they are playing something with PC-level graphics quality like Battlefield 3 at maximum image quality.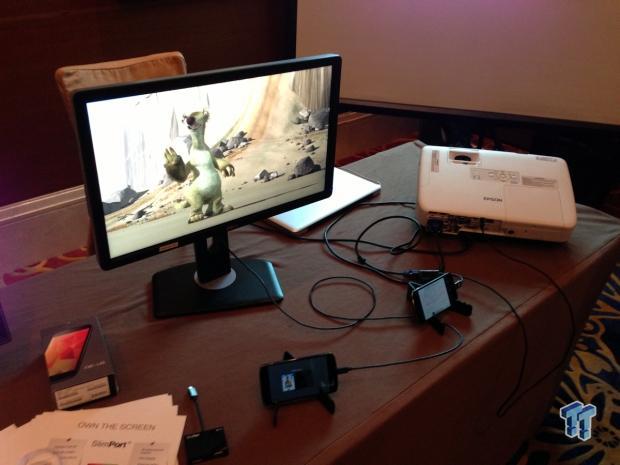 Another thing I like about SlimPort is that (for DisplayPort) very little power is consumed on the smart device. In fact, SlimPort supports bidirectional charging when using connections that support charging, such as DisplayPort. So, let's say you have your Nexus 4 connected up to your DisplayPort monitor with the SlimPort cable. This configuration currently (according to DisplayPort specs) allows for up to 500 milliamps of charge power from the monitor to the device. During the Summit, I asked the question about how much power SlimPort could deliver, and if it could charge (increase) or maintain power, while the device is actively displaying content on another display over SlimPort.
The answer was that if you were outputting something intensive, such as a 1080p HD video, the device would use maybe close to its maximum power for processing that video, and would hence end up using more than those 500 milliamps. However, if you were just showing something basic, like an image for example (that requires little processing), SlimPort may even be able to positive charge your device, while connected using the SlimPort configuration mentioned. Even if it wasn't positive charging the device (that is increasing power charge remaining), it's still slowing the discharge rate of the device, by providing the device with power at the same time as outputting its display.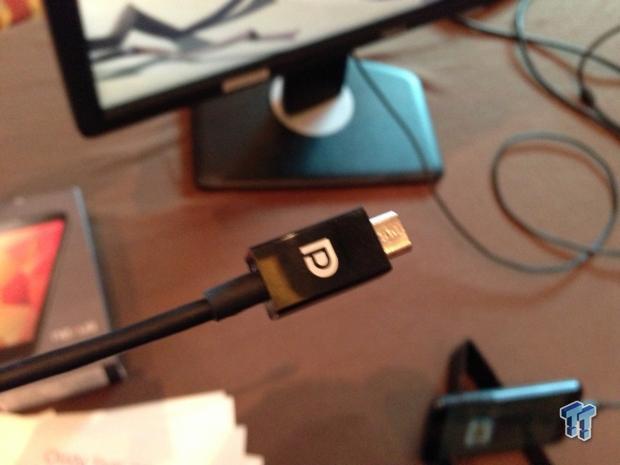 Currently when you use a SlimPort configuration, you can do one or the other, but not both. You can either transfer data over the Micro-USB connection using USB 2.0 as usual, or you can output display to another larger display. However, we've been told that next year with SlimPort you'll be able to do both simultaneously. That is something to keep in mind. We also heard from another company at the Summit who is working on a Micro-Express connector that will bring USB 3.0 to the party - SlimPort will also work on these connectors that will bring USB 3.0 to smart devices in the near future, I was told.
And back to the power issues, Analogix also has an adapter which actually includes a Micro-USB in power, enabling you to charge your device, while it's doing its thing of display output. Analogix also sells an adapter currently that includes both HDMI and VGA output. Due to customer demand, they are currently working on an adapter, which will be ready soon, that includes both VGA and DisplayPort on a single adapter.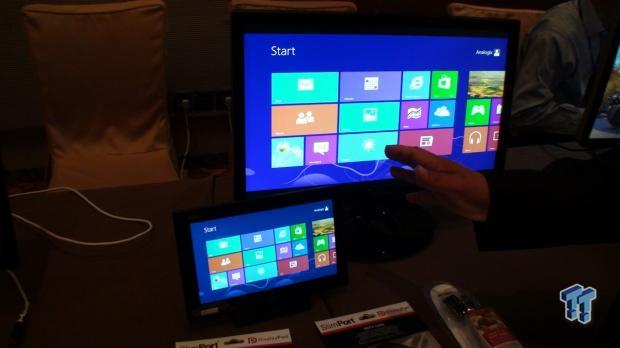 I think what you can take away from this, and it's the note I wrote down on my sheet of paper during the Summit. SlimPort helps make mobile devices better. When I say better that means much more productive (getting the display on a larger display so you can get some serious work or gaming done). It also makes the smart device like a PC. In the video above, you'll see a range of demo systems setup displaying to a larger, secondary screen.
In years past we would have seen full PC systems below those displays, but now we're seeing mobile devices in their place, and that's pretty obvious why, because they are just getting more and more powerful. They are the products that consumers are buying, so it's only natural we are seeing their tech progress at a fast rate - for example, jumping from quad-core CPU's to octa-core CPU's in just one year.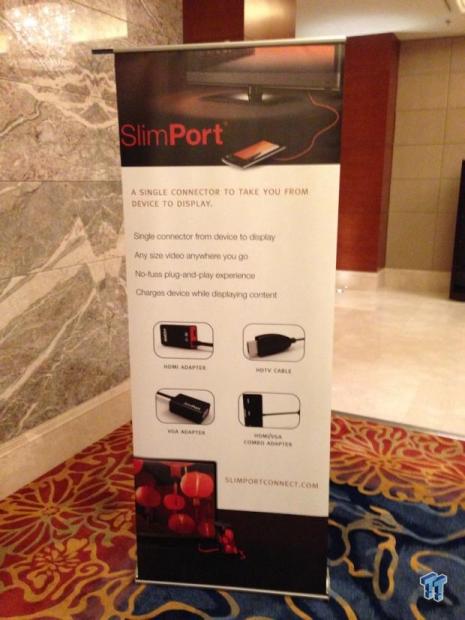 You may not have heard about SlimPort before today, but let me just say, from what I saw today at the SlimPort Summit 2013 here in Shanghai, you're going to see a lot more of it in the near future and beyond. Anthony Garreffa, TweakTown mobile device editor, has SlimPort review samples with him now, and will begin testing soon. Look forward to our review in 2 - 3 weeks.