TYLT FLYP Duo Two-Way Micro-USB and Lighting Charging Cable Review
Throw away your cheaply-made cables that break each month, TYLT thinks this model is the king of all - it's even reversible!
Published Jan 23, 2016 4:17 PM CST
|
Updated Tue, Nov 3 2020 6:58 PM CST
TweakTown's Rating: 93%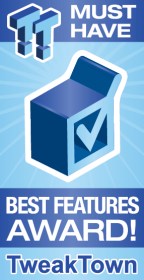 The Bottom Line
TYLT's FLYP Duo is an amazing piece of kit, whether you want to pay the higher price is up to you, but you really do get what you pay for in this instance.
Introduction
As far as plugging in a USB cable is concerned, 70% of the time you get it wrong - that's how the movie quote goes, right? Poor jokes aside, plugging in a one-way (normal) USB cable can be quite frustrating, especially when reaching into the glove box of your car or behind your PC, lining up the USB plug wrong more often than not.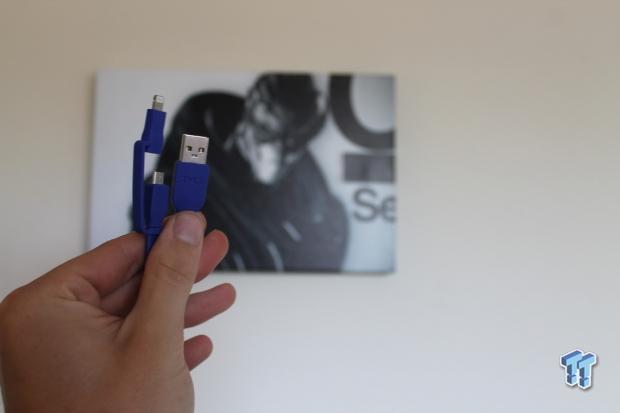 Here to rectify this first world problem is TYLT with its FLYP Duo, offering a USB charging cable with a difference, allowing users to flip (FLYP) it either way and plug it in whatever way up they please. This cable also contains a micro-USB and Lightning plug on the end, with the Lighting connection being disconnectable, but attached to the cable even when not in use.
Does the cable work as expected and is it worth the investment? This sentence may have sounded like sarcasm or a joke, but as an avid user of numerous third-party cables over the years, there's a ridiculously large variance. Often you'll be able to buy various types, qualities, sizes and more in this section of the accessory market - something that ends up with my friends and family wasting quite a lot of money on when they jump into cables uninformed.
Specifications
Offering an entirely flat ribbon type cable design, TYLT has covered its cable in rubber, meaning that it feels pretty damn cool. As stated previously, this cable is also a winner thanks to the fact that you can plug in the USB port end into a computer, either way up, offering what it calls the 'FLYP' design, ensuring that you're no longer frustrated by this annoying problem.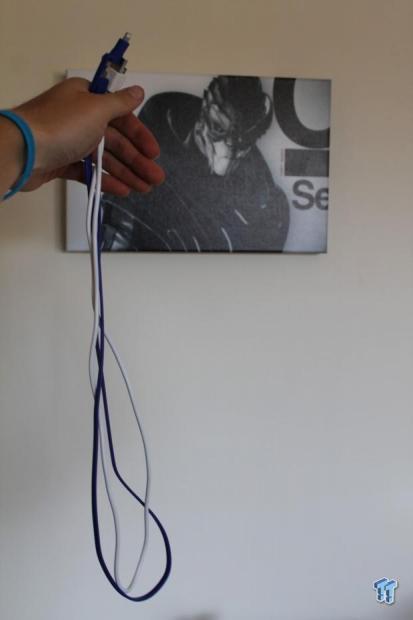 In addition to this double USB end, you're also provided with two charging options on the other side. Providing a micro-USB connection hardwired to the cable itself, TYLT further offers a Lightning connection for anything with 'i' in front of its name, made for the iPhone 5 smartphone and later Apple models. This cable remains connected to the cable even when disconnected, or can be cut off if you've got no love for Apple products.
The Lightning connection works as an adapter, meaning it plugs into the end of the micro-USB connection giving you a little extra length and a different port. The cable measures in at 3.3 feet in total and it's the same length as any standard USB charging cable, seen above compared to the Patriot series of charging products cable, meaning an almost identical length.
Pricing & Availability
Currently listed at $28.55 and free shipping from Amazon, this product is somewhat pricey compared to cheap online options, but ranks at similar pricing to anything you'll find in a retail store.
Websites like Deal Extreme will provide cables as cheap as $1 each with free or discounted shipping, but the quality is always questionable, alongside the cable having a possibility of arriving DOA (Dead on Arrival) and the fact that they are generally one-way USB plugs.
Touch and feel
So, how does it perform in the wild? The short answer is pretty good, and the long answer will now follow. The double-sided FLYP cable works as expected, ensuring that you're able to crush the first world problem of readjusting and re-plugging once and for all, giving you the freedom you need and deserve.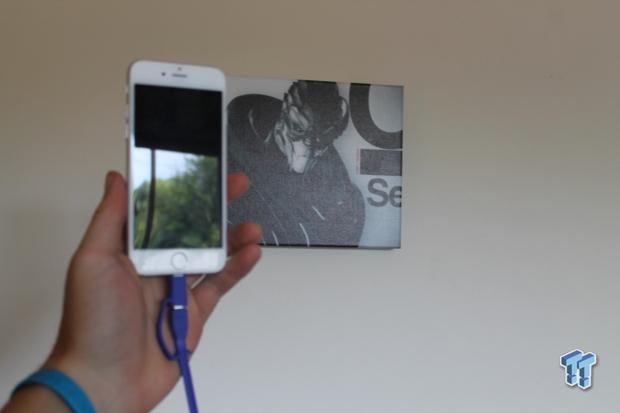 The micro-USB connection fits nice and tight, ensuring that the cable isn't going to jiggle or come loose as with some cheaper products. The Lightning iPhone connection performs the same too, slotting in nicely and tightly for use.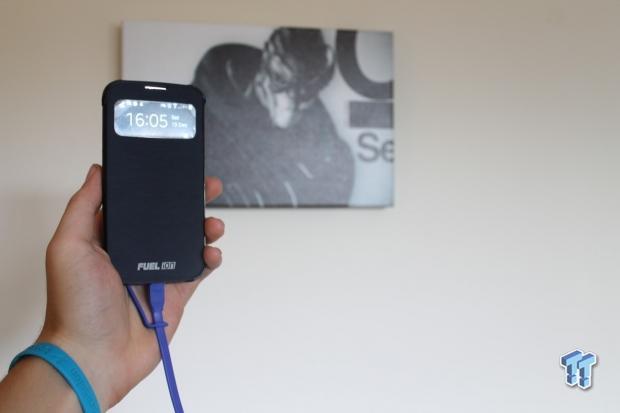 Further Analysis
The cable feels well-constructed and works fine for charging with my Samsung Galaxy S4 and my partner's iPhone 6, meaning that there's no error charging issues with unrecognized cables, being an annoying problem that I've experienced with the iPhone 6 in the past. While there are some guides online discussing how to clear these codes and ensure your cable is a clean slate, it's an annoying process that you shouldn't have to go through.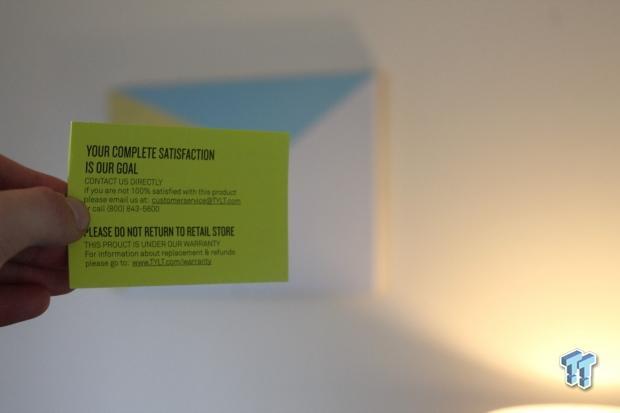 The cable is of adequate length and feels great with the rubber coating, with product issues being based around the Lighting adapter. While not in use it's great. I'm not a big fan of multi-ended charging cables as they are quite messy and also become flimsy over time. The fact that this adapter is connected to the cable means you can slide it out of the way when you don't need it is a great thing. That being said, the adapter is quite long and makes me nervous that there's a bit too much leverage.
The longer the end, the more overall leverage there will be on the port, meaning that there's a possibility you could damage the port if the phone is dropped or propped up on the cable for an extended time (or multiple times). While I understand that this is not necessarily a massive issue as it will mainly occur if the phone is dropped, it's still something that came to mind instantly. Remember that you've only got one charging point on your phone - kill this and it's all over.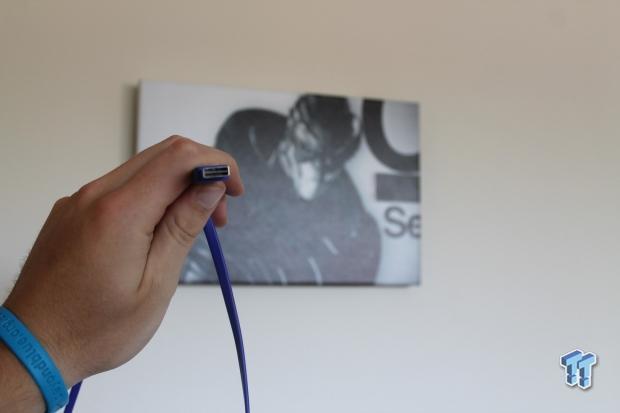 What's Hot
Well constructed: This cable will survive some knocks without issue, unlike cheaper models.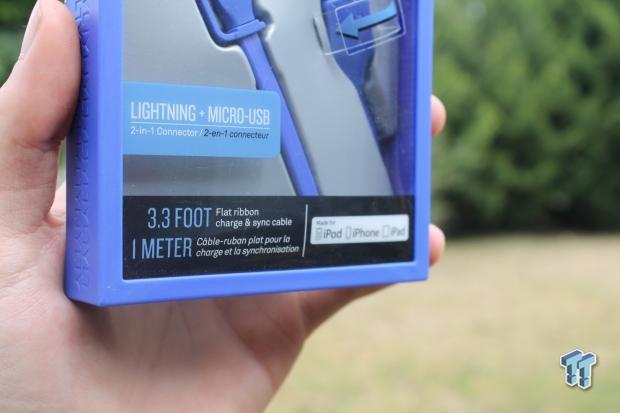 Strong connection: The FLYP Duo displays a strong connection to both Android and Apple products.
Great design: The thin ribbon design means that you're able to run this cable out of your car's center console or thread it through other tight spots without it crushing and breaking internally.
What's Not
The price: While TYLT has offered a stable product, it's still a little pricey.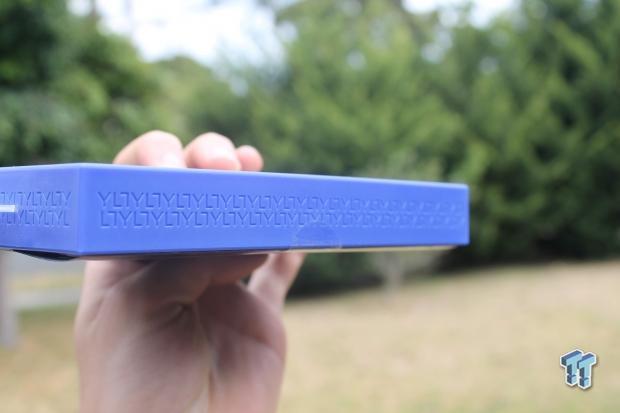 Pressure points: The adapter works as an extension, meaning that the connection on your phone has greater leverage applied to it if dropped while plugged in.
Final Thoughts
The TYLT FLYP Duo is constructed well, it looks great, and has some brilliant engineering behind it.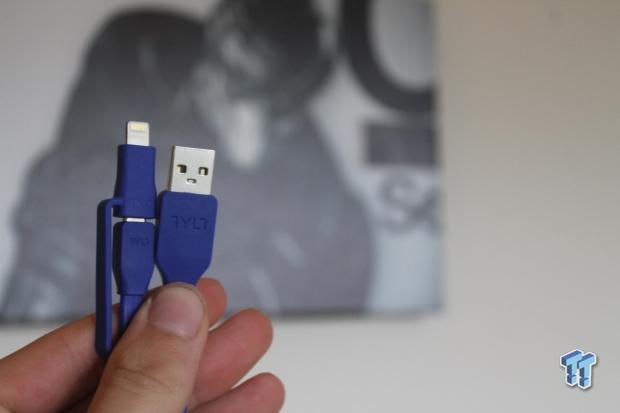 The small issues arrive in the form of a lengthy adapter, meaning that the Lightning adapter has a possibility of creating too much leverage on your port, likely to damage things if dropped as a package. Besides this, the dual-way USB plug works brilliantly, and the Lightning connection can be moved up the cable and out of the way when it's not needed.
There are plenty of cheap imitation cables available on the market through eBay and various Chinese dealers, but often these are 'the luck of the draw' when it comes to quality. In my experience, they'll offer a 25% failure rate on arrival, slow shipping times, flimsy cables, and the possibility of your phone rejecting the charge. I would recommend spending the extra bit of coin, grabbing this cool-looking, quality cable for your Android/iOS devices and be done with it. After all, who needs first world problems of one-sided USB ports? You can do away with them once and for all.
If you're not keen on the price, you can pick up around 15 cables for the price of this one, but they're not guaranteed to work, nor will they last as long. You get what you pay for, in this instance.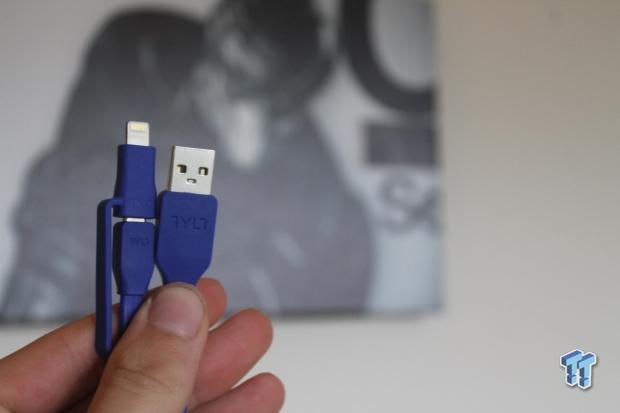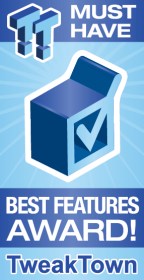 | | |
| --- | --- |
| Performance | 95% |
| Quality including Design and Build | 95% |
| General Features | 95% |
| Bundle and Packaging | 95% |
| Value for Money | 85% |
The Bottom Line: TYLT's FLYP Duo is an amazing piece of kit, whether you want to pay the higher price is up to you, but you really do get what you pay for in this instance.
PRICING: You can find products similar to this one for sale below.

United States: Find other tech and computer products like this over at Amazon.com

United Kingdom: Find other tech and computer products like this over at Amazon.co.uk

Australia: Find other tech and computer products like this over at Amazon.com.au

Canada: Find other tech and computer products like this over at Amazon.ca

Deutschland: Finde andere Technik- und Computerprodukte wie dieses auf Amazon.de
Similar Content
We openly invite the companies who provide us with review samples / who are mentioned or discussed to express their opinion. If any company representative wishes to respond, we will publish the response here. Please contact us if you wish to respond.