Introduction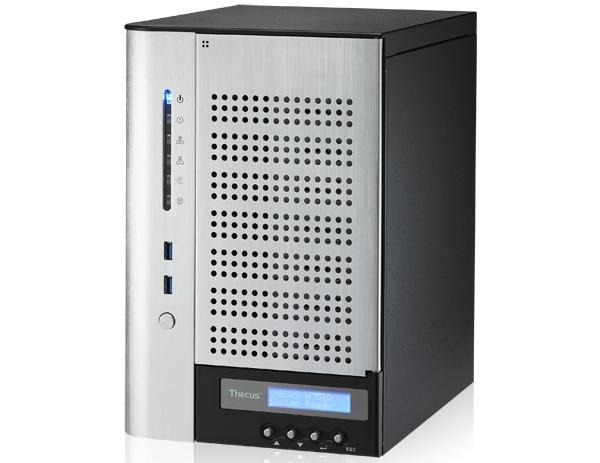 A 7-bay NAS isn't exactly the first place I would turn to find a high value NAS product. First off, there just aren't many 7-bay products on the market. With strong competition in the 6-bay and 8-bay sectors, you'd expect the best values to tip up in either of those areas. There are actually some really good buys in the 6 and 8-bay market, but none of them are as good as the new Thecus N7510.
The N7510 is a 7-bay NAS that costs less than $100 per bay. That said, the N7510 isn't a stripped down model either void of a graphic display, and it doesn't short you on RAM either. The fact is you get Thecus' standard display for easy setup and the N7510 ships with 2GB of DDR RAM, 1GB more than what ships with a majority of products from QNAP, Thecus' main competitor.
On the hardware size, the new N7510 is physically nearly identical to the N7700 Pro V2, Thecus' top SMB/Home User NAS. The N7700 Pro V2 uses a Core2 Duo processor and increases the DRAM to 4GB, enough power to handle more than 64 client systems in a multi-client office.
The N7510 that we're looking at today uses an Intel Atom processor with 2GB of DRAM and is designed for office environments smaller than 64 users.
Specifications, Availability and Pricing
Modern NAS servers have moved beyond data storage through a network. In order to get the most out of a NAS you have and look at the extra hardware and software features. The Thecus N7510 offers a good mix of features on both these fronts.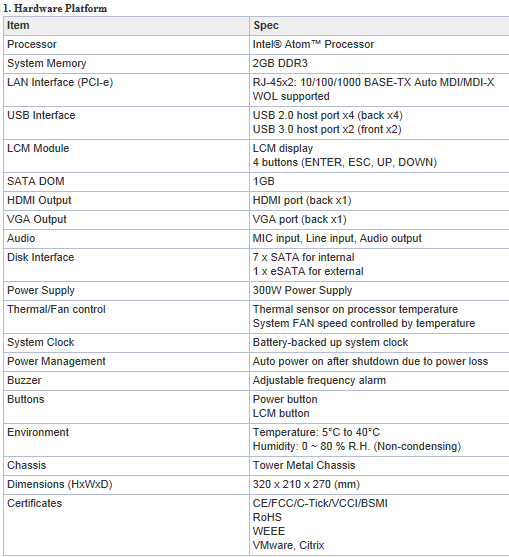 Thecus hit all of the check boxes for home and small office environments. The Intel Atom dual-core processor is strong enough to handle every tasks you want to throw at it and can even run several on NAS applications at the same time. The 2GB of DDR3 DRAM is a nice addition in a world where most NAS products in this price range still ship with only 1GB. The extra RAM allows you to run more applications in the background, without slowing the system. This is especially useful when running high resource applications like real time virus scanning that is native to the NAS. The large DRAM also improves advanced parity RAID performance, RAID 5 and RAID 6 work much better with extra DRAM in the system.
The main connections for the N7510 come from the dual gigabit Ethernet ports that can be teamed for additional throughput and reduced latency in multi-user environments. A host of additional I/O ports are included for close to NAS speed transfers, like quad USB 2.0 and dual USB 3.0 ports. The N7510 also has an eSATA port on the back.
The Home Theater revolution has come to NAS products thanks to new chipsets and processors from Intel. The N7510 features a HDMI A/V out port that is capable of the highest bit-rate 1080p video on the market today. In the coming week's we'll have a How To article on NAS HDMI playback that showcases options for turning your NAS into a video playback goliath without moving your NAS to the living room.
While shopping online we managed to find a Thecus N7510 for as low as $686 in the US. The prices vary worldwide, but we feel that in the US the N7510 is a good value and a solid buy for small office environments and home users who need to storage large amounts of data. The 7-bay design also allows users to start out with just a few drives and expand as needed.
Software Features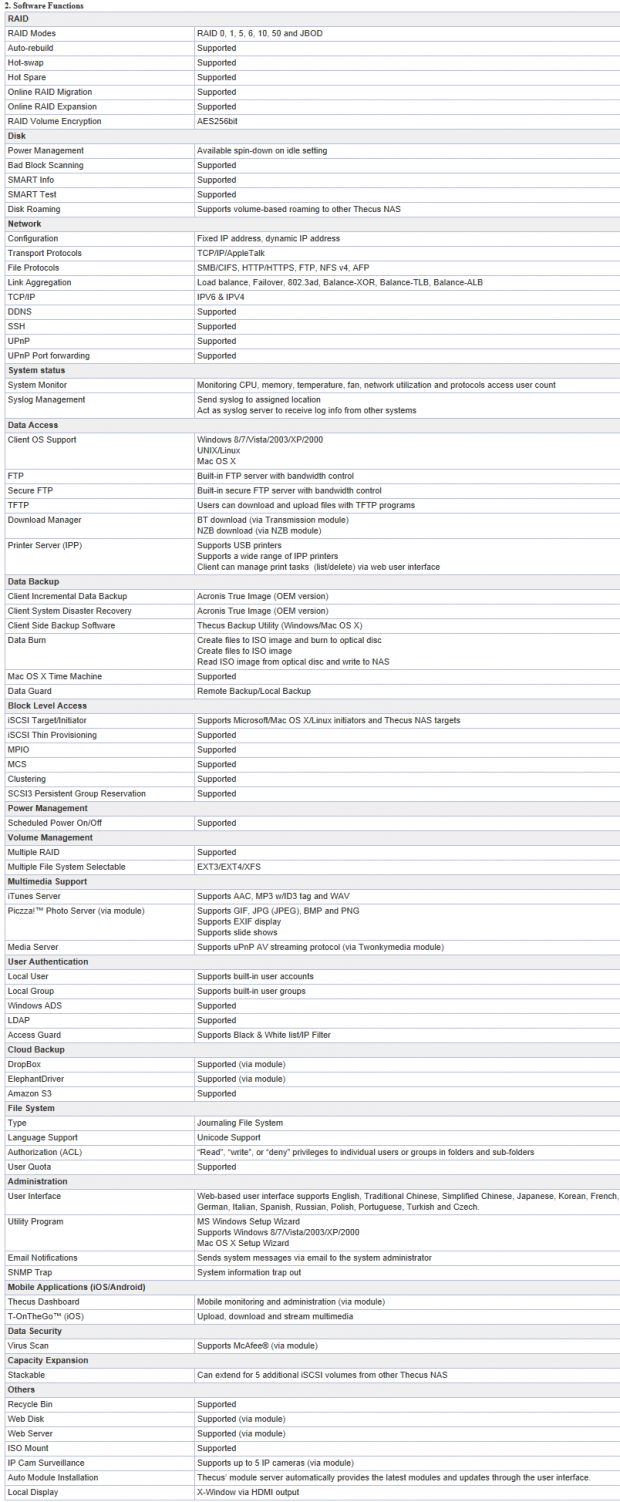 NAS products are an equal balance between hardware specifications and software features. Together, one compliments the other and a well-rounded product immerges.me across the Thecus product line. The N7510 spares nearly all of the same software as the flagship models and the Intel based entry level units. The difference is the processing power of the hardware and that determines how many of the applications you can run at the same time comfortably.
It's been awhile since we wrote a deep dive into the Thecus OS and software and several features have been added since our May 2010 editorial. You can use our guide to get a feel for the software and the flow of the layout.
New features like media playback, cloud NAS service and real time anti-virus stand out in the new features column.
Packaging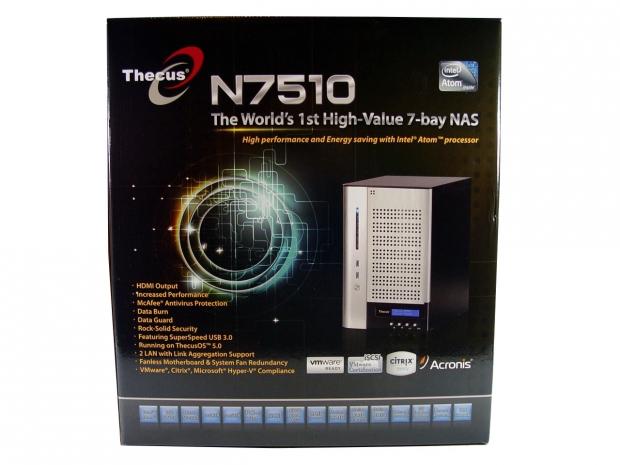 The N7510 ships in a retail friendly package that gives retail shoppers many of the product details.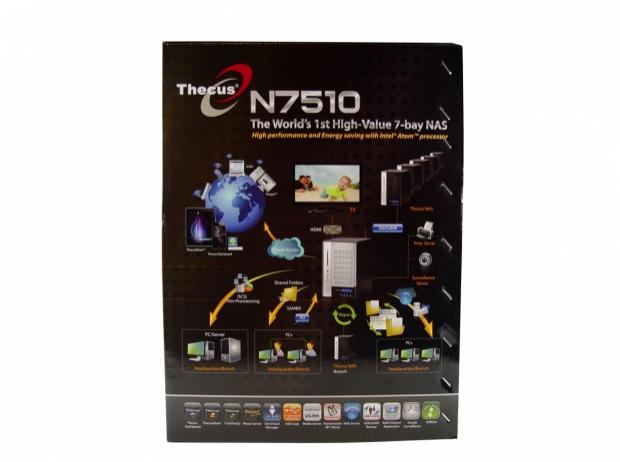 I love seeing these marketing images of a NAS connected to everything. Until you really own a NAS and start making it the center of your digital world, it's hard to imagine one box doing so much at the same time. Not only is this level of connectivity possible, it's easy with the Thecus OS.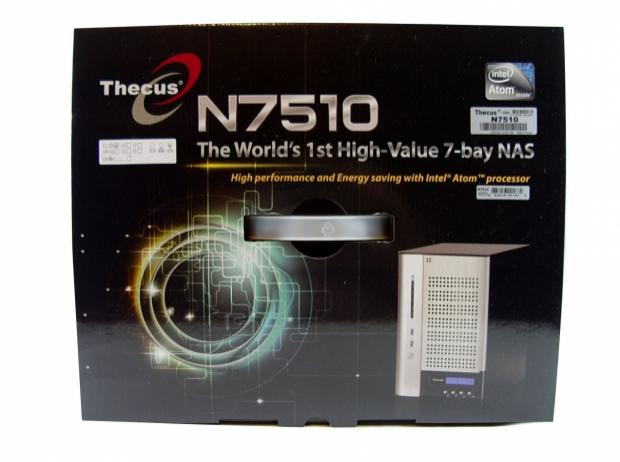 Thecus calls the N7510 'The World's 1st High-Value 7-Bay NAS'.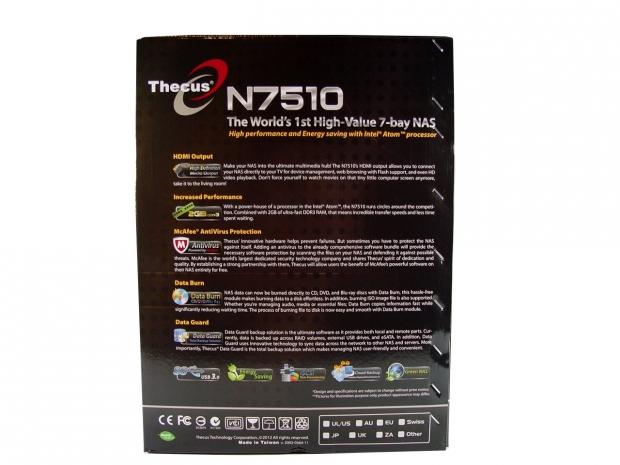 Some of the newest features are shown on the opposite side of the package.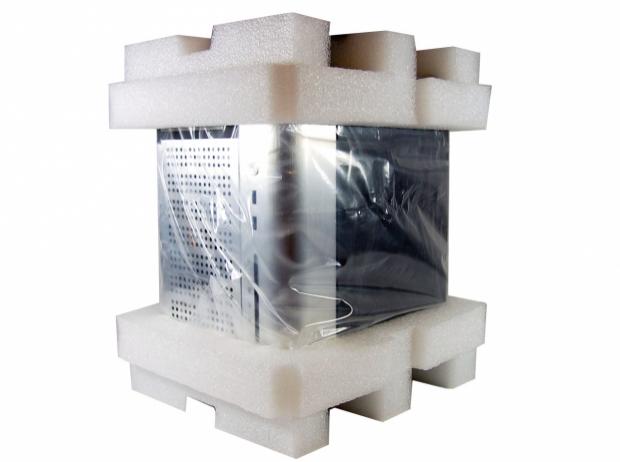 The inner packaging was designed to secure the NAS in a cocoon of dense foam. This greatly reduces the chances of damage during shipping.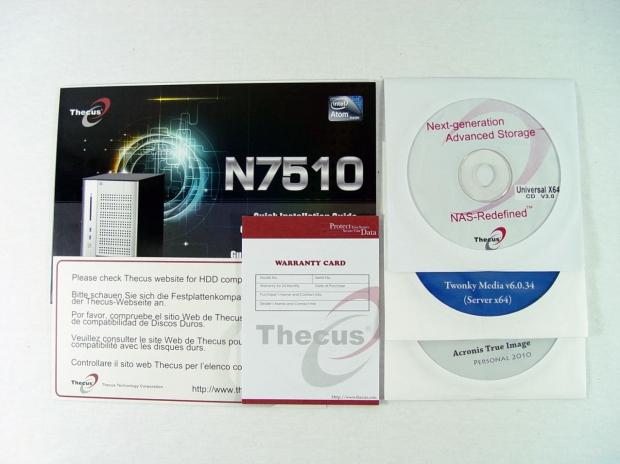 Inside we found a paper quick start guide, warranty card and a note to check the website for new firmware. Thecus also includes a disk with additional manuals, a disk for Twonky Media Server x64 and another disk with Acronis True Image.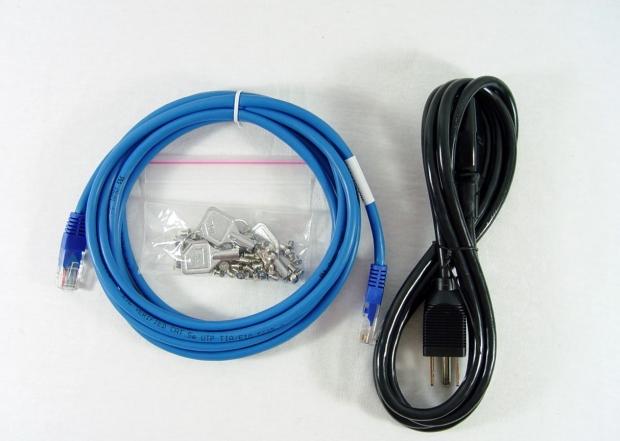 The hardware accessories include a nice CAT 5e cable, power cable, keys for the HDD locks and screws for securing the HDDs to the drive bays.
Thecus N7510 7-Bay NAS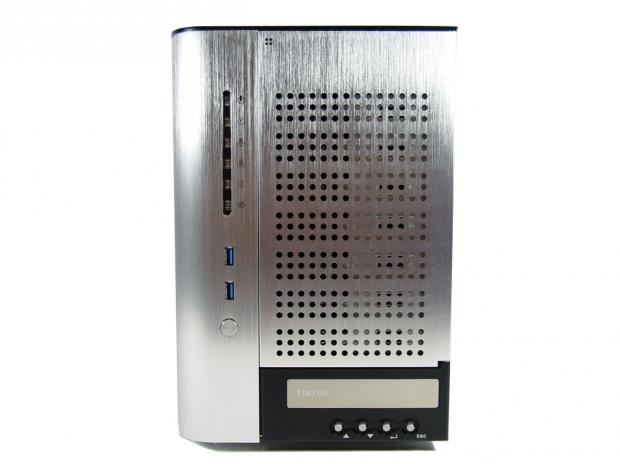 Here we get our first look at the Thecus N7510. The case is nearly identical to the N7700 Pro V2, Thecus's flag ship small business NAS. The N7510 uses brushed aluminum instead of painted aluminum and the look is stunning. Not that look really matters unless you want your NAS front and center for your media center.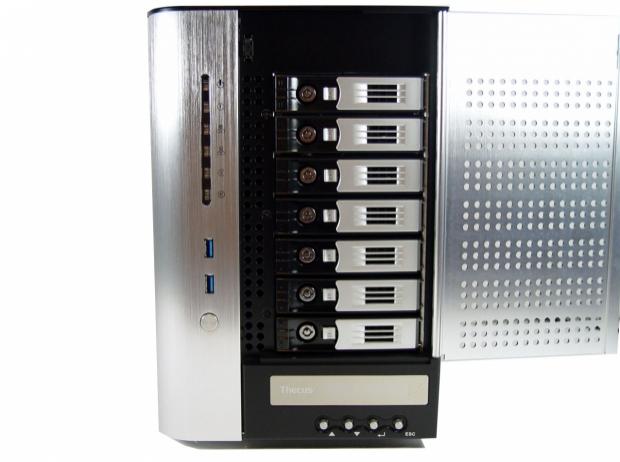 With the door open, we see the seven drive bays. The drive bays have individual locks for security.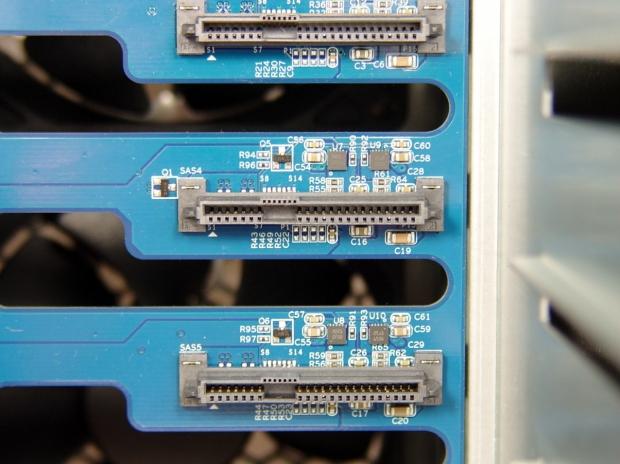 Inside we found SAS capable connectors, but we didn't test our unit with SAS HDDs.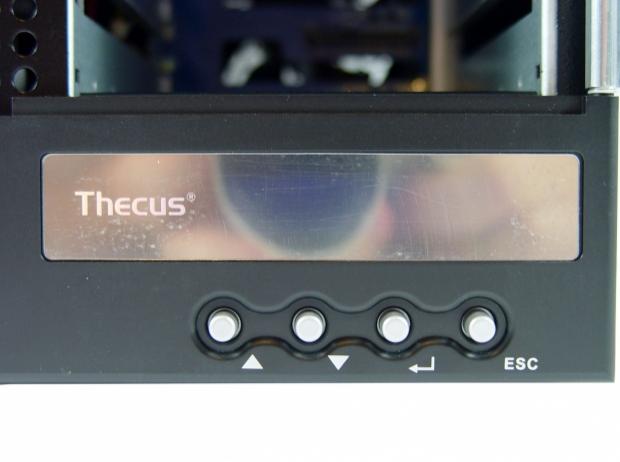 I never realized how useful the front display was on NAS products until I tested a NAS without a digital readout.
The N7510 display is hidden under a one-way reflective surface. It's kind of like the one-way mirrors you see on Law and Order in the police station. With the NAS on the display shows IP addresses for the NAS and you can even use it to configure your NAS without a client PC connected to it.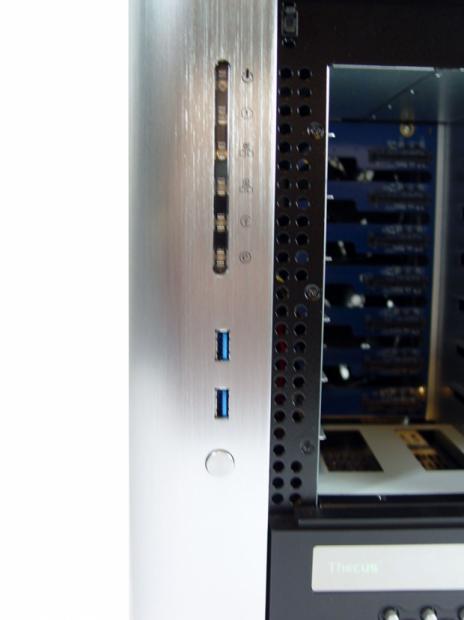 The front left edge has a cluster of status LEDs that show power and activity. There are also two USB 3.0 ports as well as the power button.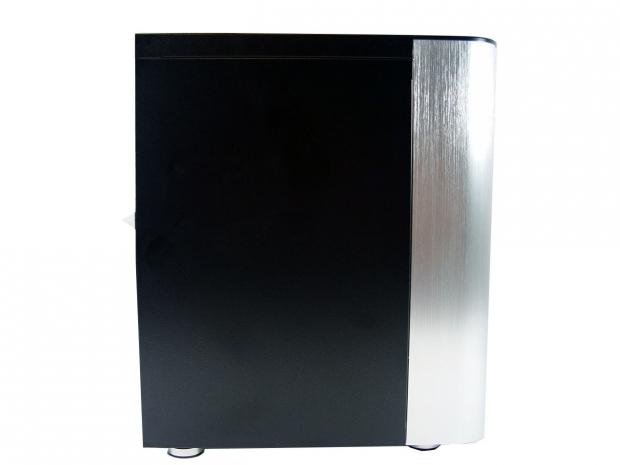 Both sides are solid so all of the ventilation passes over the HDDs to keep them cool.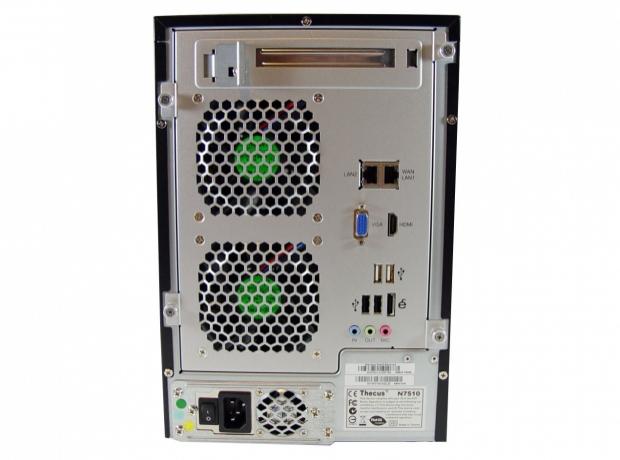 The back is where most of the magic happens.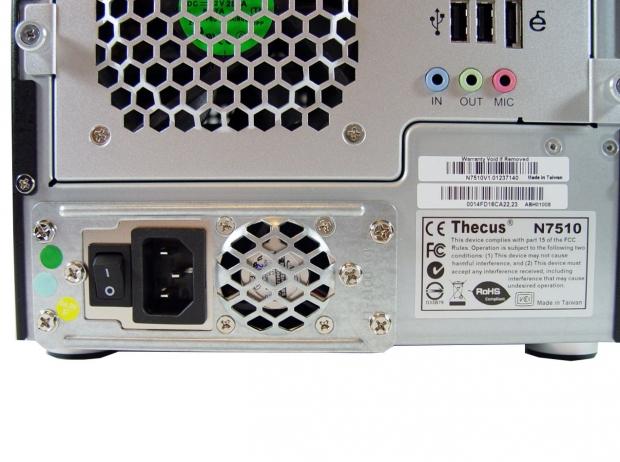 The power supply is built in and has its own cooling fan.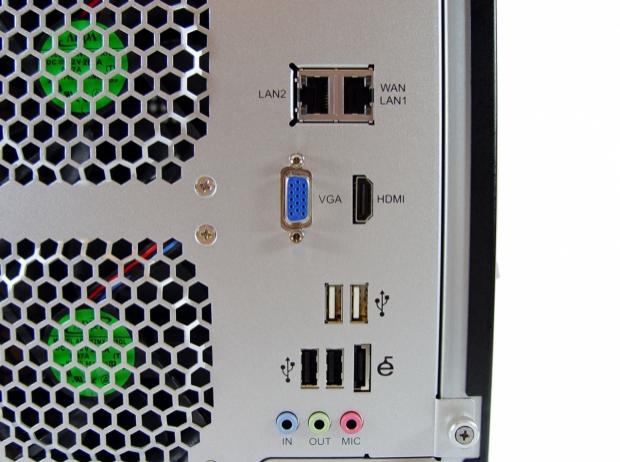 The lower I/O ports are spaced well and allow for oversized connectors when needed. At the top are two gigabit Ethernet ports that can be teamed in the software to double throughput and reduce latency. Four USB 2.0 ports are on the back as well as a single eSATA port.
The N7510 includes new A/V options, HDMI display (with audio) and 2 channel audio out, line level input and mic input.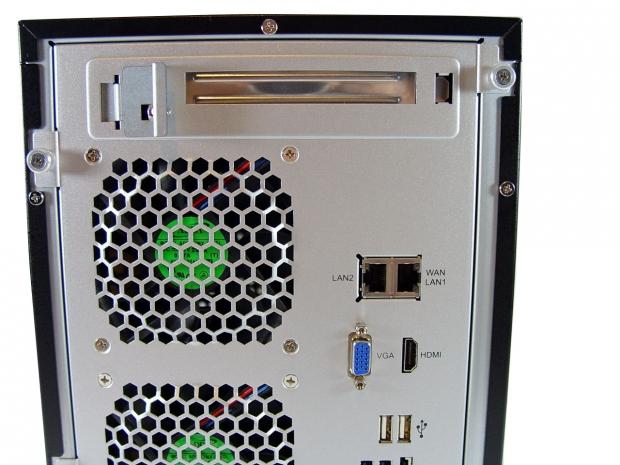 There is a slot at the top for add in cards but the N7510 doesn't use a PCIe 8x connector so it doesn't support 10GbE Ethernet. To get 10GbE you need to move to the higher cost N7700 Pro V2 or better.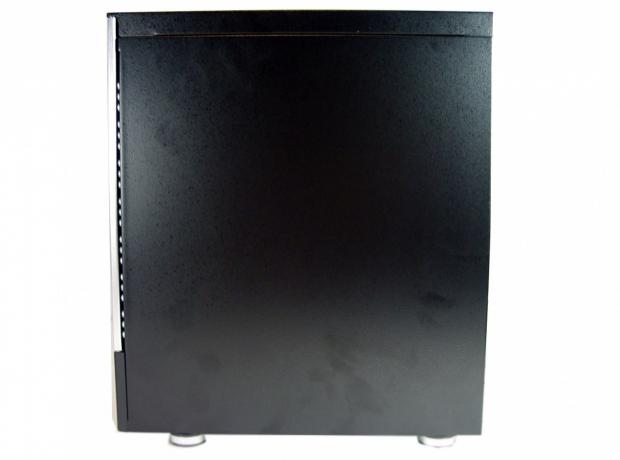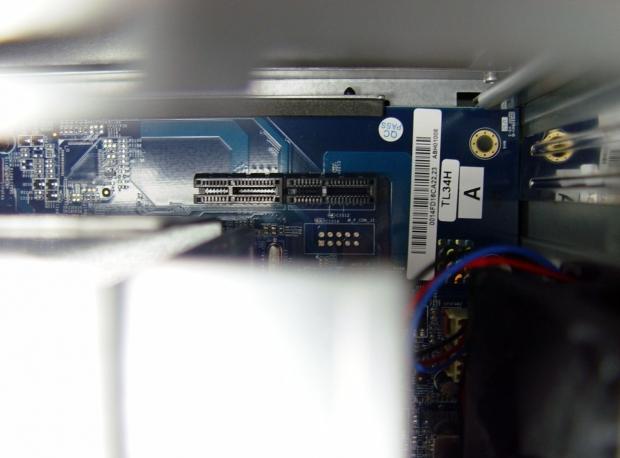 Here we see the internal connector. It's a one lane PCIe port with another one lane port behind it.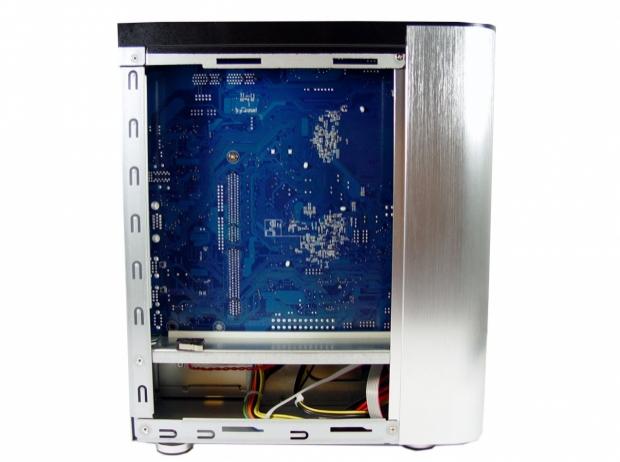 The N7510 doesn't give us easy access to the DRAM slots. To get to the RAM slots to increase RAM capacity you must remove several components, which would likely void the warranty.
Test System Setup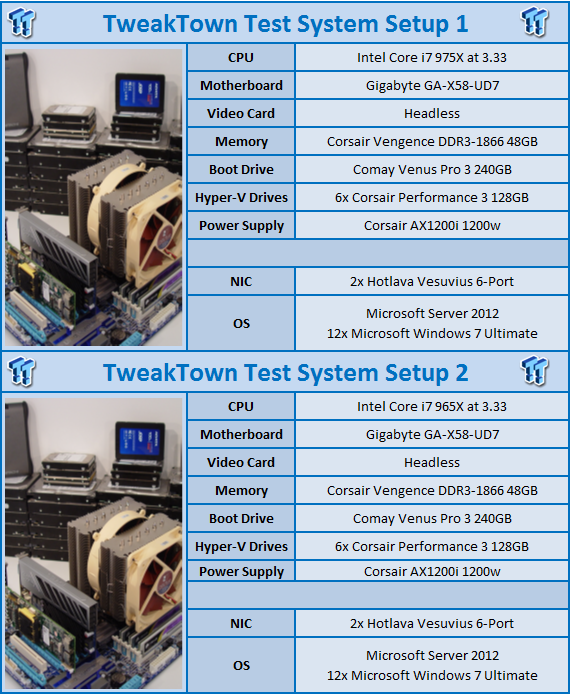 Intel NASPT
The Intel NAS Performance Toolkit (NASPT) is a file system exerciser and analysis tool designed to enable direct measurement of home network attached storage (NAS) performance. Designed to emulate the behavior of an actual application, NASPT uses a set of real world workload traces gathered from typical digital home applications. Traces of high definition video playback and recording, office productivity applications, video rendering/content creation and more provide a broad range of different application behaviors.
TweakTown Custom 48-Client Enterprise Test
The TweakTown Custom 48-Client Enterprise Test uses NetBench 7.03 with two custom workstations running 24 Hyper-V installs of Windows 7 to simulate small office multiuser performance. Both throughput (in Mbits per second) and latency (in milliseconds) are measured. The tests were ran in RAID 6 mode with the maximum number of HDDs installed.
- RAID Level Description
JBOD: Combine multiple drives and capacities into one drive.
RAID 0: Normally used to increase performance and useful for setups such as large read-only NFS servers where mounting many disks is time-consuming or impossible and redundancy is irrelevant.
RAID 1: Create an exact copy (or mirror) of a set of data on two or more disks. This is useful when read performance or reliability are more important than data storage capacity.
RAID 5: Use block-level striping with parity data distributed across all member disks.
RAID 6: Extend RAID 5 by adding an additional parity block; thus it uses block-level striping with two parity blocks distributed across all member disks.
RAID 10: A Stripe of Mirrors. Multiple RAID 1 mirrors are created and a RAID 0 stripe is created over these.
RAID 50: Combines the straight block-level striping of RAID 0 with the distributed parity of RAID 5.
RAID 60: Combines the straight block-level striping of RAID 0 with the distributed double parity of RAID 6.
Western Digital RED - The NAS HDD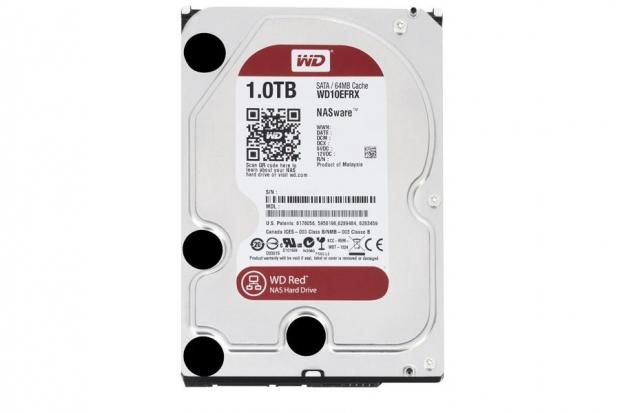 TweakTown uses Western Digital RED 1TB hard drives for all of our NAS server tests.
Benchmarks - HD Playback
HD Video Play - 720p HD stream from Windows Media Player* 256kB reads
2HD Video Play - 2x playback
4HD Video Play - 4x playback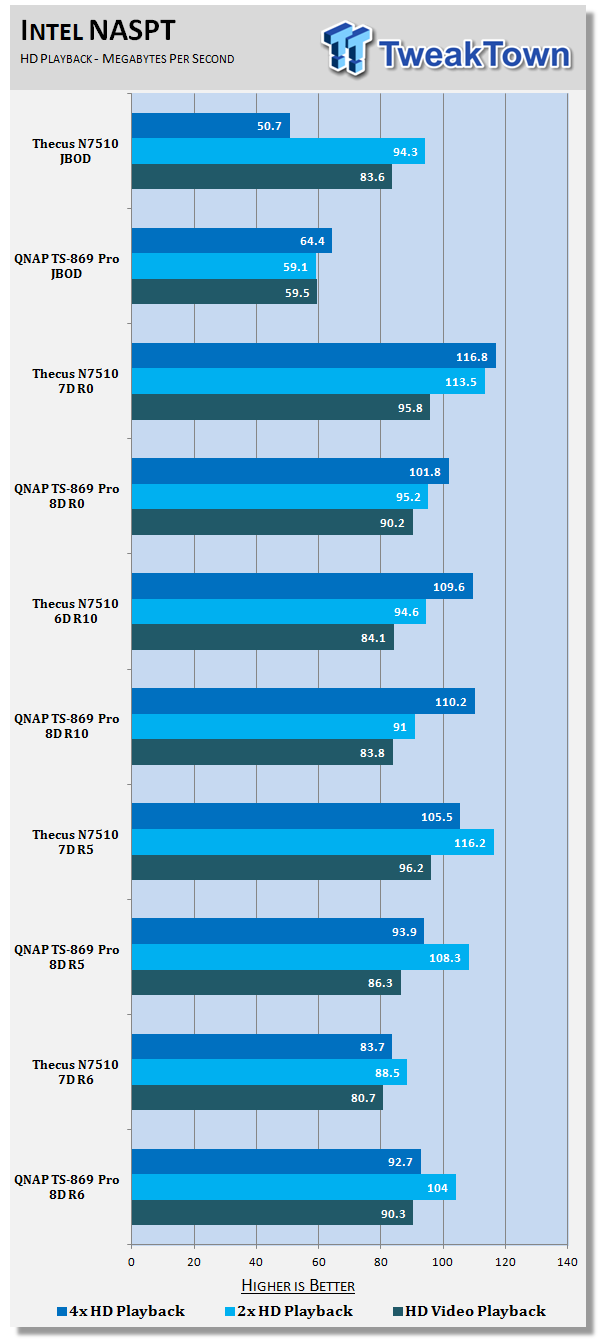 For a comparison product we're pulling out the QNAP TS-869 Pro, the same model we compared to the Thecus Top Tower N6850 just a few short months ago. The QNAP TS-869 review hit the front page of TweakTown November 1, 2012 and it's still available today for right around $1,100. There is quite a bit of a gap between out N7510 that costs just under $700, but we wanted to keep this comparison going. You'll see why in a few minutes.
Here we see the Thecus N7510 outperforming the TS-869 Pro in nearly every test. The TS-869 Pro doesn't take a lead until we get to RAID 6, but even in RAID 6 the Thecus N7510 stays very close.
Benchmarks - HD Record
HD Video Record - 720p HD stream, 256kB writes
HD Video Play & Record - 1 playback, 1 record simultaneously
2x HD Video Play & 2x Record - 2 playback, 2 record simultaneously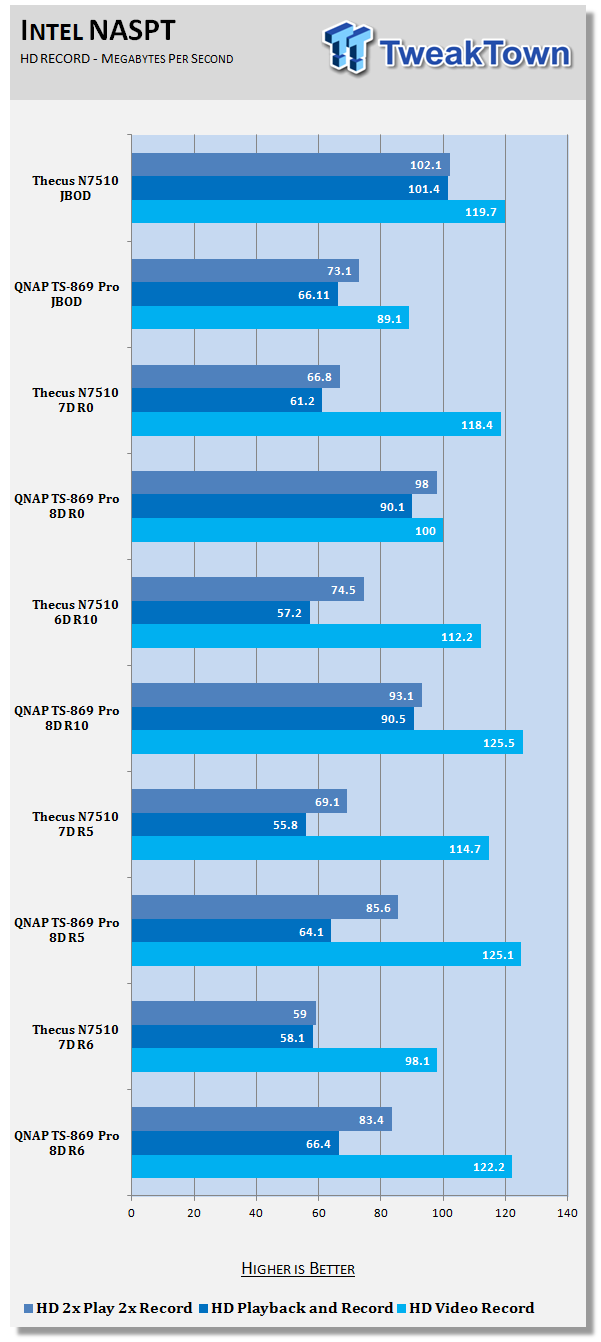 Writing data on the other hand is a little different. The Thecus does really well, but the lower clock speed of the processor means slower write speed with parity RAID (5 and 6).
Benchmarks - Content
Photo Album - All reads - wide distribution of sizes
Office Productivity - Reads and writes, 1kB & 4kB reads; Mostly 1kB writes
Content Creation - 95% writes; 1k, 4k & little reads; Writes up to 64kB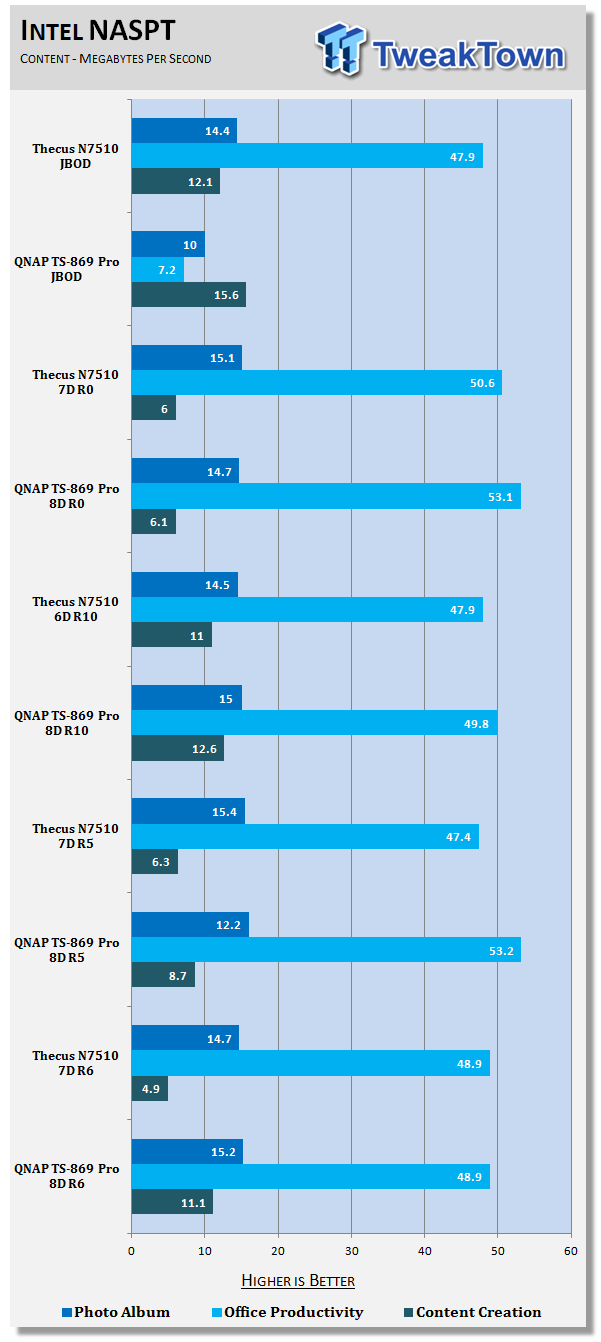 The two previous tests used sequential data, but now we need to look at random performance. Random reads and writes use smaller block sizes so you can tune your NAS when building the RAID array, by changing the strip size. For out tests we use the default setting which was right in the middle of the options available. The drawback from tuning for random performance is losing sequential performance.
In these tests, we see the two NAS products going back and forth with wins in the tests and RAID modes.
The performance is very close across the board in everything expect for content creation, the most stressful task handled by the NAS in NASPT. The RAID 6 content creation test is a challenge on the Thecus N7510, the QNAP unit doubles the performance. Of course to get there you need to spend a lot more money and run your system in RAID 6 to make it money well spent.
Benchmarks - Copy
Directory Copy From NAS - 64kB reads
Directory Copy To NAS - Predominantly 64kB writes, wide scattering under 16kB
File Copy From NAS - 4GB file copy, 64kB reads
File Copy To NAS - 64kB writes

The final NASPT tests are what most of us do with our NAS most often, copy files and folders of files to and from the NAS. Again we see both units going back and forth. The N7510 is very strong here, but in parity RAID, the QNAP unit is a little faster.
Benchmarks - Multi-Client Environment
The TweakTown Multi-Client Environment Test took over a year to design, program, build and validate. The processes started around a month before CES 2012. At that time we spent countless hours learning virtual environments, mainly VMWare and Hyper-V, the building blocks for the design. After we learned enough about hyper visors and had the confidence such a project was possible, we started pitching the idea to computer hardware manufactures. We would like to thank Antec, AVA Direct, Corsair, GIGABYTE, Kingston and QNAP for their assistance in making this test possible. Without the great people who work with us at these companies, tests like this wouldn't be possible.
This is the last time our multi client test will appear in such a limited format. The full run moves the environment from 48 clients to 60 clients (for smaller NAS units) and 120 clients (for enterprise-focused models). We're waiting on two more Intel Xeon processors to arrive, but they didn't arrive in time for this review. Once they arrive at our lab we can toss them in and expand the test format up to 120 clients.
The tests simulate an office environment with Microsoft Office software reading and writing to the NAS. The same workload is run on each client in the form of a trace. Every client has a dedicated gigabit Ethernet port and the NAS connects to the switch via two gigabit Ethernet ports. We're using an Extreme Networks 400-48t switch and the entire network is void of other traffic.
Throughput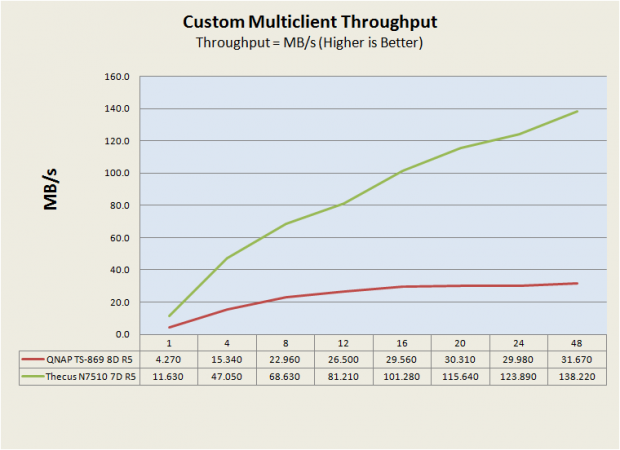 In a multiuser environment, the N7510 decimates the 869 Pro.
We contacted QNAP about their 802.3ad (teaming) performance and they are looking into the issue. This isn't the only model we've had issues with 802.3ad on though. On the other side of the coin, the Thecus N7510 does really well with 802.3ad running in our neutered version of the test.
Latency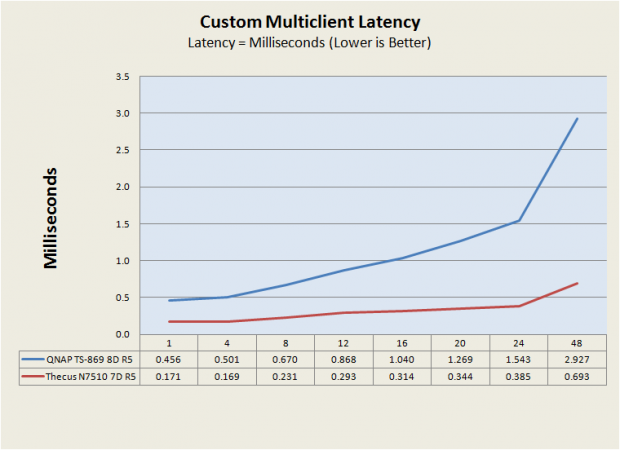 The next test is latency in a multiuser environment. The Thecus N7510 does really well here as well.
Final Thoughts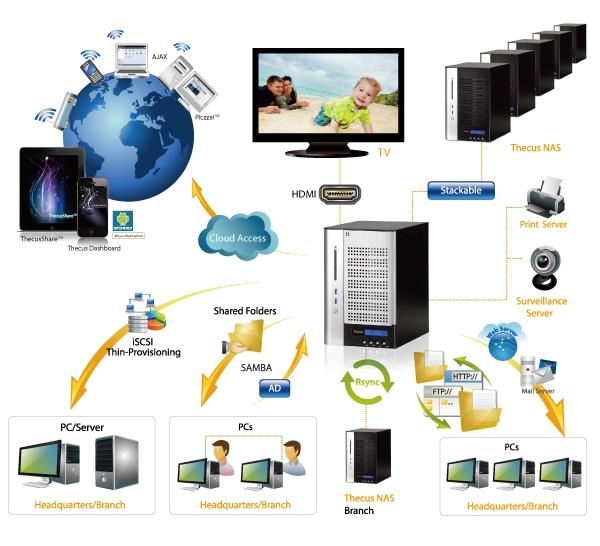 The N7510 ships with all of the new 2013 features recently introduced by Thecus and comes in at an amazing price point. The performance out of the box is very good; we're surprised Thecus is even labeling this as a high value part. Thecus has their ducks in a row when it comes to features and performance, and I guess they are just able to outperform their competitors - and do so at a very low price point.
The only feature missing on this unit is a 10GbE option, but even I don't run 10GbE other than a few test parts I have around. It will be a while before we see edge switches with 10GbE on a regular basis, so it's not as if Thecus is holding back a useful option for 99.9% of us. The N7510 does include the new A/V features that bring media center functionality to the NAS. Other new exciting features like Data Burn, the ability to connect an optical writer to the NAS, are included as well.
Besides, it's not like the dual gigabit Ethernet is going to slow any of us down. The N7510 was proven today to be a solid performer in all of our tests. Comparing this unit to a quad-core NAS costing significantly more was by design. The N7510 ran toe-to-toe with the 869 Pro and even managed to surpass its level of performance by a large margin in the multi-client test.
Thecus has been on quite a roll here lately, it's as if they can do no wrong. The last few units we've tested performed very well and all were tested against more expensive units and won in both performance and features.
If I were spending my money right now, I'd have to say it would go on a unit from Thecus. That's a powerful statement since I work with nearly all SMB NAS manufacturers, but it's the most honest stance I can take to express how impressed I am with the company's products currently. Speaking of spending money, the N7510 is quite the value as well. At less than $100 per bay this design borders between high-end enthusiast and smaller medium sized office.