Origin EON17-S Gaming Notebook Review
We take a look at Origin's EON17-S gaming laptop. This beast features dual SSDs in RAID 0, a quad-core CPU and a 680M GPU.
Published Fri, Feb 22 2013 1:23 AM CST
|
Updated Tue, Nov 3 2020 7:01 PM CST
Rating:

93%
Manufacturer: Origin
Introduction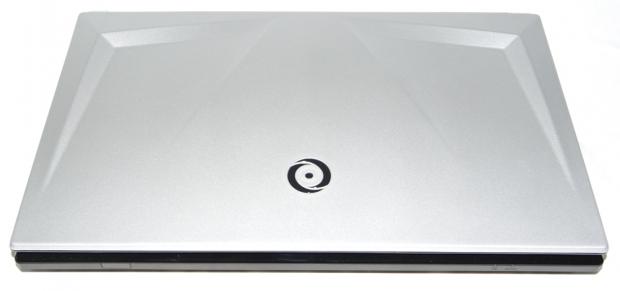 Today we've got Origin's massive EON17-S gaming laptop in the lab. This beast of a machine is one of the most powerful laptops on the market and has blown through our benchmarks with lightning speed.
The EON17-S is styled similarly to the EON11-S that we reviewed last week. Save for a difference in size and performance, the two are very similar. Both have excellent build quality and performance packed into a mobile chassis.
The EON17-S is the big brother of the EON11-S. It features a massive 17-inch screen and features that put my desktop system to shame. Let's take a look at the specifications and how it does in our benchmarks.
Specifications, Configurations, Pricing and Packaging
Specifications, Configurations and Pricing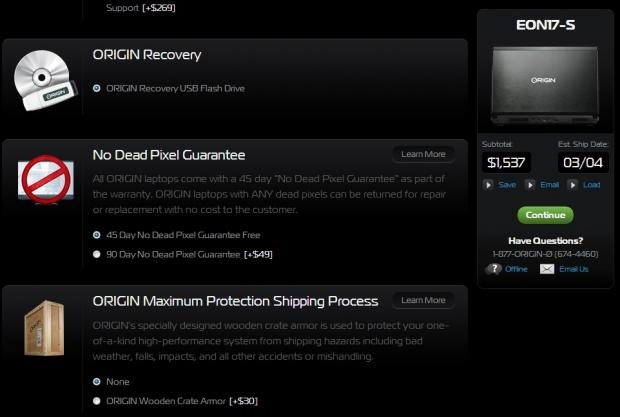 Our review system is packing the powerful Intel Core i7-3940XM. The quad-core extreme mobile chip has been factory overclocked by Origin and is a feature that will set you back a bit of extra cash. The quad-core is coupled with 8GB of Corsair Vengeance DDR3 1600MHz RAM.
The graphics are provided by an overclocked 4GB NVIDIA GTX 680M, which is the single fastest mobile GPU available. The operating system is installed on dual 120GB Corsair Neutron GTX SSDs that are configured in a RAID 0 array. This means the system drive is unbelievably fast. It comes installed with Windows 8.
The approximate price for a system like ours is $3600, though that will vary with the various sales Origin runs, along with the decrease of prices by suppliers. Origin machines are highly customizable, meaning that you can pretty much put whatever you want into the system, provided you have the cash to do so.
If you'd like to get an idea of some of the customizations available, you should check out Origin's website where you can customize the system. You can also give Origin a call and they will help you build a system to fit your needs.
Packaging
Packaging of the EON17-S was absolutely superb. The cardboard box was placed inside of an Origin shipping crate made of wood. This is an additional shipping option available during purchase and almost guarantees that your system will arrive in one piece. Not only that, the lid of the shipping crate would be awesome to hang on your wall. It looks like something out of Indiana Jones.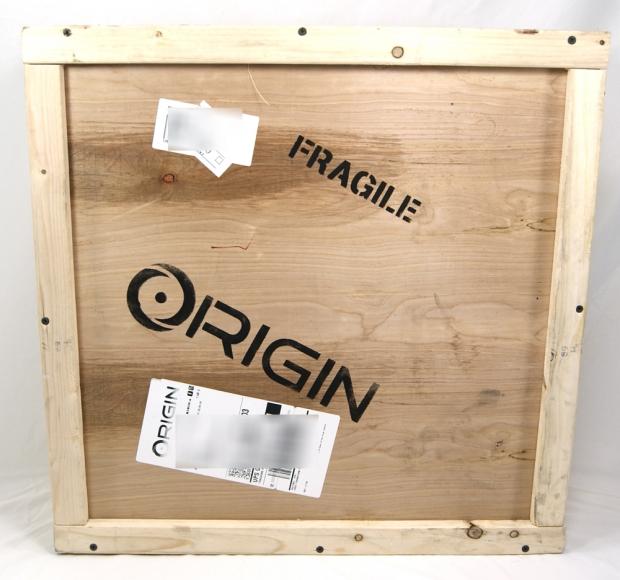 It uses a newer way of packaging, which features a cellophane-like sheet to hold the system in suspension. It really seems like it would protect the system from the prerequisite bumps and bruises that come with shipping a package.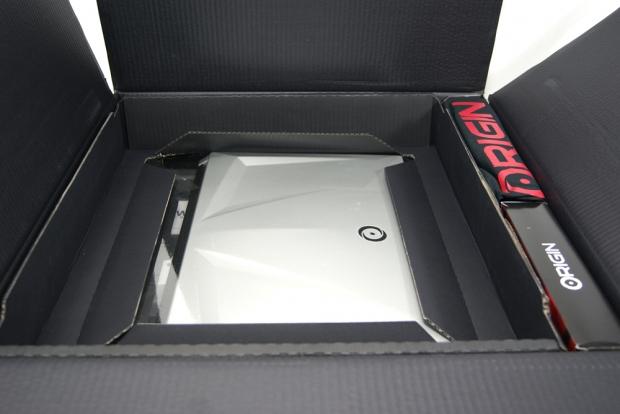 Temperatures, Cooling and Noise
Origin has packed lots of computing power into the EON17-S and has even gone as far as to overclock the already powerful and power hungry hardware. This means they have a lot of heat to deal with and the results show that they do an elegant job of this in some respects.
The EON17-S does a great job of keeping the heat away from the user, an important aspect when someone is going to be gaming on this machine for hours at a time. It's especially important to keep the heat away from the keyboard.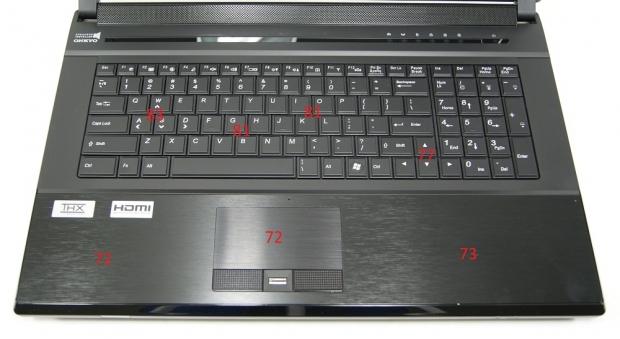 As you can see, on the front of the system, we logged a maximum temperature of 93 degrees Fahrenheit. It should be noted that this max temperature was located directly over the WASD keys.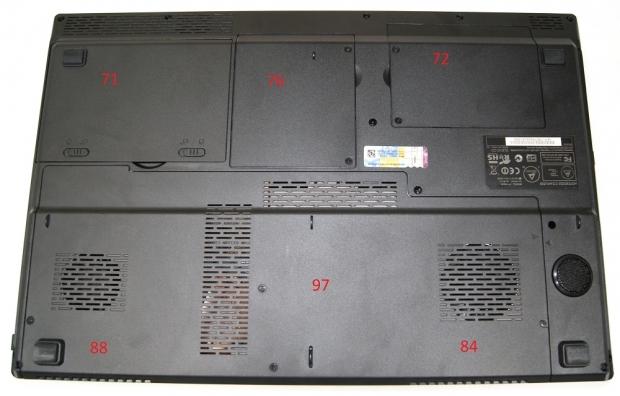 Moving around to the back side, temperatures were higher. The maximum observed temperature was 97 degrees Fahrenheit. While you probably don't want prolonged exposure to your skin at that temperature, this machine certainly shouldn't have any issues being used on a lap if it's not fully loaded.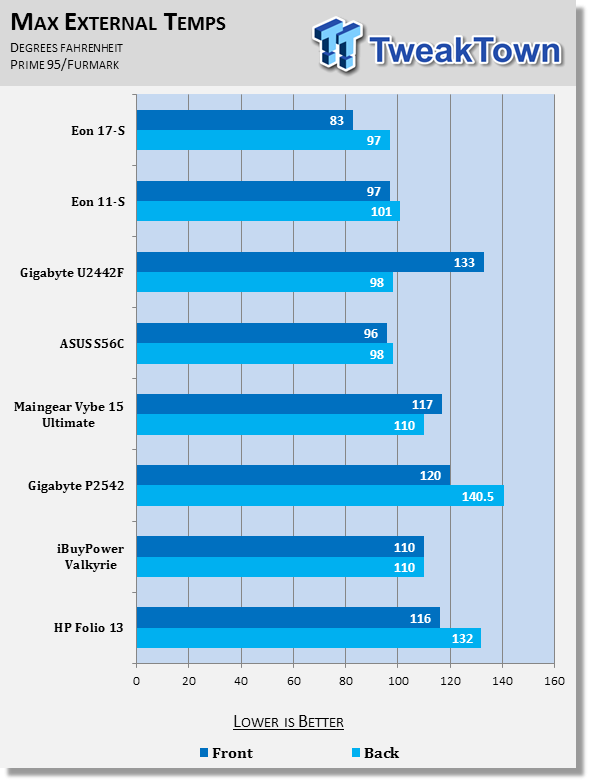 The maximum observed GPU temperature was 81 degrees Celsius, a temperature well within the limits for a video card. The CPU reached a maximum of 103 degrees Celsius. At this temperature, the chip starts to throttle performance so as to not destroy itself. However, most games won't be stressing the CPU nearly as hard as Prime95, so it shouldn't be too much of a problem.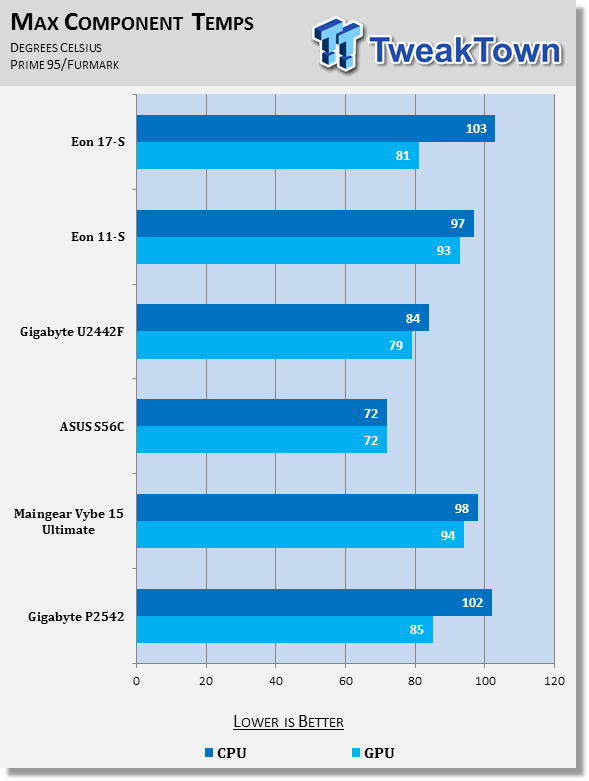 The EON17-S produced a sound level of 53 decibels in our measurement. This is the loudest system we've tested. Our measurement is taken in front of the laptop at roughly head level. For comparison, 30dB is a totally quiet night time in the desert, 40dB is whispering, and 60dB is a normal conversation.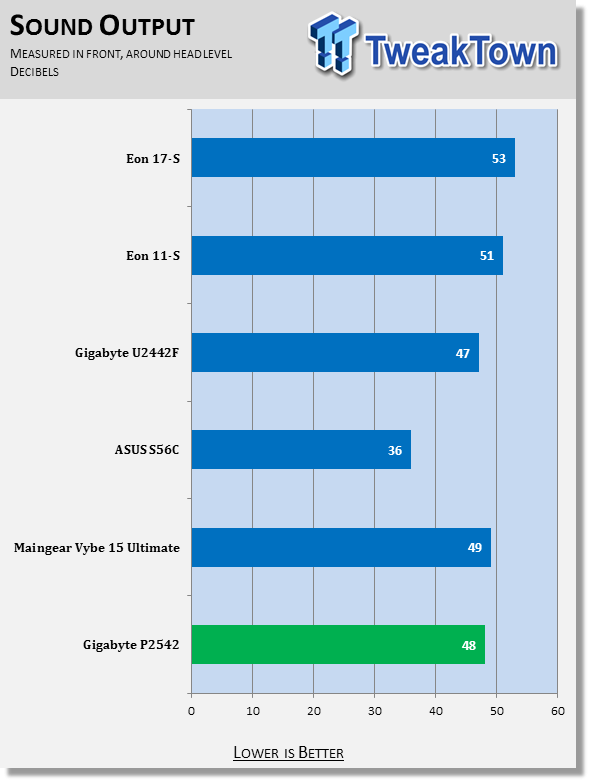 Keyboard, TouchPad, Screen and other User Interfaces
Keyboard and TouchPad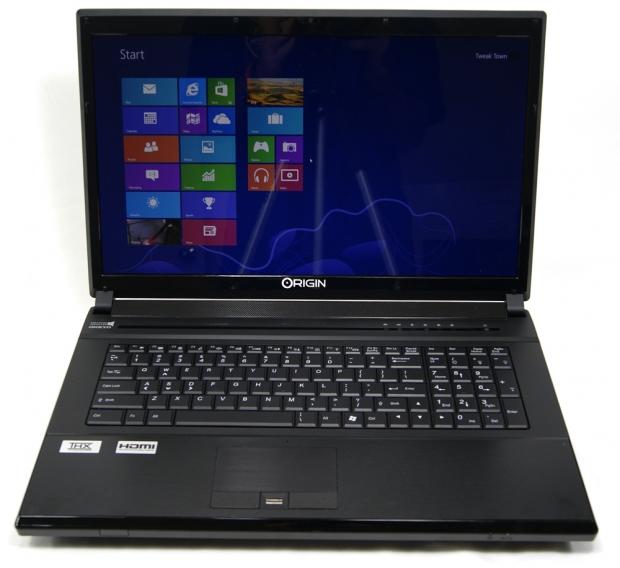 The EON17-S has a keyboard that attempts to emulate the island-style keyboard without actually being an island-style keyboard. As you can see in the picture above, the keys do not have any space in between them. Instead, the caps are raised in the middle to give the appearance of an island-style keyboard.
While it isn't an island-style keyboard, I'm still able to type accurately and with good pace. The keyboard is comfortable and provides a nice typing experience.
The keyboard also comes with a customizable backlight. The backlight can be changed through a range of colors and set to do different actions. It can pulse, rainbow, waterfall, and numerous other cool effects. During testing, I had the backlight set to a rainbow color scheme with the each zone of color a different color of the rainbow.
The keys have a good amount of travel and bottom out without making too much noise, even when flying across the keys. They feature a very mild grainy texture. There seems to be no flex across the entire keyboard, a good sign of the system's build quality. The keys should be able to take a pounding without failing.
The touchpad is a three-piece assembly. The touchpad portion and click buttons are three different pieces. The left and right click buttons are two separate pieces of textured plastic, which is different that the surrounding brushed aluminum texture. The left and right click are separated by a fingerprint reader in the middle.
The touch-sensitive area of the touchpad has a slightly different texture than the surrounding material and is marginally less "sticky." This allows your finger to move easier when trying to move the cursor.
Screen
The 17.3-inch screen fitted by Origin to the EON17-S is a 1920x1080 panel. The system looks good with a full HD 1080p panel and provides plenty of desktop space when not gaming. The 680M is capable of pushing games in the panel's native resolution.
Viewing angles aren't the best, but they aren't horrible either. Moving vertically is the worst for the screen, with colors changing fairly rapidly. When moving horizontally the panel fares quite a bit better, with colors staying approximately the same until far from center.
Colors are vibrant and seemingly well reproduced. Of course, no TN panel will ever be able to compete with an IPS on viewing angle or color reproduction. There shouldn't be any surprises when looking at pictures on the screen, and games look good.
Testing Methodology
View our full testing methodology article.
- Accessory Port Testing
Ports to which an external storage device can be connected to are tested using HD Tune Pro to obtain their maximum, minimum and average read and write speeds. USB 2.0, USB 3.0 and eSATA ports are tested using a Corsair Neutron GTX 240GB SSD that is capable of saturating the theoretical bandwidth available.
The Corsair Neutron GTX is housed inside an Icy Dock external enclosure which features a SATA I/II/III to USB 3.0 and eSATA converter.
- Gaming Tests
Battlefield 3 is run at 1920 x 1080 resolution with the graphics preset set to "Ultra." The test is ran three times due to higher variability than the other benchmarks. FRAPS is used to record 60 seconds worth of FPS data and recording starts when the character first picks up the gun at the start of the campaign and usually finishes shortly after the train explosion. The game is played in a similar manner each time.
3DMark Vantage is ran on the Performance preset to get a feel for how the computer would manage gaming. The CPU, GPU and combined scores are reported. A higher overall score is the best and a high GPU or CPU score shows particular prowess with tasks that use that part of the computer.
3DMark 11 is run on the Performance preset and the Physics, GPU and combined scores are reported. This test is only run if the system supports DirectX 11. A higher overall score is the target, though a high individual result shows prowess in a particular area.
3DMark is the latest benchmark by Futuremark. The Cloud Gate test is ran with all of the default settings and the score, GPU score, and physics score are all recorded in the chart. The Cloud Gate test is intended to be run on home desktops and notebooks.
- System Tests
PCMark 7 is run to get an overall idea of how the system performs as a whole. It tests all aspects of the PC and puts a score on how well it performs overall. In this test, a low scoring area can affect the overall score, so it's important to read the analysis. A higher score is better.
MobileMark 2012 is another test run to get a feeling for the system performance taken as a whole. MobileMark 2012 uses real-world applications as part of the benchmark. We use the Office Productivity suite which includes applications like Adobe Acrobat and Microsoft Word. The test also reports battery life as all tests are run on battery. Higher is better for both results.
CrystalDiskMark is run to put a number on how well the system hard disk drive / SSD runs. It measures five different metrics, of which higher is better for all. The higher the numbers, the snappier the operating system will feel, especially if the "4K" number is high, as most operating system files are small files.
- Battery Life
PowerMark is used to measure battery life of the system when set to "Balanced" and "Performance" power plans. This test simulates several different activities, but uses custom built applications.
Accessory Port Layout and Performance

The left side, from back to front, features a 1394 connector, Ethernet, two USB 3.0 ports, a combo eSATA/USB port and card reader.

The back side, from left to right, features a Kensington lock, exhaust port, Display Port, HDMI port, DVI port, power port and another exhaust port.

The right side, from back to front, features a USB 2.0 port, an array of audio jacks, and a fake CD drive cover. The cover covers the third HDD. This is where a CD drive would be installed if a third disk was not in use.
HD Tune Pro
Version and / or Patch Used: 5.00
Developer Homepage: http://www.efdsoftware.com
Product Homepage: http://www.hdtune.com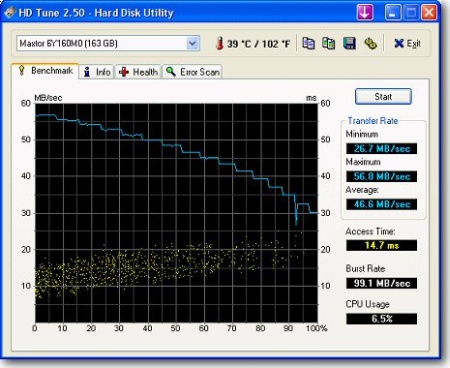 HD Tune is a Hard Disk utility which has the following functions:
Benchmark: measures the performance
Info: shows detailed information
Health: checks the health status by using SMART
Error Scan: scans the surface for errors
Temperature display
HD Tune Pro gives us accurate read, write and access time results and for the last couple of years has been gaining popularity amongst reviewers. It is now considered a must have application for storage device testing.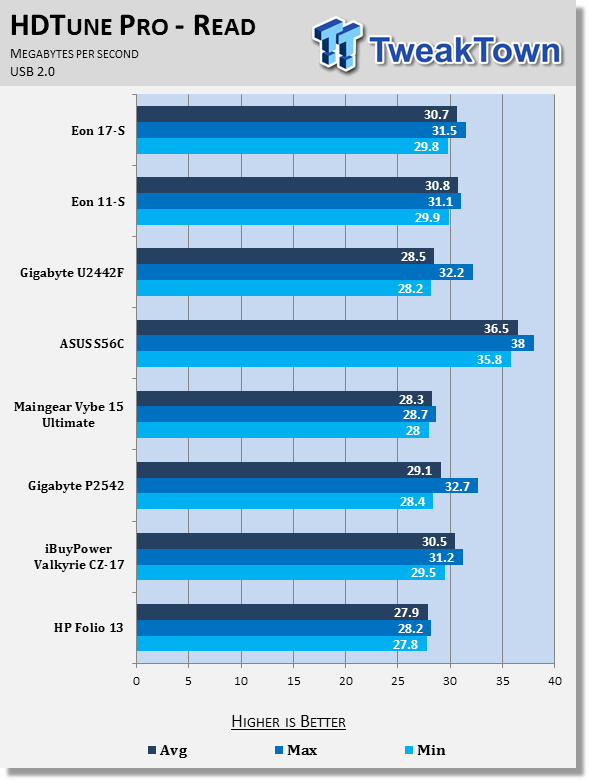 The EON17-S performs nearly identically to its little brother. It performs towards the top of the tested systems in the USB 2.0 read test.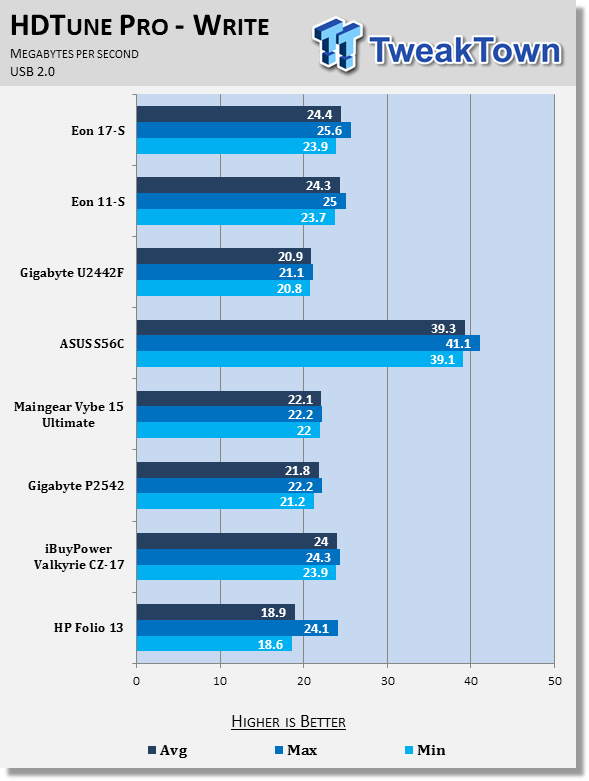 The EON17-S continues to perform slightly better than its smaller sibling. It performs towards the top of the systems tested, though the ASUS S56C Ultrabook absolutely dominates the USB 2.0 write test.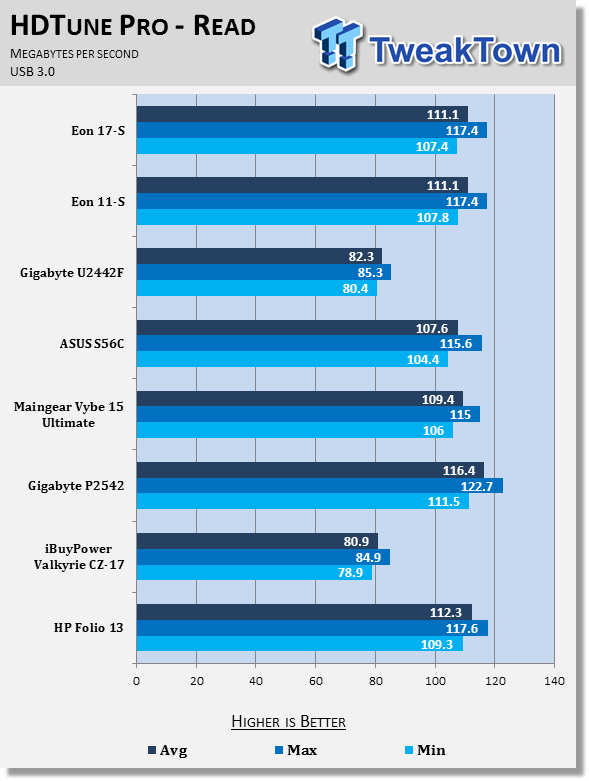 Moving to USB 3.0, the EON17-S comes in third place tied with the EON11-S.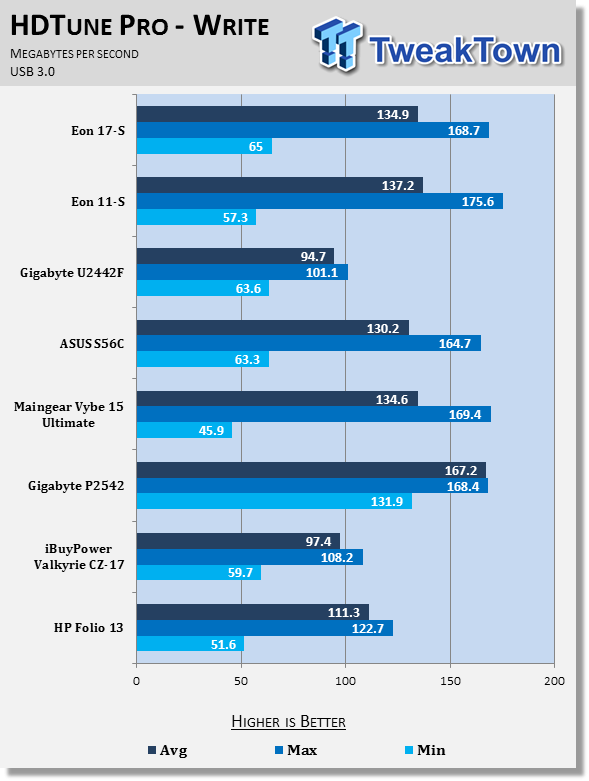 USB 3.0 write performance is pretty good on the system. It comes in in third place, with the competition not too far behind. The GIGABYTE P2542G continues to hold the lead with nearly 30MB/s faster performance.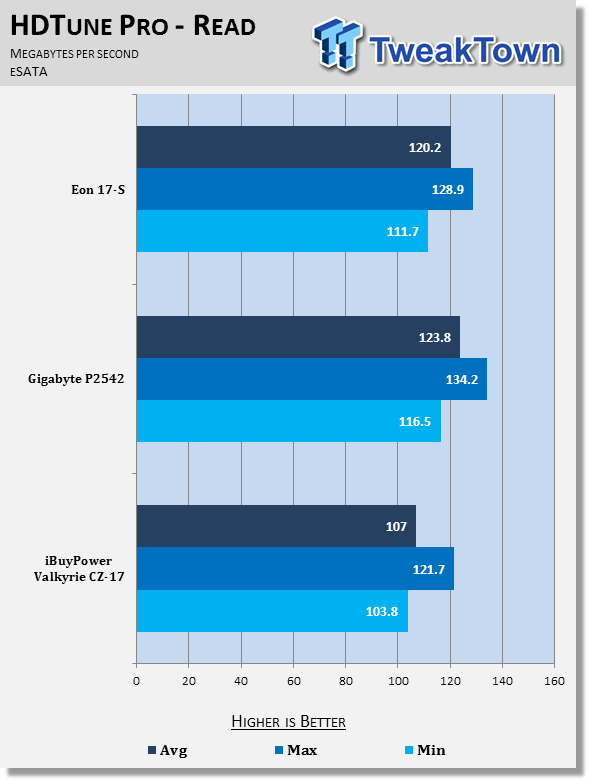 The EON17-S is also equipped with an eSATA port, unlike most systems we test. As you can see, it is in the middle of the pack and not too far behind the leader.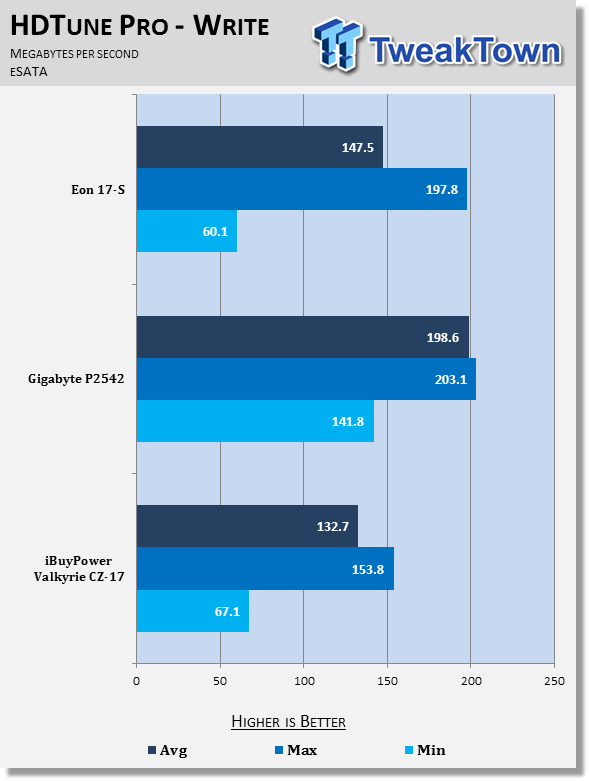 In write performance, the EON17-S falls further behind the leader, though it stays ahead of the iBUYPOWER Valkyrie.
Gaming Performance
3DMark Vantage
Version and / or Patch Used: 1.1.0
Developer Homepage: http://www.futuremark.com
Product Homepage: http://www.3dmark.com/3dmarkvantage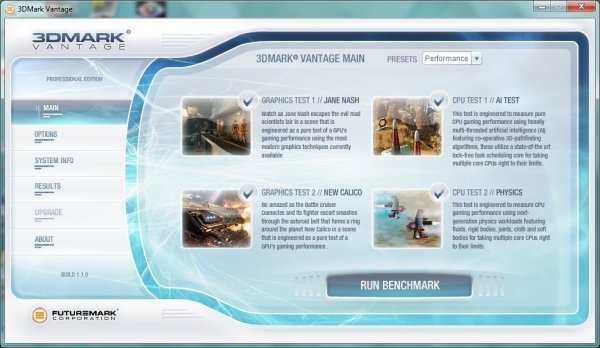 3DMark Vantage tests both processor and graphics performance and is a good indication of how systems compare. The results are generally more repeatable and consistent than other forms of benchmarking. Vantage uses DirectX 10 and can handle multi-core CPUs.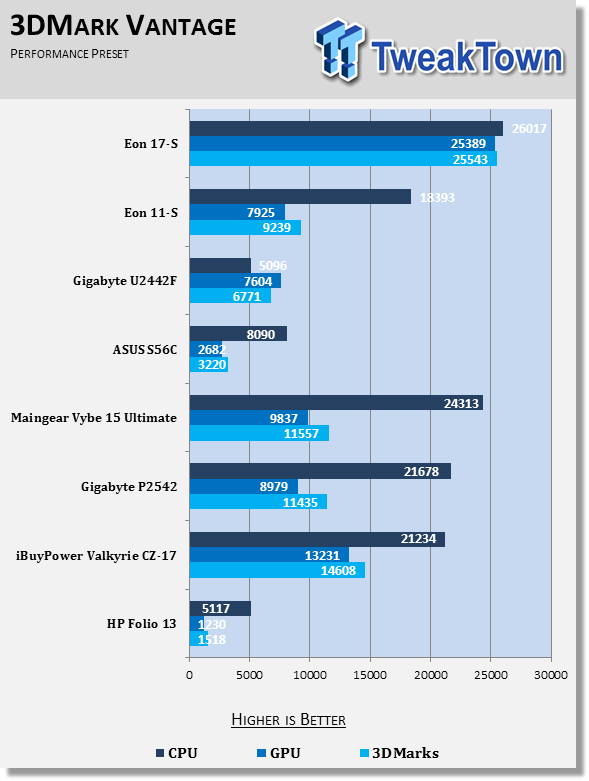 The EON17-S absolutely smashes the competition when it comes to every aspect of the system. Its CPU score is higher than any other system, though only by 2,000 points. Its GPU score, however, is nearly double the closest competitor.
Its final score of 25,543 is over 10,000 higher than the next closest machine. Wow.
3DMark 11
Version and / or Patch Used: 1.0.1.0
Developer Homepage: http://www.futuremark.com
Product Homepage: http://www.3dmark.com/3dmark11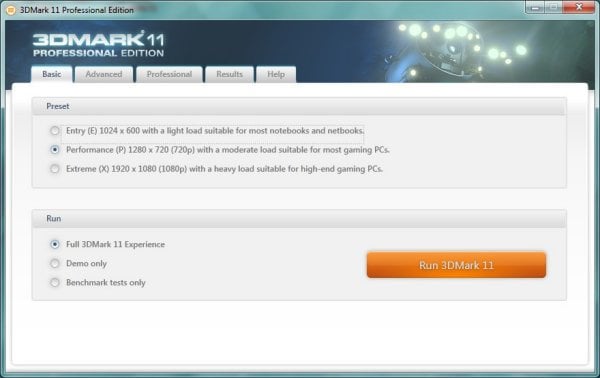 3DMark 11 is the latest version of the world's most popular benchmark. Designed to measure your PC's gaming performance 3DMark 11 makes extensive use of all the new features in DirectX 11 including tessellation, compute shaders and multi-threading. Trusted by gamers worldwide to give accurate and unbiased results, 3DMark 11 is the best way to consistently and reliably test DirectX 11 under game-like loads.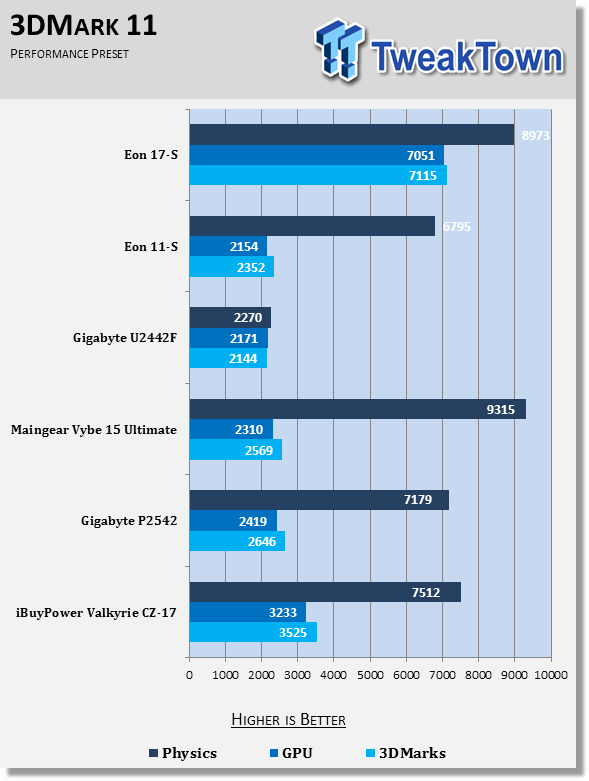 Interestingly enough, the EON17-S' CPU actually scores less than the Maingear Vybe 15, though not by a statistically significant amount. The GPU, however, doubles the performance of the iBUYPOWER Valkyrie, the next closest system in the chart.
3DMark - Cloud Gate Test
Version and / or Patch Used: 1.0.0
Developer Homepage: http://www.futuremark.com
Product Homepage: http://www.futuremark.com/benchmarks/3dmark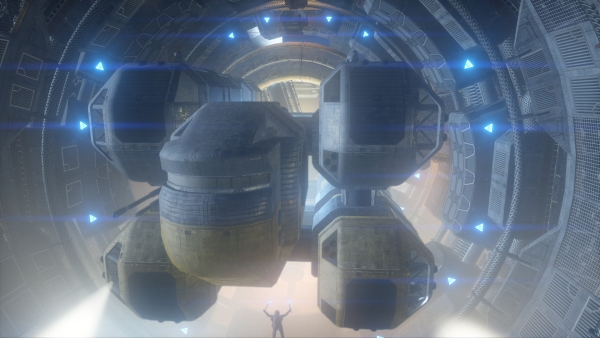 Cloud Gate is a new test that is designed for Windows notebooks and typical home PCs. Cloud Gate includes two graphics tests and a physics test. Cloud Gate uses a DirectX 11 engine limited to Direct3D feature level 10 making it suitable for testing DirectX 10 compatible hardware. Cloud Gate will only be available in the Windows editions of 3DMark initially.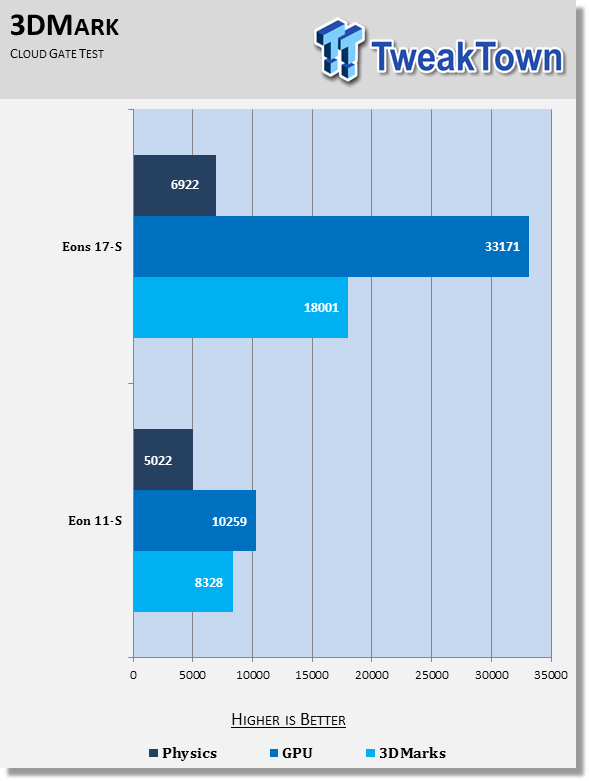 You can see in the chart above just how well the 680M performs. It absolutely trounces the 650M used in its little brother.
Battlefield 3
Developer Homepage: http://www.dice.se/
Product Homepage: http://www.battlefield.com/battlefield3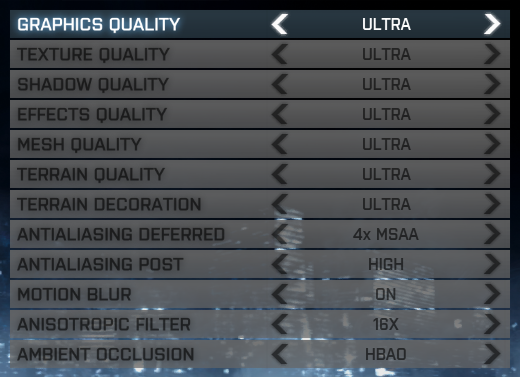 Battlefield 3 is one of the most requested benchmarks, so we have finally added it. Frame rates are recorded for 60 seconds starting in the first part of campaign when the character picks up the gun and is played through until just after the train explodes. The game is played three times in that manner with the results being averaged together and reported.
Settings are 1920x1080 for the resolution with the "Graphics Quality" set to Ultra. If a computer doesn't support 1080p, an external monitor is plugged in and the computer set to only output to that monitor.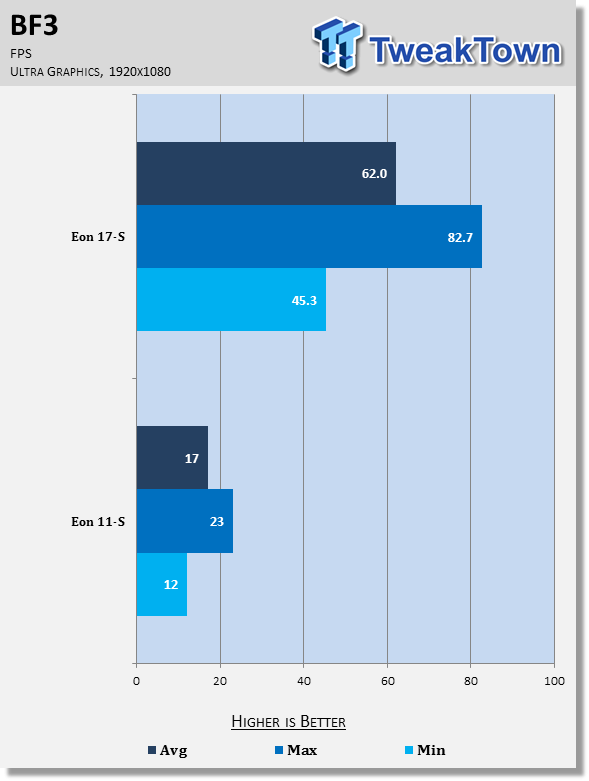 The EON17-S can play Battlefield 3 on Ultra graphics preset without a doubt. The 680M, coupled with the powerful 3940XM, is more than enough to push BF3 at 1920x1080 with impressive graphics quality.
System Performance
PCMark 7
Version and / or Patch Used: 1.0.4.0
Developer Homepage: http://www.futuremark.com
Product Homepage: http://www.pcmark.com/benchmarks/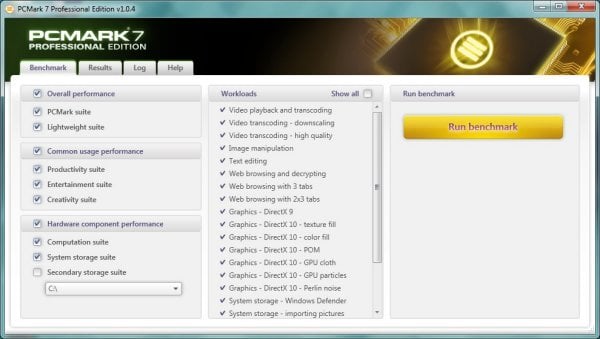 PCMark 7 is a great utility for testing a PC's all-around capabilities. It tests all aspects of the computer, from graphics performance to hard disk performance and attempts to put a score on it, which is not an easy task.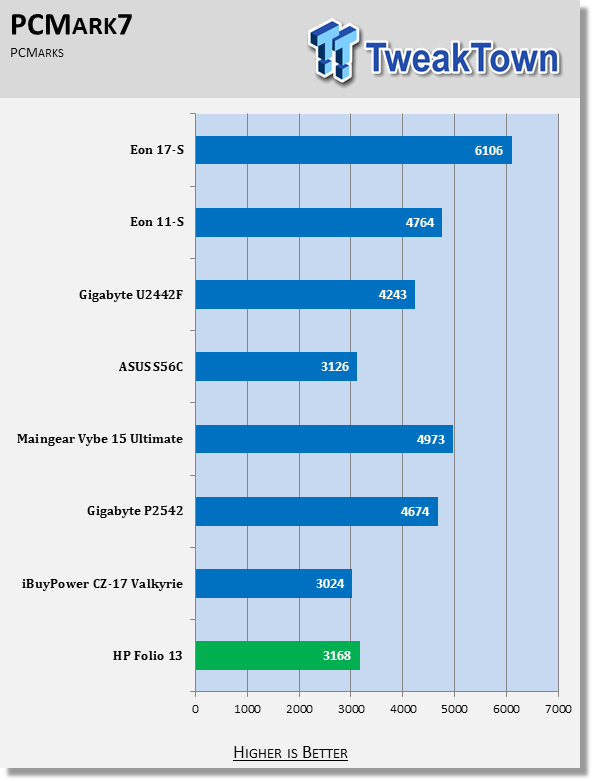 Thanks to the EON17-S' dual SSDs in RAID 0, Futuremark's PCMark 7 absolutely loves the system as an all-around system. In the synthetic benchmarks used by PCMark, the system performs the best out of any to come through our lab.
Mobile Mark 2012
Version and / or Patch Used: 1.0.0.118
Developer Homepage: http://www.bapco.com
Product Homepage: http://bapco.com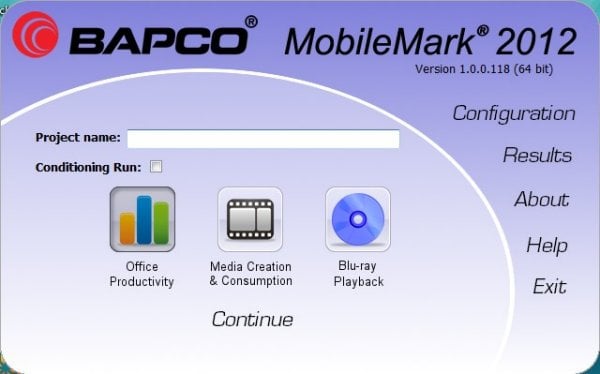 MobileMark 2012 is a premier benchmarking tool produced by BAPCo. It has several different scenarios built-in and allows you to choose which to run. It runs the test on battery life so that it produces both a score for the performance aspect and a run time for battery life.
For our testing, we chose the Office Productivity line of testing. The "Performance Qualification Rating" and battery life (in minutes) is reported below in the charts.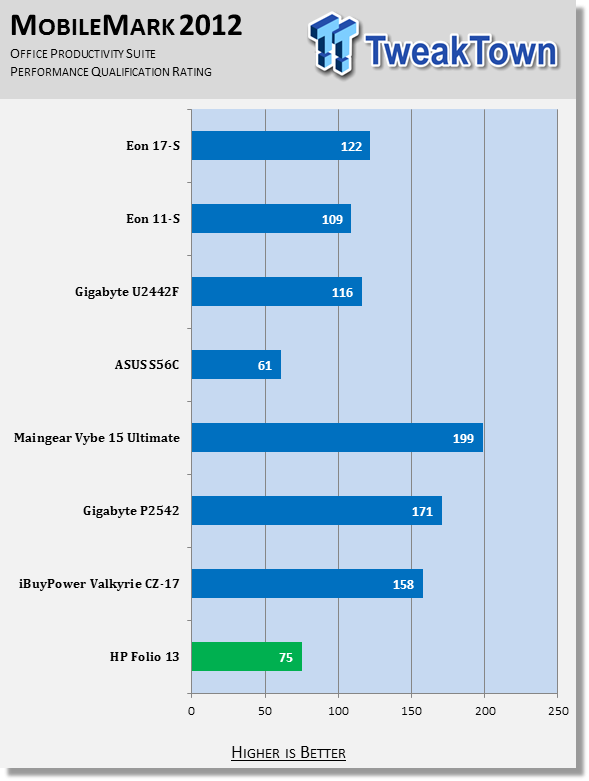 Curiously enough, the EON17-S falls short of some of the other systems we've had through our lab in the MobileMark benchmark. It's not clear exactly why this system is being outperformed by the others, but the EON17-S is designed to be a gaming workhorse, not an office machine.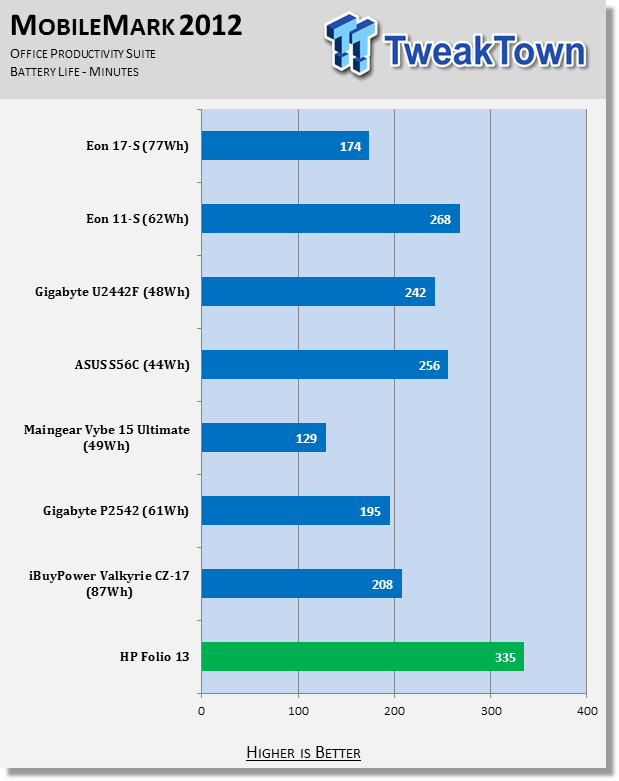 Considering the awesome performance numbers put up by the EON17-S, its battery life comes in a respectable 174 minutes, which equates to nearly three hours.
CrystalDiskMark
Version and / or Patch Used: 3.0 Technical Preview
Developer Homepage: http://www.crystalmark.info
Product Homepage: http://crystalmark.info/software/CrystalDiskMark/index-e.html
Download here: http://crystaldew.info/category/software/crystaldiskmark
CrystalDiskMark is a disk benchmark software that allows us to benchmark 4K and 4K queue depths with accuracy.
Key Features:-
* Sequential reads/writes
* Random 4KB/512KB reads/writes
* Text copy
* Change dialog design
* internationalization (i18n)
Note: Crystal Disk Mark 3.0 Technical Preview was used for these tests since it offers the ability to measure native command queuing at 4 and 32.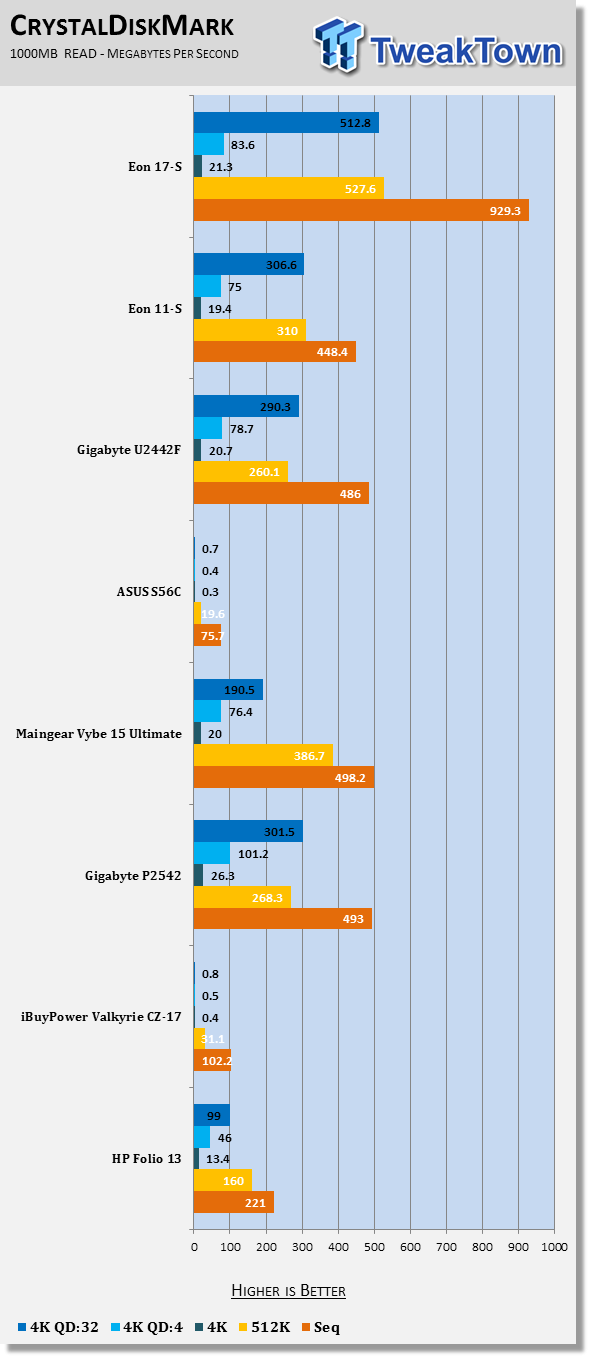 The EON17-S comes with the option of SSDs in RAID 0. This really increases the bandwidth available to the operating system and running programs and allows the system to easily destroy the competition when it comes to read performance.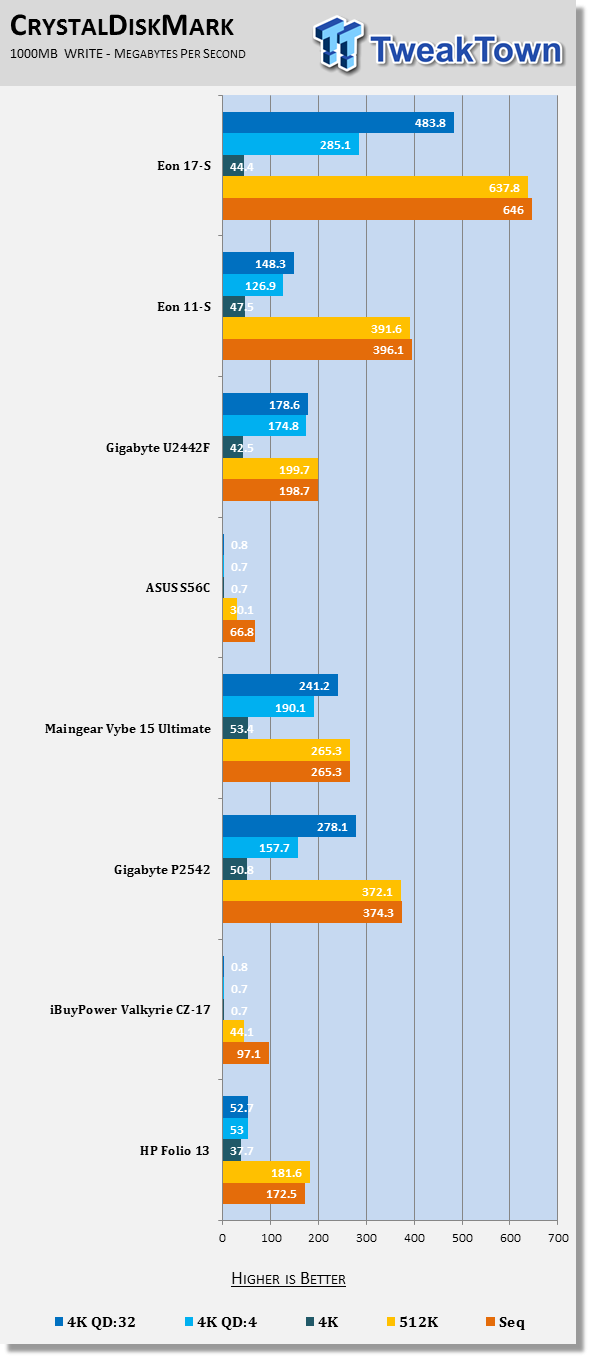 The SSDs also help the EON17-S when it comes to write performance and the system continues to top our charts in terms of performance.
Battery Life Performance
PowerMark
Version and / or Patch Used: 1.1.1
Developer Homepage: http://www.futuremark.com
Product Homepage: http://www.futuremark.com/benchmarks/powermark/
Download here: http://www.futuremark.com/benchmarks/powermark/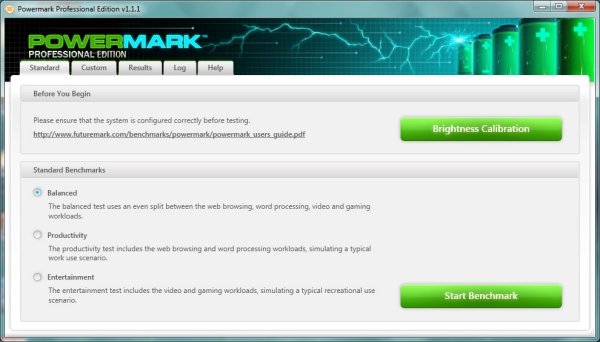 PowerMark is a benchmark produced by Futuremark that simulates different usage scenarios in order to determine battery life. It loops these different scenarios infinitely until the battery hits 15% and then gives us an estimated battery life time. For our testing, we use all four different scenarios. These are video playback, gaming, web browsing and word processing.
Tests are ran twice, once with the computer's Power Options set to Balanced and another with the computer's Power options set to High Performance.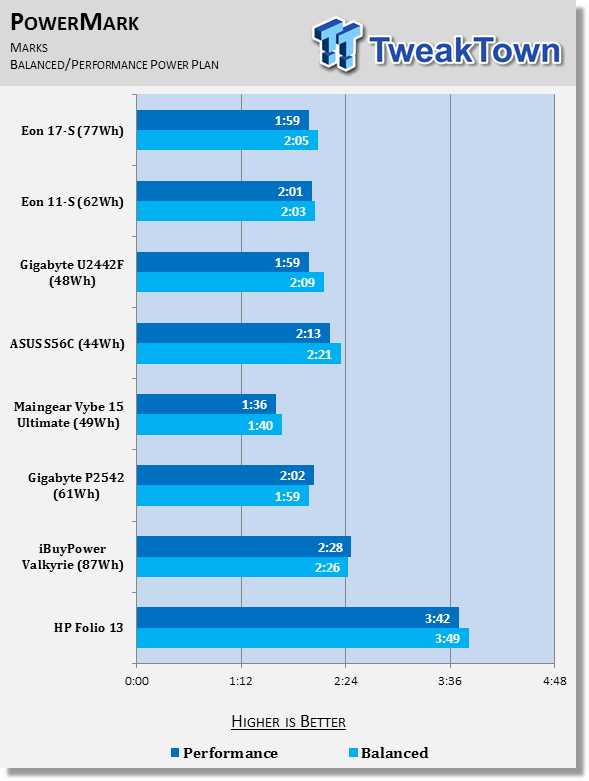 The massive EON17-S puts up respectable numbers in our battery life test, as well. While certainly not one of the most power efficient machines we've tested as you may expect, it manages to outperform some of the other systems to come through our lab and provides better performance at the same time.
When Origin sent me this machine, they thought I'd be a bit disappointed by the battery life presented. It's quite the contrary, actually. Instead of being an over glorified battery backup, the EON17-S could actually be used without a charger for a decent enough amount of time.
Final Thoughts
Let's try and take what we've seen today and draw it into some easily understandable conclusions. It will then be easier to decide whether or not the EON17-S is worth your time to look at.
Hands down, the EON17-S is the fastest laptop we've had come through our labs. None of the other systems that we've benchmarked even come close to what our review model is capable of. With a starting price of just over $1,500, it's worth looking at the EON17-S, if you're looking for a big gaming system.
Some of the tests have shown that the EON17-S may not be the best office computer. If you're looking for something to do Word and Excel, you're better off looking at a different model. College students in the engineering field would benefit from the GPU and CPU capabilities and reduced space.
It's a great option for those looking to go to LAN parties without having to tote a 30-pound+ system and screen. It performs better than the desktop system I use and doesn't cost much too much more. It also has the benefit of being portable.
The 1920x1080 screen provides plenty of room for school, work and play. The keyboard is more than adequate for those who will be doing lots of typing or gaming. The backlight makes it especially useful for dark LAN parties and dark lecture halls. Video editing and other uses that use large files will benefit from the ability to have SSDs in RAID 0 along with a third drive for mass storage. Programs, and current working files, can be stored on the super-fast RAID array and then moved to mass storage when completed. Just be sure to keep a backup of important data as if one of those drives in the array happen to die, your data is gone.
The weight and portability of the machine is actually quite a bit better than you would expect from a machine of this performance level. Coupled with decent battery life, this system can be used on the road without too much hassle.
Looking into the actual price tag of this machine, it becomes a bit more difficult to justify. $3600 is a lot of money to put down on a laptop. The nice thing about buying an absolutely top-of-the-line system such as this one is that it won't require upgrading next year to be able to play the latest games.
When you take into account the performance shown was around double that of the next highest-performing machine, the value really starts becoming apparent. The price tag is also, surprisingly, only about double the next closest machine. Normally to get into this top-tier of performance, you end up paying a bit extra, a "luxury tax" of sorts. The performance level doesn't usually increase in a linear manner with price. In this case, however, it has done just about that.
It's undeniable that the EON17-S is the highest performance laptop to come through the TweakTown labs. Because of that, it's being awarded with our Performance Award. Check it out, you won't be disappointed.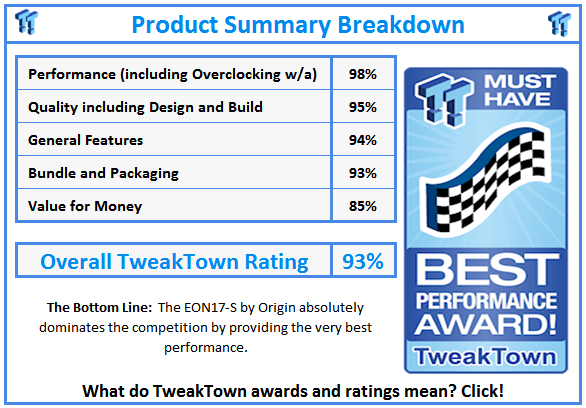 PRICING: You can find products similar to this one for sale below.

United States: Find other tech and computer products like this over at Amazon.com

United Kingdom: Find other tech and computer products like this over at Amazon.co.uk

Australia: Find other tech and computer products like this over at Amazon.com.au

Canada: Find other tech and computer products like this over at Amazon.ca

Deutschland: Finde andere Technik- und Computerprodukte wie dieses auf Amazon.de