iBUYPOWER Valkyrie CZ-17 Gaming Laptop Review
We take a look at iBUYPOWER's Valkyrie CZ-17 gaming notebook, a portable powerhouse with a reasonable price tag.
Published
16 minute read time
Introduction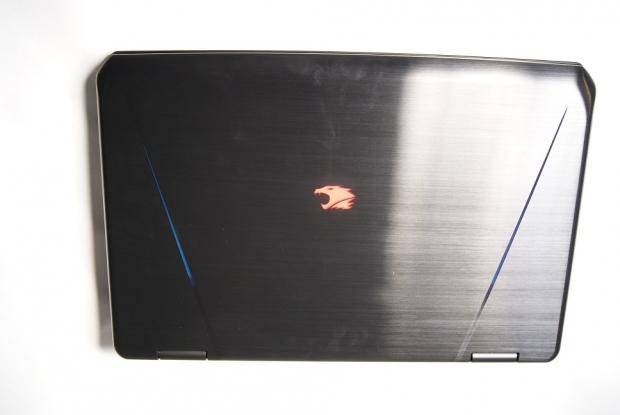 iBUYPOWER builds highly customizable gaming notebooks and then slaps a reasonable price tag upon them. They offer a wide variety of models, ranging in size from 11-inches to 17-inches. Once a strictly boutique laptop manufacturer, they have become more mainstream as of late. As you'll see in today's review, the CZ-17 is a testament to why this is the case.
We'll be looking at iBUYPOWER's Valkyrie CZ-17 today. The Valkyrie CZ-17 is one of iBUYPOWER's newest offerings and is a rebranded MSI notebook design. As iBUYPOWER grows, they will start to design their own chassis, but until then, they will likely continue to use ODM products such as this rebranded MSI.
The system is a beast for the asking price. Starting at a mere $1259, the base model comes with a 17-inch, 1920 x 1080 screen, an Intel Ivy Bridge quad-core, an NVIDIA GTX 675M 2GB and 8GB of DDR3 memory. Not shabby specs, especially considering the price.
While we were mostly impressed with the review sample, there are certainly a few things that could be fixed, mostly with the configuration. Since the problems are solvable by adjusting the configuration, they really aren't that big of a deal.
With that in mind, let's take a look at the specifications and configuration options.
Specifications, Configurations, Pricing and Packaging
Specifications, Configurations and Pricing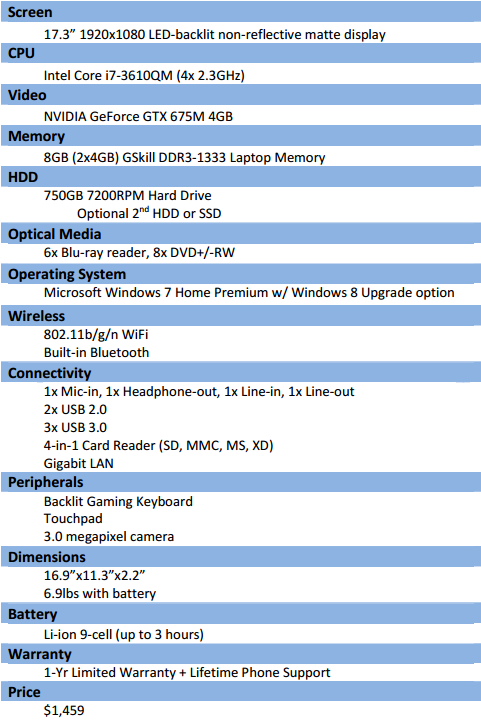 Our review system features an Intel Core i7-3610QM, an NVIDIA GTX 675M with 4GB of vRAM, 8GB of GSkill DDR3 RAM, a Blu-ray player and a 750GB 7,200RPM hard drive. It comes with Windows 7 Home Premium and Microsoft's Windows 8 Upgrade option. The unit we're reviewing today comes nearly stock with just a few upgrades.
Notably, the changes are a Blu-ray player, which is a $99 option, a GTX 675M with 4GB of RAM, a $50 option and a larger 750GB 7,200RPM hard drive, a $51 option. None of these are options we would spend our hard earned cash on as iBUYPOWER offers several other upgrades that will offer more bang for your buck. The price of our review system is $1459, up from $1259 for the stock configuration.
For instance, the saved $200 could have been put towards an Intel 240GB solid state drive, something that would have significantly helped some of the benchmark numbers. It also could have gotten you halfway to an NVIDIA GTX 680M, which is another option that would have boosted our gaming benchmarks.
As far as configuration options go, the sky is really the limit. iBUYPOWER allows nearly every aspect of the system to be custom configured. You have a choice of three different Ivy Bridge quad-cores, eight different selections for RAM, three graphics card choices and a plethora of storage options, including both traditional hard drives and solid state drives.
Really, the only upgrades I would spring for if I were buying this system would be a solid state drive and the NVIDIA GTX 680M. The graphics performance would be higher and the power draw would be lower as the GTX 675M is a rebranded GTX 580M meaning that it is still based on the old 40nm production process and the Fermi architecture.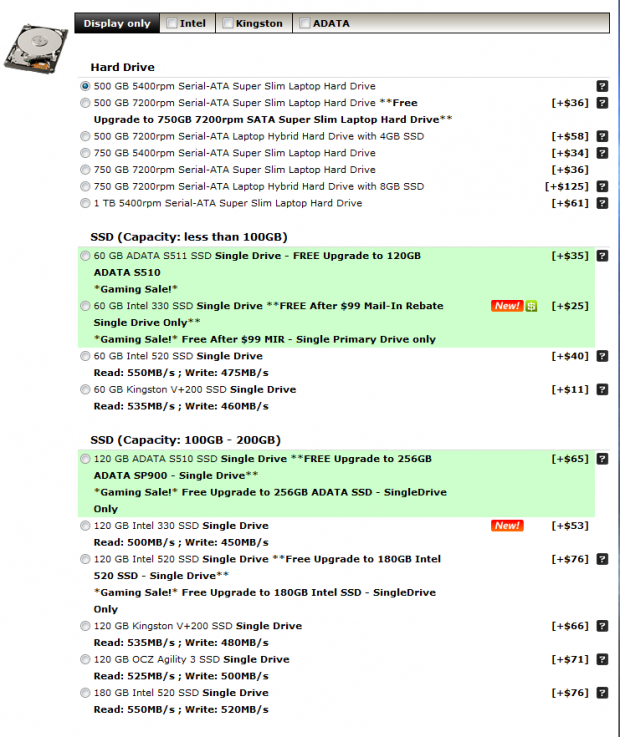 Packaging
The packaging of the Valkyrie isn't quite the same as Apple's packaging, but it's definitely above par. The laptop arrived in a big brown iBUYPOWER-branded box filled with packing peanuts. Inside, I found a large black box with the iBUYPOWER logo on it.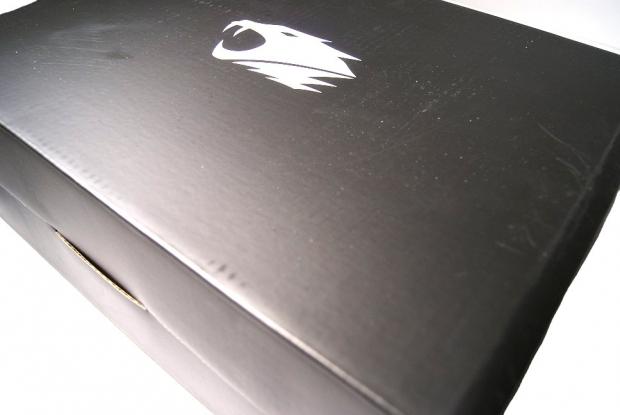 Inside that box, the laptop and a smaller black box with the same logo resided. The laptop was suspended with cardboard blocks on the sides and a cloth bag covered the screen. The smaller black box contained the power adapter, driver CDs and various manuals.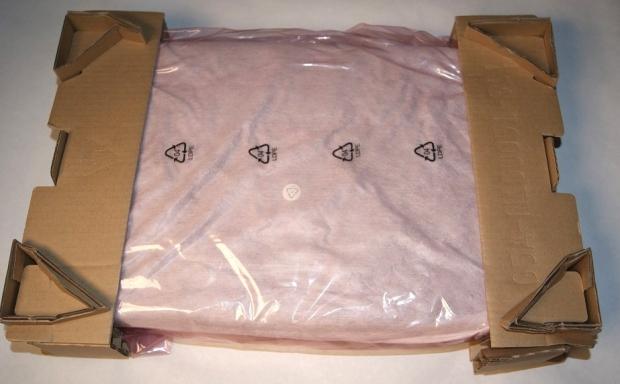 Between the packing peanuts in the large outer box and the cardboard supports in the inner box, the laptop is likely to survive the bumpiest ride imaginable, unlike the light bulbs I received today. You will also know what's inside when the package arrives as the entire thing is well-branded throughout.
Temperatures, Cooling and Noise
The cooling system on the Valkyrie CZ-17 is pretty respectable. It managed to keep the entire system running fairly cool without producing large amounts of noise. That's not to say I couldn't hear it, but the sound wasn't your typical whiny sound that is associated with smaller fans.
The reason for this great cooling ability is due, in part, to the thickness of the system. This allows for a larger fan, which is quieter and a larger heatsink that can remove more heat. While the keyboard still warms up under a load, it's bearable and not as unreasonable as it could have been.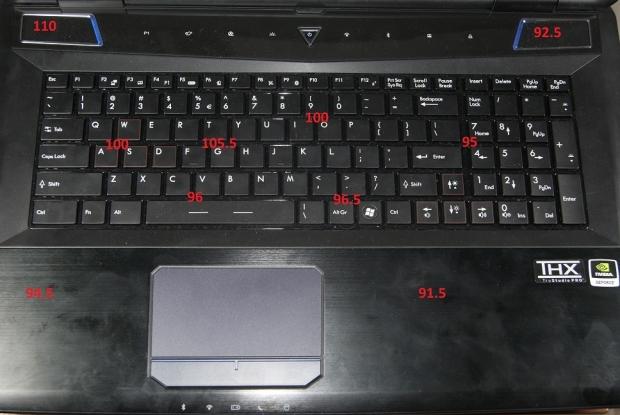 On the front of the system, we logged a maximum temperature of 110 degree Fahrenheit and a maximum of 105.5 degrees Fahrenheit on a location that is likely to be touched. For our friends using Celsius, those temperatures are roughly 43 degrees and 41 degrees, respectively. The palm rests stayed a cool 94.5 degrees Fahrenheit or 35 degrees Celsius.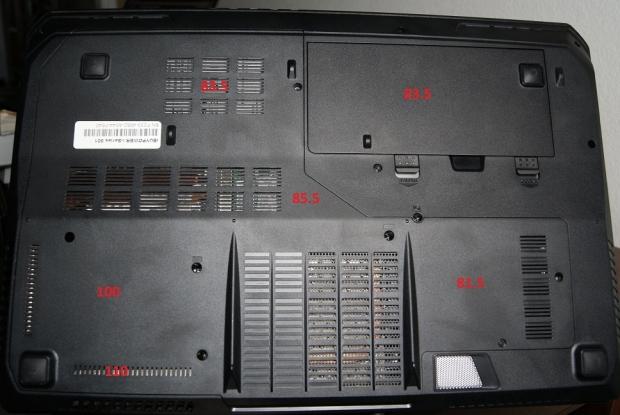 Moving around to the back side, temperatures were even lower. The maximum observed temperature was again 110 degrees Fahrenheit or 43 degrees Celsius. This was observed directly above the heat sink assembly. The rest of the system was around 85 degrees Fahrenheit or 30 degrees Celsius.
The maximum observed GPU temperature was 97 degrees Celsius, not unreasonable considering I've seen desktop graphics cards that run hotter. Most GPUs can withstand temperatures in excess of 100 degrees Celsius (but don't aim for this temperature), so this isn't anything to be concerned about.
Even in light of the cool underside temperatures, it's still recommended to use the system on a hard surface to allow adequate airflow to the heatsink. It's a good idea to avoid prolonged use of the system on your lap, though doing so is unlikely to cause issue if you avoid the heatsink location. You will also have a hard time gaming if you don't have a hard surface for your mouse.
As previously stated, the cooling system is audible, though not necessarily annoyingly so. The sound it produces is more of a low whoosh, like a ceiling fan, as opposed to a whiny sound that can be produced by smaller systems. Overall, it shouldn't bother you too much during gaming and watching a movie, you won't be able to hear it at all as we tested.
Keyboard, TouchPad, Screen and other User Interfaces
Keyboard and TouchPad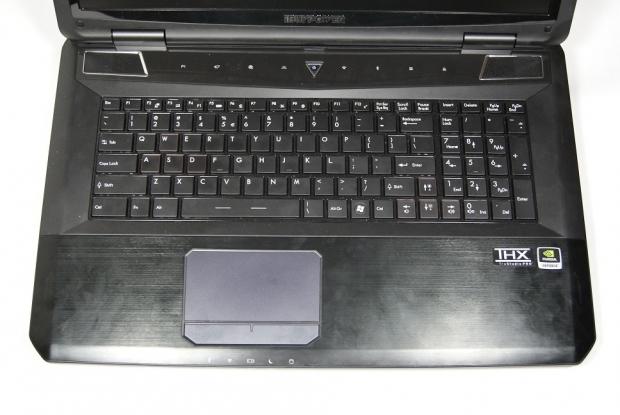 The Valkyrie features a standard island-style keyboard, like most laptops these days. In addition to the keyboard, it also features a number pad, also a common feature on laptops of its size. The keyboard on the Valkyrie is an interesting one as it generally feels good to type on, though I'm not sure how it would stand up to gaming every day.
There's minimal flex, but the flex that is present is right over the WSAD area of the keyboard, which is partly why I have concern for gaming on it. Additionally, I generally don't trust laptop keyboards to be very durable, at least not as much as their desktop counterparts.
The typing experience is a mixed bag. While it felt comfortable to use, I found myself making numerous mistakes while typing. The backspace, right hand shift key and right hand enter key are slightly smaller than a standard keyboard, which I believe led to some of these typing mistakes.
The keys have a fairly smooth texture on the surface and a very slight curve to the contour. The keys have a smooth travel when typing, as well as a good travel distance. The tactile feel of the keyboard is also very good as the keys feature a nice resistance and a good feeling when they bottom out. They also make a clicking sound like a mechanical keyboard, albeit a bit quieter and less distinctive.
The entire keyboard features a very soft and subdued blue backlighting. One issue I noticed with the backlighting is that, at least on my sample, the right hand part of the keyboard appears to be dimmer than the number pad and left side. It's not a big deal as the keys are still visible, but it is something that needs to be noted nonetheless.
The touchpad is a two-piece assembly. It features a large portion that is touch-sensitive that is visually separated from the mouse buttons by a blue light bar. The mouse buttons utilize a single piece that can be pressed down on either the right or left side to register a click.
The touch-sensitive area of the touchpad features a slightly grainy texture, unlike some of those super smooth touchpads offered by other manufacturers. One thing that I noticed is I inadvertently moved the cursor while typing, something that often added to my typing errors.
Screen
iBUYPOWER has loaded the Valkyrie CZ-17 with a large 17.3-inch 1920 x 1080 screen. Even though the machine is not a business laptop, iBUYPOWER has fitted it with a matte covering, which helps reduce glare. The matte covering is a bit grainy and might not be liked by all users.
The grainy aspect of the screen texture is definitely noticeable, though it doesn't impact reading or other viewing on the screen. The panel used is a TN panel which is going to affect viewing angles and color reproduction. Looking straight on at the screen is definitely recommended. Moving too far to the right or left makes viewing the screen less enjoyable, yet text still remains readable and colors only shift tone as the angle increases. The color and readability aspect is worse when looking from above or below the screen.
One last note: when opening the screen, the laptop makes a squeaking noise, likely due to the construction of the body being plastic. This is something I found to be rather annoying and is probably one of my biggest issues with the machine.
Testing Methodology
View our full testing methodology article.
- Accessory Port Testing
Ports to which an external storage device can be connected to are tested using HD Tune Pro to obtain their maximum, minimum and average read and write speeds. USB 2.0, USB 3.0 and eSATA ports are tested using a Corsair Neutron GTX 240GB SSD that is capable of saturating the theoretical bandwidth available.
The Corsair Neutron GTX is housed inside an Icy Dock external enclosure which features a SATA I/II/III to USB 3.0 and eSATA converter.
- Gaming Tests
3DMark Vantage is ran on the Performance preset to get a feel for how the computer would manage gaming. The CPU, GPU and combined scores are reported. A higher overall score is the best and a high GPU or CPU score shows particular prowess with tasks that use that part of the computer.
3DMark 11 is run on the Performance preset and the Physics, GPU and combined scores are reported. This test is only run if the system supports DirectX 11. A higher overall score is the target, though a high individual result shows prowess in a particular area.
- System Tests
PCMark 7 is run to get an overall idea of how the system performs as a whole. It tests all aspects of the PC and puts a score on how well it performs overall. In this test, a low scoring area can affect the overall score, so it's important to read the analysis. A higher score is better.
MobileMark 2012 is another test run to get a feeling for the system performance taken as a whole. MobileMark 2012 uses real-world applications as part of the benchmark. We use the Office Productivity suite which includes applications like Adobe Acrobat and Microsoft Word. The test also reports battery life as all tests are run on battery. Higher is better for both results.
CrystalDiskMark is run to put a number on how well the system hard disk drive / SSD runs. It measures five different metrics, of which higher is better for all. The higher the numbers, the snappier the operating system will feel, especially if the "4K" number is high, as most operating system files are small files.
- Battery Life
PowerMark is used to measure battery life of the system when set to "Balanced" and "Performance" power plans. This test simulates several different activities, but uses custom built applications.
Accessory Port Layout and Performance

The left side, from back to front, features two USB 3.0 ports, a multi-function card reader, a third USB 3.0 port and 4 different audio ports (Mic-in, Headphone-out, Line-in and Line-out). The placement is towards the front of the system to allow for the exhaust vent.

The right side, from back to front, features the CD drive and two USB 2.0 ports.

The rear of the system also contains several connectivity options. From left to right, you'll find the HDMI port, eSATA port, VGA port, Ethernet port, power port and lock. I really like the placement of the power cord on the rear of the system as it keeps it out of the way.
HD Tune Pro
Version and / or Patch Used: 5.00
Developer Homepage: http://www.efdsoftware.com
Product Homepage: http://www.hdtune.com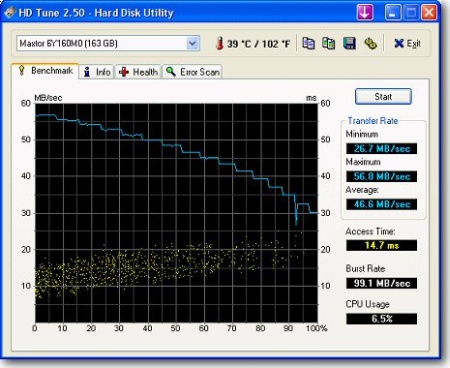 HD Tune is a Hard Disk utility which has the following functions:
Benchmark: measures the performance
Info: shows detailed information
Health: checks the health status by using SMART
Error Scan: scans the surface for errors
Temperature display
HD Tune Pro gives us accurate read, write and access time results and for the last couple of years has been gaining popularity amongst reviewers. It is now considered a must have application for storage device testing.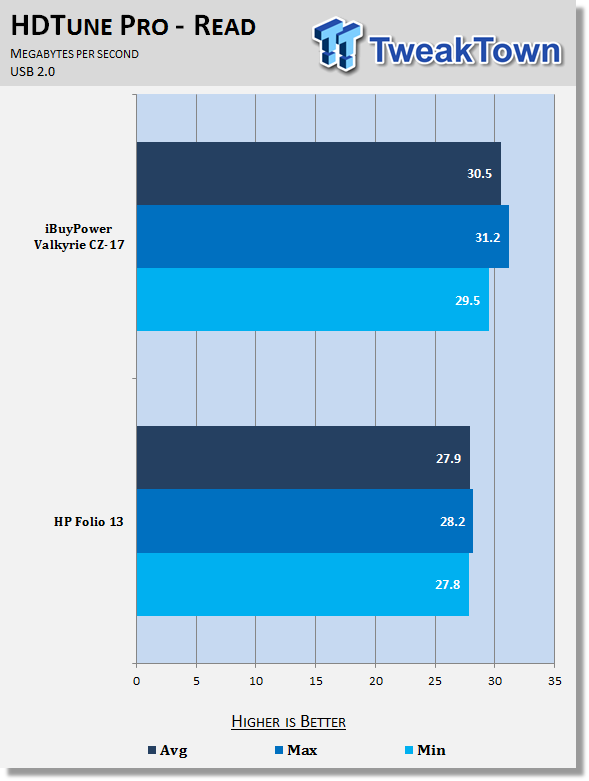 The iBUYPOWER Valkyrie's implementation of USB 2.0 appears to be pretty good. We're seeing an average of 30.5MB/s read, which is just shy of the theoretical max of 35MB/s. Overall, not a bad showing.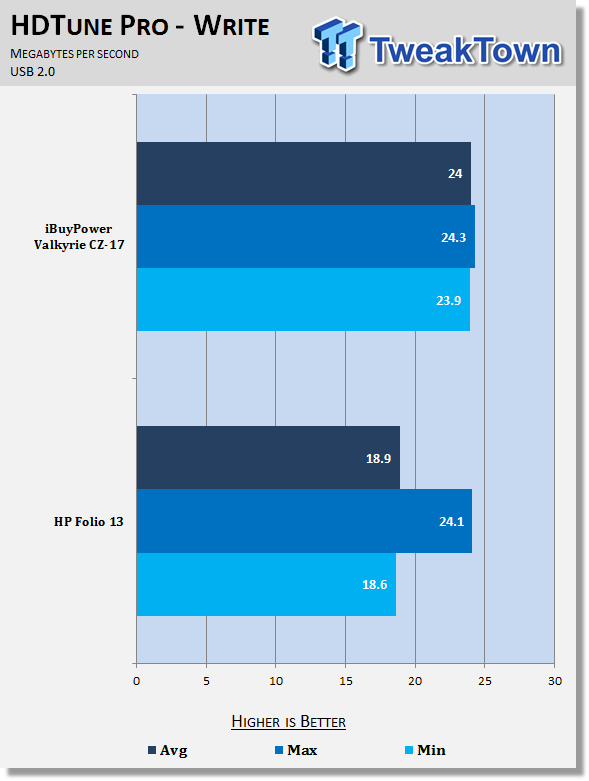 Again, the iBUYPOWER Valkyrie's implementation of USB 2.0 appears to be a good one. It manages to average 24MB/s write speed which is not bad at all. As you can see, it performs quite a bit better than the HP Folio 13.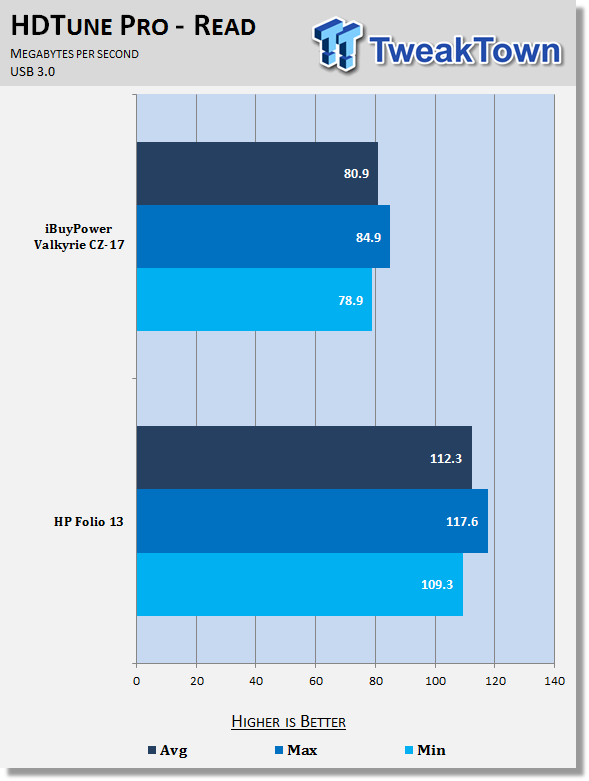 When it comes to USB 3.0, the iBUYPOWER falls behind our other system, managing a mere 80.9MB/s average read speed. This pales in comparison to the HP Folio, which manages an average of 112.3MB/s.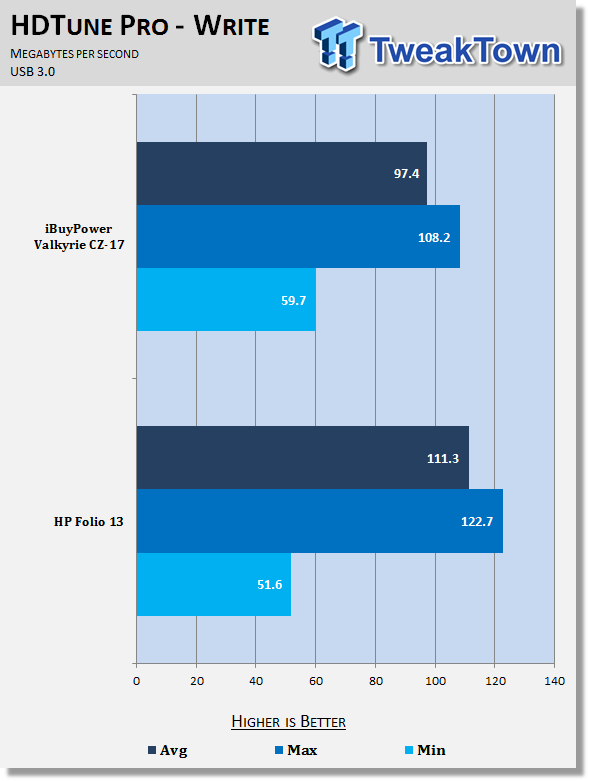 Here again, the iBUYPOWER's USB 3.0 average write speed performs worse than the HP's. It manages just 97.4MB/s as opposed to the 111.3MB/s of the HP.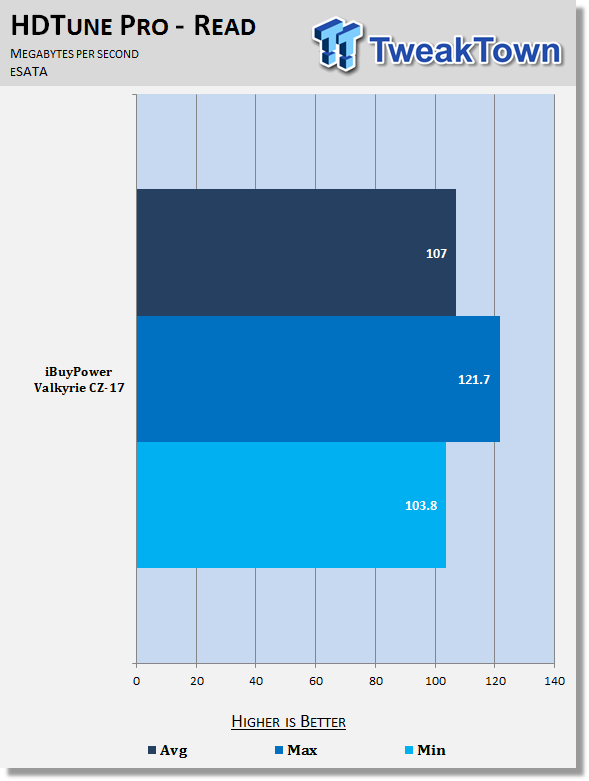 The iBUYPOWER Valkyrie's eSATA average read performance beats out the performance seen by USB 3.0. The average eSATA read speed observed clocked in at 107MB/s, meaning you could transfer a DVD movie in just seven seconds.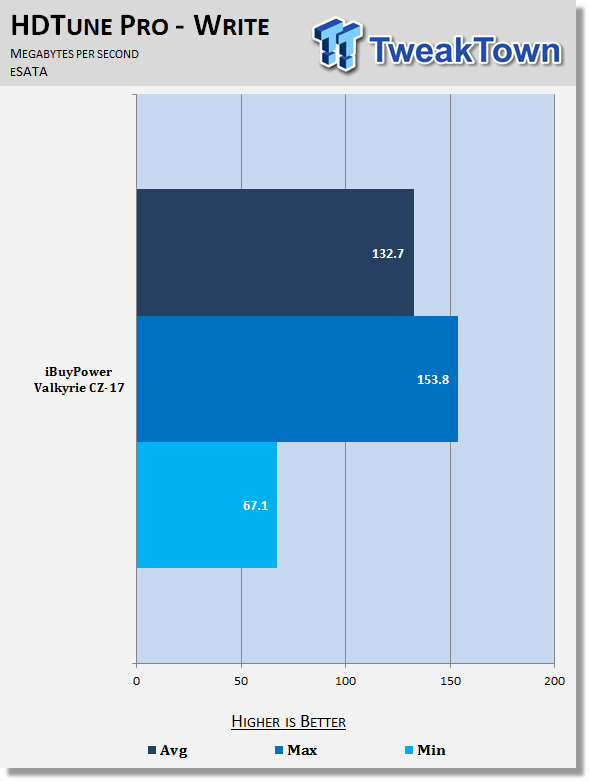 The average eSATA write speed came in even faster at an average of 132.7MB/s. On this system, eSATA would be the best way to connect to an external device when possible.
Gaming Performance
3DMark Vantage
Version and / or Patch Used: 1.1.0
Developer Homepage: http://www.futuremark.com
Product Homepage: http://www.3dmark.com/3dmarkvantage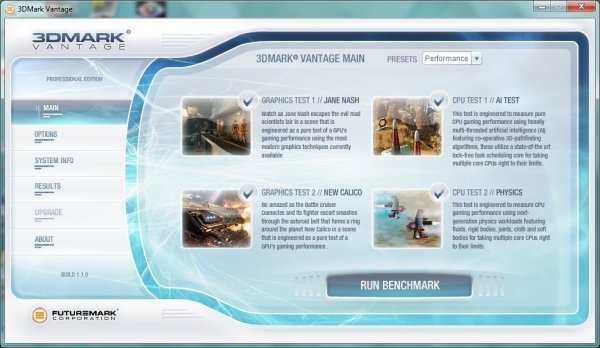 3DMark Vantage tests both processor and graphics performance and is a good indication of how systems compare. The results are generally more repeatable and consistent than other forms of benchmarking. Vantage uses DirectX 10 and can handle multi-core CPUs.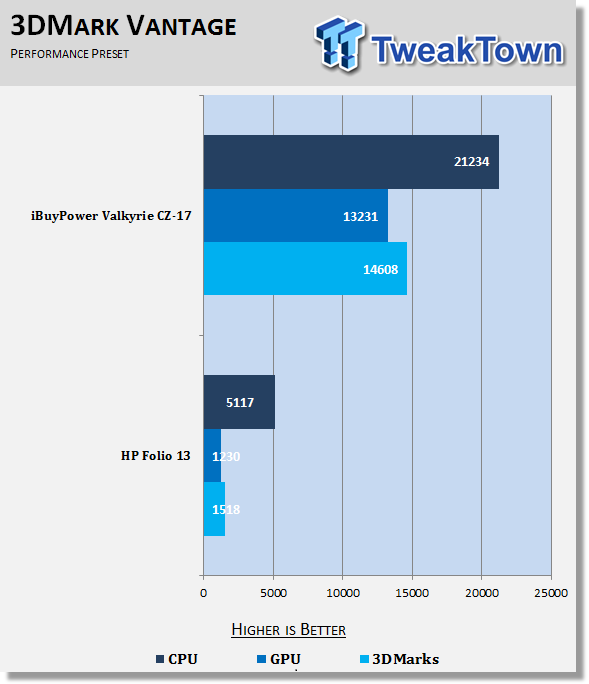 It would be nice to have other gaming laptops to compare this system to, but since we've just started back into reviewing laptops here at TweakTown, we're still working on building our base of systems. That said the numbers are still interpretable.
An overall score of 14608 on the Performance Preset of 3DMark Vantage is respectable. The iBUYPOWER Valkyrie should be able to handle nearly every modern game at reasonable detail settings and provide a good rate of frames per second for a fairly solid gaming experience.
Keep in mind that the GTX 675M is a rebranded GTX 580M, which used to be the mobile card at the top of the heap in terms of performance.
3DMark 11
Version and / or Patch Used: 1.0.1.0
Developer Homepage: http://www.futuremark.com
Product Homepage: http://www.3dmark.com/3dmark11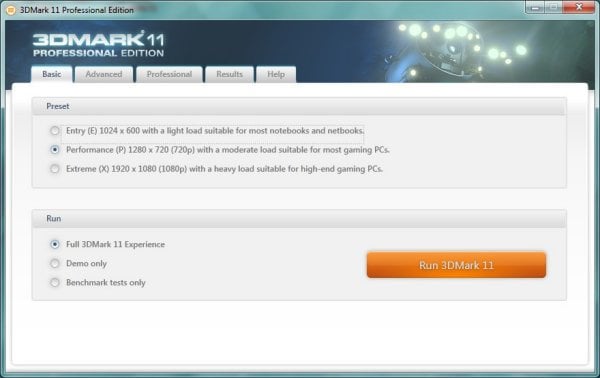 3DMark 11 is the latest version of the world's most popular benchmark. Designed to measure your PC's gaming performance 3DMark 11 makes extensive use of all the new features in DirectX 11 including tessellation, compute shaders and multi-threading. Trusted by gamers worldwide to give accurate and unbiased results, 3DMark 11 is the best way to consistently and reliably test DirectX 11 under game-like loads.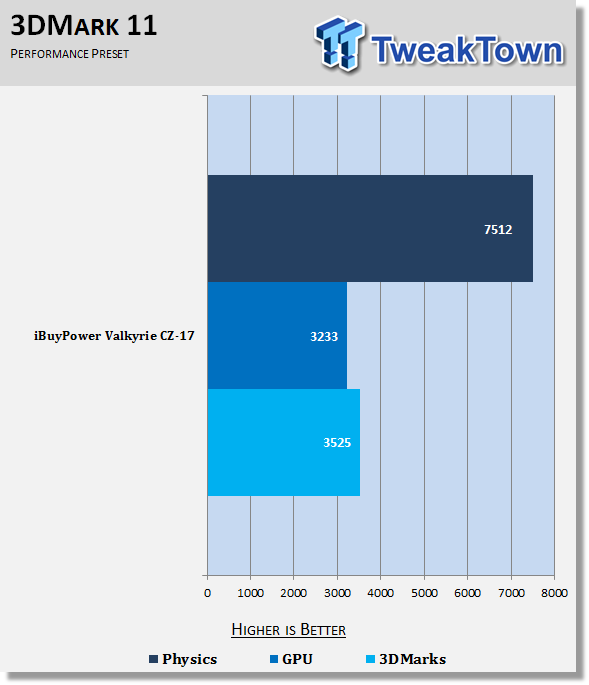 An overall score of 3525 on 3DMark 11 Performance preset from a laptop is very respectable, especially keeping in mind the price tag of the system. The only real way to beat this score is to throw the GTX 680M upgrade in or to employ SLI or Crossfire.
Again, this score shows that the system should have no trouble playing modern day games with a good level of detail and a reasonable rate of FPS.
System Performance
PCMark 7
Version and / or Patch Used: 1.0.4.0
Developer Homepage: http://www.futuremark.com
Product Homepage: http://www.pcmark.com/benchmarks/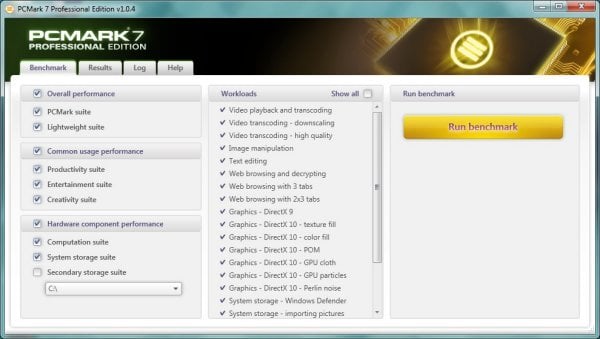 PCMark 7 is a great utility for testing a PC's all-around capabilities. It tests all aspects of the computer, from graphics performance to hard disk performance and attempts to put a score on it, which is not an easy task.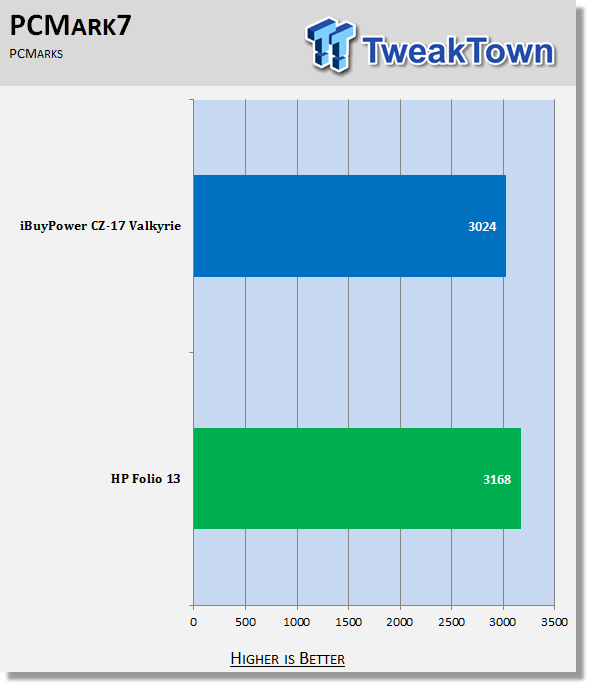 The Valkyrie is really hindered by its traditional spinning hard drive. It gets beaten out by a lower spec'd Ultrabook, something with no discrete GPU and half the CPU cores. However, this isn't exactly a surprising result as the system is more built to be a gaming machine, not necessarily an all-around work horse.
Upgrading to a solid state drive, as offered by iBUYPOWER as an upgrade, would certainly help this benchmark immensely.
Mobile Mark 2012
Version and / or Patch Used: 1.0.0.118
Developer Homepage: http://www.bapco.com
Product Homepage: http://bapco.com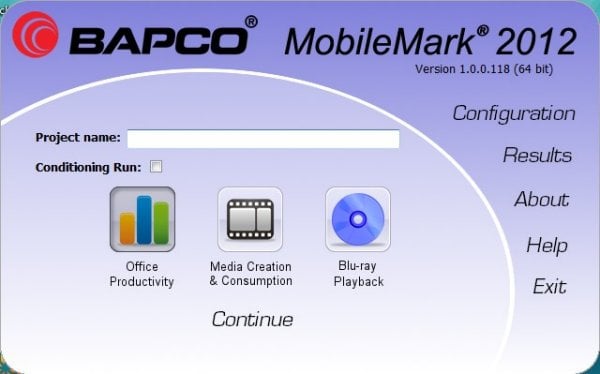 MobileMark 2012 is a premier benchmarking tool produced by BAPCo. It has several different scenarios built-in and allows you to choose which to run. It runs the test on battery life so that it produces both a score for the performance aspect and a run time for battery life.
For our testing, we chose the Office Productivity line of testing. The "Performance Qualification Rating" and battery life (in minutes) is reported below in the charts.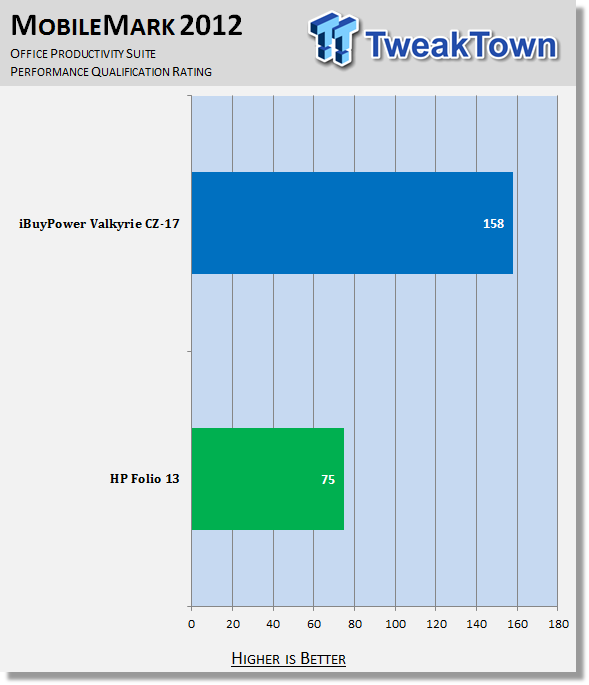 As you can see, the iBUYPOWER Valkyrie had much higher performance than the HP Ultrabook, but that performance came at a cost of battery life. A score of 158 is 58 points higher than the reference system and is very respectable.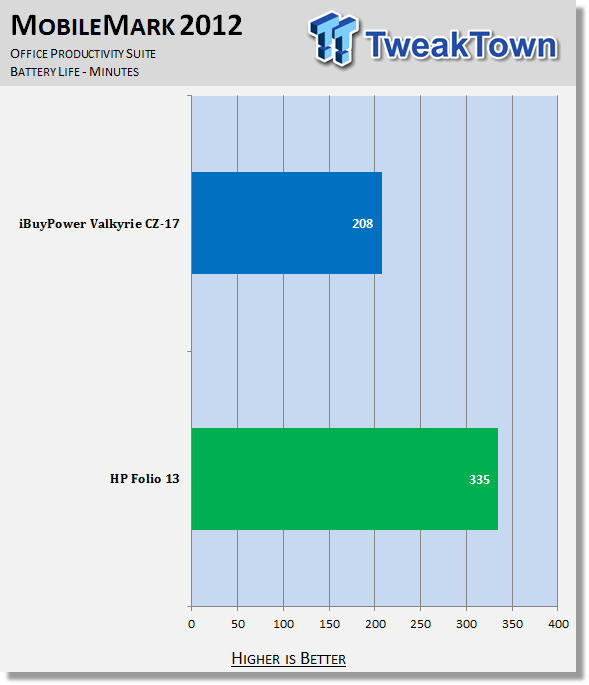 The iBUYPOWER, with its massive 17-inch screen and powerful quad-core, managed 208 minutes of battery life or 3 hours and 28 minutes. No longer are gaming laptop batteries just a measure to allow you to switch plugs. With all of the battery saving technology implemented in the CPU and GPU, you can actually use a gaming laptop for more than just gaming.
CrystalDiskMark
Version and / or Patch Used: 3.0 Technical Preview
Developer Homepage: http://www.crystalmark.info
Product Homepage: http://crystalmark.info/software/CrystalDiskMark/index-e.html
Download here: http://crystaldew.info/category/software/crystaldiskmark
CrystalDiskMark is a disk benchmark software that allows us to benchmark 4K and 4K queue depths with accuracy.
Key Features:-
* Sequential reads/writes
* Random 4KB/512KB reads/writes
* Text copy
* Change dialog design
* internationalization (i18n)
Note: Crystal Disk Mark 3.0 Technical Preview was used for these tests since it offers the ability to measure native command queuing at 4 and 32.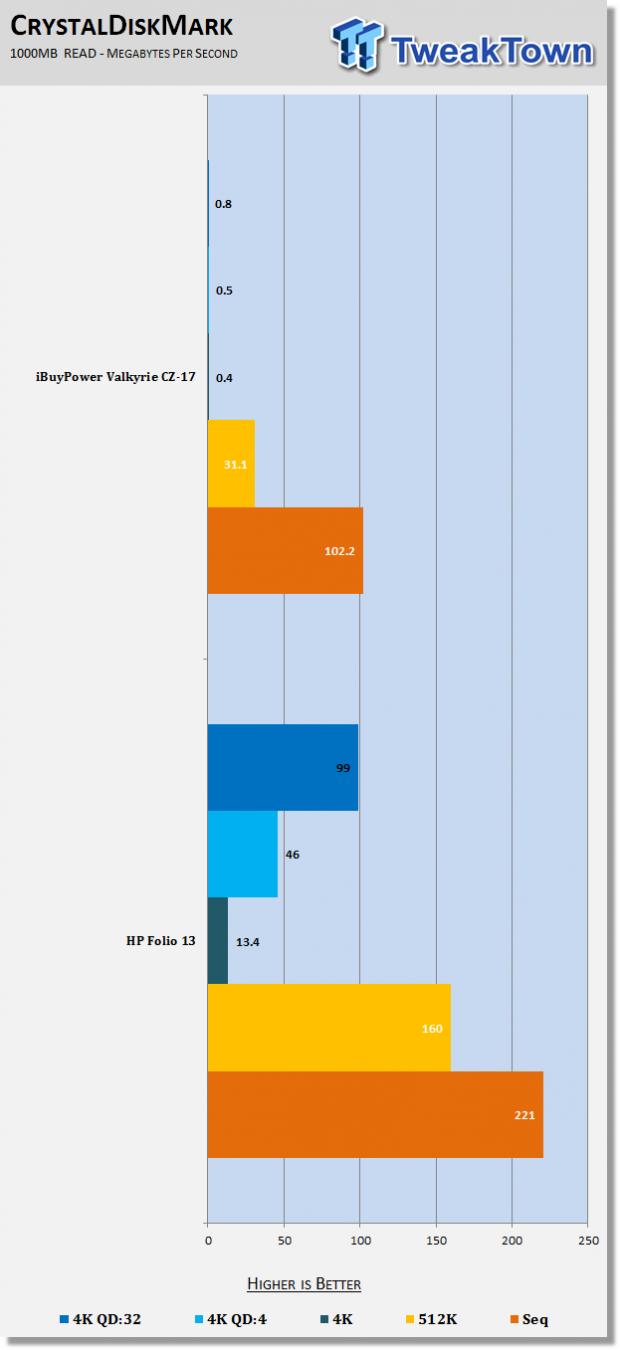 Here again, the lack of a solid state drive really kills the Valkyrie's performance. This is a particularly important test to show the difference between solid state drives and traditional hard drives. The solid state drive of the HP Folio, which provides higher performance, will make the overall usage experience better due to the operating system feeling snappier.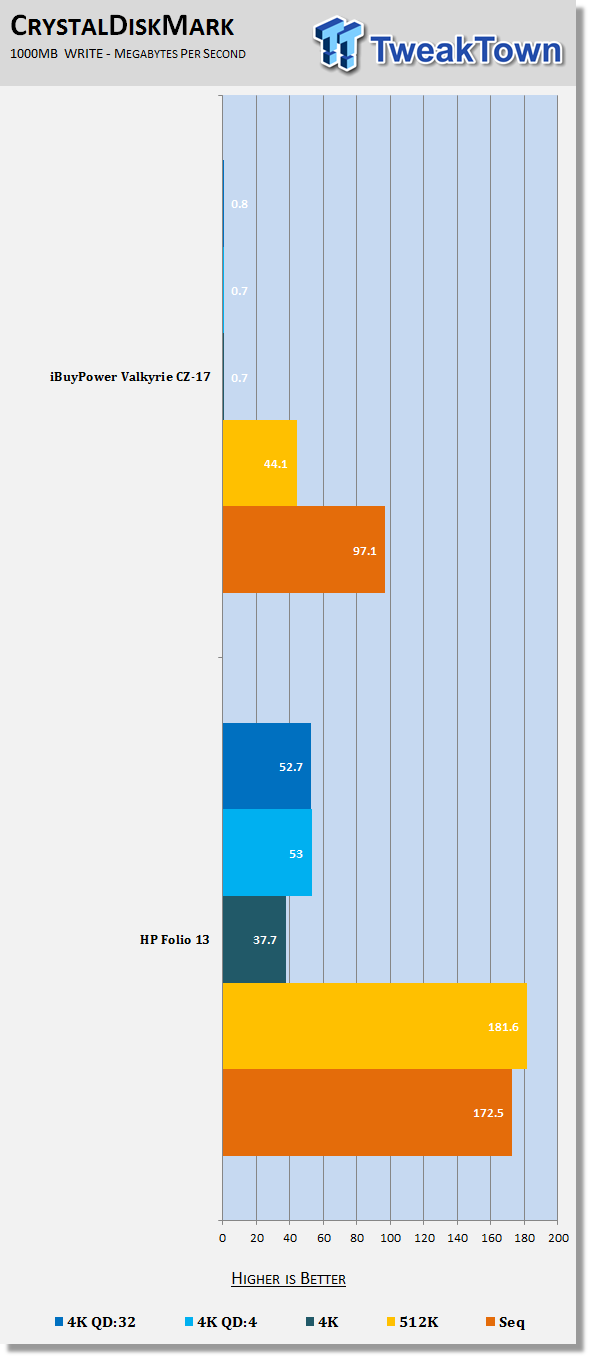 Not much changes in regards to the write speed. The HP's SSD performs much better than the traditional hard drive. These results just reinforce the fact that a solid state drive should be the first thing to be upgraded in this system.
Battery Life Performance
PowerMark
Version and / or Patch Used: 1.1.1
Developer Homepage: http://www.futuremark.com
Product Homepage: http://www.futuremark.com/benchmarks/powermark/
Download here: http://www.futuremark.com/benchmarks/powermark/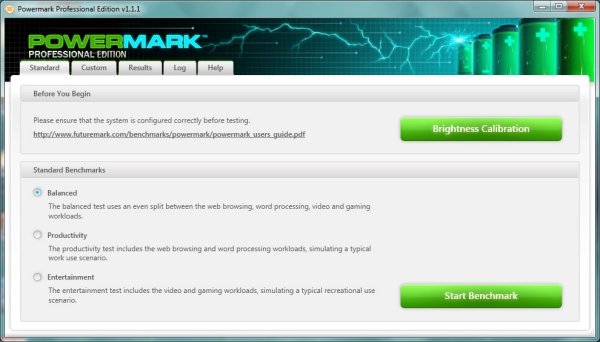 PowerMark is a benchmark produced by Futuremark that simulates different usage scenarios in order to determine battery life. It loops these different scenarios infinitely until the battery hits 15% and then gives us an estimated battery life time. For our testing, we use all four different scenarios. These are video playback, gaming, web browsing and word processing.
Tests are ran twice, once with the computer's Power Options set to Balanced and another with the computer's Power options set to High Performance.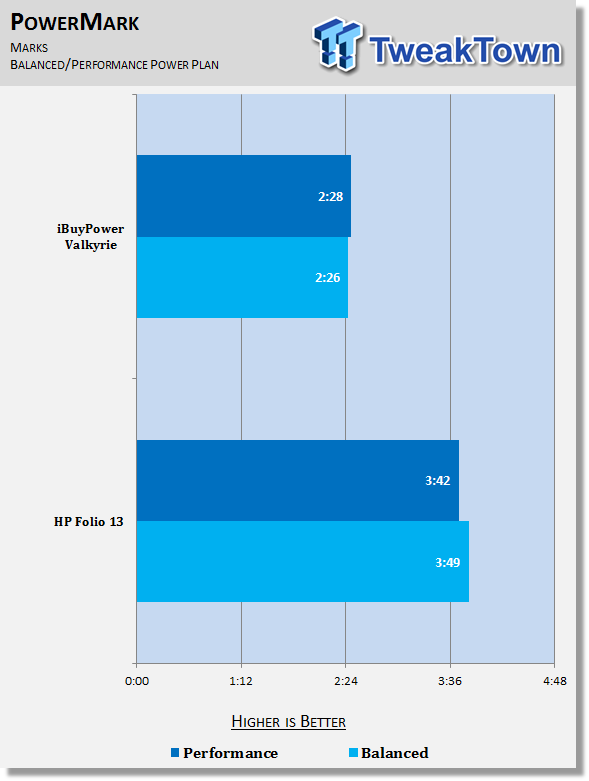 Battery life for the Valkyrie is not too bad for a gaming machine. With 87Wh of capacity, the Valkyrie lasts for 2 hours and 28 minutes in Performance mode and 2 hours and 26 minutes in Balanced mode. The differences between Balanced and Performance in all of the test machines are really negligible.
2 hours and 28 minutes of battery life is a respectable time. Considering that most laptops just a few years ago had trouble breaking the two-hour barrier, for a gaming machine to manage more than that is impressive. Of course, your mileage may vary depending on your usage.
Final Thoughts
Really, the laptop we've been presented with today, the iBUYPOWER Valkyrie CZ-17, is an interesting model. It's a fairly solid machine that presents good performance at a value price. There's really no arguing that point. At the same time, there are definitely some changes that it could use.
I'd really like to see the machine not built entirely out of plastic as it makes the machine feel cheaper than it is. The plastic construction also creates a squeaking sound when the lid is opened and closed and this is a real sticking point for me on the machine. However, it does have the benefit of not feeling as hot as metal, which is nice for typing when the machine is under load.
I'd also like to see the machine offered with this generation of NVIDIA graphics chips. Even though it's branded an NVIDIA GTX 675, the part is still a 40nm Fermi variant that has been rebranded. This means it uses more power and provides less performance. They do offer the GTX 680M as an upgrade, but it would be nice to see the Kepler generation as the base line.
With those changes, iBUYPOWER would have a really great winner on their hands. Even without those changes, the Valkyrie CZ-17 is still a good offering. You'll be hard pressed to find a competing system that is better value. It's incredible that the last generation flagship chip is available for a mere $1259 base price.
The system would significantly benefit from a solid state drive. If you're planning on upgrading anything, this is the first thing you should spend your money on. It will help the system performance massively, especially with boot and game load times.
The machine is powerful enough to play most games at decent detail settings at the screen's native 1920 x 1080 resolution. Viewing angles for people watching you play will be limited by the use of a TN panel, but the person playing the game should have no gripes with the quality of the screen, other than the possibility of not liking the grainy matte texture.
If you're looking for a portable laptop, this isn't for you. If you're looking for a portable desktop, then this system should be on your list to check out for its value. It's a beast, nearly as thick as my pinky finger is long at the back and it certainly has the muscle required to replace your desktop. However, it will never be able to beat a desktop in terms of performance, though it does come close in certain areas.
So, where does that leave us? The Valkyrie CZ-17 is great for the money, but it has a certain customer that it will appeal to. This is a desktop replacement notebook, as demonstrated by its performance and size. There are better machines out there if you demand the best of the best, but for your average LAN party attendee, this machine will be more than enough. If you aren't planning on doing a lot of gaming, I recommend looking at other machines, such as one of the many Ultrabooks available.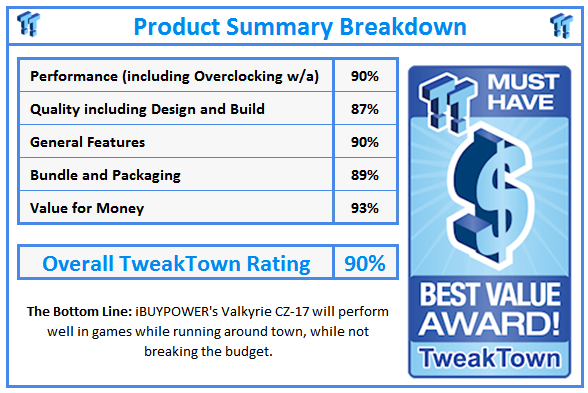 PRICING: You can find products similar to this one for sale below.

United States: Find other tech and computer products like this over at Amazon.com

United Kingdom: Find other tech and computer products like this over at Amazon.co.uk

Australia: Find other tech and computer products like this over at Amazon.com.au

Canada: Find other tech and computer products like this over at Amazon.ca

Deutschland: Finde andere Technik- und Computerprodukte wie dieses auf Amazon.de