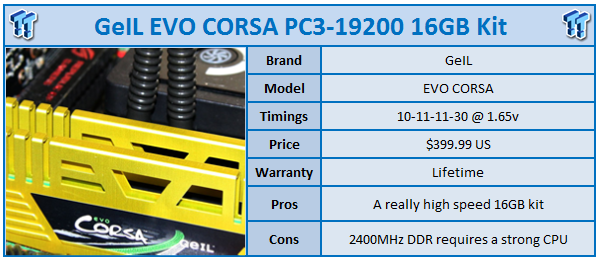 GeIL, now that's a name we haven't heard in a while. The release of the X79 chipset, though, has brought with it an introduction to many companies we've dealt with in the past, but not so much recently.
Talking to GeIL, we wondered what kind of kit we should be checking out today. I was all for some nice high speed Quad Channel memory and it didn't take long for my prayers to be answered with the EVO CORSA PC3-19200 kit we've got on our hands today.
Checking out the EVO CORSA kit, you can see that the look of the module is quite different to what we're used to seeing with quite a different looking heatsink that comes in a Metallic Green finish. I've never been the biggest fan of the color green, but to be honest with more and more companies using it, the color is beginning to grow on me. The Metallic finish that GeIL has gone for here as well looks pretty good.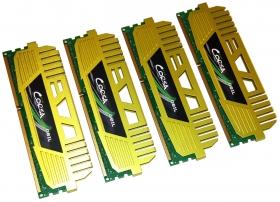 Even with the green heatsink, though, I found myself wishing that we were looking at some black PCB modules. The green against the green looks a lot better than the green PCB against the black heatsink we've seen from other companies, but a black PCB against anything always looks good.
Moving in a bit closer, we get a better idea of what's going on with each side of the kit. You can see on one side we've got the EVO CORSA logo along with the GeIL name, while the other side gives us a run down on the main specifications.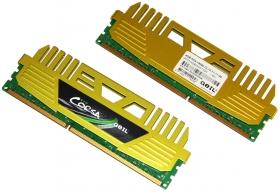 Moving in closer, we can see we're dealing with a PC3-19200 kit which translates into a massive 2400MHz DDR. Like any other 2400MHz kit, the timings are a little more on the relaxed side compared to 1866MHz or 2133MHz DDR kits and as you can see below, they come in at 10-11-11-30 @ 1.65v.

As for the size of the kit, we're dealing with 4GB modules which is another contributing factor to the more relaxed timings. Of course, being a Quad Channel kit, 4GB modules mean we've got a total of 16GB of RAM here. 16GB of RAM running at a massive 2400MHz DDR? Sounds like there's going to be little to complain about.
The latest version of CPU-Z brings proper support for Quad Channel memory and we can start to validate our speeds again. With our latest 3960X having a strong memory controller, we expected no issue getting to the default speed of 2400MHz DDR and after setting the RAM divider up in the BIOS and the timings, we found ourselves in Windows. You can see our CPU-Z validation here. Up and running in Windows, it was time to check out the performance we could get.
Under AIDA64 we ended up with Read / Write numbers of 20,262 MB/s / 15,102 MB/s, Copy speed of 17,670 MB/s and latency of 44.5ns.
This is some nice performance with our read times being the most impressive when compared to a kit running at 1600MHz DDR which normally sits around the 17,000 MB/s mark. With that all working as it should, though, it was time to head into the BIOS to see just how much performance we could get out of the GeIL EVO CORSA kit we've got today.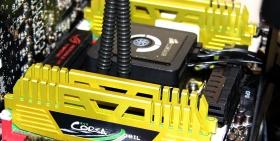 With the next memory divider option jumping up way too high, we have to resort to BCLK tweaking to find the best overclock. Bumping up the BCLK a little, rebooting, benchmarking and then repeating the whole process 'till we get a BSOD is the only way to really do it.
After a while we ended up at 102.9 BCLK, with the 2400MHz DDR divider or 36:3 one that brings in the clock speeds at 2470MHz DDR. That also brings our CPU speed up to 4013MHz instead of the normal 3900MHz when turbo is running. You can see our CPU-Z validation here. Up and running in Windows, it was time to check out the performance we could get.
Under AIDA64 we ended up with Read / Write numbers of 20,465 MB/s / 15,545 MB/s, Copy speed of 17,887 MB/s and latency of 44.2ns.
This isn't a huge boost over the default clocks because we're already dealing with such a massive speed. Like most 2400MHz DDR kits on the market at the moment, the more relaxed timings mean that you've got little room to move in that area. We actually could get into Windows as high as 2500MHz DDR; unfortunately, the word "stable" couldn't be used to describe that setup.
With that up and running, as always we headed back into the BIOS to bump our CPU clock up further to see just how much bandwidth we could get out of the kit with our CPU running closer to the 5GHz mark. Looking below, you can see with the BCLK pushed to 132.6 and our CPU multiplier running at 37x, we end up in Windows at 4906MHz. Changing to a 11-11-11-30-2T setup, you can see that our GeIL EVO CORSA kits come in just a little higher as well, running at 2475MHz DDR.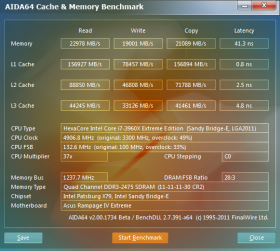 Across the board you can see we get a nice little boost in our memory performance with some strong gains under the copy speed and improved overall latency. Under AIDA64 we ended up with Read / Write numbers of 22,978 MB/s / 19,001 MB/s, Copy speed of 21,089 MB/s and latency of 41.3ns.
It might've been a while since we've seen anything from GeIL, but it's clear that they're still working hard when it comes to creating really strong performing memory. 2400MHz DDR seems to be that "Need for Speed" number that we're seeing from companies and the fact it comes in 16GB form is something that performance users will be extremely impressed by.
The biggest issue with 2400MHz DDR RAM continues to be that to make the most out of it, you need to have a CPU that carries with it an excellent memory controller, and at $399 US it's not a cheap kit. That's no surprise, though, considering the speed of the kit.
If you find yourself a fan of the EVO CORSA series, though, it's good to know that if you don't need the massive MHz associated with the 2400MHz DDR kit we've got here today, you can grab yourself the 16GB PC3-14900 1866MHz DDR kit for less than half the price at $139 US. If you want the 2400MHz DDR but you're happy to move to a CL11 setup, you've also got the option to save a little with the CL11 EVO CORSA kit at $324 US.
If you're after a kit that carries with it a clock speed of 2400MHz DDR while offering us a total of 16GB across four modules, this is a really nice kit. Like other 2400MHz DDR kits, the price sits on the higher side of things, but you can save a little money if you want to move to a CL11 kit. If you're after the EVO CORSA look, though, and you're happy to go down the path of 1866MHz DDR memory, like we mentioned, some serious money can be saved.