Introduction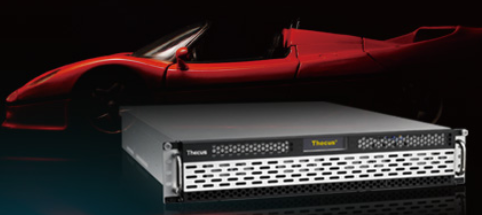 The NAS market has really heated up this year. Personal, corporate and service based cloud computing have brought a new vigor to the industry. At the same time, reductions in cash flow have left companies asking for more features and expecting them at lower prices. The global war on energy and fossil fuels is driving power requirements down and putting a new emphasis on power efficiency. To meet the large list of demands, NAS manufacturers needed to go back to the drawing board, rethink their strategies, evaluate their designs from a new perspective and then finally execute with a laser like focus on the key areas that have emerged as features required for the next decade.
SATA / SAS 6Gb/s RAID, 8GB system memory, eight HDD bays, second generation Core i3 processor, PCIe all with HDMI and audio multimedia capabilities. You might think I'm talking about your dream PC, but these are just some of the features found on Thecus' new N8900 enterprise NAS server. The N8900 is a new breed of NAS that ushers in next generation features. These features will eventually become standard on most of these product types - three years from now. The N8900 is an advancement in technology, a one small step for man type of thing. The N8900 is revolutionary more than it is an evolution of an old design.
At the heart of the N8900 is a new second generation Core i3 processor that is as power efficient as it is capable of processing data. The i3-2120 processor uses two cores that branch into four threads all running at 3.3GHz at peak speed. Feeding the processor is 8GB of high performance DDR3. The combination gives the N8900 a powerful base for Thecus to build their software layer on top of.
Thecus' new software advances, many multi-core aware, are capable of running with greater efficiency as well. The new Thecus Software Development Kit (SDK) has allowed a dedicated community of programmers greater flexibility to build upon the already large list of free modules offered by Thecus directly. The program has been a huge success and Thecus owners are now able to use their NAS for several tasks instead of having a single NAS for each purpose.
Advances in virtual computing have put other strains on NAS servers. The largest is the amount of bandwidth to and from the NAS. When a NAS is doing the workload of ten systems it needs to be able to communicate ten times faster. Once limited to gigabit speeds, the N8900 surpasses that mark and ushers in full 10GbE performance with an optional add-in card. This can be multiplied with dual port 10GbE cards as well.
Let's take a look at all of the features before I get carried away in the intro.
Specifications, Availability and Pricing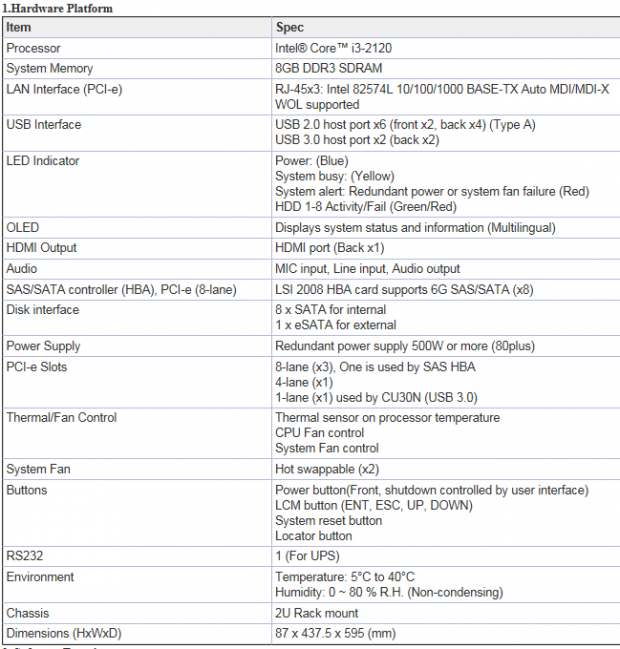 We've already talked about some of the base features, but the N8900 has many more to cover. The foundation starts out with the Intel Core i3-2120 processor which is fed by 8GB of DDR3 RAM. This is a solid foundation in which to build a next generation NAS server and that is exactly what Thecus has done.
Before we get to the expansion capabilities, we have a long list of next gen features that are standard on the N8900 to cover. New to Thecus systems is the inclusion of HDMI and audio capabilities. These allow software developers to create new features for the NAS. Dual USB 3.0 ports are also new to this class of NAS server, but you still get six USB 2.0 ports - two in the front and four on the back.
Gigabit Ethernet is included in the form of three separate ports that gives users a wide range of options for connectivity. 10GbE is rapidly coming down in cost and is starting to emerge in other areas outside of just the data center.
Thecus has also chosen an enterprise class HBA controller to handle disk drives. The new LSI 6G card supports SATA and SAS drives running at 6Gbps. The card connects to the NAS via an 8x PCIe 2.0 port.
There are two additional 8x PCIe 2.0 ports for adding 10GbE cards or other devices. Another 4-lane PCIe port is available for future use as well.
While looking around online, we managed to find several e-tailers with N8900s listed for less than 3000 Dollars. The best deal was from CompSource.com, 2,746 USD with free shipping and stock available.
Software Features
We look at several NAS servers a year and it is our opinion that Thecus has fallen behind in the secondary software race. The announcement in May about the new SDK has already given Thecus a boost in software features and they are now quickly growing their module library.
Thecus has a firm grip on the base modules that provide the most heavily used and relied on features. For most users these are the important features and they could really care less if three different Torrent modules are available because they are not going to use any Torrent modules at all. In many ways the software feature race has gotten a little out of hand, but then again, the more features you can pack into a NAS the less you need other servers to run.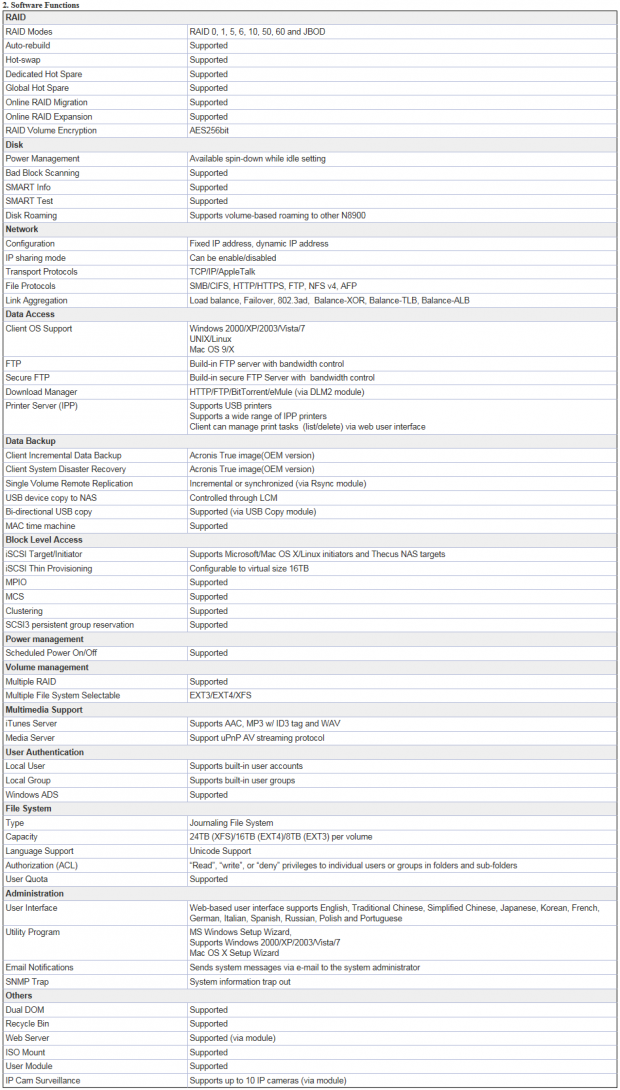 One area that Thecus does very well in that we rarely talk about and that you will not find on a spec sheet is compatibility. To date we've yet to run across a drive that doesn't work in their systems. Thecus keeps a list of compatible drives on their website and a list of some that do cause issues, but we've yet to run into a drive from our collect that's caused problems.
This extends to solid state drives as well. I prefer to test with SSDs since they cut RAID 5 and 6 format time to around an hour compared to the 20 and 25 hours it takes with 7,200 RPM platter drives. The same cannot be said about the nearest competition which has several issues with nearly all of our SSDs.
The Packaging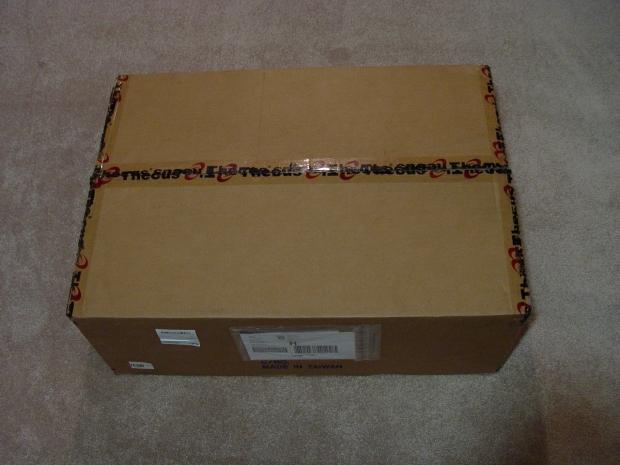 Thecus used their double box packaging with the N8900, the same we've seen with all of their rackmount NAS servers.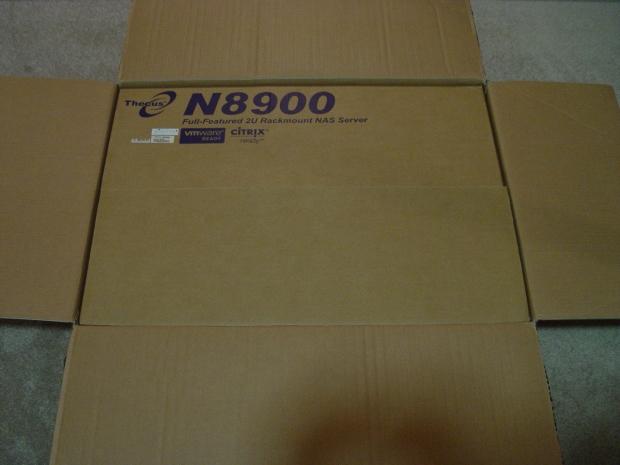 The outer box is fairly thin and serves to preserve the inner box that has the product branding on it.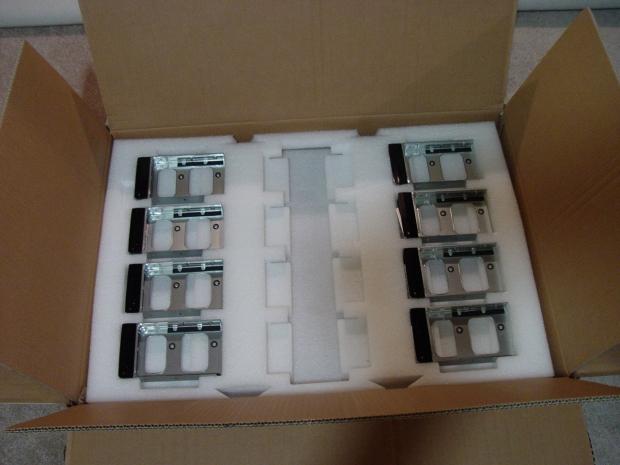 On the inside of the box we found a layered approach. The drive sleds are not mounting inside the NAS when it ships - they are housed in a foam layer.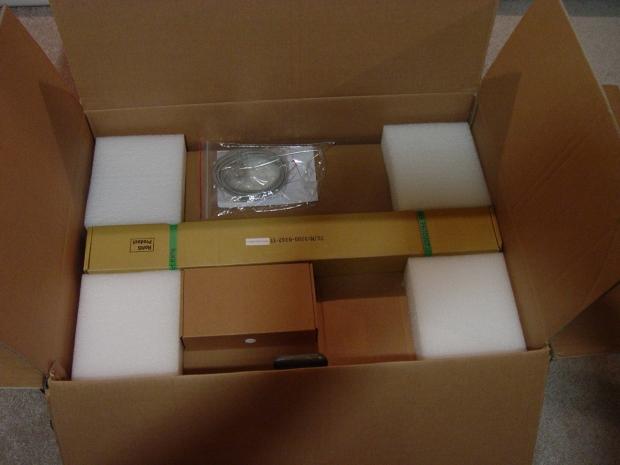 Going one layer deeper, we found the accessory packages and drive rail box. This is where the dense foam starts to emerge and the real protection comes into play.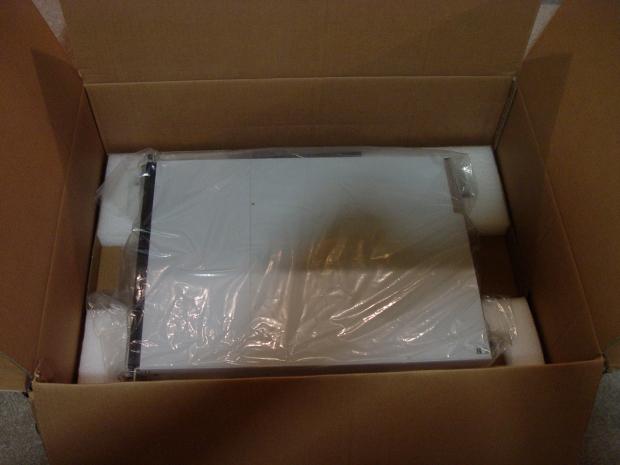 The NAS is on a raised section. On the bottom of the NAS layer is dense foam and the NAS has a good three inches of foam between it and the outside corners. The corners are usually where UPS and FedEx drop their packages when they get thrown on and off the planes.
The Thecus N8900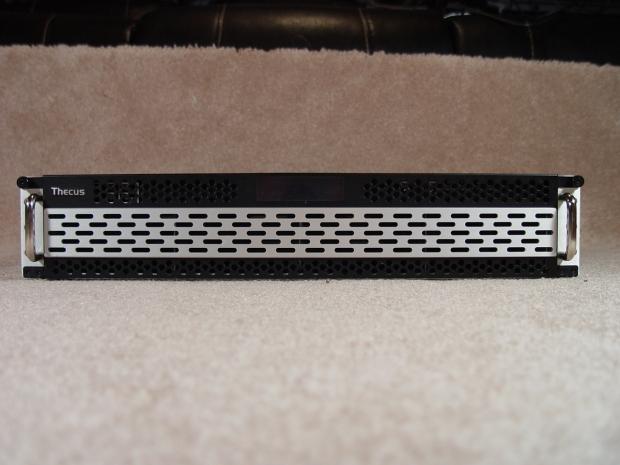 The N8900 is the third product in their new breed of servers that started with the N16000 and N12000. These products received more than just a hardware makeover. The cosmetics of the new product line are quite a bit different from years past. A new front door has been used mainly for appearances. In the top middle of the N8900 rests an OLED status display that allows users to configure their server easily without a PC. You can also check the server's status as well.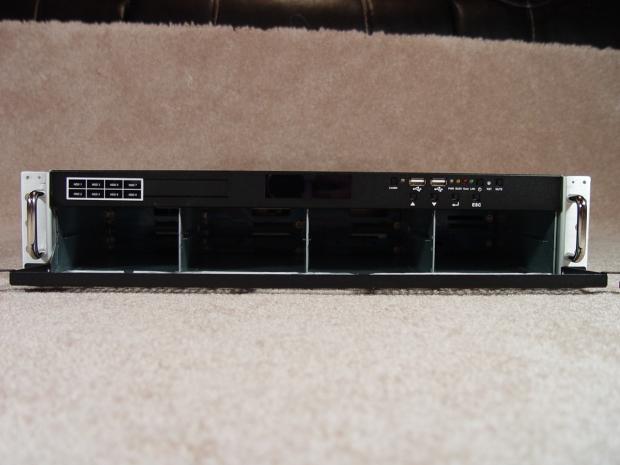 Here we see the NAS with the door open and without the drive sleds in place. A small chart is stickered on the top left that shows the drive number order. On the right side you will find the two front mounted USB ports and the control buttons. The display dash is located right in the middle.
One thing that we should point out is that the USB ports are behind the door. This arrangement isn't ideal for many users, but it looks like the door can be easily removed.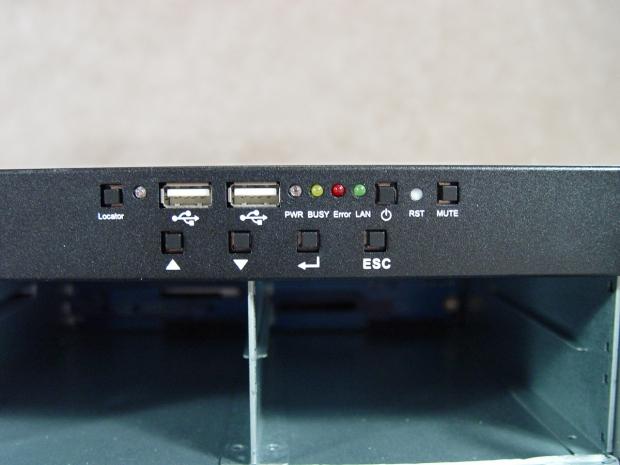 Here we see the buttons and LEDs that give some basic status updates like power, error and network activity. The arrow buttons allow for quick and easy access to the menu system that works in conjunction with the display.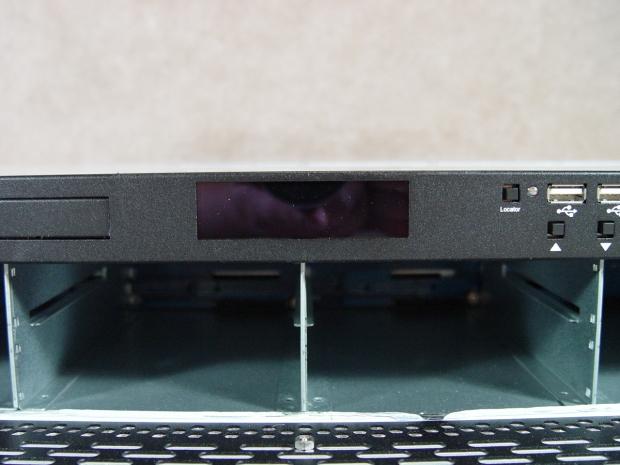 The OLED display first appeared on the N4200 product line and is the best we've found on any NAS server. The clarity is much better than the older LED displays found on previous products and we're glad to see Thecus using it on more products in 2012.
The NAS can be secured in a rack by its ears alone or it can be installed with the drive rails in place. The rails allow the NAS to slide in and out easily.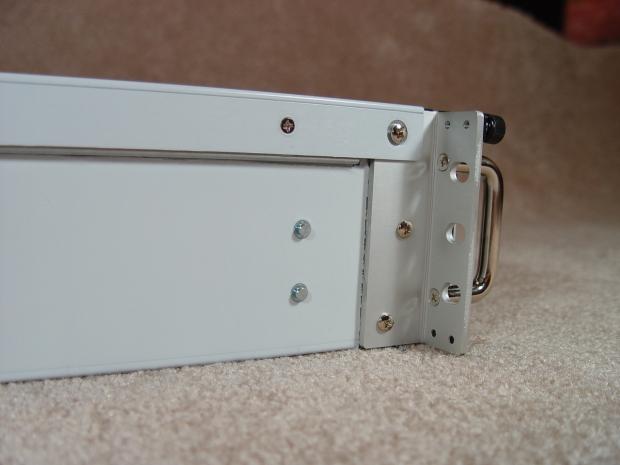 The ears are made of aluminum and are very thick, even for an enterprise server.
A majority of the connectivity is on the back of the NAS. Here you will find all of the goodies!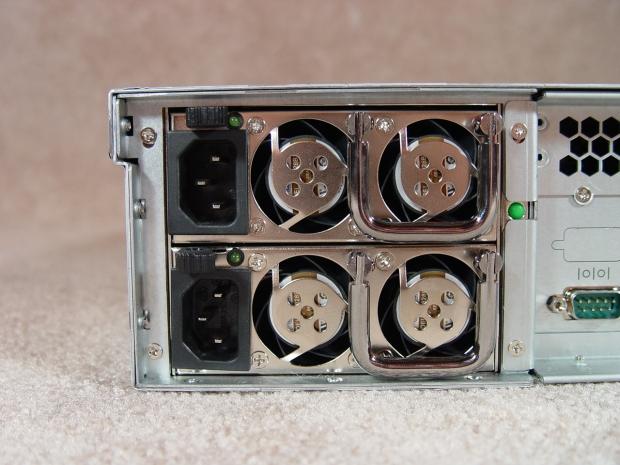 The N8900 uses redundant power supplies that are rated 80+ at 550 watts. The 12 volt rail is rated at 456 watts (and 38 amps) so your power hungry 15K RPM drives won't have a problem getting power if you choose to use them.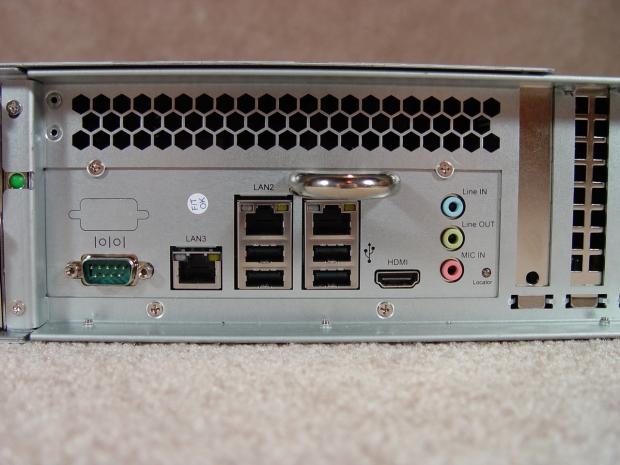 As we mentioned in the specification page, there are three gigabit Ethernet ports that can be trunked together. The N8900 also has audio and video capability. We're not really sure what you would do with that, but I'm sure some creative programmer will find a way to turn this into an advanced media center at some point.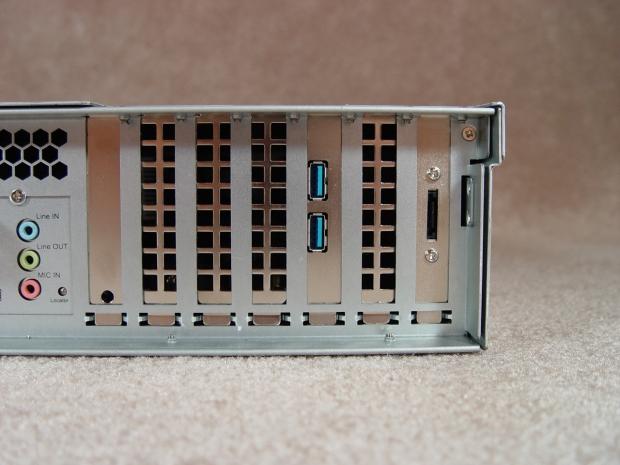 The expansion area is quite robust and offers several options for expansion even though two of the slots are already used for USB 3.0 and eSATA.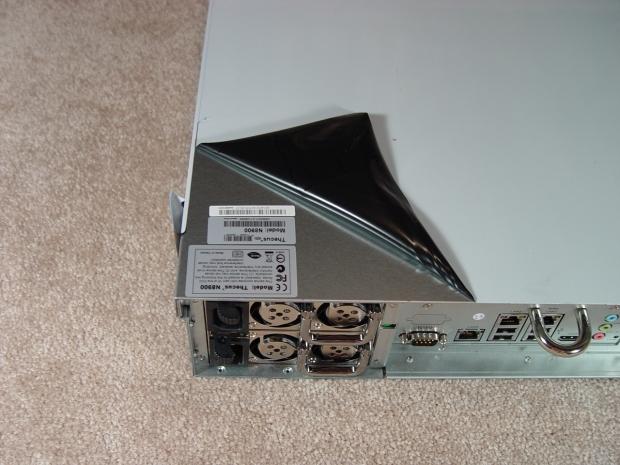 The NAS ships covered in a protective plastic layer that should be removed before using. The plastic would trap heat, so take this off before you mount the NAS.
The Thecus N8900 Internals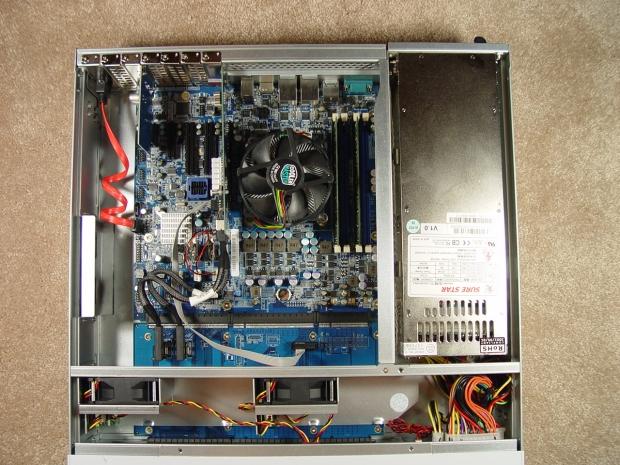 I'm asked all the time about the inner workings of NAS servers. Many people think these are made from off the shelf PC components, but in most cases that isn't true. The Thecus N8900 uses several specialized components that are designed by Thecus.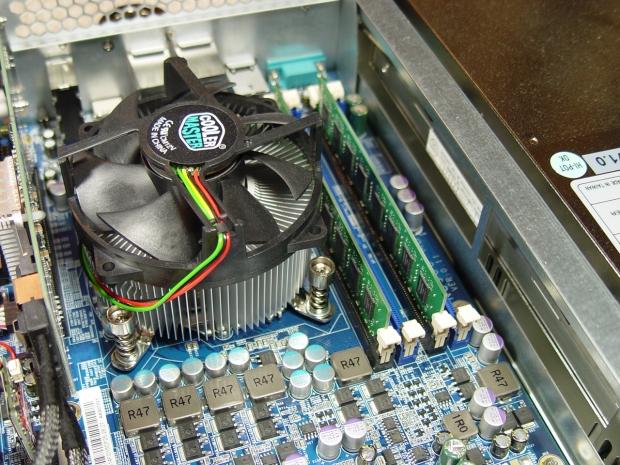 The CPU is cooled with a Cooler Master heatsink and fan that is actually very quiet. That doesn't mean the NAS is quiet, we'll get to that in a minute, though. Only two of the four available RAM slots are populated so you can easily add more memory. Our N8900 shipped with Transcend DDR3, 4GB per stick.
Here we see the expansion port area that has two free 8x PCIe ports and a 4x PCIe port. The single lane PCIe is used by the USB 3.0 card that has two USB 2.0 ports.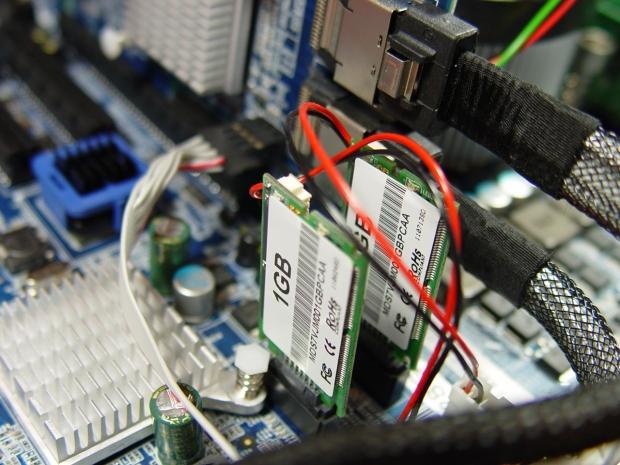 The NAS's internal software is kept on a 1GB flash drive that is mirrored to a second 1GB flash card. This is a redundant system.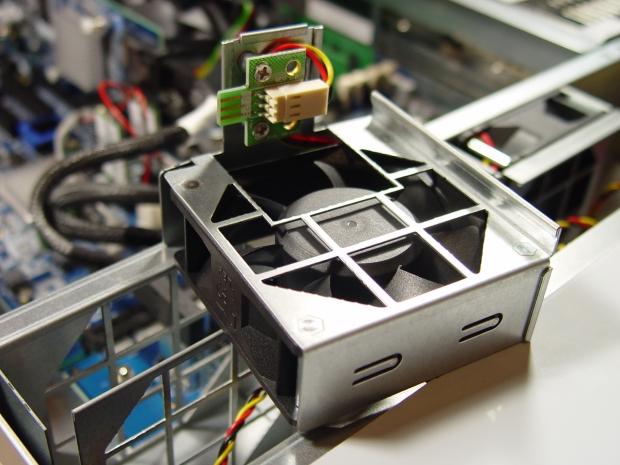 There are two layers in the NAS so the motherboard is raised up more than it would be in most 2U servers. The raised area goes past the motherboard and into the drive bay area. Because of this, Thecus didn't have room for 80mm fans. The NAS has two 60mm fans that are pretty loud. We would have liked to have seen quieter 80mm fans used in the system. The fans can be easily hot swapped without shutting down the system if they need to be replaced in the field. The bracket system used on the N8900 makes removal and installation very easy.
The motherboard uses digital power switching just like high end motherboards used in enthusiast class systems.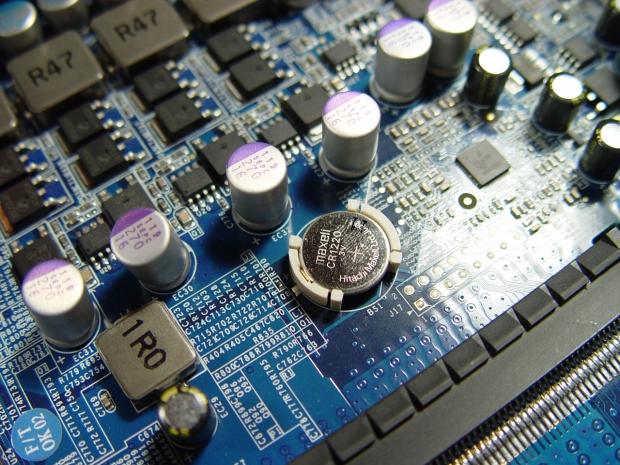 This is the first time I've noticed the new CMOS battery that is about half the size of normal CMOS batteries. This allowed Thecus to save some space on the board.
Test System Setup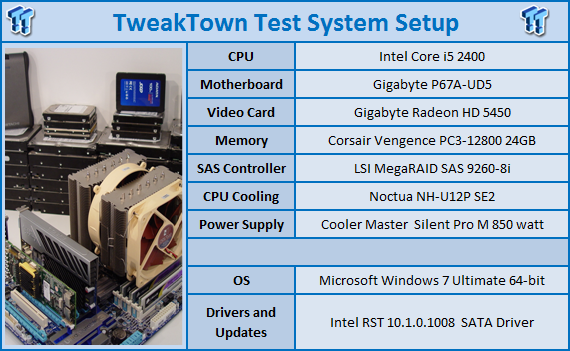 We would like to thank the following companies for supplying and supporting us with our test system hardware and equipment: AVADirect, GIGABYTE, Cooler Master, LSI, Noctua, Seagate, Crucial and Corsair.
Intel NASPT
The Intel NAS Performance Toolkit (NASPT) is a file system exerciser and analysis tool designed to enable direct measurement of home network attached storage (NAS) performance. Designed to emulate the behavior of an actual application, NASPT uses a set of real world workload traces gathered from typical digital home applications. Traces of high definition video playback and recording, office productivity applications, video rendering/content creation and more provide a broad range of different application behaviors.
- RAID Level Description
JBOD: Combine multiple drives and capacities into one drive.
RAID 0: Normally used to increase performance and useful for setups such as large read-only NFS servers where mounting many disks is time-consuming or impossible and redundancy is irrelevant.
RAID 1: Create an exact copy (or mirror) of a set of data on two or more disks. This is useful when read performance or reliability are more important than data storage capacity.
RAID 5: Use block-level striping with parity data distributed across all member disks.
RAID 6: Extend RAID 5 by adding an additional parity block; thus it uses block-level striping with two parity blocks distributed across all member disks.
RAID 10: A Stripe of Mirrors. Multiple RAID 1 mirrors are created and a RAID 0 stripe is created over these.
RAID 50: Combines the straight block-level striping of RAID 0 with the distributed parity of RAID 5.
RAID 60: Combines the straight block-level striping of RAID 0 with the distributed double parity of RAID 6.
Benchmarks - HD Playback
HD Video Play - 720p HD stream from Windows Media Player* 256kB reads
2HD Video Play - 2x playback
4HD Video Play - 4x playback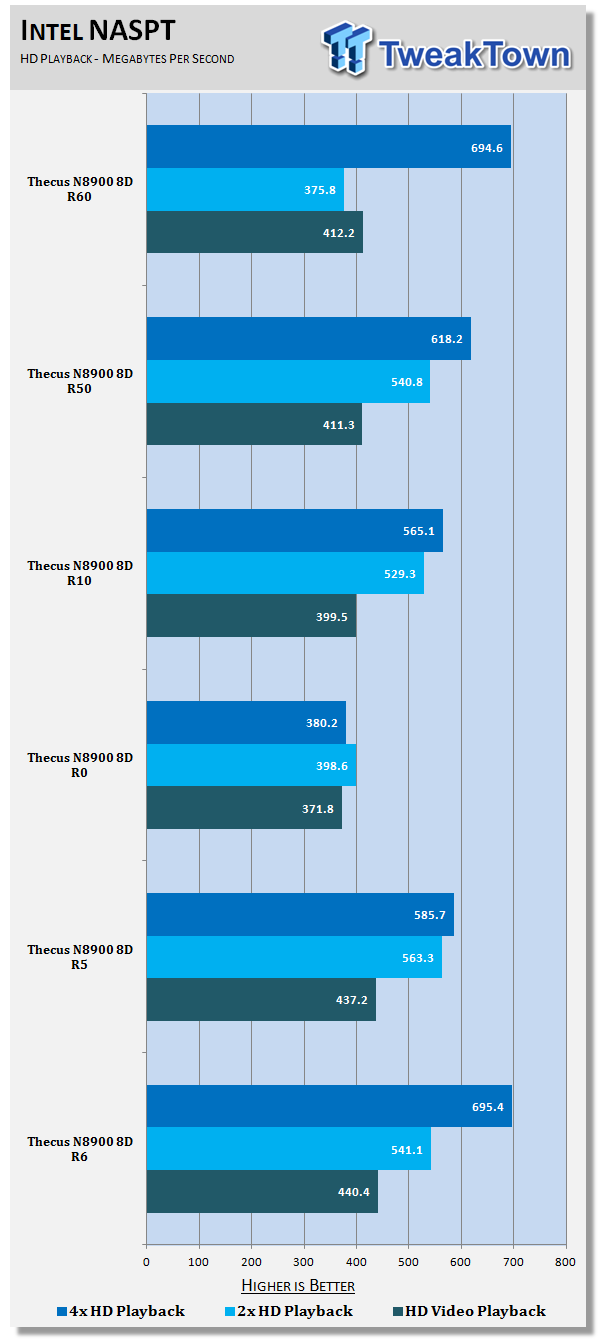 TweakTown has invested in new hardware that allows us to test high performance NAS servers in a 10GbE environment. The N8900 is the first NAS we've tested at 10GbE and I have to say I like the change! With the performance listed above I'm sure you will be happy with 10GbE as well. We'll have a full rundown on 10GbE and our new hardware tests next month.
In the charts today you'll only find the N8900. We have another 10GbE NAS in for testing now but are being held up with some compatibility issues. So, instead of holding up the N8900 any longer, we're going to let this one fly on its own. We are publishing some extra RAID levels that we normally don't publish like RAID 50 and 60.
In this first chart we are looking at HD Playback three ways. The first is a single stream, then two streams and finally four streams at the same time. With 10GbE you have a massive amount of bandwidth. There is so much bandwidth that we are looking into ways to improve NASPT and run as many as 20 streams at the same time.
We mentioned before that Thecus used an LSI HBA in the N8900. In our testing with LSI controllers we've observed the same behavior as we did with the N8900. The LSI hardware favors advanced RAID over RAID 0. There isn't really a reason why anyone running a NAS like the N8900 would use RAID 0 and as you can see here, there is actually a performance penalty.
Benchmarks - HD Record
HD Video Record - 720p HD stream, 256kB writes
HD Video Play & Record - 1 playback, 1 record simultaneously
2x HD Video Play & 2x Record - 2 playback, 2 record simultaneously
With the N8900 running with 10GbE we routinely see write speeds higher than 500MB/s! Even when we get into two HD streams being written while two HD streams are being read, the performance is very high and in some cases eclipsing this 500MB/s mark.
Benchmarks - Content
Photo Album - All reads - wide distribution of sizes
Office Productivity - Reads and writes, 1kB & 4kB reads; Mostly 1kB writes
Content Creation - 95% writes; 1k, 4k & little reads; Writes up to 64kB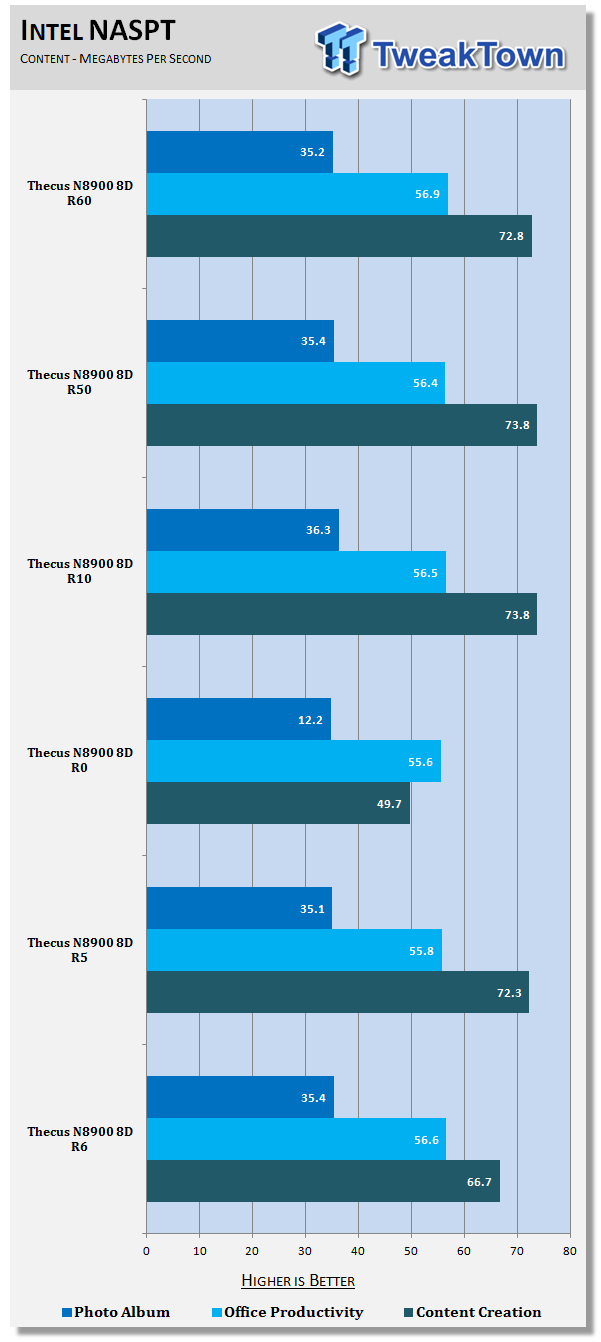 The content tests where very small files are read and written to the NAS are always the heartbreaker. Handling small files turns up the transactions and this is where IOPS really comes into play. You really have to choose your drives carefully if you or your office works with these small files, like pictures. Even with solid state drives and a 10GbE connection it's difficult to get better performance than the numbers shown in the chart.
Benchmarks - Copy
Directory Copy From NAS - 64kB reads
Directory Copy To NAS - Predominantly 64kB writes, wide scattering under 16kB
File Copy From NAS - 4GB file copy, 64kB reads
File Copy To NAS - 64kB writes

Copying files to and from the NAS is one of the most used features and the reason why we still call them Network Attached Storage even though they have become more like servers over the last few years. In the office, one of the most often run functions is the backup cycle and in most cases client systems are backed up each night. In RAID 6 we achieved over 900MB/s when sending files to the NAS.
Final Thoughts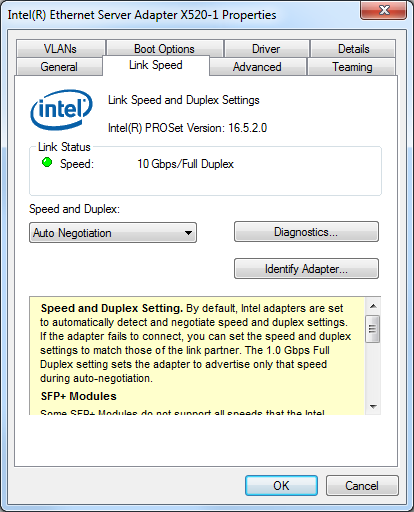 Just recently I returned from a weeklong trip to San Jose where I spent my days with LSI learning about next generation RAID and Ethernet technology and how it relates to datacenters, The Cloud and large office environments. I won't bore you with everything I learned about SerDes or any of that stuff today, but I can see the next gen philosophy built in the N8900 already.
Going forward, NAS servers will offer more features, more value, lower power consumption, greater access through Web 2.0 and even access through mobile devices. After that you get into the software running on these servers since they are after all much more than just storage devices.

The Thecus N8900 is a next generation server today. Just calling the N8900 a NAS is a serious down play of its capabilities. You can run your entire office off this 2U box, web server, mail server, website, intranet, client backups and your admin can download torrent files at the same time. The fun doesn't stop there. With the Core i3 processor and 8GB of RAM out of the box your admin can setup SQL databases and actually have the processing power to run them.
That leads us into the hardware. With only two of four memory slots full, you can easily add more memory to the N8900. There are eight bays for HDDs and an additional eSATA port on the back of the server. Thecus has already tested 3TB drives in each bay, so capacity ramps up quickly when needed.
Getting to your data is also supersized on the N8900 too. The NAS ships with three gigabit Ethernet ports that can be run independently or together in a trunked configuration. Two 8x PCIe slots and a single 4x PCIe slot are also open for expansion and you can easily add single or dual port 10GbE NICs in the two larger slots. 40GbE bandwidth would be nice, but a little out of our league for testing.
I went into this review knowing about the 2,746 Dollar price and was a bit shocked at first. It didn't take long for me to start seeing the quality and extensive features this NAS offers and the price began to fade away until it wasn't an issue any more. I'm sure this will come as a surprise to many of our readers who are used to me complaining about pricing, but for the first time in a long time I'm walking away satisfied. The hardware is powerful and the software is very refined. Once you throw in how compatible the NAS is with other hardware the picture becomes very clear. The N8900 is a great product that will lead Thecus into a new generation of feature rich products.