QNAP Turbo NAS TS-659 Pro II Review
QNAP has updated many of its classic designs with new functions. Take a classic and improve it? - Sounds good to us!
Published Mon, Oct 24 2011 11:45 PM CDT
|
Updated Tue, Nov 3 2020 7:01 PM CST
Rating:

92%
Manufacturer: QNAP
Introduction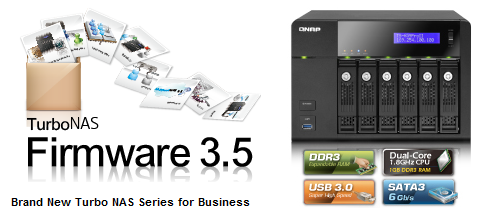 We all know the old saying; if it ain't broke, don't fix it. That's usually pretty solid advice for a company, especially when they make some of the best products available on the market. QNAP doesn't follow that line of thinking at all and each year they look at their product line and ask how they can make it better.
NAS servers today are pretty much at the top of their game. There hasn't been a lot of changes to the foundation in a long time, so all of the basics have been the same for several years. With just about every NAS manufacturer sitting on the same foundation, in this case offering high speed redundant storage at the best price point possible, these companies need to expand and improve on their secondary product features. These include software packages, improved connectivity, ease of use, wider compatibility, included accessories and of course, product support.
QNAP has become a master at these secondary features and in doing so brought innovative secondary features into the foundation. One example is the current standard of having two or more gigabit Ethernet ports on SMB NAS products. Just a few years ago products were built with the expectation of having just a single port, but dual ports are now expected, foundation features. Another example is the high number of USB ports now found on NAS products. Even the most basic of units ship with four USB ports.
The QNAP TS-659 Pro II is the company's latest run on an award winning product. It wasn't that long ago we looked at the TS-659 Pro + and determined it was a spectacular product that improved upon an already existing design. The Pro II is a third generation product and it brings even more to the table while still keeping with core technology that makes it a great product.
USB 3.0 has been added as have optimizations to the software and firmware, making the TS-659 Pro II a better all-around product. Let's take a look at the specs and see what else has changed.
Specifications, Availability and Pricing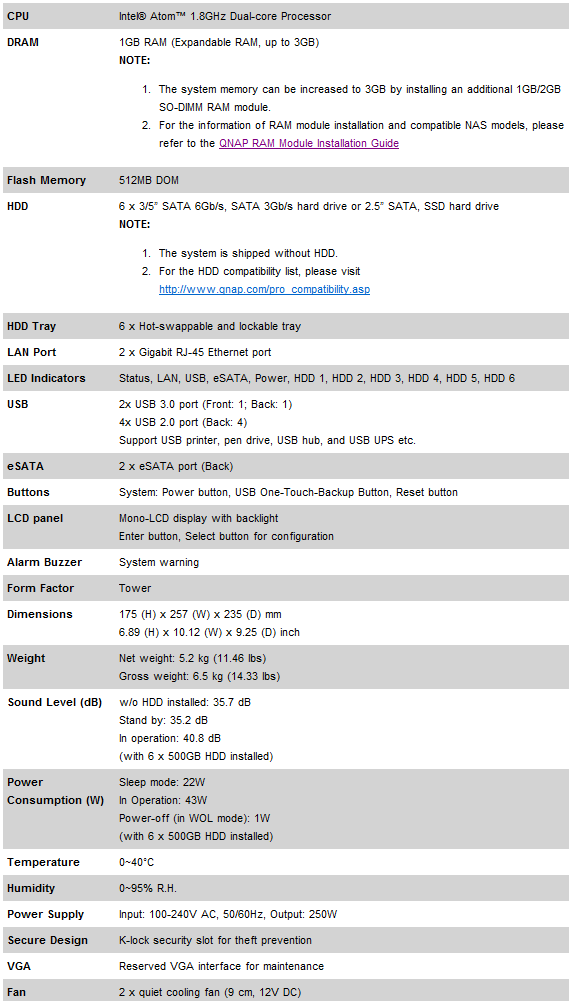 On the specifications sheet QNAP doesn't highlight the new features, so we'll point them out. We've already spilled the beans on USB 3.0. The TS-659 Pro II also supports SATA III (SATA 6Gb/s) and is easier to upgrade memory on. The system ships with 1GB of DDR3, but a new, more convenient location for a second slot gives users the ability to add up to 3GB of DDR3.
Aside from what's new, there is still what has always been. The new TS-659 Pro II has six internal HDD bays and two eSATA ports on the back. Four USB 2.0 ports also reside on the back as do a pair of gigabit Ethernet ports that support Trunking.
After a quick search with Google, we found that most e-tailers sell the TS-659 Pro II for around 930 USD. Picking a TS-659 Pro II up for less than a grand is an amazing deal considering other competing products on the market and their functions.
Software Features
QNAP has always done a really good job of listing all of their software features. The list is exhaustive and there is no way we can get through it all in one sitting.

There are some new features that are included with the new 3.5 software. Starting out with the RAID, level 10 has been added and is now part of the standard set of RAID levels offered. Most users will opt to run RAID 5 or RAID 6, but we are glad to see QNAP pushing the envelope with additional functions.
Cloud computing has been getting a lot of press lately and the new software brings two cloud technologies to QNAP products. The first is MyCloudNAS Remote Access, an easier way to access your cloud from the internet. The second is ElephantDrive Cloud Storage, an easier way to backup your data through the internet. We'll show this feature off in great detail in the coming weeks. Keep an eye out for our private cloud article.
Other software improvments / new features include Download Station 2, Advanced Print Server, USB WiFi Network Adapter Support, Virtual LAN Support, easier to use System Management Features for migration of user accounts and Folder Permissions, and the final addition is Real-time Remote Replication.
The Packaging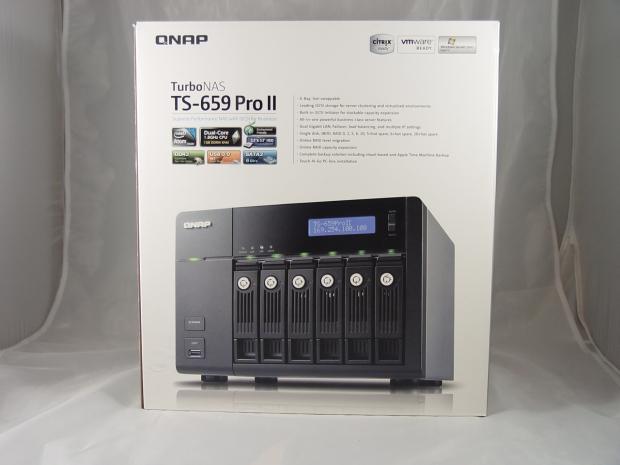 QNAP has an attractive package for the TS-659 Pro II and you get a lot of information from it in a retail environment like Fry's. On the front is a small list of features.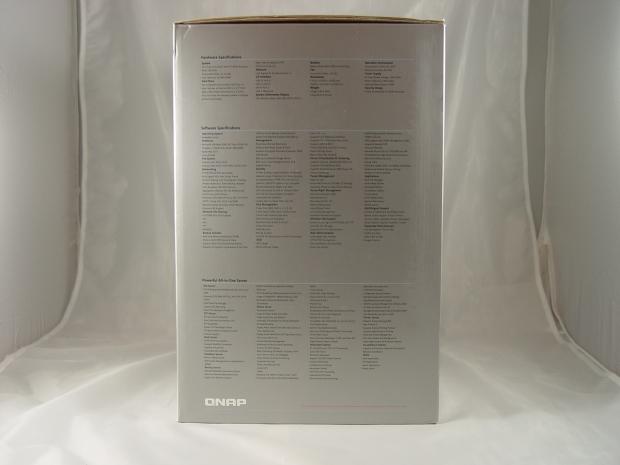 The full list of hardware and software features is printed on one side of the box.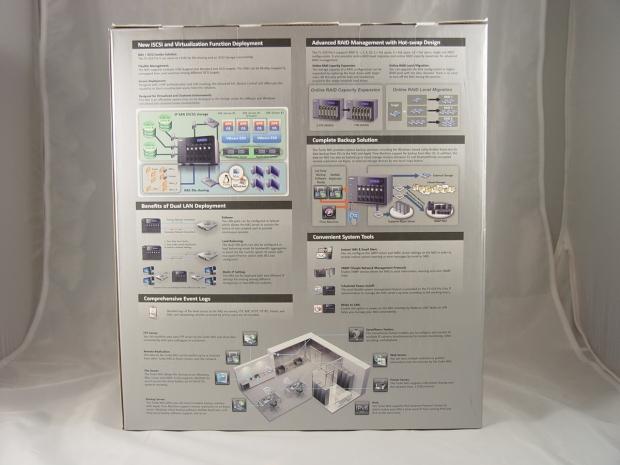 The back of the box is the most interesting. This is where QNAP gives users some examples of how you can use your NAS. Some light reading while standing in the check out line?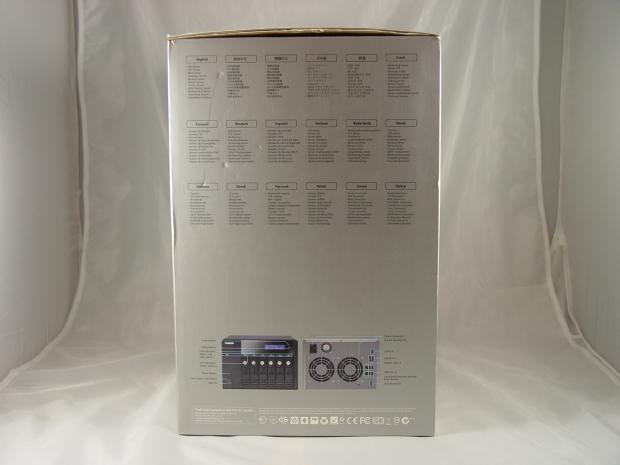 More software functions are listed on the last side of the package; this in in several different languages.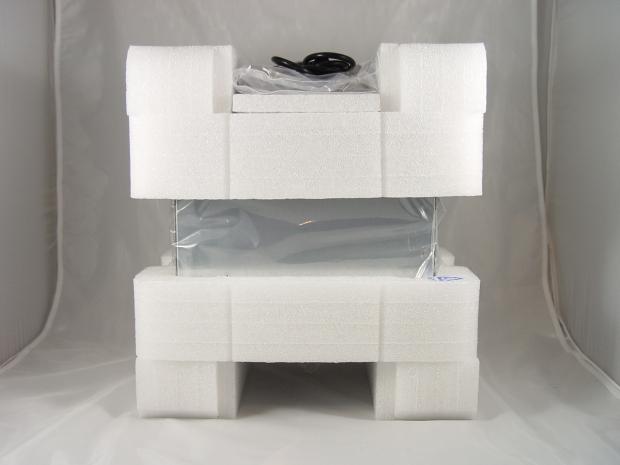 The most important package detail isn't on the outside at all. The inner packaging is what keeps your NAS safe during shipping. Here we see a minimum of two inches of foam at each corner of the NAS, more than enough to keep it safe.
The QNAP TS-659 Pro II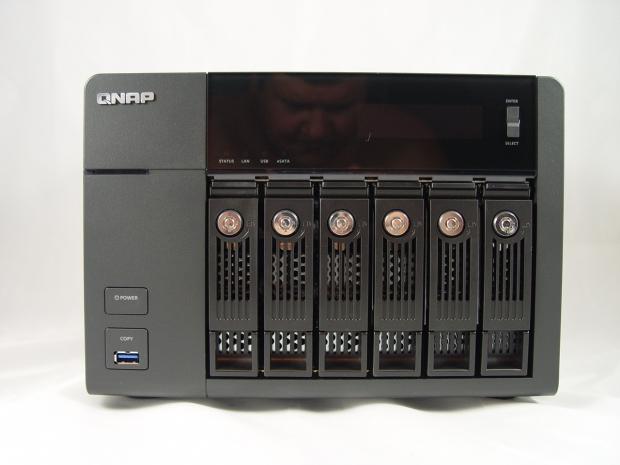 The 659 Pro II is an advanced unit with a lot of features. When the system is up and running your focus is quickly drawn to the LED display that's just behind the dark plastic cover. This display gives you information about your system in the form of status updates.
There are six drive sleds and each has its own locking mechanism. A power button is on the lower left side as is the first USB 3.0 port.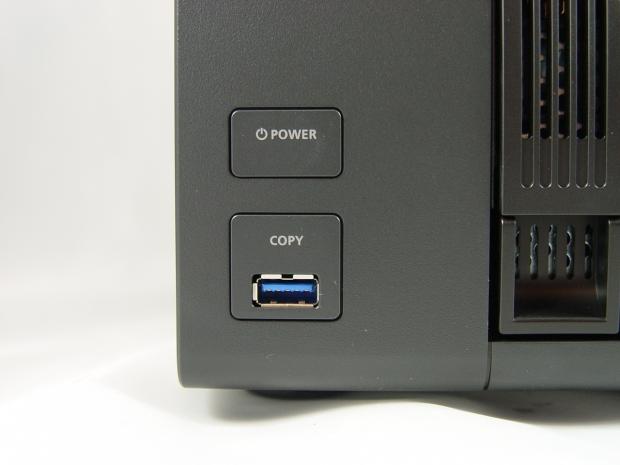 Around the front USB port is a button labelled COPY. With this feature you simply plug in your storage drive, like a thumb drive and the NAS will copy the data to a designated folder.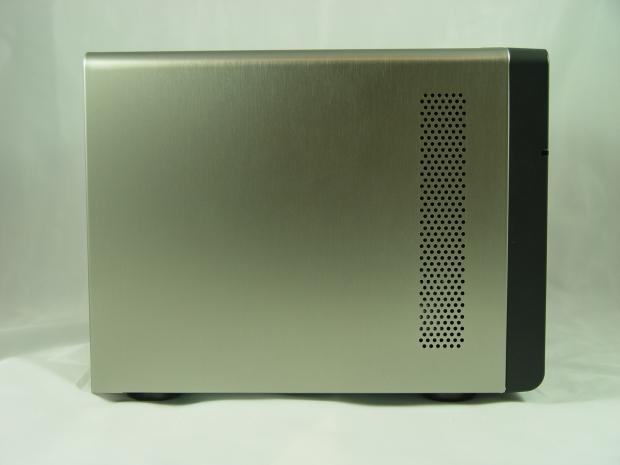 Vent holes are present on the side of the TS-659 Pro II. This is the motherboard side of the NAS.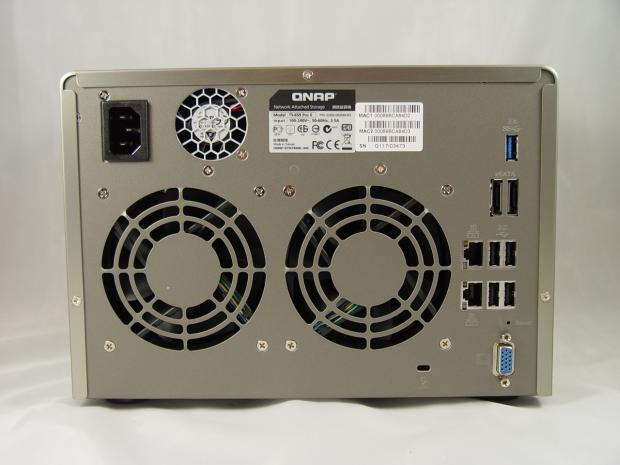 Nearly all of the connections are made on the back of the Turbo NAS. Another USB 3.0 port is located on this side as are four additional USB 2.0 ports. The NAS also has dual eSATA and dual Ethernet. Three fans keep the system cool; two larger fans for the HDDs and circuit board components and a smaller fan for the internal power supply.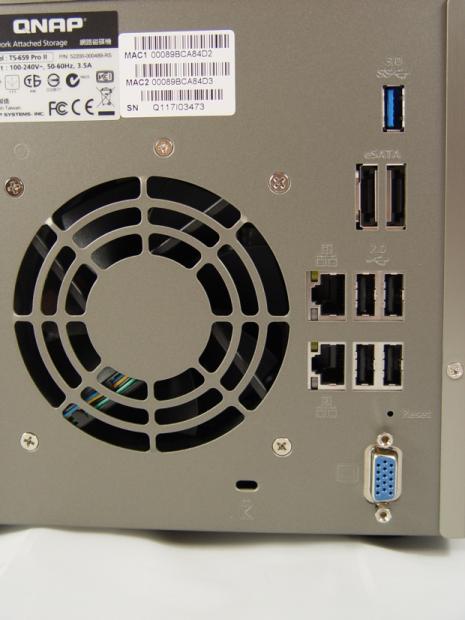 All of the ports are a good distance apart so you can easily make connections while the system is up and running.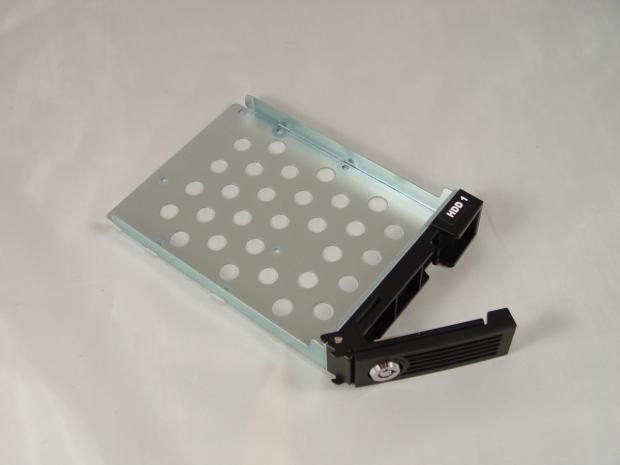 It may seem a bit trivial, but one of my favorite features is that QNAP labels the drive sleds. I take my TS-809 apart every month to clean dust out of the NAS and with the drives being labeled I know where they go back in every time.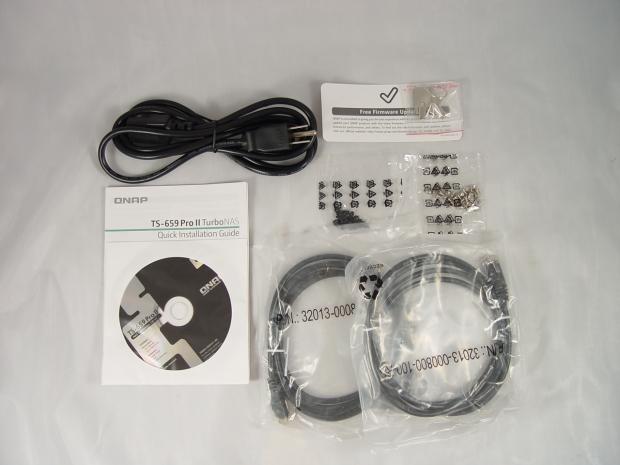 Included with the QNAP TS-659 Pro II Turbo NAS are Ethernet cables, a power cable, quick start guide, software disk and screws for mounting both 2.5 and 3.5 form factor drives in the sleds.
Test System Setup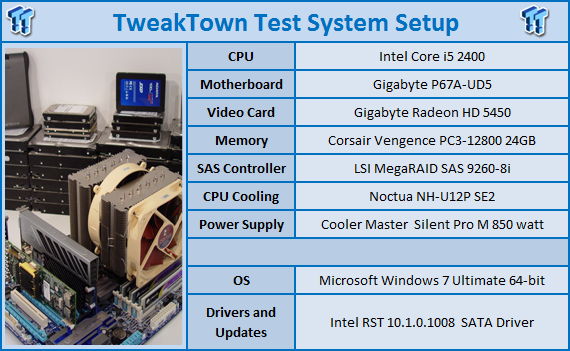 We would like to thank the following companies for supplying and supporting us with our test system hardware and equipment: AVADirect, GIGABYTE, Cooler Master, LSI, Noctua, Seagate, Crucial and Corsair.
Intel NASPT
The Intel NAS Performance Toolkit (NASPT) is a file system exerciser and analysis tool designed to enable direct measurement of home network attached storage (NAS) performance. Designed to emulate the behavior of an actual application, NASPT uses a set of real world workload traces gathered from typical digital home applications. Traces of high definition video playback and recording, office productivity applications, video rendering/content creation and more provide a broad range of different application behaviors.
The TS-659 Pro II's dual core Atom processor is much more powerful than it sounds. With a clock speed of 1.8 GHz you might not be all that impressed, but that is about to change.
Benchmarks - HD Playback
HD Video Play - 720p HD stream from Windows Media Player* 256kB reads
2HD Video Play - 2x playback
4HD Video Play - 4x playback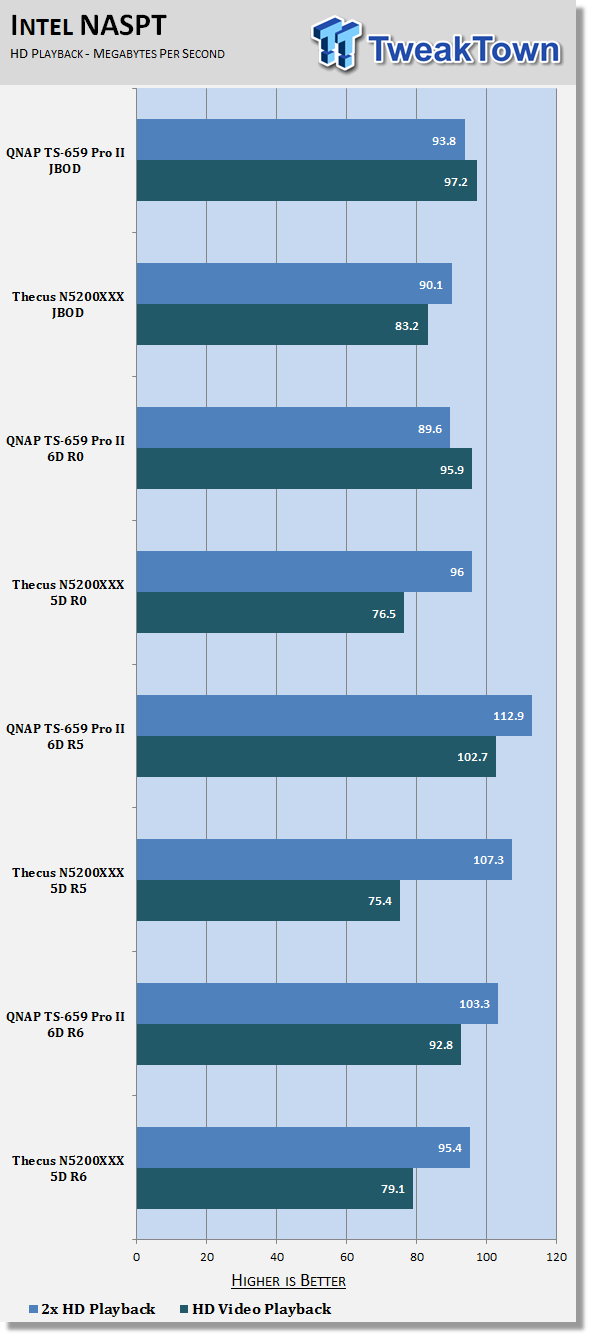 The QNAP TS-659 Pro II has all of the software features you could ever ask for, but now it's time to see how it can transfer data across a typical gigabit network. The first area we are looking at is HD video playback performance. We've chosen the Thecus N5200XXX, another dual core Atom NAS to compare to the TS-659 Pro II.
Both NAS servers are able to transfer data quickly, but the TS-659 Pro II is a little faster when running in RAID 5 and RAID 6, the modes most often used on NAS servers. In almost all of the tests the QNAP TS-659 Pro II delivers 100MB/s or more, so you will be able to stream several videos at the same time across your home or office. With DLNA devices becoming more popular and many families moving to digital distribution, the need for high speed playback is becoming more important than ever.
Benchmarks - HD Record
HD Video Record - 720p HD stream, 256kB writes
HD Video Play & Record - 1 playback, 1 record simultaneously
2x HD Video Play & 2x Record - 2 playback, 2 record simultaneously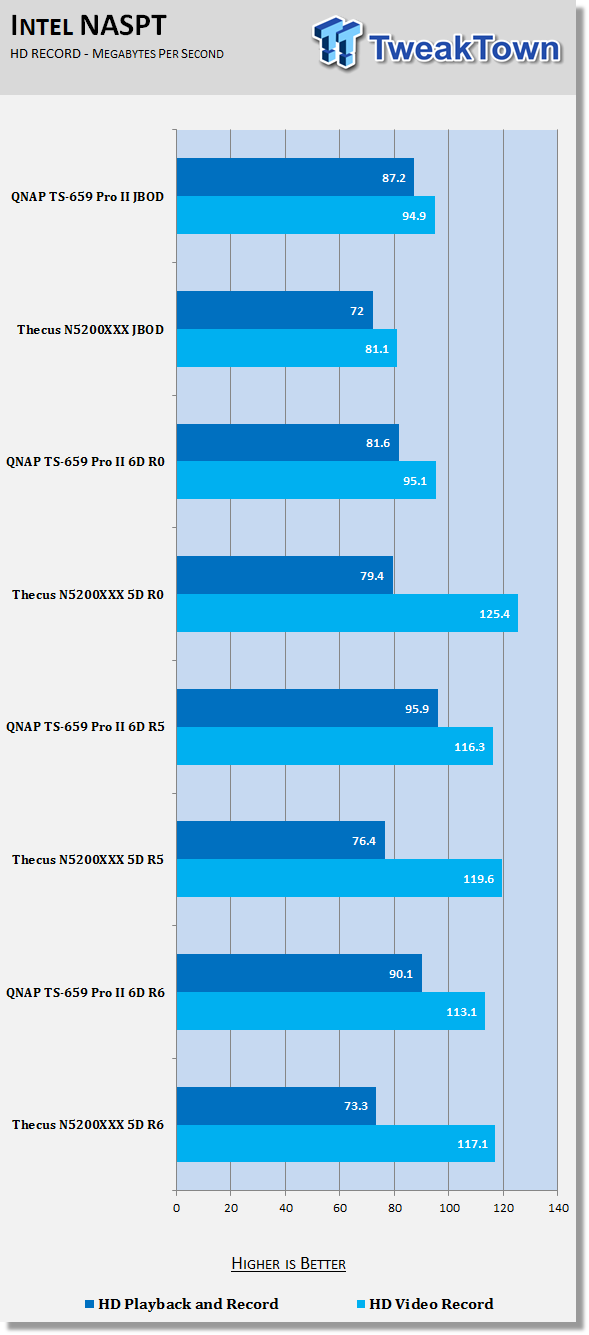 Windows Media Center and other content recording programs have also gained popularity over the years. These programs can send data to the NAS where it's stored for playback later. At the same time professionals are using NAS servers to record their audio and video productions. With over 100MB/s recording capacity the TS-659 Pro II ranks up with some of the fastest we've ever tested over our network.
Benchmarks - Content
Photo Album - All reads - wide distribution of sizes
Office Productivity - Reads and writes, 1kB & 4kB reads; Mostly 1kB writes
Content Creation - 95% writes; 1k, 4k & little reads; Writes up to 64kB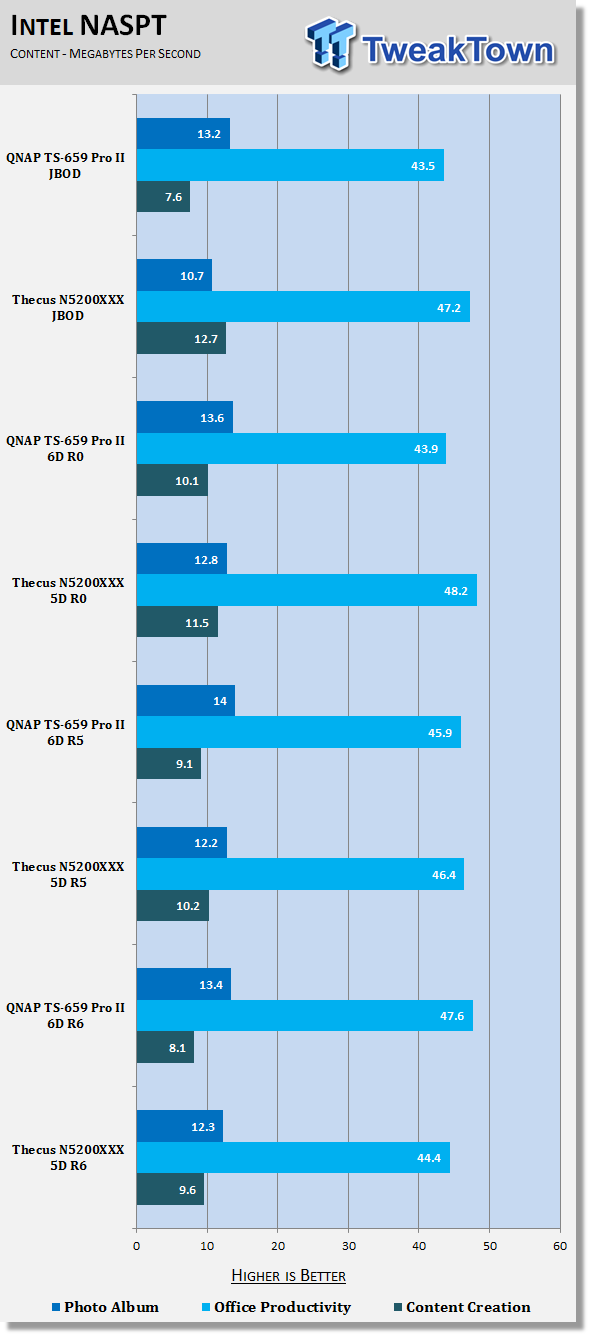 The real tests come from office environments where large amounts of small files are transferred. In our previous tests we've looked at large sequential file transfers, but as you can see here, small files is where SOHO NAS servers are tested. The TS-659 Pro II gives us predictable performance that is in line with similar products on the market at this price point.
Benchmarks - Copy
Directory Copy From NAS - 64kB reads
Directory Copy To NAS - Predominantly 64kB writes, wide scattering under 16kB
File Copy From NAS - 4GB file copy, 64kB reads
File Copy To NAS - 64kB writes

In these tasks our two tested NAS servers perform almost identically. This isn't a bad thing since both servers are very good; a previous award winner and a soon to be award winner.
Final Thoughts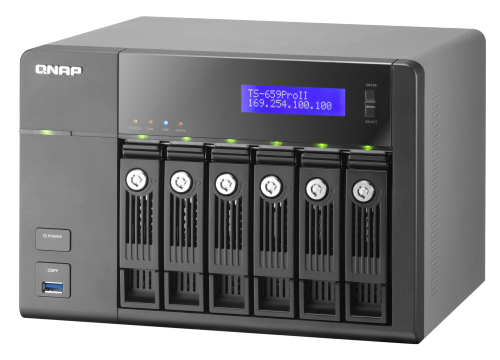 There are many aspects that I like about the QNAP TS-659 Pro II and the longer I spend with it, the more I'm impressed. I'm currently testing the Cloud NAS functionality on a TS-419 P II and the same feature is on my daily use TS-809 Pro as well as the TS-659 Pro II we're looking at today. QNAP's software advances haven't been trickling in, they have been pouring in. The three servers listed above, for the most part have the same software functions and they span the QNAP product range top to bottom.
The really amazing thing is that portion of the software package just covers what ships already installed on the NAS. After you have the system all setup, the add-on packages kick in and the NAS servers just explode with options. QNAP's firmware updates, advanced software packages and add-on features are best in class; no one is doing it better and after seeing the TS-659 Pro II in action I can say that no one is even close at this time.
The QNAP TS-659 Pro II is a lot more than just a base for a good software platform. With six drive bays and two additional eSATA ports on the back, users are able to run a large number of drives, up to eight at a time. This makes running RAID 6 (dual drive failure redundancy) easier to swallow because you can still achieve a large capacity size for your array. Still, most users will opt to run RAID 5 (single drive failure redundancy). This gives users an even larger capacity size from their storage array and yet still keeps a buffer between NAS bliss and NAS disaster.
After a quick Google Price Search, I found the QNAP TS-659 Pro II for 938 Dollars in the US. For home users this is a steep price point for a product that will also need drives to get up and running, but users with small offices can afford to spend this kind of money given everything the TS-659 Pro II brings to the table. It's really not a difficult sale for business owners.
Home users are a bit more difficult to paint a clear picture to since so few have used a NAS before. I've been running NAS servers since late 2004, when I first ran an Anthology Solutions Yellow Machine. I haven't looked back since and to this day I'd rather have a NAS server than I would a second computer. As more devices launch with DLNA media capability the value of NAS servers increases with their streaming functions.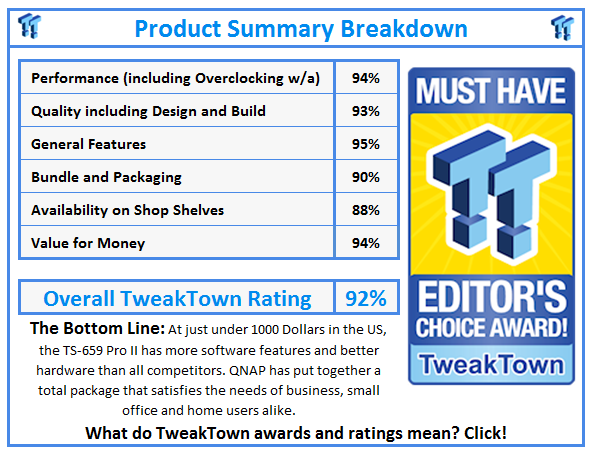 PRICING: You can find products similar to this one for sale below.

United States: Find other tech and computer products like this over at Amazon.com

United Kingdom: Find other tech and computer products like this over at Amazon.co.uk

Australia: Find other tech and computer products like this over at Amazon.com.au

Canada: Find other tech and computer products like this over at Amazon.ca

Deutschland: Finde andere Technik- und Computerprodukte wie dieses auf Amazon.de
We openly invite the companies who provide us with review samples / who are mentioned or discussed to express their opinion. If any company representative wishes to respond, we will publish the response here. Please contact us if you wish to respond.