QNAP TS-659 Pro+ Turbo NAS Server
Chris is calling it the fastest NAS server he has ever tested, and with QNAP's ongoing software development could the TS-659 Pro+ be the best NAS ever?
Published Mon, Jan 3 2011 3:22 PM CST
|
Updated Tue, Nov 3 2020 7:02 PM CST
Rating:

92%
Manufacturer: QNAP
Introduction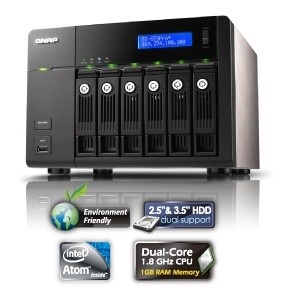 2010 was a big year for QNAP and the hits just keep on coming. At Computex we learned about new software developments that allow their NAS servers to be controlled by smart phones and iPads as well as new software that would increase the performance significantly. On top of the software updates, QNAP has partnered with Intel to use the new Intel dual core Atom processors in their latest round of NAS servers. These processors allow the NAS to consume less energy while delivering the highest transfer performance we've seen to date.
To think of a NAS server as a business only product these days is ignorant. With everything digital now playing a larger role in our lives, most families can easily benefit from a full on NAS server. Connectivity is the key and you simply can't get this level of connectivity from a home server without a large amount of time consuming customization. Tine also plays a role in our digital lives; no one has enough of it and when something is in low supply a dollar figure can be assigned to it. As the supply dwindles the figure is increased. These days I would pay for time, even if charged by the minute. My personal NAS server saves me time and thus is an investment that can be recovered. I hope you are in a position to consider your time valuable as well.
Today we are looking at the latest generation NAS server from QNAP. The new TS-659 Pro+ ships standard with many hardware improvements over the non-plus models. The first is a new Intel dual core Atom processor and memory configuration. Let's dive right into the hardware specs and I will get you up to speed.
Specifications, Availability and Pricing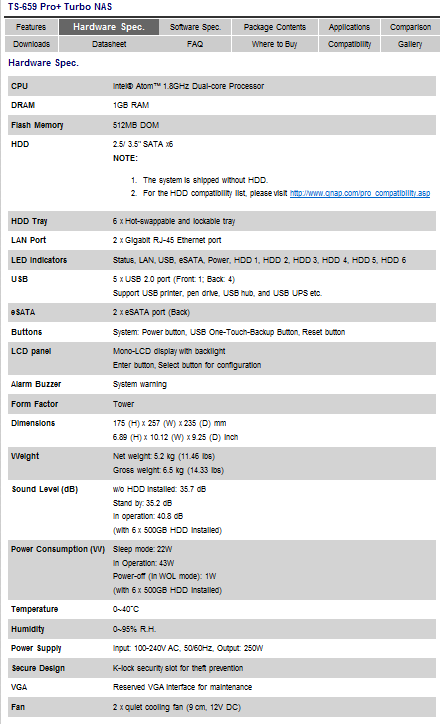 The new x59 Pro+ Series ships with the new Intel dual core Atom processor. The 659 Pro+ that we are reviewing today has a 1.8GHz processor and QNAP paired that with 1GB of RAM. The operating system is stored on a 512MB flash module, so boot up is fast and reliable. The main hardware feature, though, is the six hot swappable HDD bays, but users looking for even more expansion can utilize the two built in eSATA ports. Additional connectivity comes in the form of five (4 on the back + 1 on the front) USB 2.0 ports that can be used to add printers, UPS control and thumb drive transfers.
The front of the unit has QNAP's LCD display that can be used to configure the system or to check a handful of status pages. The system and drives are kept cool by two 90mm ultra quiet fans that allow channeled air to pass over each of the six drive bays and then through the internal components inside the NAS.
The six bay TS-659 Pro+ is a significant upgrade from any of the four bay units currently being offered by QNAP or their competitors. When all of the cards are on the table there really isn't a competing NAS on the market at this price point and with anything close to these hardware features. Of course, this kind of power comes at a cost and that is currently
1,249.99 USD at Newegg
. I've seen several four and five bay NAS servers sell for this amount and in some cases even more, yet none of them, not even those from QNAP, were as advanced as the TS-659 Pro+.
Hardware advances are only half of the story, though. Let's take a look at where QNAP has made the largest gains over the past year.
Software Features

Without a doubt I will go on the record and say that QNAP has the finest NAS software available on the market. Right out of the box the firmware and feature set of the software is number one. QNAP doesn't stop there, though.
With a software support team and a clan of volunteer programmers, new add-on features get added to the QNAP firmware / software combination monthly. So many add-on software packages have been developed that QNAP needed to open a forum so the at home programmer could share their creations.
These add-ons are part of what QNAP calls the QPKG package and anyone looking for unimaginable customization should spend a few hours exploring the possibilities.
The Packaging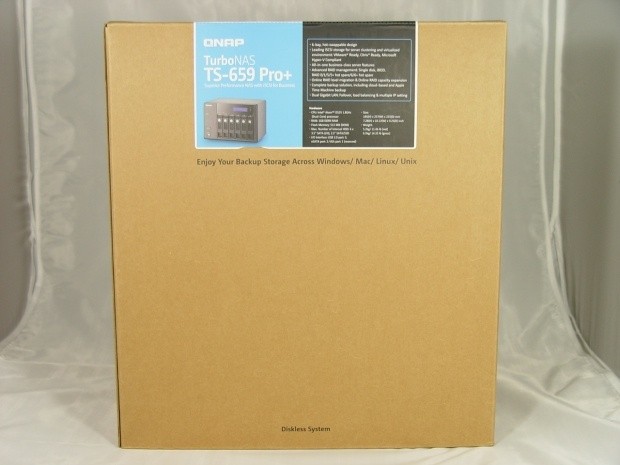 QNAP has made a change to their beautiful full color packaging with the new 659 Pro+ Turbo NAS. The company is now using a standard brown box with a couple of stickers. The main sticker lists some of the products features and specifications, but we really liked the old package that listed a lot of details.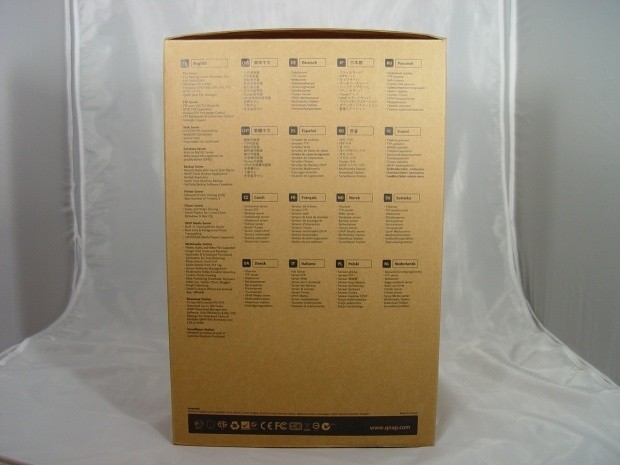 The side of the package also has some features / specifications, but it's nothing like the old package that had full color graphics.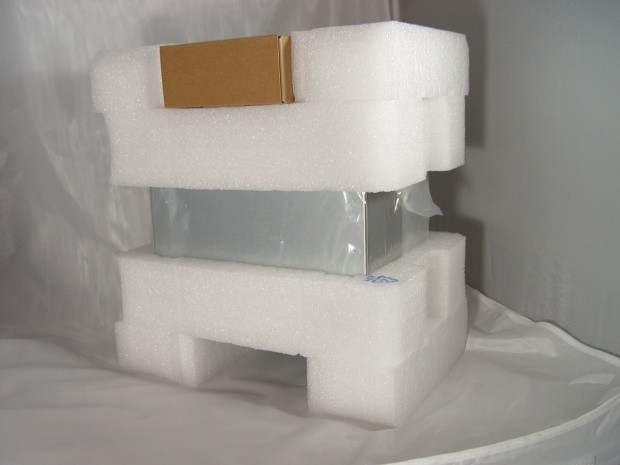 Inner packaging is just like it always has been. Here you can see that the main NAS is kept inside of a closed cell foam frame and the corners, the most susceptible to damage from a hard fall, are protected by at least three inches of material. The accessory package is kept in a separate area inside of another brown box. To damage the TS-659 Pro+ in shipping you would pretty much have to roll over it with an airplane.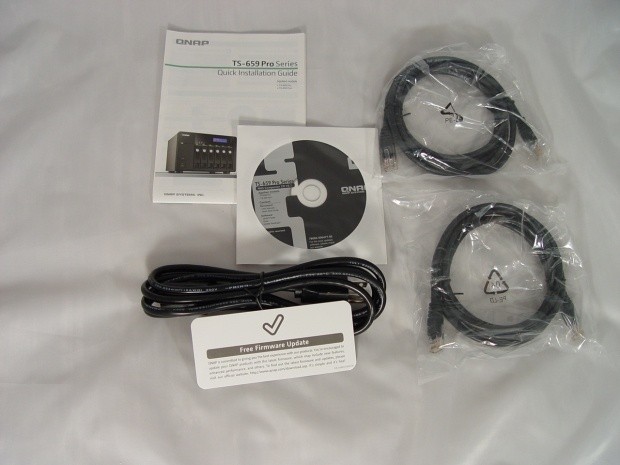 The accessories package comes with the essentials. A quick start guide will get your new NAS up and running and a full manual is included on the CD in PDF form. Two Ethernet and a single power cable are also included with a full set of screws that are used to secure your drives to the drive sleds. A quick reminder that firmware updates are available is also included.
The QNAP TS-659 Pro+ Turbo NAS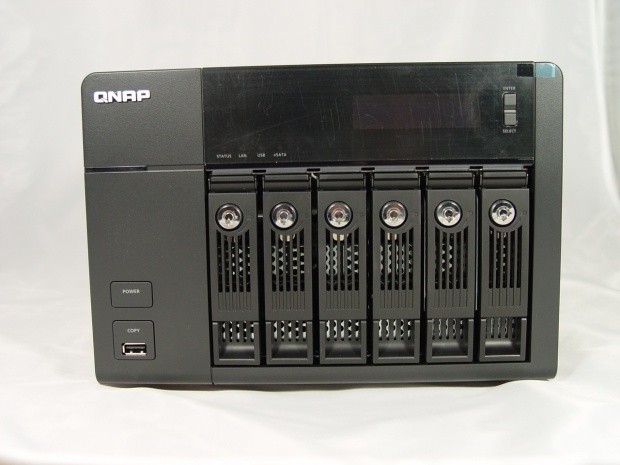 While technically still considered a tower, QNAP's new line has the drives arranged horizontally. On the front is a power button and just below that a USB 2.0 port. There is a button surrounding the USB port and this is used for quick copy. The NAS will copy the contents of your thumb drive and store that data securely on the NAS. This makes for easy flash drive backup.
Also on the front is the large LCD panel that is used to check the status of the NAS as well as configure some of the basic functions.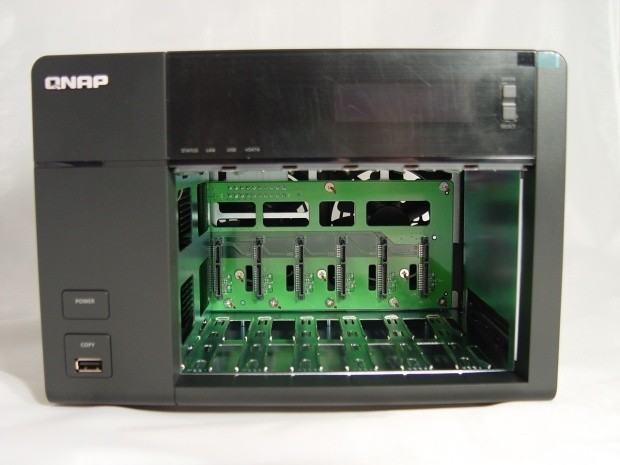 Here we see the QNAP TS-659 Pro+ with its drive bays removed. What is actually amazing to me is that the NAS components are now to the side of the system and above the drives. The amazing part is they actually fit in that small of a space with the new dual core Atom configuration. This leaves the TS-659 Pro+ with a very small footprint.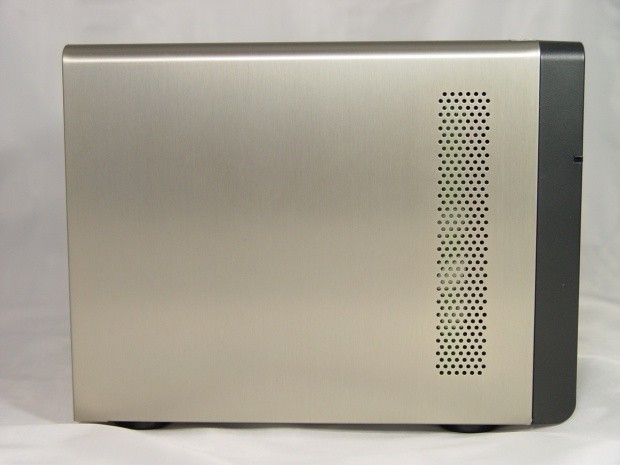 The side of the NAS has vents that allow cool clean air to enter the system and keep the components cool.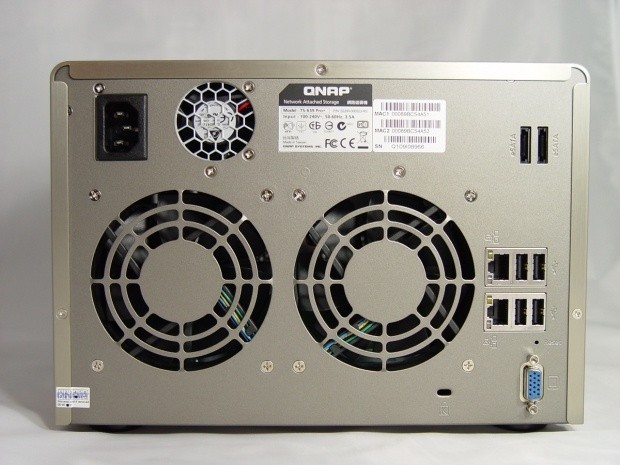 The back is where all of the real action happens, though. Here we see the dual eSATA, dual gigabit Ethernet, quad USB 2.0 and a VGA port. The power supply is at the top of the NAS and it gets a quiet fan of its own.
In our testing we never heard the QNAP TS-659 Pro+ outside of when it was booting.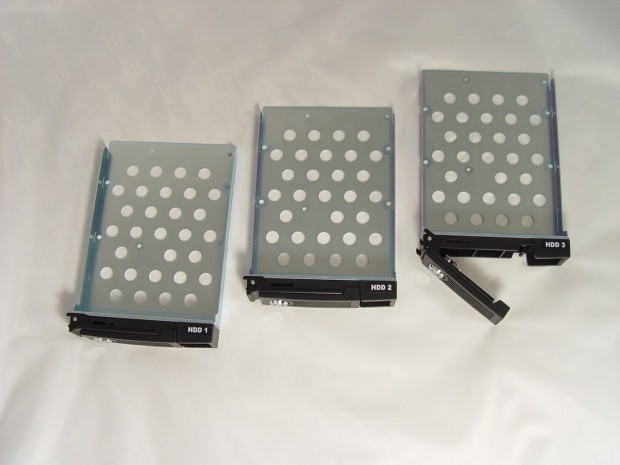 QNAP is the only NAS manufacturer that I know of that labels their drive sleds by bay number. This is a very nice feature when rebuilding an array. The QNAP sleds also support 2.5" form factor drives.
Test System Setup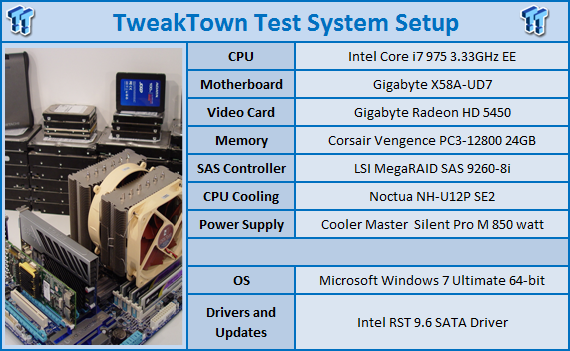 We would like to thank the following companies for supplying and supporting us with our test system hardware and equipment:
AVADirect
,
GIGABYTE
,
Cooler Master
,
LSI
,
Noctua
,
Seagate
.
Crucial
and
Corsair
.
In late 2010 Crucial supplied a number of RealSSD C300 256GB drives to be used in testing all of our NAS' and controller cards. The Crucial RealSSD 300 is the fastest solid state drive available on the market and cut our NAS formatting time down from three days (total) to just a few hours.
Unfortunately QNAP NAS servers do not play well with the Crucial drives and we were unable to use them in this test. We reverted back to the Seagate 1TB drives and feel that we still achieved the maximum transfer performance out of the TS-659 Pro+ since the bottleneck is still in the Ethernet connection.
For comparison, we will use the Thecus N8800 Pro, an 8 drive rackmount server that is the fastest NAS we've tested to date. That is until....
Intel NASPT
The Intel NAS Performance Toolkit (NASPT) is a file system exerciser and analysis tool designed to enable direct measurement of home network attached storage (NAS) performance. Designed to emulate the behavior of an actual application, NASPT uses a set of real world workload traces gathered from typical digital home applications. Traces of high definition video playback and recording, office productivity applications, video rendering/content creation and more provide a broad range of different application behaviors.
With version 1.71 we are able to test with Windows 7 64-bit, but to keep the results accurate you must limit your system RAM to 2GB or less. With only a single 2GB stick of memory installed you can test with Windows 7 64-bit. Also, a new test was added, Office Productivity, but several tests were removed by default like 3 Source HD Video Playback and Backup / Restore.
Benchmarks - HD Playback
HD Video Play - 720p HD stream from Windows Media Player* 256kB reads
2HD Video Play - 2x playback
4HD Video Play - 4x playback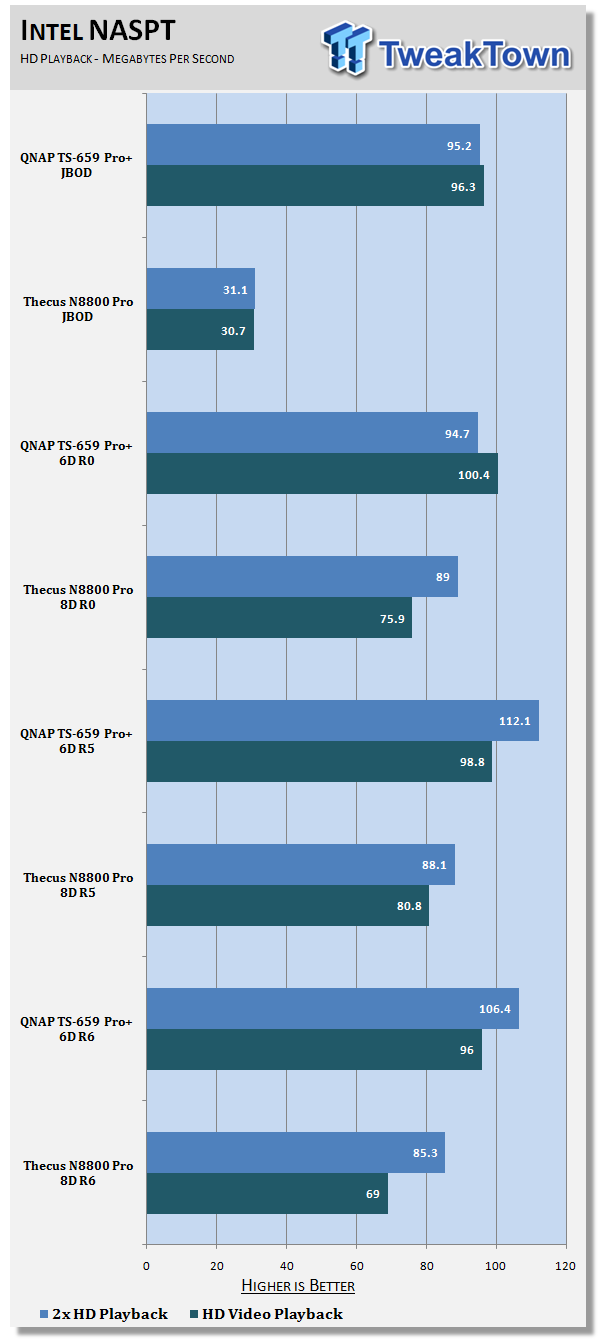 Until, well, today, the
Thecus N8800 Pro
, a 1.600 Dollar enterprise class, rackmount NAS, was the fastest we'd tested since Intel last changed NASPT. That record changes today, because the QNAP TS-659 Pro+ Turbo NAS just kicked the N8800's butt and did it with two less drives and a slower processor. At Computex QNAP told us that they were spending a great deal of time working on their firmware / software and the TS-659 Pro+ is a testament to their hard work.
We knew right out of the gate that the QNAP TS-659 Pro+ was going to be very fast since it was able to transfer data at nearly 100MB/s with a single drive. This is virtually unthinkable and means that the NAS has very little over head when reproducing data and delivering that data back to the host computer. To verify that this wasn't just s fluke issue with the drives, we went back and tested the Thecus unit with the very same Seagate drive and the Thecus unit delivered within 1% of the same performance as the results shown in the chart for JBOD.
Things only got better once we started diving into RAID 5 and RAID 6. In all of the RAID configurations the QNAP TS-659 Pro+ outperformed the Thecus N8800 Pro.
Benchmarks - HD Record
HD Video Record - 720p HD stream, 256kB writes
HD Video Play & Record - 1 playback, 1 record simultaneously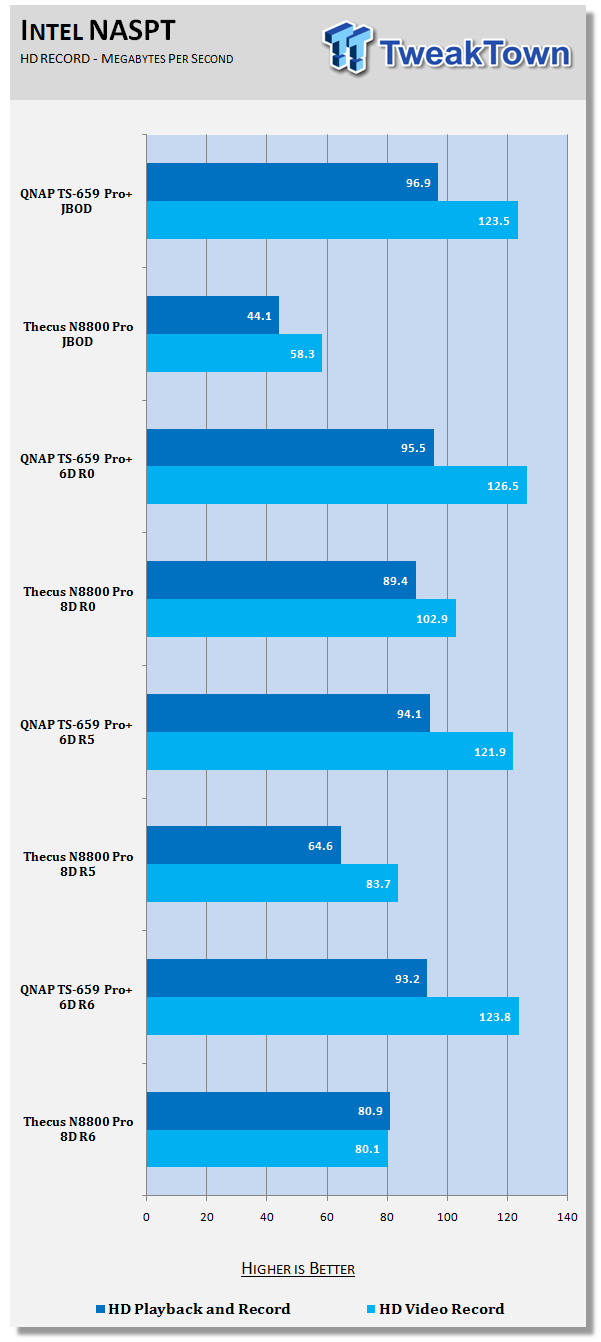 If reading data from your NAS isn't your thing, then recording to it must be. Once again the QNAP TS-659 Pro+ delivered record breaking performance while writing data. Here we see the unit recording at the peak of gigabit Ethernet's capabilities and playing back while recording at nearly 100MB/s in all configurations.
Benchmarks - Content
Photo Album - All reads - wide distribution of sizes
Office Productivity -
Content Creation - 95% writes; 1k, 4k & little reads; Writes up to 64kB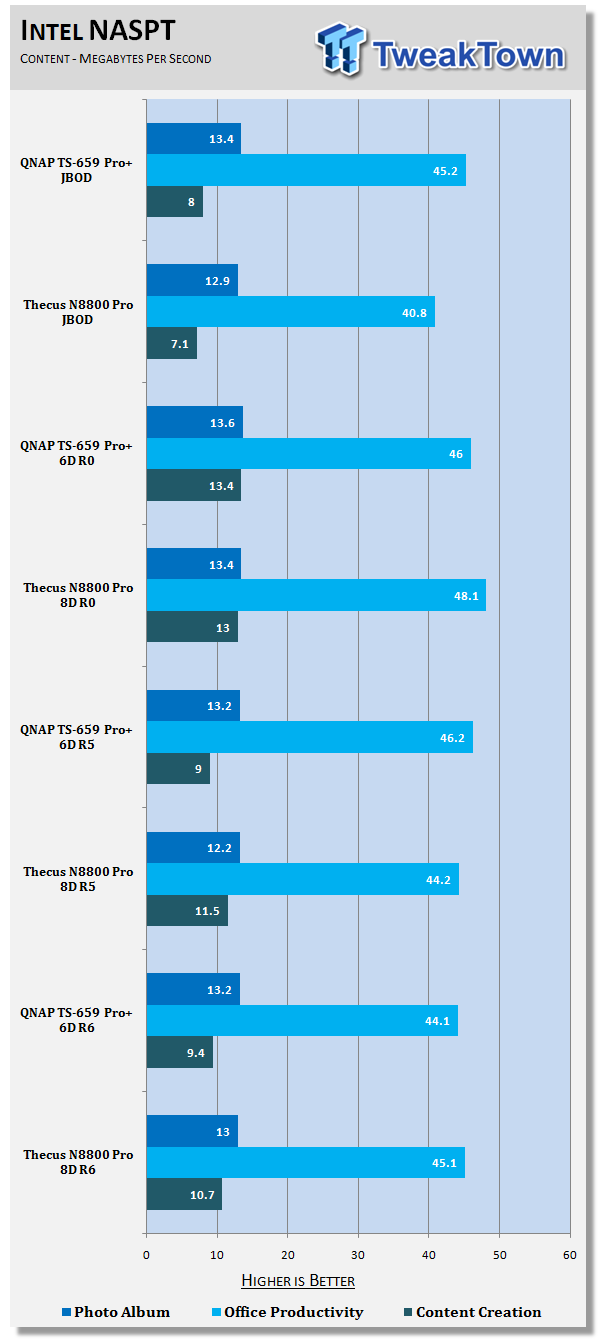 The small file reads and writes were a lot closer between the two competing NAS servers. In these tests the faster processor and additional RAM in the Thecus unit allowed it to keep up with the performance of the QNAP TS-659 Pro+, but the two exchanged wins all the way down the chart.
Benchmarks - Copy
Directory Copy From NAS - 64kB reads
Directory Copy To NAS - Predominantly 64kB writes, wide scattering under 16kB
File Copy From NAS - 4GB file copy, 64kB reads
File Copy To NAS - 64kB writes

In the straight file copy tests we see the QNAP TS-659 Pro+ on top in three of the four scenarios. At this time the Thecus units are not able to run the File Copy from NAS test, a side effect of Intel's changes to the NASPT software. The only test where the Thecus outperformed the QNAP TS-659 Pro+ was the Directory Copy to NAS where 16kB writes are performed.
Final Thoughts
What do you call it when a small business NAS manages to outperform a full on enterprise NAS? I call it an Editor's Choice Winner, but let's not get too far ahead of ourselves just yet.
The main drawback to the QNAP TS-659 Pro+ for individuals is clearly the cost. At just over 1200 Dollars the TS-659 Pro+ isn't cheap to have around the house. If you think about it, that's the same as a budget washer and dryer set or a decent HDTV. Once you tack on the six drives you are looking at 1500 to 2K USD depending on how exotic you go. Now, we are talking about a nice washer and dryer set or a class leading 55 inch LED TV. This amount isn't exactly pocket change for businesses either, but it's well within most businesses budgets once they factor in the increased amount of work that can be performed since they won't be waiting for files and documents to transfer. In short, if you have a business and keep files in a centralized location, the QNAP TS-659 Pro+ will save you time which saves you money and decreases the stress often associated with waiting for a file to transfer.
I've been running NAS servers at home for several years now. My first was a prototype from a company called YellowMachine and after that I was hooked. Luckily QNAP has other models in this same series that have the same software features, but cost less. They hold less drives, but it's tit for tat; you pay for the amount of bays, while the software is free. It's not a coincidence that I mentioned HDTVs above. Many of the new sets interface with DLNA 'media storage' devices like the QNAP TS-659 Pro+. There is nothing cooler than being able to bring up an entire library of movies, music and your business video presentations right from your remote on your TV. The same is true for PlayStations and XBoxs; just a few clicks and you are looking at everything you have in the digital domain.
This year I'm taking this one step further to nirvana and networking the entire house and patio with audio and video from a centralized source - That source is a QNAP NAS server. Anyone looking at the available kits from high end audio manufacturers will quickly learn that their 'servers' are for the most part completely underpowered in the processing department and lack 90% of the features of the QNAP TS-659 Pro+. On top of that, you can expect to pay three to four times more for their 'servers'.
The area where QNAP has really stepped it up in 2010 was easily their software. The QNAP firmware / software is now so far ahead of the competition that it isn't even playing on the same field. A couple of days ago I received word that QNAP will be showing off a new version at CES this year and they are making a big deal about it. The new QNAP firmware / software has me very excited since, well, let's be honest, who makes a big deal about pre-announcing a new software update? - This could be a very big deal and I'm crossing my fingers that it is since QNAP is already the leader in this area and anything new will just be the sweet icing on the cake.
It's impossible to talk about QNAP's software and not discuss the business features that are incorporated into their NAS servers. This is a business targeted product and everything you could ask for is included. iSCSI has gained popularity and it's in there. The list goes on and on and next to each possible feature there is a check mark next to it. You couldn't really ask for anything more, but maybe with the new software roll-out QNAP will think of new features for you.
PRICING: You can find products similar to this one for sale below.

United States: Find other tech and computer products like this over at Amazon.com

United Kingdom: Find other tech and computer products like this over at Amazon.co.uk

Australia: Find other tech and computer products like this over at Amazon.com.au

Canada: Find other tech and computer products like this over at Amazon.ca

Deutschland: Finde andere Technik- und Computerprodukte wie dieses auf Amazon.de
We openly invite the companies who provide us with review samples / who are mentioned or discussed to express their opinion. If any company representative wishes to respond, we will publish the response here. Please contact us if you wish to respond.
Related Tags