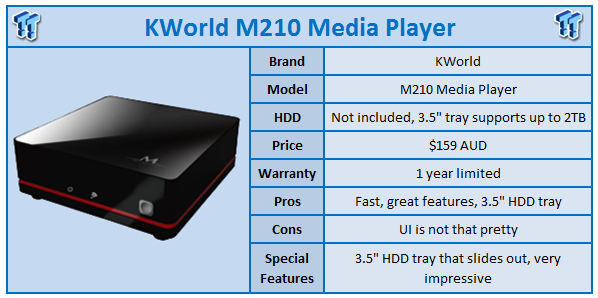 Today we're going to take a look at the KWorld M210 media player. Upon first receiving this unit, I noticed the box art takes a step back a few years; it doesn't look current or seem to use the right color schemes or have any current 'style'. This does not obviously harm the player's chances of being a great product, but for someone who buys this off the shelf, there's nothing on the box itself that will drag your eyes to it.
After getting over the tears of the box art, I carefully opened the box to find the KWorld M210 media player and various cables in the box. The KWorld M210 box consists of one KWorld M10 media player, a 2-metre HDMI cable, audio cable, power cable and instruction manual.
The first thing I did was disconnect my Popcorn Hour A-110 and replace it with the KWorld M210. I did nothing else to my setup, but this to keep the results on an even playing field. I use a Gigabit Ethernet-based network setup at home with a QNAP TS-639 Pro NAS that streams my content to a networked media player.
[img]2[/img]
My first impressions of the unit are obviously going to be what I see. The player is a stylish black and red color scheme, with a red line and various LEDs on the front of it for indicating that the unit is on, in standby and providing a 'remote receiving' light. On the rear, we have various connectivity such as eSATA, 10/100 Ethernet, 2 x USB2.0 ports, HDMI output, Stereo/Composite/Component Output, OTG input and power input.
Once I had connected the KWorld M210 player up to my setup, I turned it on and was greeted by KWorld's UI. This is probably where I got worried; the UI looks so... plain. There's just no other world to describe it. The UI is such an important piece of the media player pie; a user of a network media player will spend more time in the menu system than anything else other than actually playing a file.
To see this poor effort of a UI, it really put me off - I straight shoot here, I'm not going to sugar-coat this; KWorld needs to put some serious work into the UI. Surely they can hire someone who can throw together a nice looking UI?
After the disappointment of the bland UI, I went in and configured my HDMI settings so that I will receive glorious Dolby Digital 5.1 and DTS. I also changed the output resolution from the pre-defined setting of HDMI from 480p to 1080p. The setup was as easy as ABC. This was great; getting past the UI issues, the setting up was just so simple - nice work KWorld.
Next up, a Smallville episode in 720p with a Dolby 5.1 track - streaming from my NAS this was just too simple. Navigate through the UI, to "NET", then through to my NAS and through to my appropriate TV directory. There's a sweet little preview box that comes up and starts playing the episode instantly (this can be disabled in the settings).
Once the episode has previewed, you just click OK and it starts the stream. It took all of around 2 seconds for it to start and it did not skip a beat. Next up was the latest "The Event" episode. On a side note, if you haven't started watching this - do it. Again, it was flawless, not a single hiccup and I was sitting there very, very impressed.
[img]3[/img]
After watching two of my favorite shows, I decided to try upping the ante on this KWorld M210 player. Enter 1080p MKV files.
These are very popular files online and I myself have been using them for years now without issues. I tried a 1080p MKV file with a DTS track and it was hands down much simpler than any media player I've tried before (WDTV, Popcorn Hour).
Because I had my video and audio settings all configured, it was just a matter of navigating through my NAS to the movie and clicking play. 1080p loads up, DTS enables on my amplifier, feet up on my foot rest, hands behind my head and I enjoyed the movie. KWorld have passed this test with flying colors.
One thing that I noticed versus my Popcorn Hour is the KWorld M210 obliterates it in streaming my files and directories so much faster. I don't know how they've done it - but when I'm listing my episodes from my NAS, on the Popcorn Hour it seems to stall because it can only load 15 files at a time; as you reach the 15th file it refreshes and loads a new list of 15 - this takes 1 - 2 seconds and is annoying.
On the KWorld M210 there is no refreshing, it just scrolls down like a champion. I get impressed over the little things, but it's those little things that set these players apart. One of these little additions is the capability of installing a 2.5 or 3.5-inch HDD into the M210 player - not the traditional take-the-entire-thing-apart, but a simple latch on the side and a slide-out tray installation.
KWorld! This is great! Even the most novice user can install a HDD and not have any problems doing so - great work there.
The KWorld M210 covers virtually all current media formats (that I have pictured below).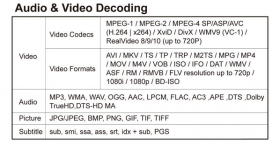 Should you buy the KWorld M210? Well, that depends. Do you just want a media player, no matter what the UI looks like? Then yes, it's a damn fine media player. The differences between media players these days are very small. UI, size, aesthetics, price.
KWorld has hit a nice stride here, UI-aside, the M210 is a great media player that supports virtually every video codec and format on the market as well as audio and subtitle formats.
The player is quite large, but it does have the provision to house a 3.5-inch HDD. Even still, it's quite tall compared to my Popcorn Hour which now looks tiny next to the M210. I think if KWorld can get themselves a new flashy-looking UI, they'll definitely be a formidable player in the now saturated media player market.
Should you go out and buy it? All I have to say is "KGo!"