Matsunichi MT20 Streaming Media Player Review - A Chromecast competitor?
Matsunichi's new MT20 Streaming Media Player is the latest HDMI dongle on the market. Join us as Charles puts the device through its paces.
Published Feb 20, 2014 5:02 PM CST
|
Updated Tue, Nov 3 2020 7:00 PM CST
7 minute read time
Ever since Google released its Chromecast, HDMI streaming dongles have begun to flood the market, and today I am taking a look at one from a company named Matsunichi. The MT20 Streaming Media Player is quite similar to Google's Chromecast in the way it connects to your TV and wireless network, but that is about where the similarities end. While the Chromecast runs a version of Google Chrome, the MT20 seems to run an OS that feels like a custom version of Android that is highly modified and locked down.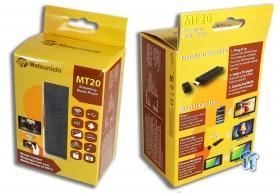 The MT20 is not much larger than a typical USB thumb drive, and is about on par with the Chromecast in weight. As far as thickness goes, the MT20 is a little thicker than the Chromecast, and it does not include a HDMI extension cable to help it fit into tight HDMI ports. I found this not to be an issue on either of my LED HD TVs, nor on my PC Monitors.
The MT20 does ship with its own remote control and USB IR receiver, so it can be controlled without the aid of a mobile device such as a smartphone or tablet. On the other hand, those who like to integrate remote controls into their phone or tablet, Matsunichi says that the MeeVideo app from Google Play or the Apple App Store can be used, but I failed to get the remote functionality working on my HTC One.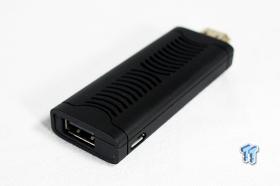 The MT20 comes packaged in a vibrant yellow package, which packs in a remote, USB IR sensor, and a USB power cord / wall adapter. For protection during travel, the MT20 features an end cap that protects the gold-plated HDMI connector. As you can see in the image above, the USB B port is located at the rear, opposite the HDMI connector, while the micro-USB power connector is located on the side of the device.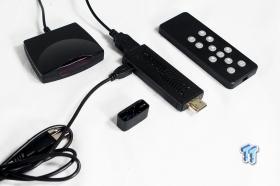 The supplied remote control is not much larger than the MT20 itself, and the accompanying USB IR receiver has a 36-inch cable, but could be extended easily via a USB extension cable. The remote does have a fairly decent range with it, working about eight to ten feet away in my testing.
The MT20 features a MediaTek ARM11 DSP SoC, and is capable of 1080p media streaming to any HDTV with an HDMI port. A built-in FHD Video Decoder is capable of processing video up to 80Mb/s at 60 fps. 802.11 bgn Wi-Fi is onboard, as well as HDMI 1.4, and full USB 2.0 support. The device is capable of displaying and playing back all of the popular media formats, from .jpg to MP3 and MP4, and most everything in between.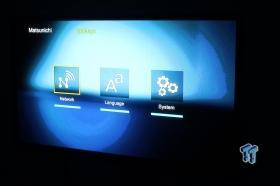 Setting up the MT20 is just as simple as setting up the Chromecast, and only requires 3 easy steps: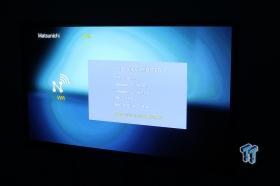 Plug it into an open HDMI port on the back of your TV, and connect the USB cable to the MT20 and the USB port on your TV, or to the supplied USB wall transformer.

Select the proper HDMI input channel on your TV.

Proceed to the settings menu, and connect to your home Wi-Fi network.

Additionally, I would also suggest checking for a firmware update while in the settings menu. I updated my device to the latest firmware as of this publishing, before testing.
The MT20 is able to stream media to your TV using three different methods, including through USB Storage, DLNA equipped apps on mobile devices, or through Miracast Mirroring on modern Android devices.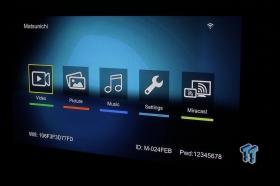 If your TV already has a USB port that can be used to playback video, music, or display photos, then the first option will come in handy as the Miracast does require a USB power source. You can power it via the supplied USB wall transformer, or you will need to utilize your TVs USB port. I tested out this feature, and it accepted a 32GB SanDisk USB Drive without issue. Older PNY, Kingston, and ADATA USB Drives worked as well. I wanted to try out a USB 3.0 thumb drive, but I was unable to locate it in time to include it in this review.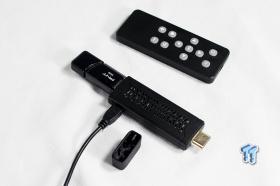 Media streaming via DLNA equipped apps worked easy enough as well, and I found that the Flipps app worked exceptionally well. I only tried out the free version, as I experienced issues with Google Play authorizing the paid version using Google check out. This is an issue with my phone, and not an issue with the app itself, as I have experienced it with a few other apps as of late.
Connecting Flipps to the MT20 was quite simple, and basically all one has to do is select the DLNA receiving device and the app takes care of everything from there. The free version of Flipps only offers mostly SD video, so investing in the HD version might be the best decision. In the video (you will see later in this review), you will be able to see that Flipps streaming works much better than the Miracast feature I will talk about next.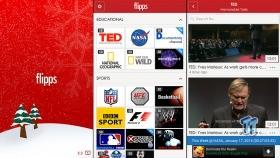 From within the Flipps app I was able to stream YouTube, Vimeo, TED, NASA.TV, and dozens more channels quickly and easily. I tried out a few other DLNA apps, and was able to stream media from my Plex Media Server using the Media House Pro app that can be found on Google Play. I did experience some streaming issues with super large files, but for the most part, standard 1080p HD played back nicely on the screen.
I was actually quite excited about the Miracast feature of the MT20, and I quickly jumped into setting things up. This is by far the most complicated thing to set up and connect to. Pairing your handset with the MT20 requires enabling Miracast device discovery by clicking on the Miracast Icon on the MT20 home screen.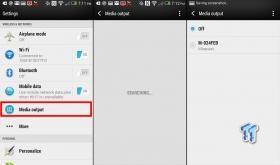 This will begin a countdown of about 60 seconds. You now need to open your Android-based phone's settings menu, and find the Media Output option. You should see the MT20's name pop up, and then you can connect to it by simply tapping on it.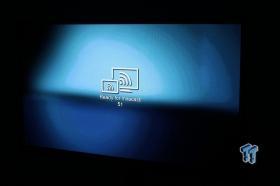 Once the process has completed, you will see a connecting icon, and the MT20 and your phone will now be paired via Miracast; Miracast is not a feature found on iOS and only high-end modern Android devices running Android 4.2 or higher may have Miracast functionality built-in. Fortunately for me, my HTC one and Nexus 7 both have the feature built-in. My Toshiba Excite 10.1, which runs Android 4.1, does not.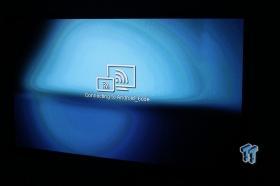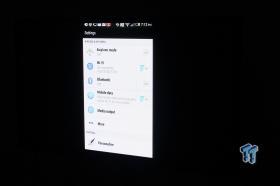 Just a few seconds later, you will see your mobile device's screen pop up on the TV. This is where everything begins going downhill... for me anyway. The amount of lag between screen changes lengthens as you begin moving around, and as you can see in the video below, things take a sharp nose dive if you attempt to use any app that requires any amount of bandwidth larger than a simple image. If you plan on trying to stream Netflix, Hulu, or even YouTube or Facebook to your TV using the MT20 and Miracast, you are going to have a bad time. The Matsunichi demo video of the MT20 shows users being able to stream games such as Angry Birds, but I was unable to get the game in any playable form on the TV due to the lag experienced.
Unfortunately, this turned a somewhat pleasant experience with the MT20 into a sour one for me. I had great aspirations of using the device as a sort of sudo presentation projector in situations where I could load up a slide / video based presentation onto my tablet, and then use the MT20 to stream the presentation to the HDTV's down at my local MakerSpace. I have been using this method with the Google Chromecast with great success, and I guess that will be how I continue to present.
If you only plan on using the MT20 for DLNA-based streaming via supported apps, or as a USB streaming device on TVs that do not feature a USB port, then for the price, it is hard to beat. On the other hand, if you are hoping for an amazing Miracast experience, then continue looking at other avenues before settling on the MT20.
For the cord cutting crowd, this could be a very handy little device to keep around, as there are a wealth of apps for PC, Mac, Android, and iOS that are capable of streaming to the MT20. While it may not feature the well refined UI that Google's Chromecast does, it is very capable DLNA streaming device. Pair this with a decent Plex Media library, and the proper apps, and you have a real winner. Unfortunately, there is no native Plex support in the form of a built-in app, but those diligent enough can get things working.
I don't want to hit the MT20 too hard, as it is a new device that is receiving firmware updates regularly, and functionality could improve as time goes by. I am planning on keeping the device on hand for a few more months and if the Miracast functionality improves, I will issue an update to this review.
All in all, the Matsunichi MT20 feels very well constructed, and appears to actually be quite robust. I would have no issues tossing it into my already full backpack, and taking it on a cross-country flight for use in a hotel. Likewise, it is slim enough to fit in any of my pants pockets with no noticeable loss in comfort. Its supporting USB cable could be tucked in my backpack or pocket as well, and with app-based remote control functionality available, you could even leave the remote and IR receiver at home.
As it stands right now, if you are not worried about Miracast streaming from your mobile devices, then the MT20 is a solid buy, but with it costing more than the Chromecast, it's a tough decision. Personally, I love the ability to cast screens from my PC, and Android Devices to my Chromecast for presentation of videos and slides. With the MT20 performing poorly in my testing, I am going to have to say that I would stick with the Chromecast.
As I said earlier though, the MT20 holds its own when it comes to DLNA streaming, and that is something not available on the Chromecast without some workarounds involving some unofficial apps. Honestly, if you have a couple of unused HDMI ports on the back of your TV, the MT20 and Chromecast could live in perfect harmony side by side. It would also make for a great travel companion, and would make boring hotel basic cable more interesting.
PRICING: You can find the Matsunichi MT20 for sale below. The prices listed are valid at the time of writing, but can change at any time. Click the link to see the very latest pricing for the best deal.
United States: The Matsunichi MT20 retails for $42.81 at Amazon.
Canada: The Matsunichi MT20 retails for $79.83 at Amazon Canada.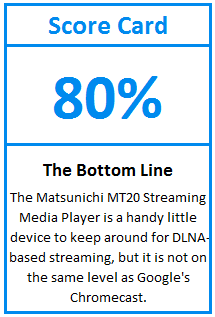 PRICING: You can find products similar to this one for sale below.

United States: Find other tech and computer products like this over at Amazon.com

United Kingdom: Find other tech and computer products like this over at Amazon.co.uk

Australia: Find other tech and computer products like this over at Amazon.com.au

Canada: Find other tech and computer products like this over at Amazon.ca

Deutschland: Finde andere Technik- und Computerprodukte wie dieses auf Amazon.de