The TRON: Legacy Mouse from Razer is inspired by the movie and it seems to have done the original and the sequel justice. If you're a true fan you'll immediately spot the details of the finger-scroll being similar to the lightcycle's wheel.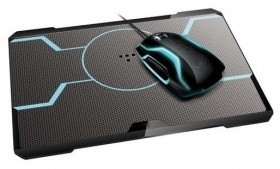 The first sign that this is a mouse inspired by a Hollywood movie comes when you plug the mouse in. The lights flicker madly and it sounds like it's a car being turned on. Neat the first time, but how great is it going to be the thousandth time? As there is no way to turn it off. It sounds like the movie, but I think that ultimately it makes your mouse sound like a cheap toy.
[img]2[/img]
No one can argue that this mouse looks fabulous, but how does it feel? Well, it's made of plastic, shiny plastic, not that smooth rubberized plastic we've come to love from gaming mice. Apart from the main mouse buttons there's an extra two on each side, and by default the left side buttons are assigned to browse forward and backward functions in your browser, while the right button's for on the fly DPI switching. However, when you start to click the buttons you notice that the top buttons are very 'clicky' while the sides are a little more solid cushioned.
[img]3[/img]
What about performance? It turns out that the 5600dpi sensor can work on fabrics, books, tablets, the back of your hand, a pair of jeans, and anything that isn't glossy. The mouse felt a little big in my hand at first, but I quickly adapted. It must have been the right angles that surround the entire mouse that made me keenly aware of its size. Other gaming mice tend to have curved rounded edges that form to your hand. It is unavoidable to have such angular construction in the mouse. After all, it wouldn't be TRON inspired without it!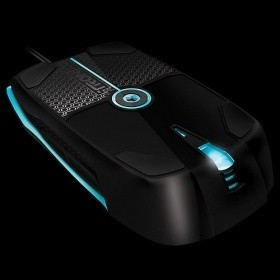 Looking at connectivity, it's 100% reliable since it's a wired mouse. This is a con in my book since we are living in a wireless age and I am a laptop user, there was too much cord cluttering up my desk. However, desktop users would the extra length handy.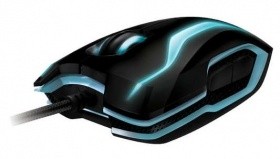 To summarize, I'll firstly run back over the things that appeal most to me about this mouse. Firstly, there's that superb 5600dpi 3.5G sensor, and the fact that it's inspired by such an epic blockbuster would be a plus to many (although no doubt a con to others). The funky lights during usage are a nice touch, but you may wish to (and can) turn them off via the settings panel.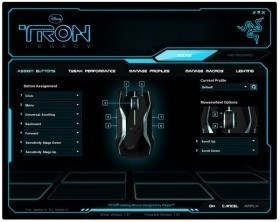 The other cool thing is the sound it makes when you boot up, but as mentioned earlier, there's no way to turn that off and eventually it may annoy. And did I mention the fabulous design? This mouse really looks the part!
So, what didn't I like? - Not much I'm happy to say, though the fact it's built completely out of plastics is disappointing, as is the fact that it's wired-only. A bit of rubber aside from the finger-scroll would have made all the difference to the feel of this mouse.