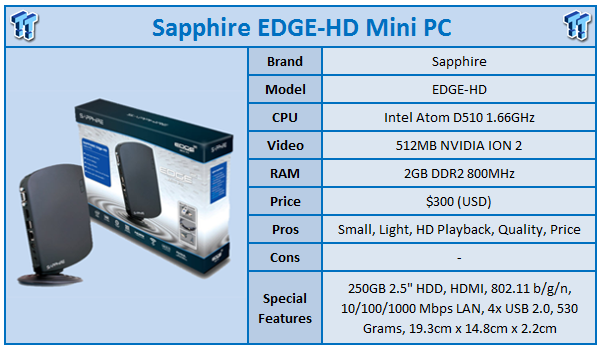 Sapphire has really expanded outside the norm lately with the introduction of their motherboard line-up. The thing is, Sapphire motherboards aren't something new; Sapphire motherboards we would want to own are, though.
I mean no offence to Sapphire, but their focus of AMD-only boards for years meant that they weren't a company people really looked at. If that wasn't going to keep them busy enough alongside the massive video card line-up they already have, the introduction of the new Mini PC will no doubt keep everyone busy.
The second I pulled the EDGE-HD out of the package I fell in love with it. The small stature which comes in at 19.3cm tall, 14.8cm in length and a skinny 2.2cm in width makes for an extremely tiny PC that comes in at only 530 grams.
Based around the Intel Atom D510 CPU which comes in at 1.66GHz, you find yourself feeling a little dirty looking at a Sapphire product that houses a 512MB NVIDIA ION 2 setup inside.
On the RAM front we've got 2GB of DDR2 and storage comes in the form of a 2.5" 250GB SATA hard drive. Connection to your network comes in the form of both 10/100/1000 Mbps Ethernet and 802.11 b/g/n wireless.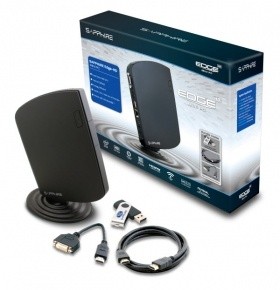 Inside the package there's not a lot, but at the same time there's everything you'll need. We've got a stand, manual and power connector, while cable wise we've got a HDMI cable and HDMI to DVI convertor. We've also got a little Sapphire USB Pen Drive which carries with it the goodies you'll need once you're up and running.
Due to the small size of the EDGE-HD, there's really not much to look at. One side has the Sapphire logo, a power button and HDD activity light, while the other side has the Sapphire logo again and some general information like serial number, while the front looks quite bare, but behind a little cover are two USB 2.0 ports.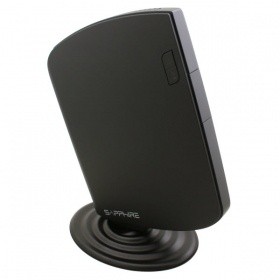 Across the top we have some vents that let the hot air get out, and at the back is where we see most of the action. Starting from the top, we've got a VGA port, HDMI port, two USB 2.0 ports, our network power, power adapter connector and an audio in and out jack.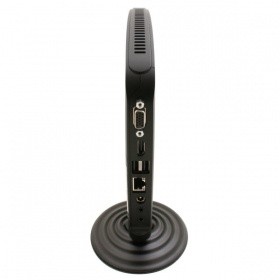 Turning the EDGE-HD on for the first time, you're greeted with DOS. This is about as far as you're going to get without a USB ROM drive or a copy of an operating system on a bootable flash drive.
With our USB drive plugged in, though, we installed Windows 7. Once that was done we got into Windows and threw in the provided USB Pen Drive which carried all the drivers. A few reboots, the download of a codec pack and connecting it to our network, we were ready to go.
With our codecs installed it was time to fire up some video content and see what the EDGE-HD was really capable of. We start off with a little 350MB show that runs like an absolute dream. We start to really put some strain on the machine with the introduction of a 1.4GB 1280 x 720 episode. Everything is running well over the wireless connection which is connected at 72 Mbps.
It was then time to fire up an 11GB 1920 x 1080 movie and see what this machine was really capable of. Much to my delight, playback was fantastic and what made it even more surprising was just how good it was over the wireless connection.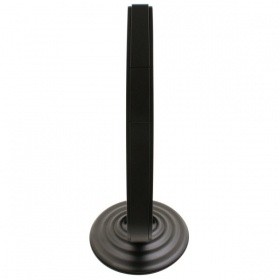 The only time we ever ran into trouble was when we tried to jump ahead and that was more so due to the wireless connection. To eliminate it we copied it to the hard drive via the wired connection and again was greeted with the same fantastic performance.
What made everything so great, though, was the simplicity to the system. The first thing I did when setting up the EDGE-HD was plug it straight into my Amp via the HDMI cable. Switch the Amp over to that connection, turn the TV on and straight away I was greeted with a picture.
The simplicity behind the EDGE-HD is just marvellous and you can see that Sapphire has really put some effort into the creation of this device, and what you really feel is happening here is the first step towards Fusion based systems from Sapphire. You get the feeling this is a bit of a test for the company and a chance to get used to what they're doing so that when they hit with a Fusion based system, it'll be 100%.
The problem is, though, that this machine is just fantastic already and you have to wonder what bringing a Fusion based system to the table is going to offer. I think ultimately when we see the higher end Fusion line we'll see slightly chunkier versions of this device that carry the ability to do a bit of gaming as well as all the other fun home theatre stuff.
With an expected price tag of around the $300 mark this is just a fantastic buy for the user who wants this kind of device. It's a little scary, though, to see just what Sapphire has done on their first attempt and I honestly didn't think we'd see something as special as this today with the company's first endeavour into the Mini PC market.
With so much love for the device, though, I found myself really thinking how it could be better. Media playback, web surfing, email and all that other general duty stuff means that performance is fine and in that area we don't need any real improvement. Storage is also strong with a 250GB hard drive and 2GB of memory being plenty, although we of course wouldn't complain about 4GB.
What I really found myself wanting in the end was a wireless device that let me integrate with the system. A combination wireless keyboard with touch pad or maybe a remote and a copy of XBMC on the pen drive. Maybe a higher end bundle which consisted of a USB ROM drive, be it DVD or Blu-ray. For a little bit more money you could get an out of the box solution that's going to need nothing more than an OS installation without the need for other parts. I find myself just really nit picking at it, though, because I'm just trying to dive deeper into finding something I would change.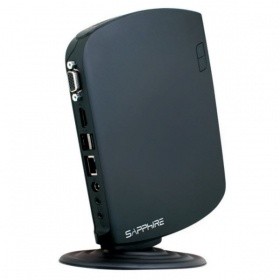 Sapphire has done an amazing job with the EDGE-HD and it will be really interesting what they do in the future with the Fusion APU. For now, though, this is just a great first step in the Mini-PC market for them and you can see it appealing to people thanks to that small $300 price tag and smaller size.