Quick Review: G.Skill Ripjaws Series PC3-16000 8GB Kit
G.Skill drop the speed back a little, but offer us twice as much memory. Let's check out this 8GB kit on our P67 testbed.
Published Wed, Feb 16 2011 9:13 AM CST
|
Updated Tue, Nov 3 2020 7:02 PM CST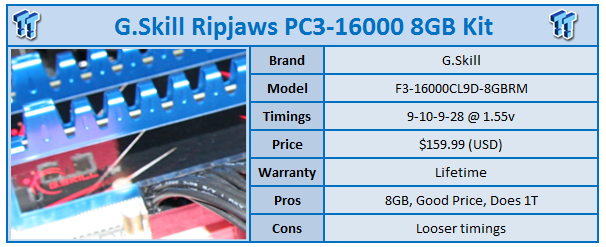 Today we're looking at another kit of RAM from G.Skill and this one doesn't carry the new "X" tag at the end of the "Ripjaws" name, which means it isn't quite as hard core as the
previous 2133MHz DDR kit we looked at
. Instead, this kit carries with it a 2000MHz DDR clock, but is twice as large with the two modules coming in at 4GB each.
This isn't the first time we've looked at a 2000MHz DDR kit on our new P67 platform; we recently looked at an OCZ kit and while the kit is indeed good, the divider options on the P67 mean that 2000MHz DDR can't be set without the BCLK moving. Of course, the P67 has also brought with it very limited adjustment when it comes to the BCLK, which on a whole has made overclocking a little different for most.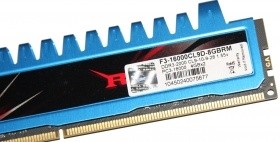 Checking out the package, there's nothing going on except for the modules themselves which carry a 9-10-9-28-2T @ 1.55v setup. These timings are a little more relaxed than some of the other kits we've seen, but the biggest difference in the timings would be the 2T command rate.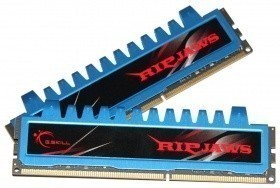 The overall design of the modules isn't anything new with us having looked at the Ripjaws series in the past. You're not really seeing anything too different here with the main difference between particular modules being the color of the heatsink that G.Skill use; the heatsink is slightly different to the Ripjaws-X modules, though.
With the modules installed it was time to get into the BIOS and see what we could make happen. We set the timings manually, but initially forgot to change our Command Rate from 1T to 2T. We moved to the 2133MHz DDR divider and then pushed the BCLK down to 95 which results in a memory clock of just over 2000MHz DDR.
Like the OCZ kit we tested, the machine didn't want to boot up. It really seems like the lower BCLK isn't something that the P67 platform loves. Double checking the timings, we realized that we were running at 1T and took a second to change it to 2T. Unfortunately it didn't impact our system and again it refused to post. So we went back into the BIOS and pushed our divider down to 1866MHz DDR and pushed the BCLK up to 104. This resulted in a memory clock of 1942MHz DDR and we got into Windows with no trouble utilizing a 1T command rate. You can see that CPU-Z validation
here.
So with that running all good, it was time to see how the modules performed in some of our memory benchmarks.
Under AIDA64 we ended up with Read / Write numbers of
20,804 MB/s / 18,662 MB/s
, Copy speed of
22,683 MB/s
and latency of
42ns
. Looking at SiSoftware Sandra, our memory bandwidth numbers are
25,360 MB/s
for Integer and
25,390 MB/s
for Float.
Overall performance didn't really hold any surprises with it performing very similar to the OCZ kit we tested at the same speed.
With that done, it was time to get into the BIOS again and see if we could move our BCLK a little more north to get closer to that default clock.
Again, we unfortunately didn't have any luck with 104 being about the maximum our 2600K likes to do, even if we're able to achieve a much higher clock with the multiplier. The worst thing at the moment is the immaturity of the chipset; performance is extremely strong, but it's clear some motherboard companies are still figuring stuff out with BIOS revisions coming in thick and fast.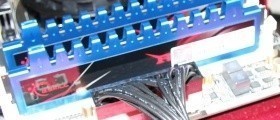 At $159.99 US, which is a price similar to the Ripjaws-X kit, we've clearly got a decision to make when it comes to deciding what to buy. You could opt for the super aggressive Cas 7 2133MHz DDR kit which we achieved 2198MHz DDR out of at the same timings, or you could double the amount of memory while shaving off some memory bandwidth.
The main question is, why buy this over an 1866MHz DDR kit for your P67 platform? And to be honest, I didn't really have an answer for this initially. Thinking about it a little more, though, there are some good reasons. For starters, the price difference between 1866MHz DDR and 2000MHz DDR is very similar. While timings are also similar for the cheaper kits, more aggressive timed 1866MHz DDR modules will actually set you back a little more.
If you wanted to just aim for 1866MHz DDR and push the multiplier up, you would work with the timings and more than likely be a bit more aggressive with a 2000MHz kit down clocked. Even just 58MHz DDR below 2000MHz DDR we managed to run 1T with no dramas. The main reason, though, is if you've got a CPU that can push a higher BCLK, closer to 106 or 107, you're going to have an 8GB kit that will run those speeds.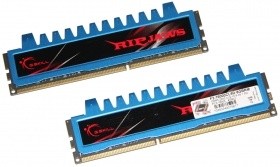 2000MHz DDR continues to be a weird number for memory and I'll be focusing more on 1866MHz DDR and 2133MHz DDR kits in the future, but they clearly have their place, especially when you can't get 2133MHz 8GB kits.
At the end of it all, most users would also prefer to have the 8GB of memory at a slightly lower clocked speed than the 4GB at the higher clocked speeds. It's an important comparison as well when you consider the fact that both are priced at a similar level. While not as aggressive overall as the 2133MHz Ripjaws-X kit, if you don't mind dropping the MHz back a little, you'll probably enjoy what that extra 4GB does for you in Windows.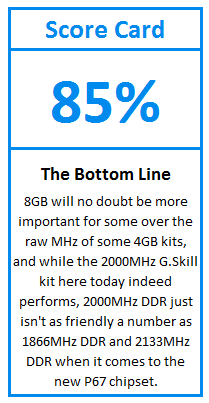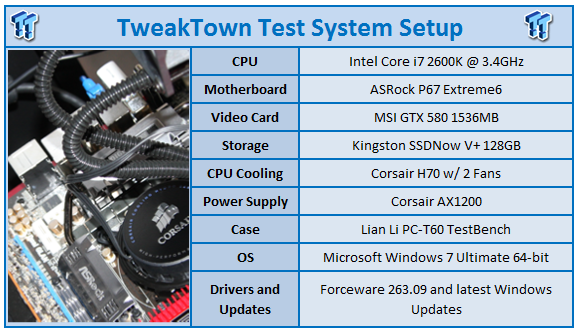 PRICING: You can find products similar to this one for sale below.

United States: Find other tech and computer products like this over at Amazon.com

United Kingdom: Find other tech and computer products like this over at Amazon.co.uk

Australia: Find other tech and computer products like this over at Amazon.com.au

Canada: Find other tech and computer products like this over at Amazon.ca

Deutschland: Finde andere Technik- und Computerprodukte wie dieses auf Amazon.de