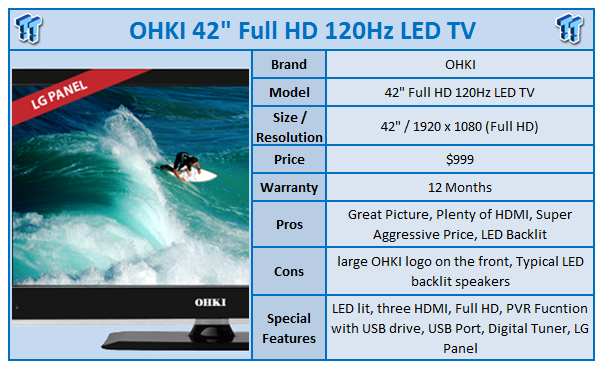 You can be forgiven if you haven't heard of the name OHKI before, with the company only just appearing recently. We're here today to tell you whether or not this is a company you should be keeping an eye out for.
With an online only structure to the business, the idea is that they're able to cut out any middleman and in turn offer you the best deal possible. Currently the company is only selling one product and that's the 42" LED TV we're looking at today.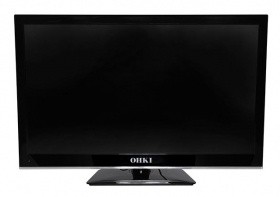 Inside the package you're not going to find any surprises. We've got the TV itself where the power cable is connected to it. Along with that we've got a remote, manual and stand.
Like most LED based TVs, the box is quite thin as the stand isn't connected. Fortunately the install is pretty easy and being an LCD TV you can just turn it over and screw in half a dozen screws to attach the stand.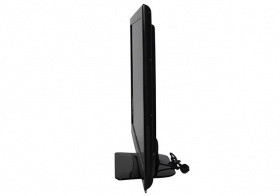 With the stand attached, it's time to fire up the TV and the first thing we do is check out the remote. There's nothing to it and like most TVs that tend to be cheaper, it lacks any flair. The range is good, though, and so is the response, which is ultimately what you want from a remote.
As the NFL season comes to an end, it was straight on to Foxtel to watch one of the games I had recorded on ESPN HD. Straight away you notice that this is a good looking TV; colours are strong and motion is exceptionally smooth.
With sport looking good, it's time to check out some movie content and looking at Avatar which really lets TVs just look great, throw in something nice and colourful like Toy Story 2 and the colours really pop even more - that's thanks to an LED backlit display.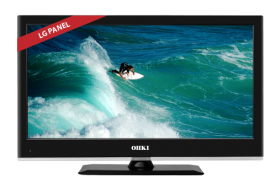 Checking out the specifications of the OHKI, you can see that one of the reasons it's such a good looking TV is because of the LG 120Hz Full HD panel that's being used. And of course, because it's an LED based screen it's nice and thin which from an aesthetics point of view is always appreciated.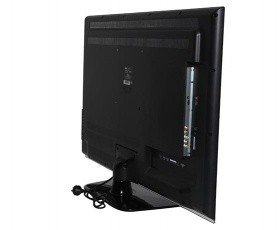 The features don't just stop there, though. Connectivity is strong with one Composite, S-Video, VGA, Component and three HDMI present. We've also got a USB port that brings with it the ability to add PVR function to the TV.
What this lets you do is pause and rewind live TV. It's quite a basic feature, but trust me, it's something you'll appreciate if the phone rings or the door knocks as you're in the middle of something that's really got your attention.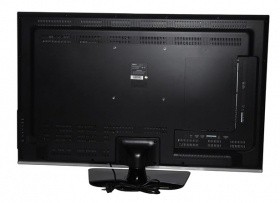 On the TV front we've got a built in digital tuner, which does a good job. For the most part we see tuners are quite similar between TVs and the biggest difference comes from the screen quality itself. The OHKI puts out a good picture, though, which in turn makes the tuner look good.
Audio is provided by two 9w speakers and like most LED based TVs, the audio isn't great and that's because we've got two small speakers in a very thin display. While for general TV viewing it does a good job, a nice little all in one speaker package would do wonders for the unit.
Priced at the moment for $999, the OHKI is one of, if not
the
most aggressive priced 42" LED based TV on the market. For the money it's an absolute steal and while shipping will set you back a further $65, it's still very good value.
Years ago you could honestly say that if you spent a good chunk more money on a TV, you would get a TV that was a good chunk better. These days, though, that doesn't hold nearly the same amount of truth. If you want to spend an extra $600 you'll get a nicer remote and in some areas the TV may be a little better, but for most not enough to justify a 60% increase in purchase price. Especially when you could pick something like OHKI up and a nice little all in one speaker kit for just a few hundred dollars which will yield a good picture and better sound than any other TV in the price range.
OHKI have put together a really nice TV. At 42" you're talking about a size that is great for the lounge room, picture quality with that LG panel is impressive and while it lacks a large amount of analogue connections with only one of each being offered, we've got three HDMI which has quickly become the most important connector considering most devices make use of it these days.
Out of everything there's only one thing that bothers me and that's the large OHKI logo at the bottom of the unit. In the dark it's not so much a bother, but it just looks a little tacky. I can understand companies wanting to make sure people know the brand, but it seems a little over the top, especially when you consider the really clean design OHKI is offering us on the thin LED design. Fortunately, it looks like the logo has been shrunken in the retail version seen in our third picture.
Aggressive price tag, great picture, plenty of HDMI and just an all-strong feature set make the OHKI a great buy. 42" is also a great starting size for the company and the decision to offer an LED based TV vs, a traditional CCFL one make it stand out a bit more, especially at that $999 price tag. It'll be interesting to see what OHKI offer later down the track as the company expands its product line-up.