Patriot Xporter XT Rage USB 2.0 32GB Quad Channel Flash Drive
USB 3.0 might be the future, but Patriot has a quad channel USB 2.0 drive now that is very fast.
Published Wed, Oct 20 2010 12:44 AM CDT
|
Updated Tue, Nov 3 2020 7:02 PM CST
Introduction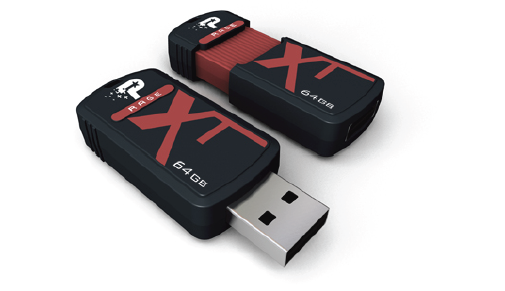 We have already started testing USB 3.0 products and with our upcoming thumb drive round up testing starting today, we have many more to come. The USB 3.0 products have performed very well, but their high cost and bulk will keep them from penetrating the market quickly.
On the other side of the coin, USB 2.0 flash drives have been shrinking in size as well as price. Some companies have ignored technological advances that have pushed data transfer rates to the limits of USB 2.0, but the product we are looking at today isn't one of them.
Patriot used the latest quad channel design in the Xporter Rage. In its most basic form you can think of this as a 4 drive RAID 0 array, but with flash modules. All of the modules read and write at the same time. The main benefit to this design is the speed increase; most thumb drives use a single or dual channel configuration.
Specifications, Pricing and Availability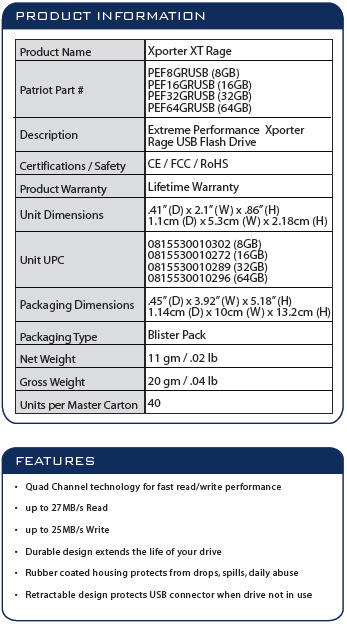 Patriot released the Xporter XT Rage in four capacities; those are 8, 16, 32 and 64GB. All of the drives are rated at the same speeds; 27MB/s read and 25MB/s write. This is very close to the real world performance of USB 2.0, but what makes the Rage different is it was designed to keep these speeds constant and not just the rarely seen peak. Patriot was able to do that by utilizing a quad channel design. All four flash chips are used to read and write at the same time, kind of how RAID works in RAID arrays.
When it comes to the pricing, Newegg lists the 8GB Rage at 21.99, 16GB at 37.99, 32GB at 66.99 and the massive 64GB drive for 139.99 USD. All four drives come with a lifetime warranty.
The Packaging and Patriot Rage
The Packaging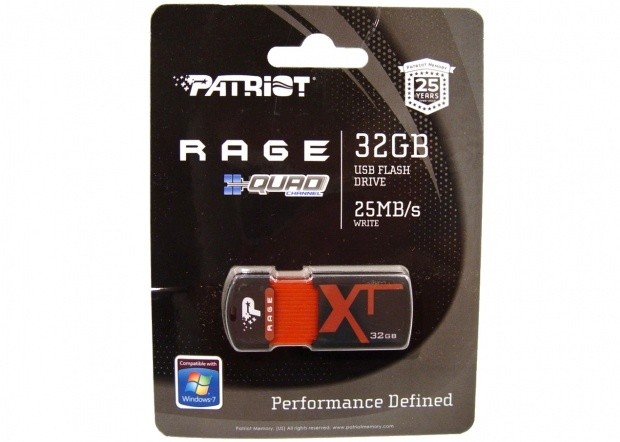 Patriot used a blister pack designed for the retail market. A quad channel logo is on the front, but most people won't be able to figure out what it means on their own without explanation. Our sample drive is the 32GB model and we clearly see on the front of the package that the capacity size is listed.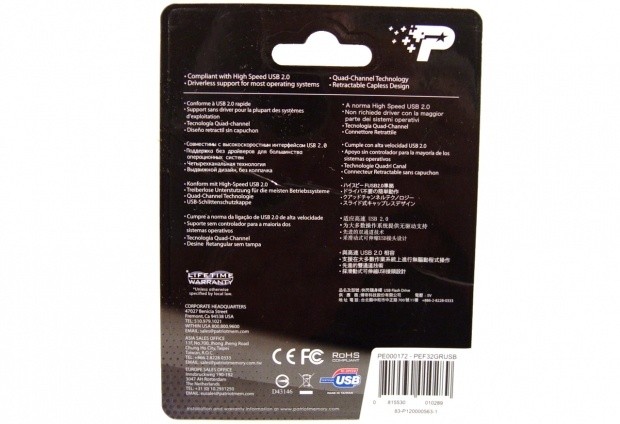 The rear of the package lists some of the product features in several languages.
The Patriot Xporter Rage

Here we get our first look at the Rage. In this shot the USB connecter is retraced and ready to be carried around or tossed in your purse.

With the protective sleeve pulled back we see the USB connector; just plug it in your PC and get to it.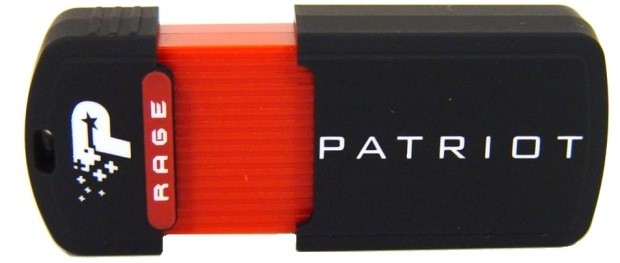 The other side of the drive has a different design, but that isn't the story here. Over the last couple of years we've seen high speed flash drives get larger and larger. As you can see, the Rage didn't take that approach, in any direction. What makes that important is that you will be able to use the USB ports next to the Rage.
Test System Setup and ATTO Baseline Performance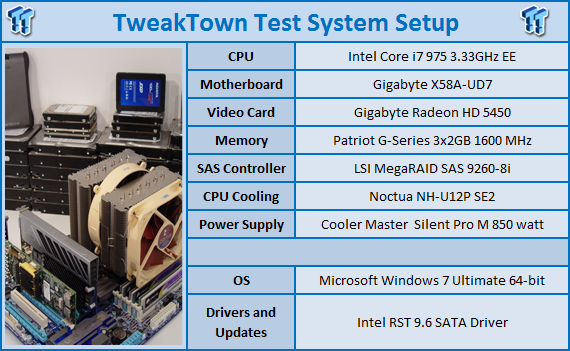 We would like to thank the following companies for supplying and supporting us with our test system hardware and equipment:
AVADirect
,
GIGABYTE
,
Cooler Master
,
LSI
and
Noctua
.
You can read more about TweakTown's Storage Product Testing Workstation and the procedures followed to test products
in this article
.
As I prepare for a massive thumb drive round up being published next month, I need to start thinking about what tests best expose flash drives flaws and gauge one's ability to outperform another. With HDDs and SSDs things are very simple; you can wipe away their partitions and get to their root performance. In most cases the same can be done to flash drives, but not all of the time. The Rage is one of these rare cases.
ATTO Baseline Performance
Version and / or Patch Used:
2.34
ATTO is used by many disk manufacturers to determine the read and write speeds that will be presented to customers.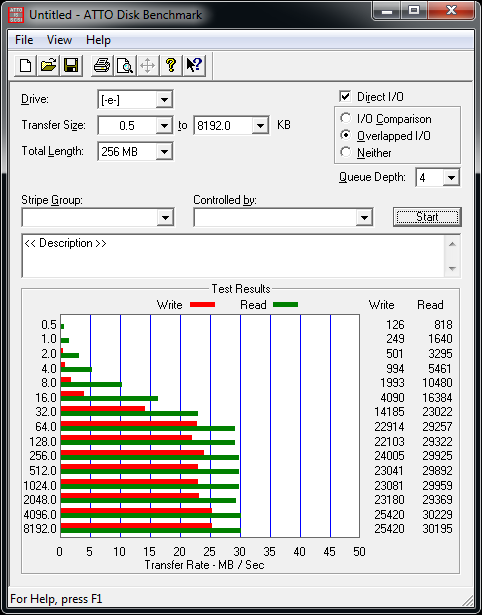 In ATTO we get a chance to verify manufacturer's performance claims. It appears that Patriot sold the Rage a little short on the read speeds. In our testing we hit 30MB/s read and just over 25MB/s write speeds.
Benchmarks - Crystal Disk Mark
CrystalDiskMarkVersion and / or Patch Used:
3.0 Technical Preview
Developer Homepage:
http://crystalmark.info
Product Homepage:
http://crystalmark.info/software/CrystalDiskMark/index-e.html
Download here:
http://crystaldew.info/category/software/crystaldiskmark
CrystalDiskMark is a disk benchmark software.
Key Features:-
* Sequential reads/writes
* Random 4KB/512KB reads/writes
* Text copy
* Change dialog design
* internationalization (i18n)
Note:
Crystal Disk Mark 3.0 is not available to the public yet, but the Technical Preview does allow us to test 4K performance at queue depths of 4 and 32 in addition to 1. The current release Crystal Disk Mark only shows us QD 1.
Crystal Disk Mark Tests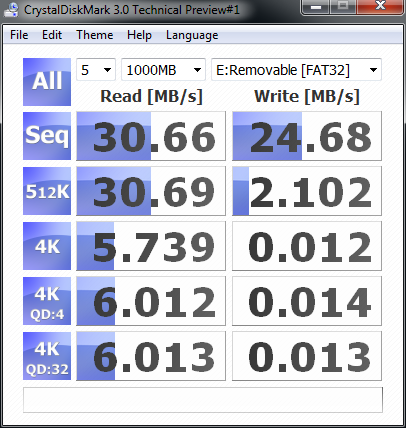 In CDM we see the performance of the Rage at different block sizes and queue depths. USB doesn't actually take advantage of native command queuing, so those tests are lost in this review, but we still have 512 and 4K sizes to pick over.
The read 512 speed is very good and runs at the sequential speed. The write speeds really take a hit, though. Here we see performance start to drop off rather quickly.
Benchmarks - AS SSD
AS SSD BenchmarkVersion and / or Patch Used:
1.2.3577.40358
Developer Homepage:
Alex Intelligent Software
Product Homepage:
Alex Intelligent Software
Download here:
http://www.alex-is.de/PHP/fusion/downloads.php?cat_id=4&download_id=9
AS determines the performance of Solid State Drives (SSD). The tool contains four synthetic as well as three practice tests. The synthetic tests are to determine the sequential and random read and write performance of the SSD. These tests are carried out without the use of the operating system caches.
In all synthetic tests the test file size is 1GB. AS can also determine the access time of the SSD, the access of which the drive is determined to read through the entire capacity of the SSD (Full Stroke). The write access test is only to be met with a 1 GB big test file. At the end of the tests three values for the read and write as well as the overall performance will be issued. In addition to the calculated values which are shown in MB/s, they are also represented in IO per seconds (IOPS).
Note:
AS SSD is a great benchmark for many tests, but since Crystal Disk Mark covers a broader range of 4K tests and HD Tune Pro covering sequential speeds, we will only use the Copy Benchmark from AS SSD.
- Copy Benchmark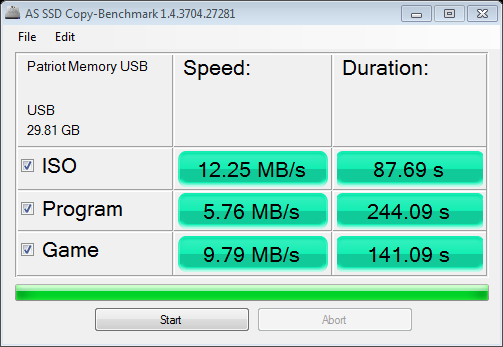 AS SSD's Copy Test is where we get a chance to really observe the Patriot Rage doing what most users will be doing with it, transferring files to and from the drive. In this standalone format it is difficult to gauge the performance, so let's have a look at another drive.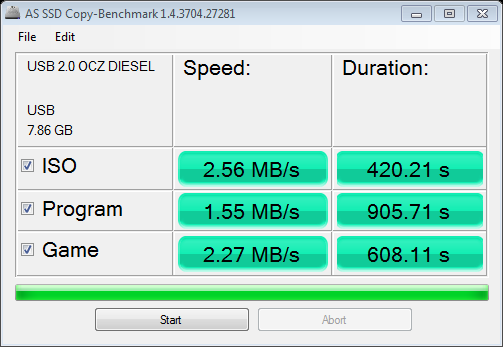 Just above is OCZ Technology's Diesel, a mainstream flash drive designed for those looking for a low cost, high capacity portable storage thumb drive.
Either way you look at it, MB/s (higher is better) or time in seconds (lower is better), the Patriot Rage shows that its quad channel design is superior to a single channel configuration.
Final Thoughts
It's isn't very often that we are looking at flash drives around here, but after getting in three last month I decided it was time to turn three into thirty for a round up. Patriot sent over the XT Rage for a feature review, but I turned this into a bit of a preview of our upcoming round up.
With the final results in hand I can tell you that the Patriot Rage is in the top two highest performing USB 2.0 drives on the market and by far the easiest to purchase (the other is a bit exotic). If you want to know about the other drives you will just have to wait and see, but it is very safe to say that you will not have buyer's remorse if you purchase the Patriot Rage now and read the round up later.
Patriot has four capacity sizes for the Rage and with them, four price points. Our 32GB sample is available at Newegg for 66.99 USD. When it comes to pricing, 32GB drives range from 49.99 to 284.99 USD, so clearly the Rage XT is priced on the lower side of the meridian line. Corsair claims to have the fastest USB 2.0 thumb drive (not tested in house to date), but it comes with a price tag of 79.99 USD, 13 Dollars more than the Rage XT and uses a very aged design with a cap.
PRICING: You can find products similar to this one for sale below.

United States: Find other tech and computer products like this over at Amazon.com

United Kingdom: Find other tech and computer products like this over at Amazon.co.uk

Australia: Find other tech and computer products like this over at Amazon.com.au

Canada: Find other tech and computer products like this over at Amazon.ca

Deutschland: Finde andere Technik- und Computerprodukte wie dieses auf Amazon.de
We openly invite the companies who provide us with review samples / who are mentioned or discussed to express their opinion. If any company representative wishes to respond, we will publish the response here. Please contact us if you wish to respond.