Introduction, Packaging and Modules
Introduction
The HyperX name has been around for a while now and we've seen many modules fall into the series. Today, however, we're seeing the biggest change to the series we've seen in a while.
Today we're looking at the new HyperX blu Series. Its aim is HyperX quality at a value price. To some, HyperX means speed; to others, it means great quality modules and heatsink along with the ability to overclock. So, what we're wondering is, how does the HyperX blu series sit in the line-up?
The Package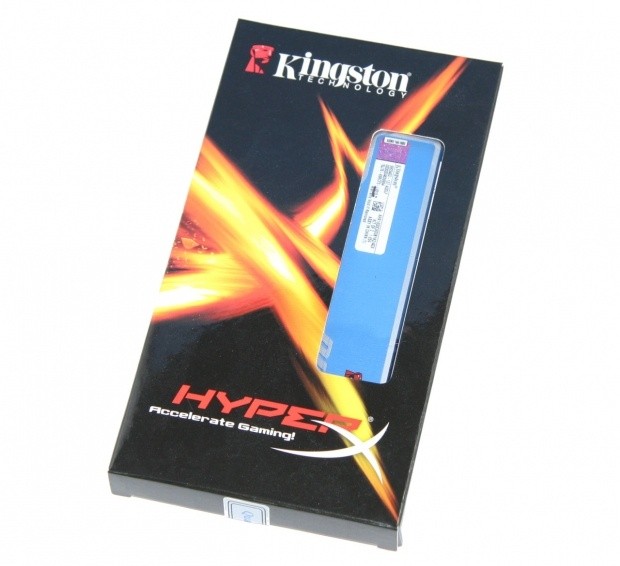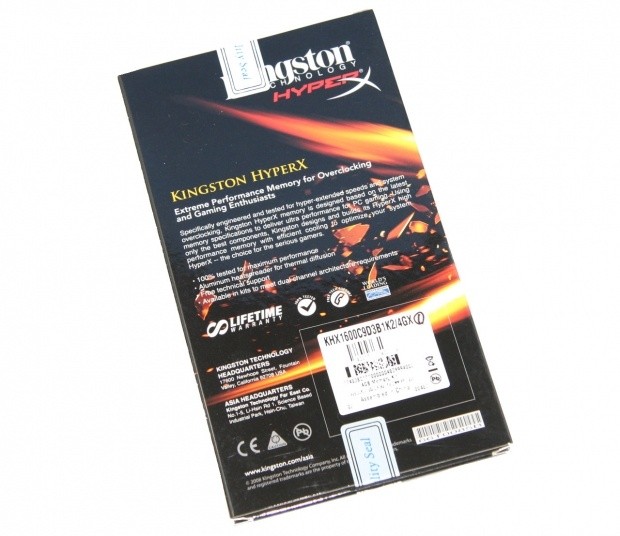 Having a look at the package, there's not too much going on here. We can see a bit of the module from the outside. On the back we have a bit of a rundown along with the model number and some of the main specifications.
The Modules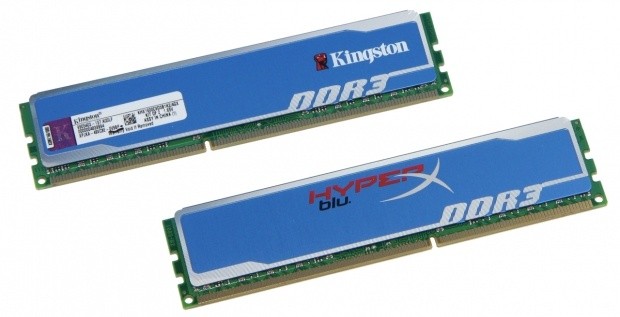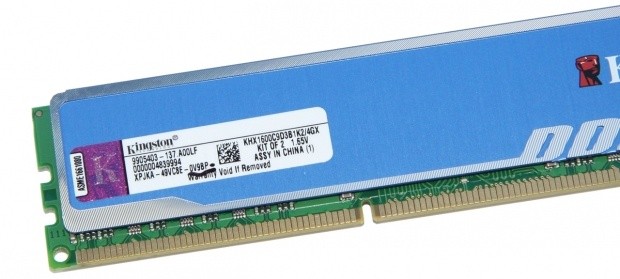 Having a look at the modules, we're not seeing anything we haven't really seen before with the particular heatsink been seen multiple times in the past. Having said that, there's a few little aesthetic adjustments. We've got the DDR3 logo across the bottom and the new blu logo across the middle.
On one side we've got the aforementioned logo, while on the other we have the Kingston one and a little sticker that gives us all that boring information like the model number and some of the specifications.
Overclocking
Being a PC3-12800 kit means we're dealing with a stock clock of 1600MHz DDR which isn't all that high. Having a look at the timings, the 9-9-9-27 setup is also quite relaxed. To be honest, these aren't numbers we're really used to seeing from the HyperX series.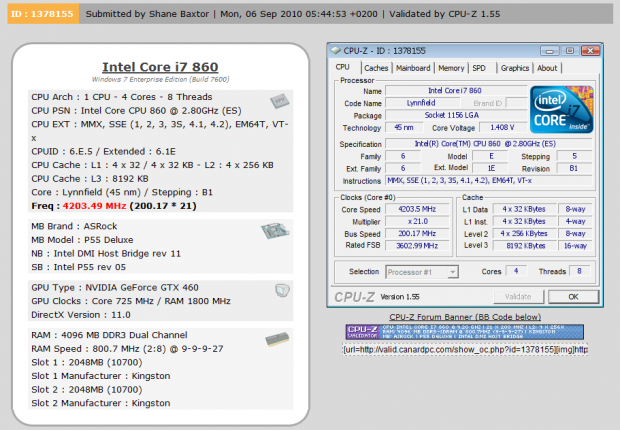 You can see the validation
here
.
Setting up at 1600MHz DDR 9-9-9-27 was easy, as we expected. We got into Windows and ran our test with no dramas at all. Once that was done, it was time to see what we could do with getting some more speed out of the kit.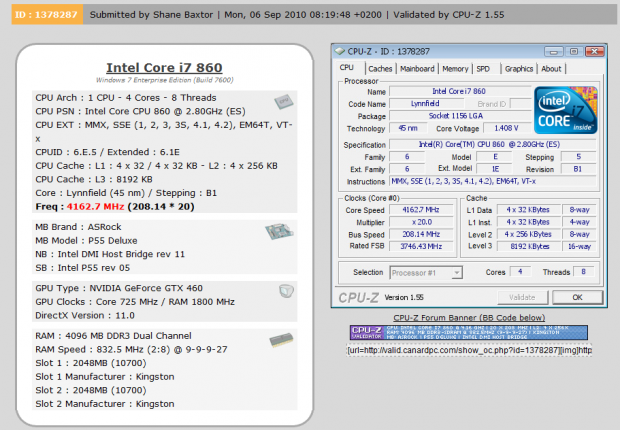 You can see the validation
here
.
As always, when it came to overclocking we left the timings at the default 9-9-9-27-1T timings and found out what we could get. We didn't end up with heaps of speed with the kit, but we did run at 1665MHz DDR with no dramas at all.
It's not a huge overclock, but considering we're still at 1T and the default 9-9-9-27 timings, it's not too bad.
Important Editor Note: Our maximum overclocking result is the best result we managed in our limited time of testing the memory. Due to time constraints we weren't able to tweak the motherboard to the absolute maximum and find the highest possible FSB, as this could take days to find properly. We do however spend at least a few hours overclocking every motherboard to try and find the highest possible overclock in that time frame. You may or may not be able to overclock higher if you spend more time tweaking, or as new BIOS updates are released.
Test System Setup and PCMark Vantage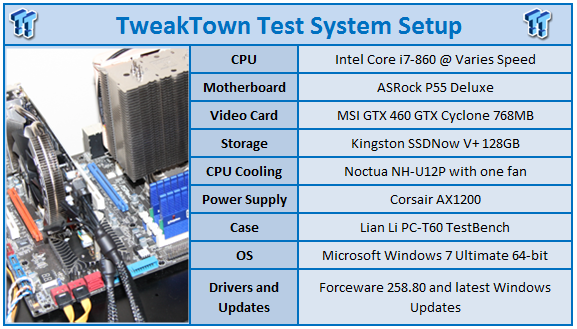 We would like to thank the following companies for supplying and supporting us with our test system hardware and equipment:
Intel
,
ASRock
,
MSI
,
Kingston
,
Noctua
,
Mittoni
and
Corsair
.
If you've been following our video card reviews, you would know that we've made a few changes to our testbeds lately and for that reason we've had to scrap all our old results. So with the Kingston HyperX blu series kit being the first tested on the new setup, we'll just be looking at the kit against itself in both stock and overclock from.
Let's get started!
Important Note: When modules are overclocked we adjust the BCLK which not only lets us fine tune the MHz out of a module, but in turn increases the overall CPU clock speed. While we always make the effort to include the BCLK and CPU Speed in our graphs, please just make sure that you make note of these when looking at the results. In some tests that don't purely test the memory speed the extra MHz on offer from the CPU can increase the result. Of course, it's worth noting that having faster memory gives you the ability to run your CPU at a higher speed.
PCMark VantageVersion and / or Patch Used:
1.0.1
Developer Homepage:
http://www.futuremark.com
Product Homepage:
http://www.futuremark.com/benchmarks/pcmarkvantage/introduction
Buy It Here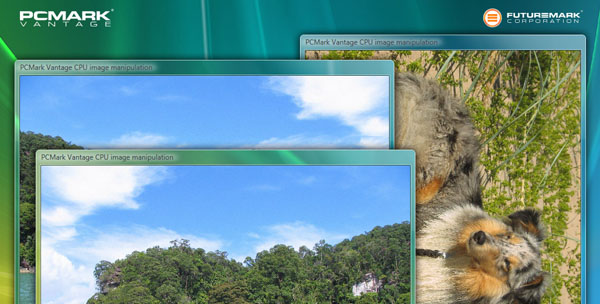 PCMark Vantage is a PC benchmark suite designed for Windows Vista offering one-click simplicity for casual users and detailed, professional grade testing for industry, press and enthusiasts.
A PCMark score is a measure of your computer's performance across a variety of common tasks such as viewing and editing photos, video, music and other media, gaming, communications, productivity and security.
From desktops and laptops to workstations and gaming rigs, by comparing your PCMark Vantage score with other similar systems you can find the hardware and software bottlenecks that stop you getting more from your PC.
Here we see both setups perform very close to each other in both tests.
Benchmarks - wPrime
wPrimeVersion and / or Patch Used:
1.62
Developer Homepage:
http://www.wprime.net/
Product Homepage:
http://www.wprime.net/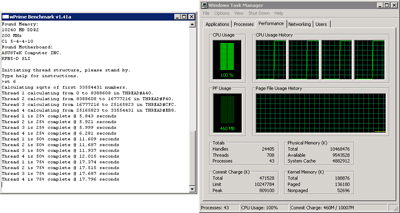 wPrime uses a recursive call of Newton's method for estimating functions, with f(x)=x2-k, where k is the number we're sqrting, until Sgn(f(x)/f'(x)) does not equal that of the previous iteration, starting with an estimation of k/2. It then uses an iterative calling of the estimation method a set amount of times to increase the accuracy of the results. It then confirms that n(k)2=k to ensure the calculation was correct. It repeats this for all numbers from 1 to the requested maximum.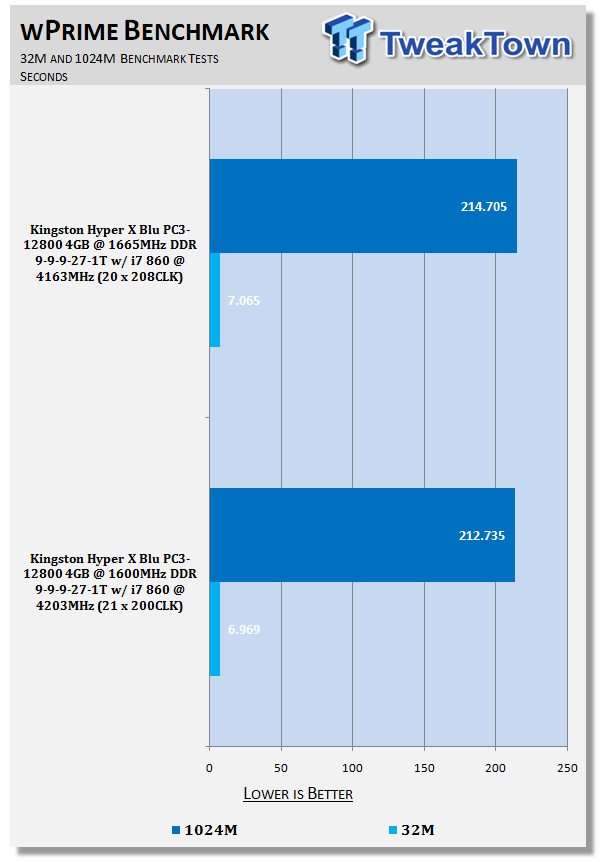 We can see there's very little difference between the two setups. The slightly slower clocked 1600MHz DDR setup comes in a little faster as the CPU is slightly higher clocked.
Benchmarks - Everest Ultimate Edition
EverestVersion and / or Patch Used:
Ultimate Edition
Developer Homepage:
http://www.lavalys.com/
Product Homepage:
http://www.lavalys.com/products/overview.php?pid=3&ps=UE&lang=en
Buy It Here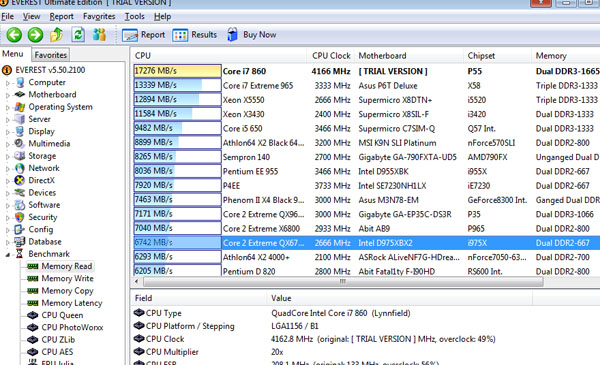 EVEREST Ultimate Edition is an industry leading system diagnostics and benchmarking solution for enthusiasts PC users, based on the award-winning EVEREST Technology. During system optimizations and tweaking it provides essential system and overclock information, advanced hardware monitoring and diagnostics capabilities to check the effects of the applied settings. CPU, FPU and memory benchmarks are available to measure the actual system performance and compare it to previous states or other systems. Furthermore, complete software, operating system and security information makes EVEREST Ultimate Edition a comprehensive system diagnostics tool that offers a total of 100 pages of information about your PC.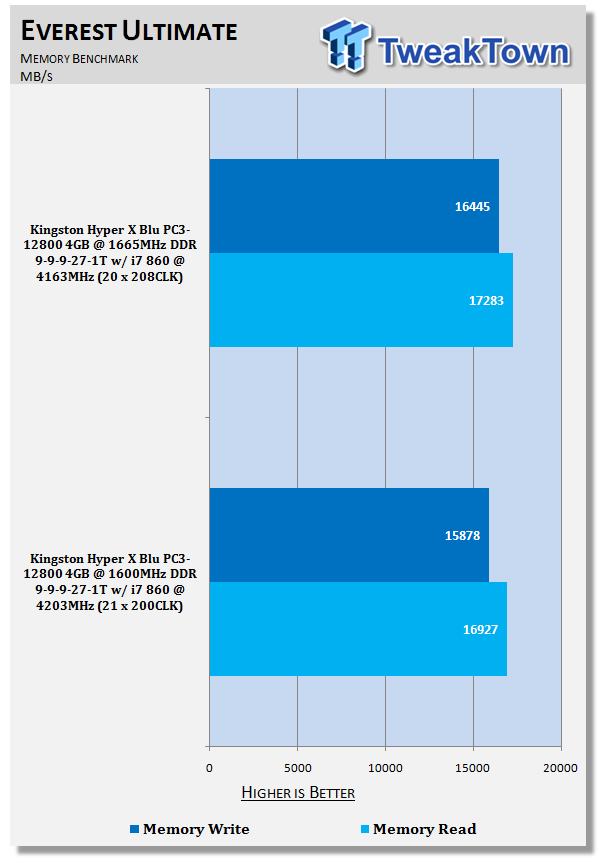 Because we're not dealing with a large overclock, the gains aren't massive. You can see in both read and write performance, though, there's a clear gain when moving to 1665MHz DDR.
Benchmarks - SiSoft Sandra
SiSoft SandraVersion and / or Patch Used:
Professional Home
Developer Homepage:
http://www.sisoftware.co.uk
Product Homepage:
http://sisoftware.jaggedonline.com/index.php?location=home&a=TTA&lang=en
Buy It Here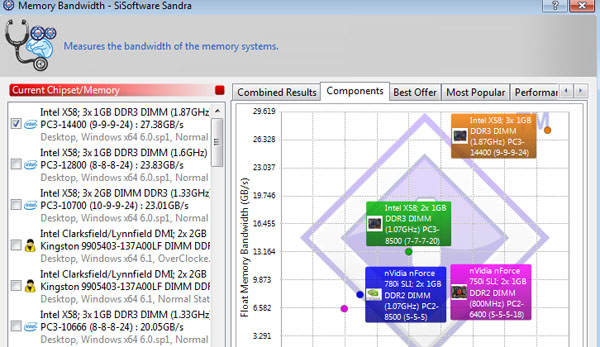 SiSoft Sandra (
S
ystem
AN
alyser,
D
iagnostic and
R
eporting
A
ssistant) is a synthetic Windows benchmark that features different tests used to evaluate different PC subsystems.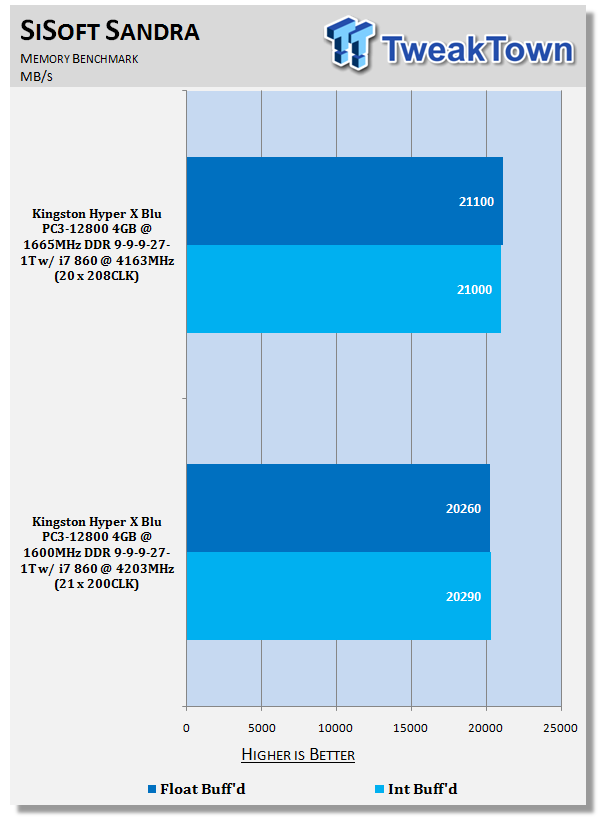 Like our Everest test, we can see a boot in memory performance when we're clocked at 1665MHz DDR. The gains aren't large, though, and that's mainly due to the fact that we're not dealing with a big overclocker.
Benchmarks - Super PI
Super PI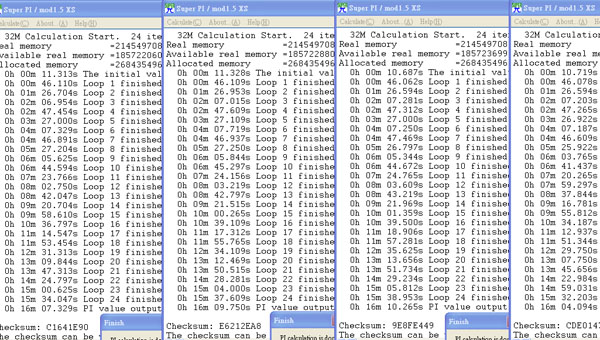 Super PI is a computer program that calculates pi to a specified number of digits after the decimal point - up to a maximum of 32 million. It uses Gauss-Legendre algorithm and is a Windows port of the program used by Yasumasa Kanada in 1995 to compute Pi to 232 digits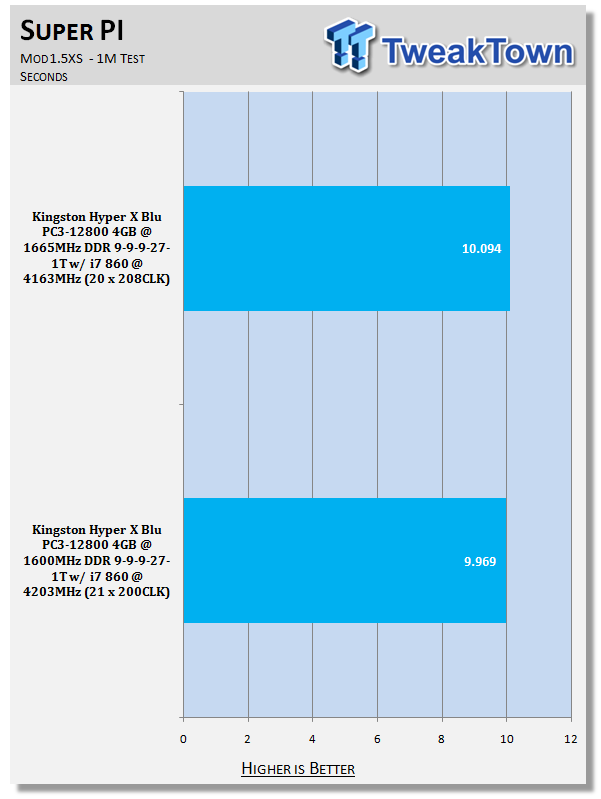 Super PI performance is very similar; we again see the extra CPU MHz comes in handy here, helping the 1600MHz DDR @ 4.2GHz vs. 1665MHz DDR @ 4.16GHz take out the win.
Benchmarks - 3DMark Vantage
3DMark VantageVersion and / or Patch Used:
1.0.1
Developer Homepage:
http://www.futuremark.com
Product Homepage:
http://www.futuremark.com/products/3dmarkvantage/
Buy It Here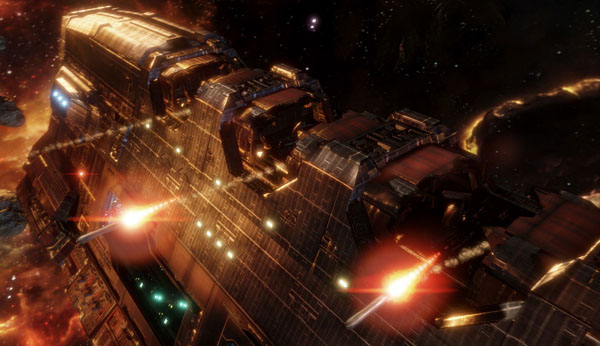 3DMark Vantage is the new industry standard PC gaming performance benchmark from Futuremark, newly designed for Windows Vista and DirectX10. It includes two new graphics tests, two new CPU tests, several new feature tests, and support for the latest hardware.
3DMark Vantage is based on a completely new rendering engine, developed specifically to take full advantage of DirectX10, the new graphics API from Microsoft.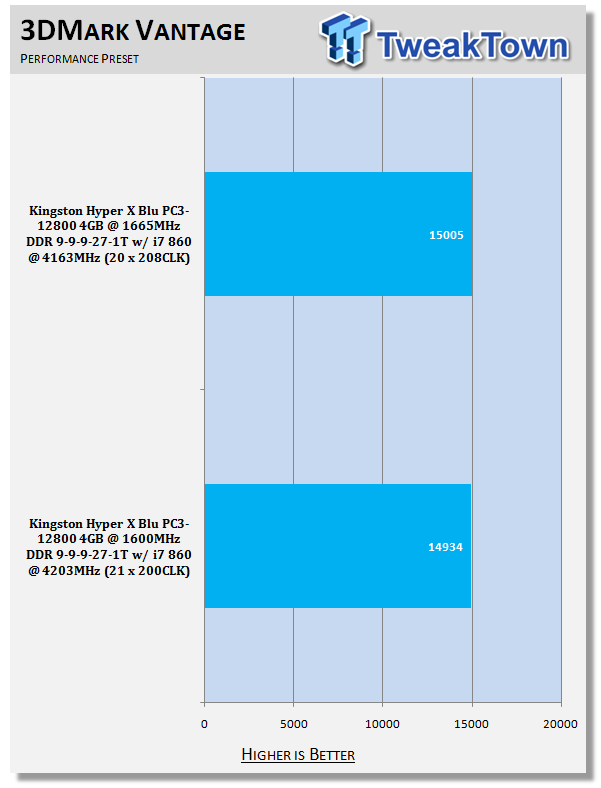 Between the two runs very little separates them with nothing more than a bit of fluctuation.
Total Performance Rating (TPR)
Total Performance Rating
The TPR graph is a combination of all our benchmarks in which we test our memory modules with.
The TPR number is a combination of:-
PCMark Vantage, Everest Ultimate, SiSoft Sandra, and 3DMark Vantage.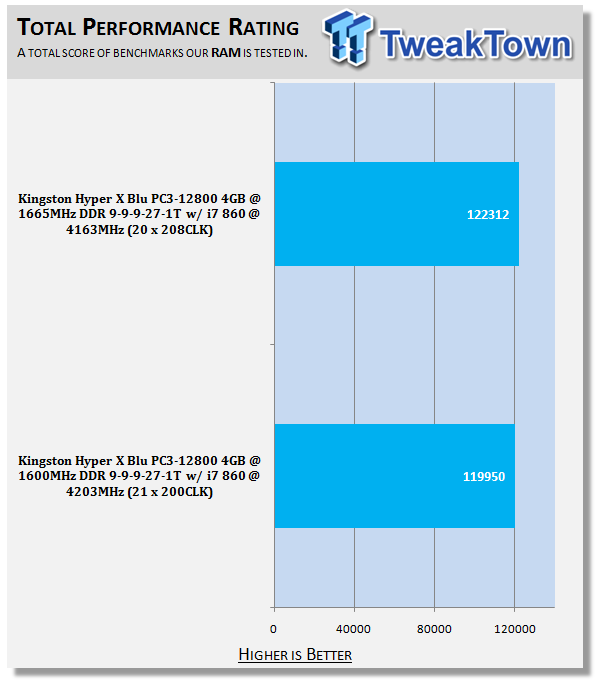 With this being the first kit we've looked at on the upgraded testbeds, it's hard to gauge how the kit performs when compared to others.
Total Value Rating (TVR) & Final Thoughts
Total Value Rating
The TVR graph is the TPR score divided by the price of the memory kit. The price of the memory kit is based on the list price of the model on Newegg.com. In the event the kit isn't listed, it will be based on the U.S. $ MSRP given to us by the manufacturer.
In the event we can't source a price from either, the product will not receive a TVR rating. As with our TPR graph, the amount of memory kits on the list will grow over time and the price of the model won't change from what it was when first reviewed. For this reason the U.S. $ price that the kit is based off will be included next to the name of the model.
In the event you want to find the TVR rating yourself based on the current price, all you have to do is simply divide the TPR number by the list price.
TVR numbers are rounded to the nearest whole number; 100.3 will be 100; 100.8 will be 101 and 100.5 will be rounded down to 100.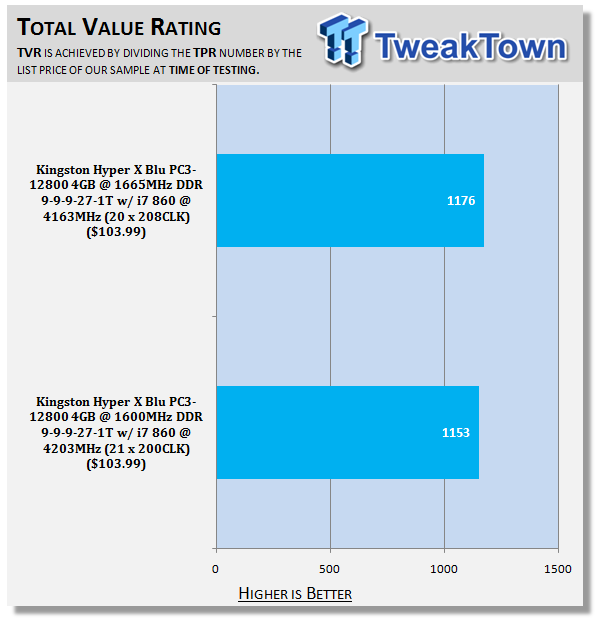 With this being the first kit we've looked at on the upgraded testbeds, it's hard to gauge the value of this particular kit when compared to others.
Final Thoughts
At $103.99 this is the cheapest 4GB HyperX kit we've seen to date. Its performance isn't bad. It's not mind blowing in any sense of the word, but it's ultimately what you would expect from a kit that carries with it a CL9 setup at 1600MHz DDR.
While we have no doubt that Kingston are trying to take advantage of the HyperX name to sell more budget friendly kits, we have to wonder if this is the right move. The answer to that one is fairly easy. If this was a Kingston HyperX kit we were looking at then this isn't the right strategy I feel. Instead, by creating a budget friendly series within that series, in this case the HyperX blu, it does separate itself from the higher end kits we've looked at in the past.
HyperX is more than just speed; it's also about quality and now what you're seeing is a series that you would confidently install in your mums PC. Sure, you would take the more traditional HyperX kit you've grown to love for your rig, while you would install HyperX blus in your mums machine since you're confident in it as it's a part of that trusted HyperX brand.
HyperX blu is the bridge between Value RAM and traditional high end HyperX. It carries the pros from both sides; cheaper price tag from the Value area and nicer heatsink from the traditional line. The PC3-12800 4GB HyperX blu is a good start for the series and we're looking forward to seeing more and more modules fall under the label in the future.