Quick Review: Sony KDL-40EX700 LCD TV
Want to watch the latest episode of your favourite show? Let's see if the KDL-40EX700 is up to the job.
Published
4 minute read time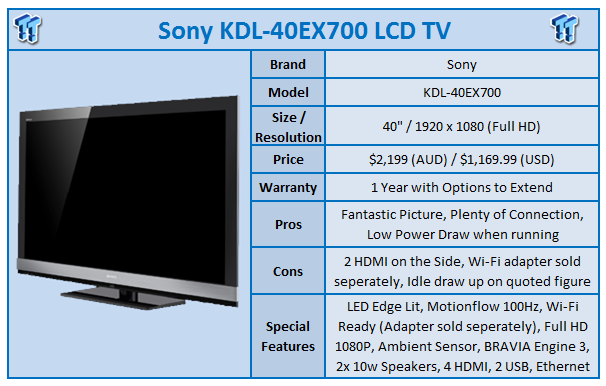 You get the feeling that people feel that by owning a Sony product you've probably paid more than you need to. The bottom line is that like most companies, Sony have such a massive range in the Television department that they cater for every budget and every room, be it the lounge or theatre room to the bedroom and bathroom.
While the EX700 series might not sit at the peak of the Sony mountain, there's some clear attention to detail that would make you think differently. While the box lacks any real flair due to its monochrome design with few red accents, you've got a picture of the TV that sits inside the thin box.
Being an Edge Lit LED TV, it comes as no surprise we're dealing with a thin box with the TV being 6.4cm at its thickest point. To help keep the box slim, though, the TV itself isn't connected to a stand which is 28cm wide. Pulling the TV out at 14.9Kg is an easy task, but you need to make sure you've got somewhere to put it as you quickly realize there's no stand currently installed.
The stand comes in just shy of 3Kg, making the TV and stand weigh just under 18Kg. The 40" size means that it's easy for one person to handle. The stand itself is an easy setup and again only needs a single person. You can slide the TV onto the stand and then screw four screws in to help keep it secure. With the option to wall mount, there's also a cover included in the package that sits where the stand would go and just helps keep everything neat.
With the 40EX700 setup it's time to get into the specifications table and it looks impressive; 1080p Full HD Support, 100Hz Motionflow, 24P support, BRAVIA Engine 3, Edge Lit LED, BRAVIA Internet Video and Ambient Sensor to name some of the major ones.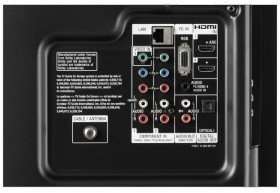 Connectivity is where you begin to see more expensive models shine and the 40EX700 doesn't disappoint. 4 HDMI (2 Rear / 2 Side), USB 2.0, Ethernet (BRAVIA Internet Video), 2 Component / Audio In, 2 Composite / Audio In, VGA, Optical Output, Audio Out and Headphone Out (Side).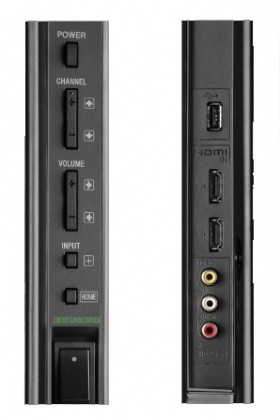 As mentioned, some of our ports are located on the side which can be seen above. On the right side we've got a few buttons that let us control some of the basic functions including power, channel, volume, input, home and a hard power switch.
Aesthetically the 40EX700 is very understated; a piano black bezel with a nice strip of brushed aluminium across the bottom make for a very simple yet stylish TV. It could easily blend in with your decor which makes the whole TV elegant.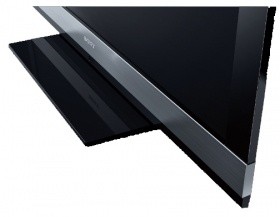 Thanks to its LED Edge Lit design, the TV is again very thin which adds another level of visual pleasure to the whole setup. While not the most expensive TV in the Sony line up, the decision to add the brushed aluminium takes it to another level. Wall mounted, this would look beautiful.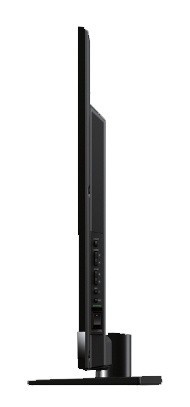 The remote offers all the standard buttons you would expect along with some extras due to BRAVIA Sync support, giving you the ability to control some other Sony devices. No backlighting is present which does kill the mood a little, but range and response is quick and precise.
The built in tuner does a great job and quality under HD really does look great. The TV Guide is attractive and shows a preview of what's on the channel when you hover over it. There would be no reason to buy a separate tuner unless you wanted a PVR system.
Checking out some pre recorded HD and SD content, the picture really is beautiful when viewing HD sport content. Watching some of the World Cup, you could see some ghosting on the ball when kicked with speed, but moving Motionflow from standard to high seemed to reduce it.
If the 40EX700 wasn't already looking beautiful enough, firing up Toy Story on Blu-ray just brought the screen to life. Avatar did much the same and thanks to the screen supporting 1080/24p over HDMI, the level of smoothness is sensational. The only time we see any real flaw in the picture is when the contrast is set high; if you can avoid the need to increase it then you should be extremely happy.
In Standby power draw bounced around .4 and .5w with it occasionally going to .6w which seems to be higher than the.2w that Sony quoted, saying that it was slightly lower than the smaller 32" LED Kogan we looked at recently, which isn't bad considering this is a larger unit. As mentioned, though, this number can be brought down to 0 by flicking the power switch on the right side of the TV.
When running Sony quotes 107w power draw. We're hoping that they haven't been too lenient again. With the picture preset at Standard we saw only 51.7w while at Vivid we saw 67.1w. When running TV and Audio through our Amp both numbers were well below the quoted figure from Sony. Moving to the built in tuner and using the TV speakers, power draw was only 52w when at Standard and 67.8w at Vivid.
With an RRP of $2,199 in Australia it's far from a cheap investment. A bit of hunting around, though, or asking for a better price should result in a discount of at least 10%. If you want to make use of BRAVIA Internet Video via wireless networking, the adapter will set you back a further $99.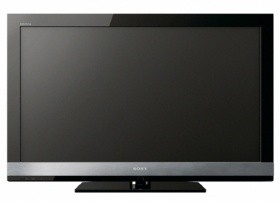 Full HD support, plenty of HDMI, built in Ethernet, 24P support and BRAVIA Internet Video are just a few of the features on the very impressive list that make the 40EX700 stand out. The only real gripes with the 40EX700 would be that two HDMI ports are on the side which can be annoying if you're opting for a nice clean setup. The other is the small issues at high brightness, but that's something that can easily be combated and of course the typical speaker issue that plagues LED Lit TVs and while the 40EX700 speakers sound better than some other LED based TVs, a separate little setup wouldn't go astray.
If all that wasn't enough to make the TV stand out, the fact that its power figures when running are so low mean that if you're for a cheaper power bill it could be a very nice improvement over what you currently have. An impressive feature list, reasonable price tag and some nice little extras that you would expect on more expensive models make the KDL-40EX700 a beautiful TV; you just need to decide if 40-inch is enough for you.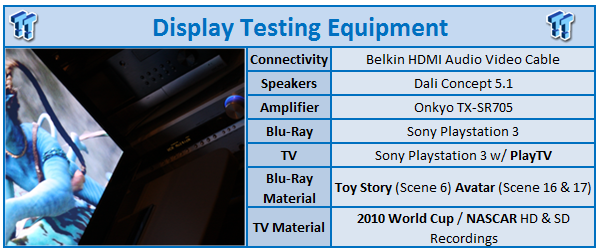 PRICING: You can find products similar to this one for sale below.

United States: Find other tech and computer products like this over at Amazon.com

United Kingdom: Find other tech and computer products like this over at Amazon.co.uk

Australia: Find other tech and computer products like this over at Amazon.com.au

Canada: Find other tech and computer products like this over at Amazon.ca

Deutschland: Finde andere Technik- und Computerprodukte wie dieses auf Amazon.de