QNAP TS-459 Pro 4-Bay TurboNAS
At CES QNAP launched a slew of new NAS products that feature Intel's latest dual core Atom processors. Today Chris takes a look at the performance.
Published Mon, May 10 2010 2:11 AM CDT
|
Updated Tue, Nov 3 2020 7:02 PM CST
Rating:

92%
Manufacturer: QNAP
Introduction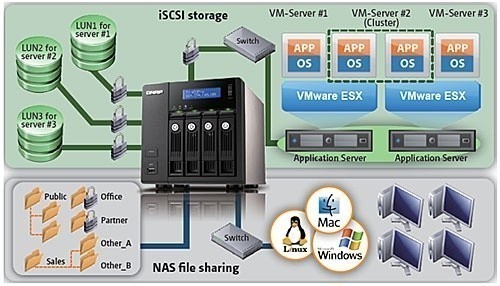 At CES Cameron and I paid a visit to QNAP's booth to take a look at several new NAS appliances and servers the company launched at the show. Little did we know that the new product lineup would be so extensive, almost a top to bottom refresh. The first of the new dual core Intel Atom products has been here for a month now and I have to come right out and say that I am very impressed. It is a good thing too since the TS-419P TurboNAS
we reviewed last year
didn't fare as well as we were hoping.
Even though the TS-419P and TS-459 look nearly identical outside, the two are completely different inside. The 419P used a Marvell processor and in our testing we felt that it and the firmware held the NAS back from performing as well as it could have. The latest run of firmware from QNAP and the new dual core Atom processor have now cleared those issues, but it comes at a higher initial cost to users. We will touch more on the cost and the additional productivity in the conclusion.
As with all QNAP NAS appliances, the TS-459 TurboNAS has an extensive feature list that includes some of the most desired software features in the industry. A new feature that has been added is VMWare Certification that adds support for vSphere ESX 4.0 and above.
Let's take a look at the specifications and add-on package then get to the data transfer rates that are truly spectacular.
Specifications, Availability and Pricing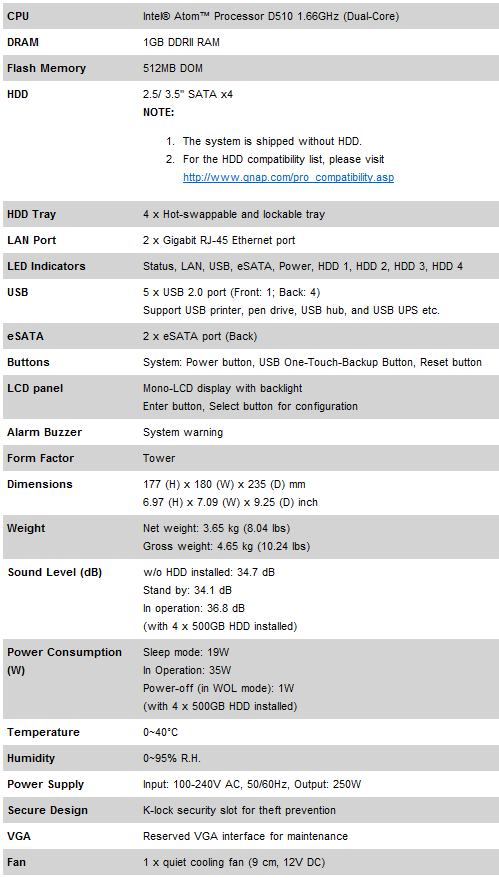 With a 1.66GHz dual core Intel Atom QNAP has positioned the TS-459 TurboNAS at the upper end of the SMB NAS appliance market. To call the 459 an appliance is really an understatement since the new hardware moves the performance of the NAS deeply into NAS server territory. I think you will agree once we get into testing since in small office environments the transfer rates are nearly equal to those found on the flagship 8-drive TS-809.
Many of the same hardware features found on the TS-809 are also found on the new TS-459 that we are reviewing today. Dual eSATA and dual gigabit Ethernet are really just the start; other features like 5 USB 2.0 ports, one with a hardware quick button for easy backup are included as well as the LCD display that allows for easy front panel configuration.
When it comes to the cost, we found that you will have to pay a premium for the QNAP TS-459 TurboNAS. Newegg had the NAS
listed at 899.99
for a short while, but it's currently showing an empty inventory. But you won't have issue finding it for the same price elsewhere. This is a full 200 USD more than what the TS-419P was when tested, but the TS-459 is a significant upgrade. QNAP does offer another new model that is capable of using up to four drives and has a reduced cost, the TS-439 TurboNAS. If you are not comfortable installing drives and configuring a new NAS for your network, we have recently learned that AVADirect offers free configuration of NAS products when purchased from the company. They
list the AVADirect QNAP TS-459 TurboNAS
on their configuration website already.
Software Features

As you can see, the software features list is quite impressive and offers more options and add on tools than any one office or person could use. That was really the idea behind offering a total package to consumers and businesses. If everything is covered then no one is left out.
For more detailed information on the QNAP software package please take a few minutes to read over our
QNAP Software Deep Dive
.
The Packaging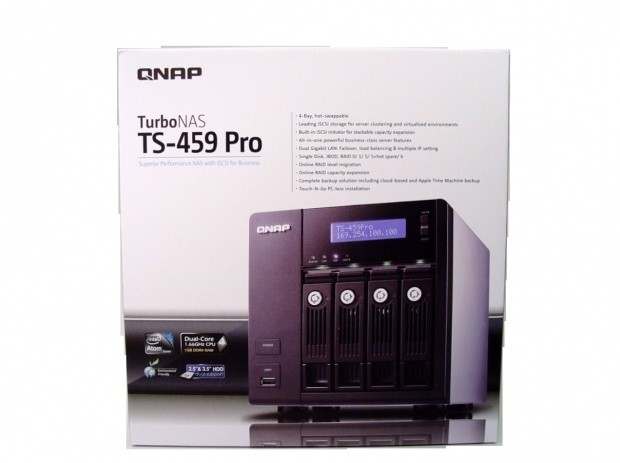 QNAP went with a white box for the TS-459 TurboNAS this round. On the front we see some of the features listed as well as a large image of the NAS.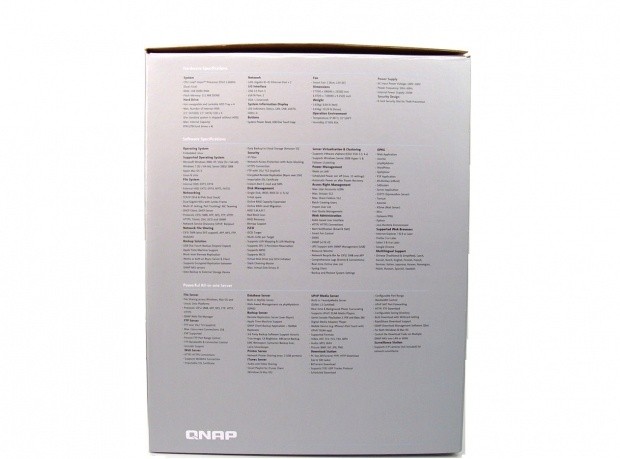 The side of the package lists all of the hardware, software and capability features. As you can see, it is quite an extensive list.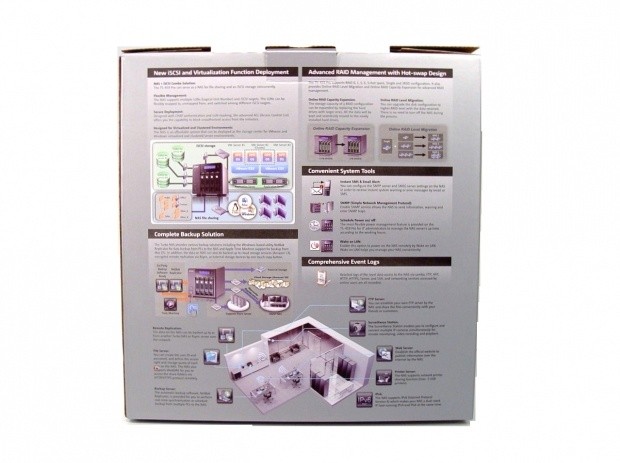 The back of the package has some typical usage scenarios and shows some of the more advanced business capabilities like iSCSI.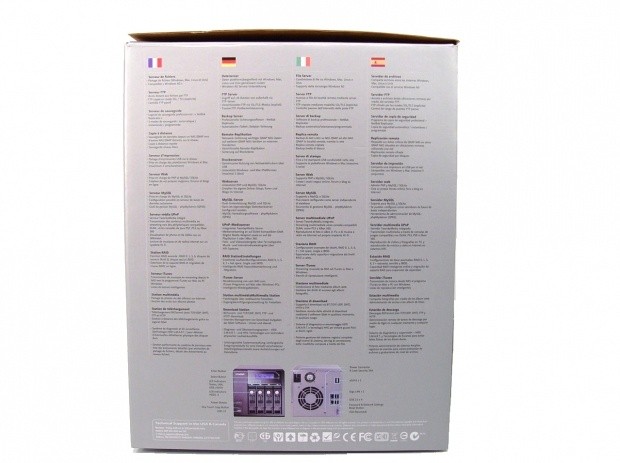 Yet another list of functions is listed on the other side, this time in more detail and in other languages.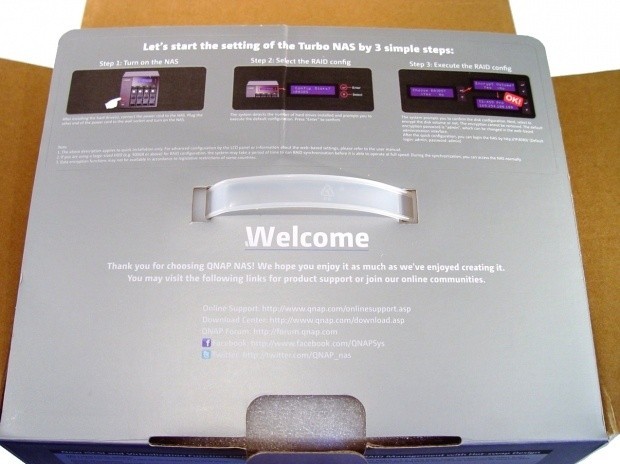 One of my favorite areas on the box is actually found when you open it. A quick start guide is printed right on the box and it will get your system up and running with ease.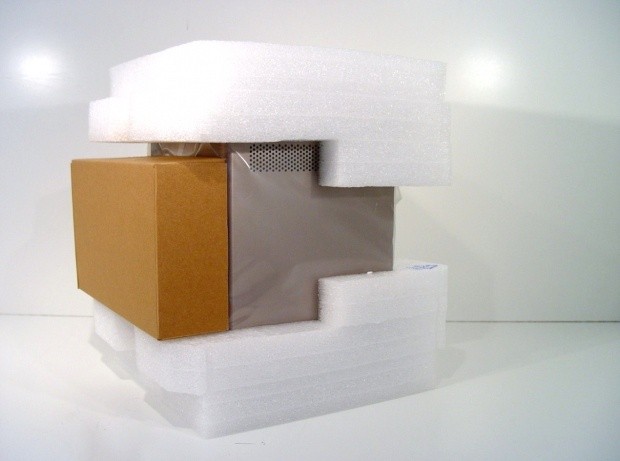 As with all large packages, getting the NAS to you safely is just as important to how well it performs. Here we see that QNAP packages their TS-459 TurboNAS very well, so there is little chance of it being damaged during shipping.
The QNAP TS-459 Pro TurboNAS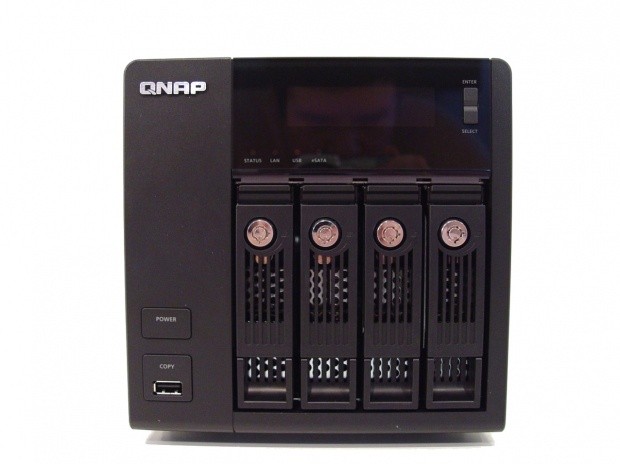 The front of the TS-459 is where the drives are loaded. Here we see the four locking drive bays as well as the power button, quick copy button for the front USB port and the setup display with buttons for quick configuration changes. There are also status lights for power, USB, eSATA and LAN activity.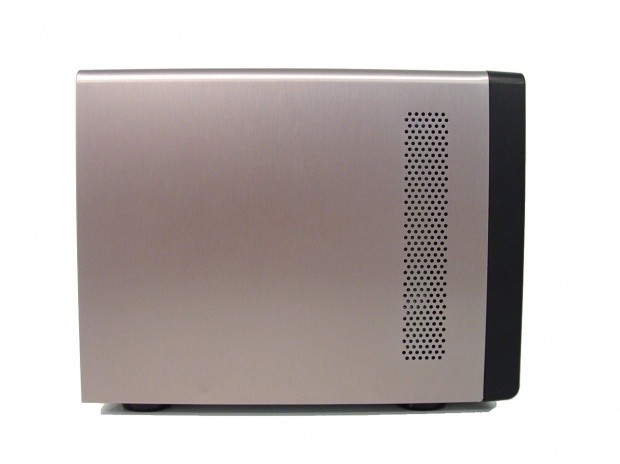 The side of the TS-459 has a brushed aluminum look with additional ventilation to keep the NAS cool.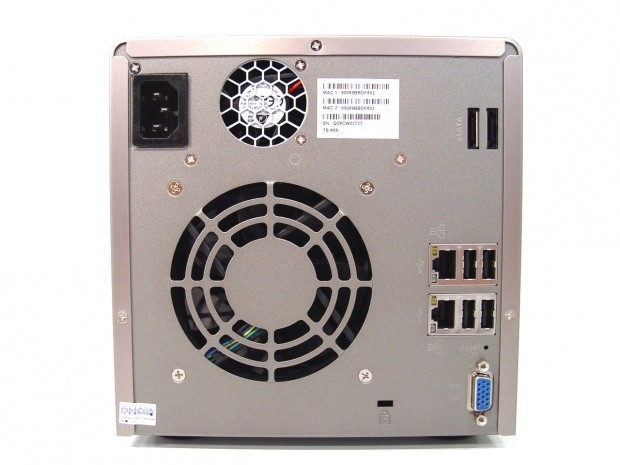 The rest of the ports are located on the back of the NAS. Here we see dual eSATA and dual gigabit Ethernet as well as four USB ports, COM and power connectors. The power supply is built into the unit and has its own temperature controlled fan that aids in cooling with the main temperature controlled fan. In our testing the NAS was very quiet and would be a welcome addition to a desktop in your main work area.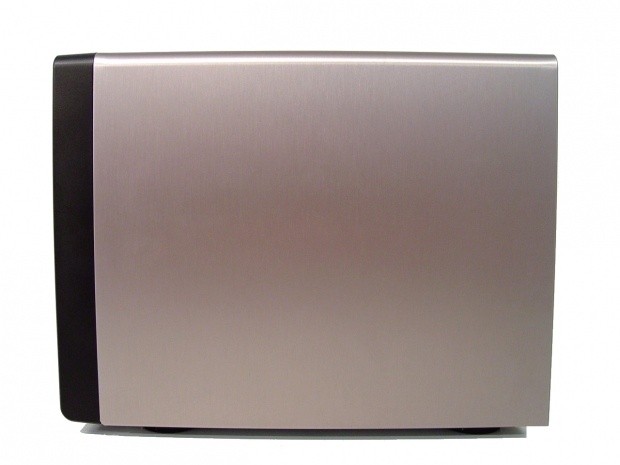 The other side of the NAS is also brushed aluminum.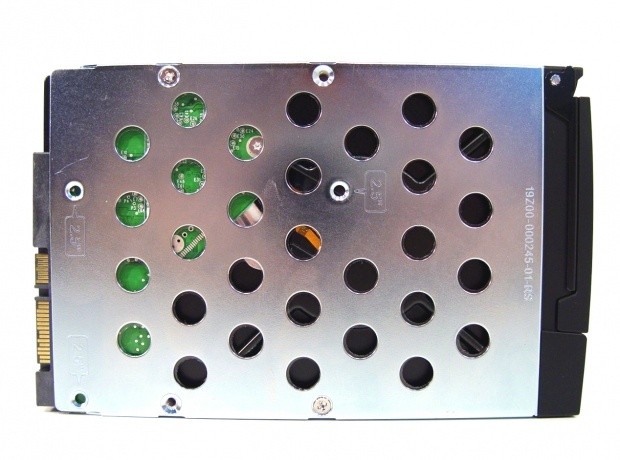 New for QNAP this year is compliance with 2.5 inch form factor drives. Here we see the new drive carrier that marks the mounting locations.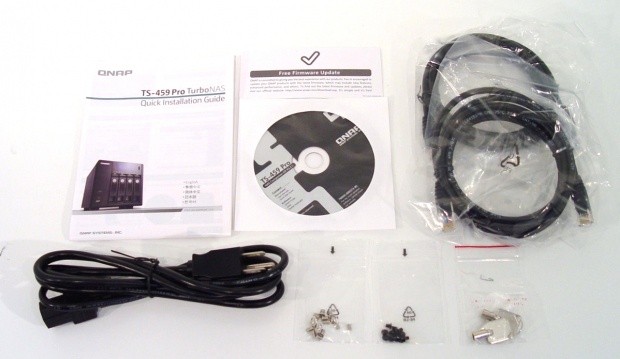 QNAP includes a pair of manuals with the TS-459 TurboNAS as well as a disk with software utilities and an additional full user manual. Two Ethernet cables and a power cable are also in the package as well as the mounting screws and locking keys.
Test System Setup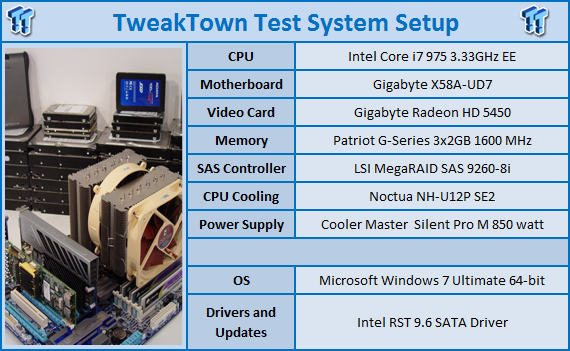 We would like to thank the following companies for supplying and supporting us with our test system hardware and equipment:
AVADirect
,
GIGABYTE
,
Patriot
,
Cooler Master
,
LSI
,
Noctua
and
Seagate
.
Intel NASPT
The Intel NAS Performance Toolkit (NASPT) is a file system exerciser and analysis tool designed to enable direct measurement of home network attached storage (NAS) performance. Designed to emulate the behavior of an actual application, NASPT uses a set of real world workload traces gathered from typical digital home applications. Traces of high definition video playback and recording, office productivity applications, video rendering/content creation and more provide a broad range of different application behaviors.
With version 1.71 we are able to test with Windows 7 64-bit, but to keep the results accurate you must limit your system RAM to 2GB or less. With only a single 2GB stick of memory installed you can test with Windows 7 64-bit. Also, a new test was added, Office Productivity, but several tests were removed by default like 3 Source HD Video Playback and Backup / Restore.
Today we will be testing the QNAP TS-459 and comparing its performance to the QNAP TS-419P TurboNAS, a previous generation NAS appliance. Both NAS servers we tested with Seagate ES.2 1TB drives that have been provided to us by Seagate for all of our NAS server and RAID controller testing.
Benchmarks - HD Playback
HD Video Play - 720p HD stream from Windows Media Player* 256kB reads
2HD Video Play - 2x playback
4HD Video Play - 4x playback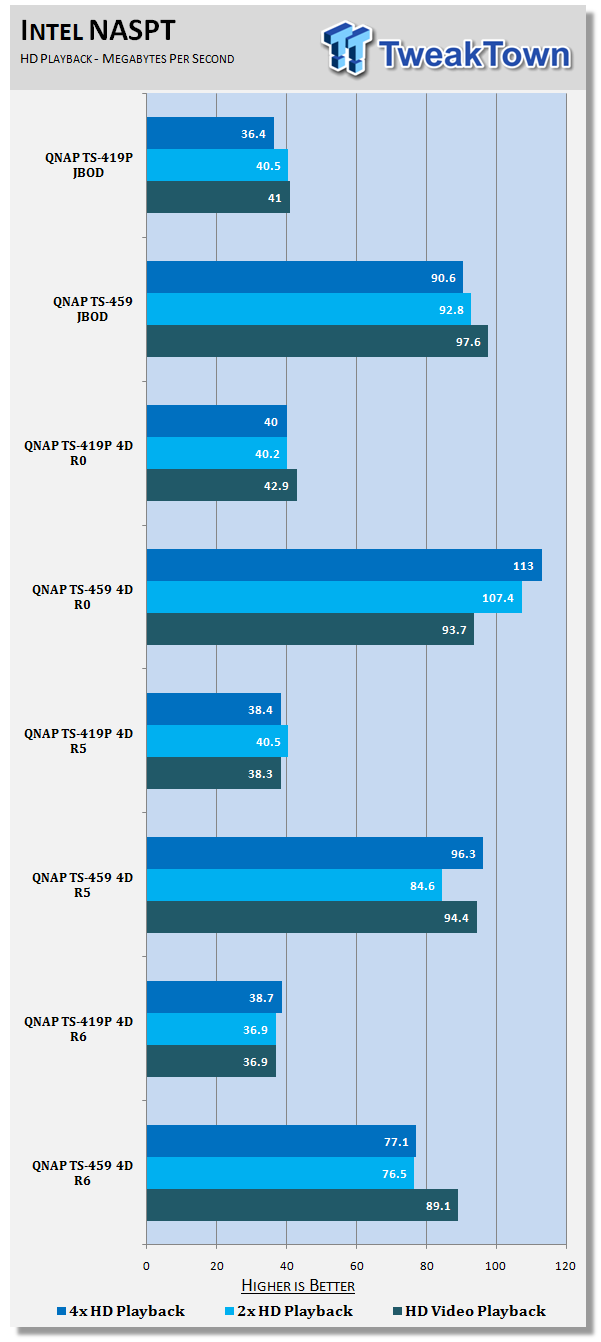 Right from the start we see performance levels from the QNAP TS-459 TurboNAS that belittle what we achieved with the TS-419P. This level of performance is very close to the results we were able to achieve with the flagship TS-809 TurboNAS.
Benchmarks - HD Record
HD Video Record - 720p HD stream, 256kB writes
HD Video Play & Record - 1 playback, 1 record simultaneously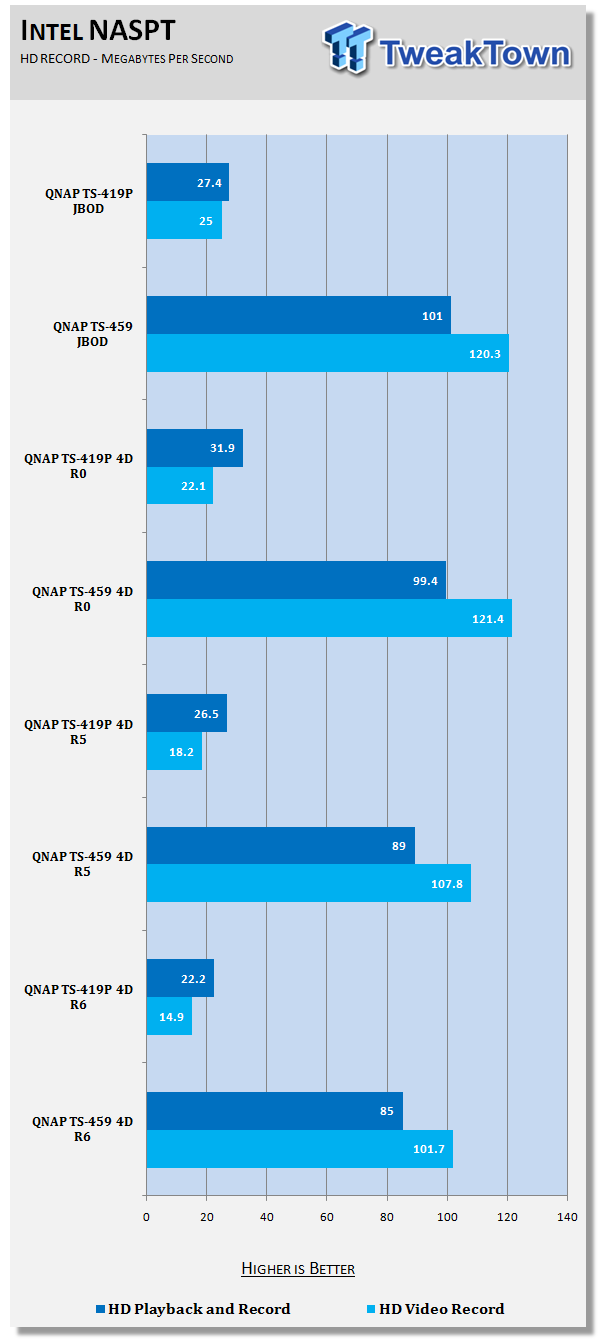 That same level of enterprise performance carries over to writing HD video to the TS-459 TurboNAS. Here we see that the NAS can write large data files nearly as well as it can read them.
Large files are one area that a well put together NAS can do easily; let's take a look at the small file read and writes.
Benchmarks - Content
Photo Album - All reads - wide distribution of sizes
Office Productivity -
Content Creation - 95% writes; 1k, 4k & little reads; Writes up to 64kB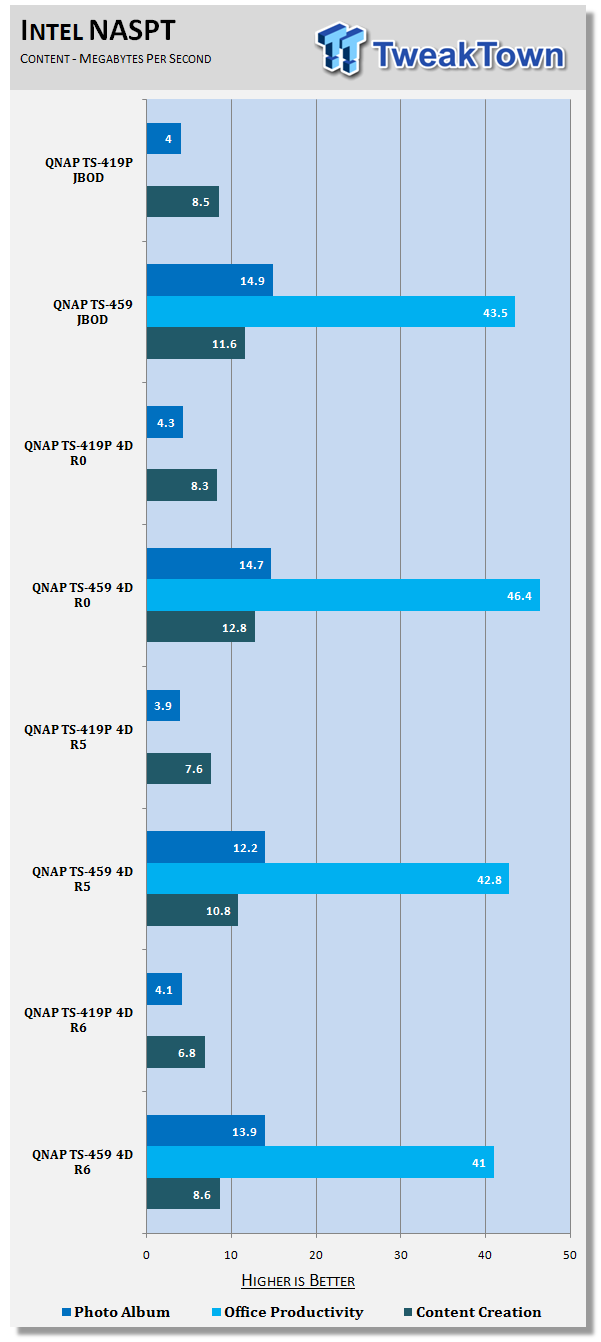 Small file writes are an area where NAS appliances and servers struggle to keep up with direct attached storage systems. Here we see that the Photo Album and Content Creations tests slow the system considerably, but we do still see a large performance increase over the previous generation TS-419P.
The Office Productivity Test was not run on the TS-419P since it was not available at the time of testing. In this area, one of the most often used in a small business environment, the QNAP TS-459 TurboNAS is able to put up solid performance in all RAID array types.
Benchmarks - Copy
Directory Copy From NAS - 64kB reads
Directory Copy To NAS - Predominantly 64kB writes, wide scattering under 16kB
File Copy From NAS - 4GB file copy, 64kB reads
File Copy To NAS - 64kB writes

The next widely used area in small business is file copy to and from the NAS. Here we see spectacular performance from the TS-459 TurboNAS that nearly rivals the performance of the flagship unit.
Final Thoughts
QNAP has always taken their SMB business seriously and have now been able to offer these products with the transfer rates found in their entry level enterprise models. For many years there has been a decent sized divide between these two markets when it comes to performance, but that line has now been blurred. The TS-459 TurboNAS is at the top of the upper levels for SMB, but with other products like the TS-439 II using Atom processors now the technology and performance increases are sure to make their way down the ladder.
When it comes to the cost of the TS-459, TS-439 II and TS-419P, we see quite a divide. The 459 that we reviewed today has a cost of 899, whilst the 439 II is at 849 and the 419P was 599 USD when
we reviewed it
. Certainly there is a sizable cost difference, but that also comes with a sizable performance difference as we have shown here today. Once you start to calculate the amount of time needed to transfer data in the office and apply a cost to the time spent waiting, we can start to see how spending more upfront on the faster model will equate to long term cost savings. These savings may, over time far outweigh the initial cost since these units are built to provide many years of service and the need for replacement is often as long as ten years out.
QNAP has done a very good job when it comes to adding new software and features to their NAS products and this includes models made years ago. The latest software for the TurboNAS line includes support for Bit Torrent downloads, IP Camera feeds and a host of other features that make their NAS products far more than just file servers. Even calling a QNAP NAS a file server is downplaying the roles they take over in your network or office. It is typical these days to see a single unit acting as a file and web server while also working as web space for developers and even your associates personal music storage that everyone streams music out of while keeping it a secret from the network admin.
Administrators looking to keep enterprise levels of control need not worry since the same tools found in QNAP's flagship models are also found in the TS-459 TurboNAS. The QNAP software system is easy to configure for both large workgroups as it is for small offices and home businesses looking to gain entry level enterprise performance with enterprise level features.
PRICING: You can find products similar to this one for sale below.

United States: Find other tech and computer products like this over at Amazon.com

United Kingdom: Find other tech and computer products like this over at Amazon.co.uk

Australia: Find other tech and computer products like this over at Amazon.com.au

Canada: Find other tech and computer products like this over at Amazon.ca

Deutschland: Finde andere Technik- und Computerprodukte wie dieses auf Amazon.de
We openly invite the companies who provide us with review samples / who are mentioned or discussed to express their opinion. If any company representative wishes to respond, we will publish the response here. Please contact us if you wish to respond.