Adaptec RAID 5805Z PCI-E x8 SATA/SAS RAID Controller
Adaptec has a RAID controller that is heavy on features and technology advancements.
Published Tue, Feb 9 2010 10:05 PM CST
|
Updated Tue, Nov 3 2020 7:02 PM CST
Introduction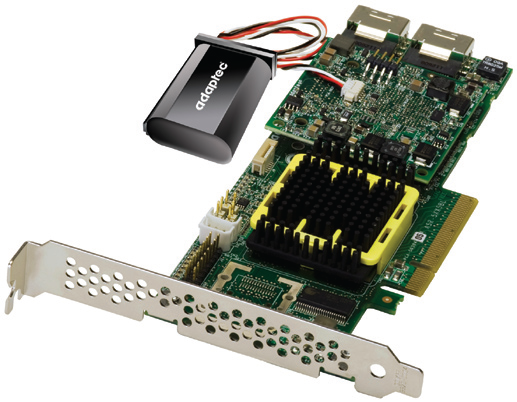 In June we
wrote an article
about Adaptec's new Zero-Maintenance Cache Protection and explained how the company planned to introduce a revolutionary technology that would leave the battery protection behind for good. Two months later Adaptec once again broke new ground and
announced their MaxIQ cache system
that accelerates data transfers by using Intel solid state drives to increase I/O performance. Both of these high tech features can be used on Adaptec's Series 5 RAID controllers like the 5805Z we are testing today.
You may notice the 5 Series product naming; the series has already been on the market for over a year but the Z models are updated with the new cache protection system. You can expect to spend around 500 USD for the standard drive without a battery and close to 800 for the Z Series RAID 5805(Z) according to PriceGrabber. The MaxIQ Upgrade Kit is also on the market already, but the price is a bit more significant. Look to spend around 1,100 Dollars for this add-on that is capable of boosting performance 10x as long as your data is able to fit into the "Hot Zone". In the coming weeks we will have the additional MaxIQ hardware in house to test some scenarios that will see performance increases and a few that don't. We will also answer the question, Will this increase the performance of my system?
The only feature that the Adaptec 5805Z does not have a filled checkbox for is SAS 6 GB/s, second generation Serial Attached SCSI. With Seagate and other drive manufacturers releasing these next generation enterprise drives, I was a bit surprised to see Adaptec choosing to release such an impressive feature rich controller and forgoing SAS 2.0.
Let's take a look at the full specifications list of the Adaptec 5805Z and get into testing the new controller with a set of Seagate 15K.7 drives and then fill the controller with eight Seagate 7200.11 1TB drives.
Specifications, Availability and Pricing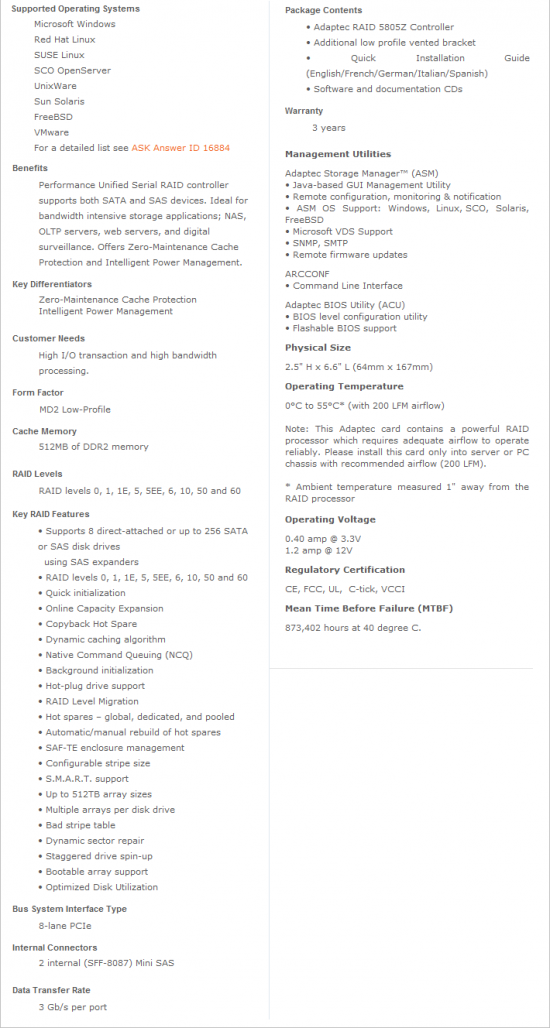 When it comes to the software, Adaptec has you covered with drivers for most operating systems including some of the more obscure ones. One that Adaptec has always excelled is with their management software that gives the users complete control over the adapter. The software is called Adaptec Storage Manager and it is one of the best in the business.
As far as the 5805Z hardware goes, the controller itself has been around for a couple of years now and has been considered one of the best available while at the same time delivering some of the highest performance numbers in review after review.
What makes the 5805Z fresh is the new cache protection system that uses an array of capacitors instead of an expensive battery that would otherwise need to be replaced every year. The new system is called Zero-Maintenance Cache Protection.
Over a five year period you would have to replace a standard battery four times. With a typical battery costing 150 USD (and that is on the low side), that means you will spend 600 USD after your initial purchase and raise your total cost of ownership. Add in the cost of sending a technician four times to the server closet and the hassle of downtime and you can start to see the value offered by the Z-Series.
The rest of the hardware that makes up the 5805Z is just as impressive, but has a few drawbacks when compared to newer product that takes advantage of the latest and greatest in storage technology. The 1.2 GHz dual core RAID on Chip (ROC) controller may be hitting middle age in computer years, but it is still one of the fastest offered today. The 512 MB cache is also a nice touch, but it is onboard and not user replaceable or upgradable.
The last piece of technology that the 5805Z holds onto that other companies are starting to move away from is PCIe 1.0. The 5805Z uses eight PCIe 1.0 lanes while the new LSI and Intel RAID controllers are already using PCIe 2.0 technology. We will see how this plays out today when we put the 5805Z up against the LSI 9260-8I, head to head style.
The Packaging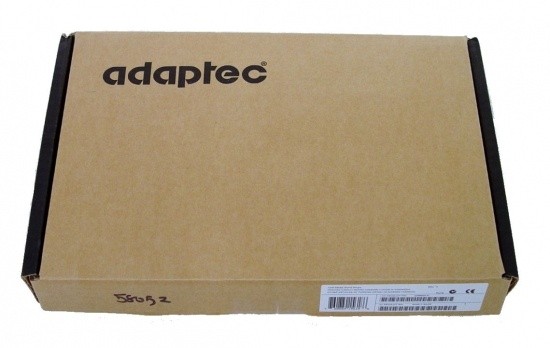 Our sample arrived in typical enterprise brown box fashion, but Adaptec does produce a full retail package as well.

The brown box has the model and serial number on a label at the side.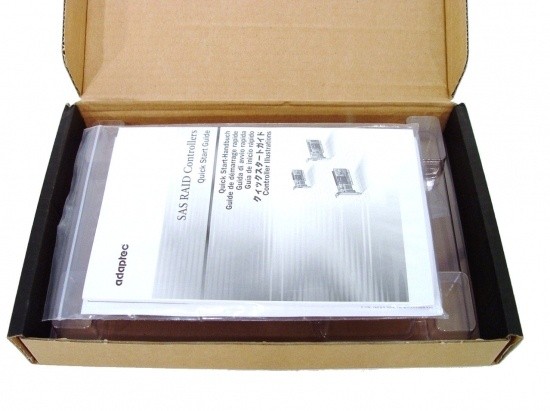 On the top you will find the accessory package.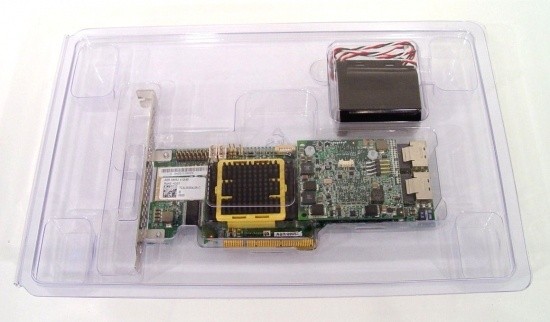 The inner package is designed to protect the card and keep the cache protection package safe during shipping.
The Adaptec 5805Z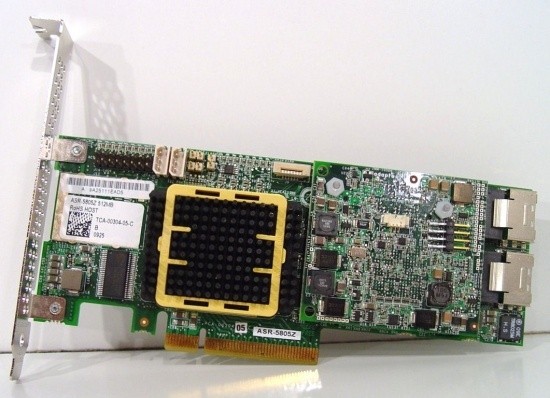 Here we get our first look at the Adaptec 5805Z. The controller has a small black heatsink, but requires a decent amount of airflow to keep the 1.2 GHz dual core cool. The dual SFF-8088 connections are located at the back of the card.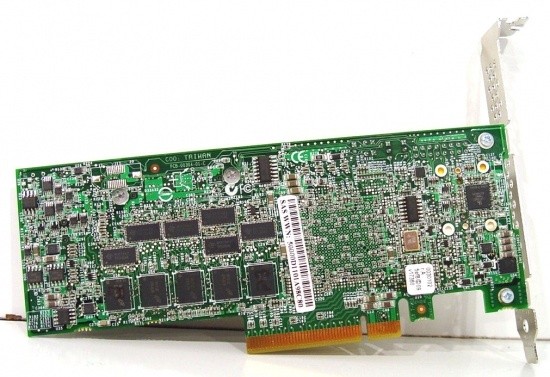 On the bottom of the card we get a glimpse of some of the cache chips and see the PCIe 8x connection.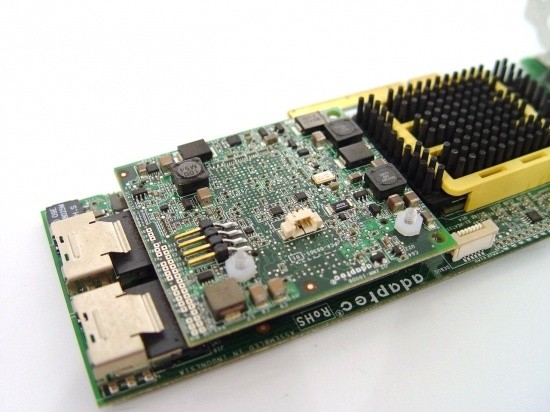 The 5805Z uses a daughter board and this is where the Zero-Maintenance Cache Protection is plugged into the card.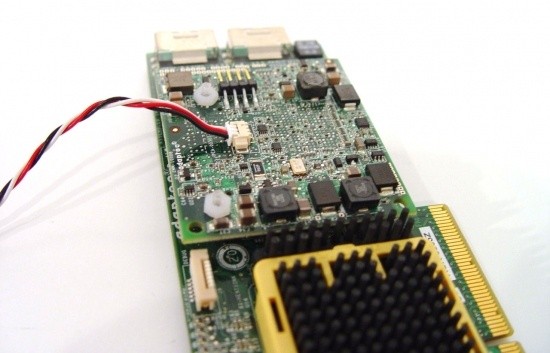 Here we see the cable installed.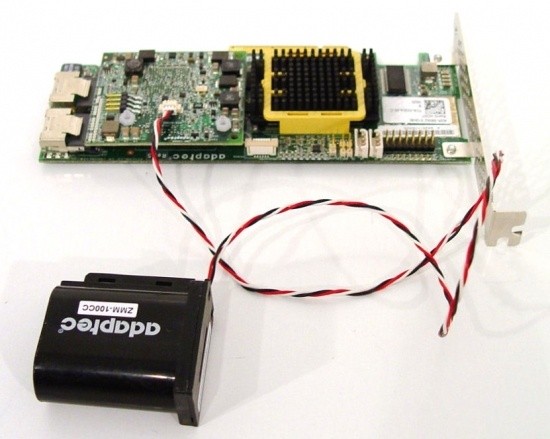 The only down side I was able to find with the Zero-Maintenance Cache Protection is that it does not install directly on the board. Adaptec does include a couple of zip ties so you can put the black box elsewhere and the extra long cable is also a nice touch.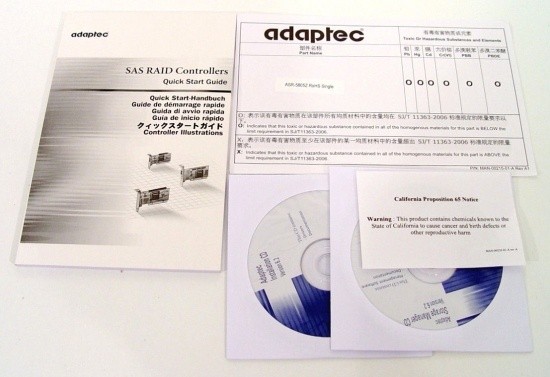 Adaptec includes a nice manual, driver disk and Storage Manager Software with the 5805Z.
Test System Setup and ATTO Baseline
Test System
Motherboard
: ASUS P6T7 WS SuperCoputer (Supplied by
ASUS
)
Processors
: Intel 975 EE (Supplied by
AVADirect
)
Memory
: Corsair Dominator 1600 MHz Triple Channel Kit
Graphics Card
: Leadtek Quadro FX1700 (Supplied by
Leadtek
)
Enclosure
: Lian Li V2000
Cooling
: Noctua NH-U12P SE2 (Supplied by
Noctua
)
SAS Controller
: LSI MegaRAID SAS 9260-8i (Supplied by
LSI
)
Operating System
: Microsoft Windows 7 Ultimate X64
You can read more about TweakTown's Storage Product Testing Workstation and the procedures followed to test products
in this article
.
In just a few days we will have the Adaptec MaxIQ system in house to complete testing, but the system is so advanced that we'd rather run it in a separate article.
As always, we like to run several different tests and use what we have on hand to get the most results. For this review we tested with eight Seagate ES.2 1TB drives as well as three Seagate 15K.7 drives.
For a comparison product we chose to run the 5805Z up against the LSI 9260-8I that uses the new SAS 2.0 technology and PCIe 2.0. In the single drive SAS test we also put in the ASUS P6T7 WS SuperComputer motherboards onboard SAS controller. Can the 5805Z overcome the competition or is it time for Adaptec to hit the drawing board and refresh their product line?
Benchmarks - HD Tune Pro
HD Tune ProVersion and / or Patch Used:
3.00
Developer Homepage:
http://www.efdsoftware.com
Product Homepage:
http://www.hdtune.com
HD Tune is a Hard Disk utility which has the following functions:
- Benchmark: measures the performance
- Info: shows detailed information
- Health: checks the health status by using SMART
- Error Scan: scans the surface for errors
- Temperature display
HD Tune Pro gives us accurate read, write and access time results and for the last couple of years has been gaining popularity amongst reviewers. It is now considered a must have application for storage device testing.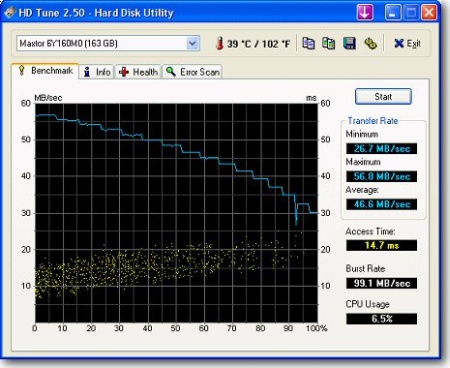 Read Tests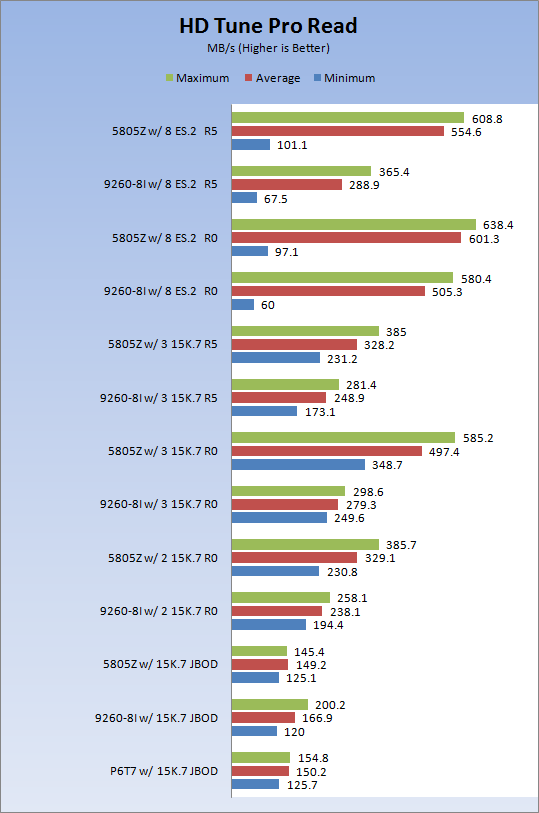 If you think there is a lot of data here, you are right! I had to hold myself back from making massive charts since we have 3x more data that didn't even make it to the charts.
Starting off small with the JBOD 15K.7 drives at the bottom; here we see how SAS 2.0 helps the LSI controller run the ultra fast 15K.7 at full speed. The Adaptec 5805Z is holding the drive back since it only supports SAS 1.0. So in the single drive test the 5805Z is a little off beat in the all so important average score for JBOD SAS 2.0 drives.
Moving onto the 2D (Drive) R (RAID) 0 15K.7 numbers, here we see similar results, just magnified by the additional drive.
The 3D R0 test shows a completely different picture. With three drives the LSI controller fails to scale up while the Adaptec 5805Z gets a boost from the additional drive. The LSI controller has an adaptive cache feature that at times goes against itself in synthetic tests. The 3D R5 numbers also show the Adaptec 5805Z reading data faster than the LSI.
In the large 8D arrays we see the 5805Z once again reading data faster than the LSI 9620-8i.
Write Tests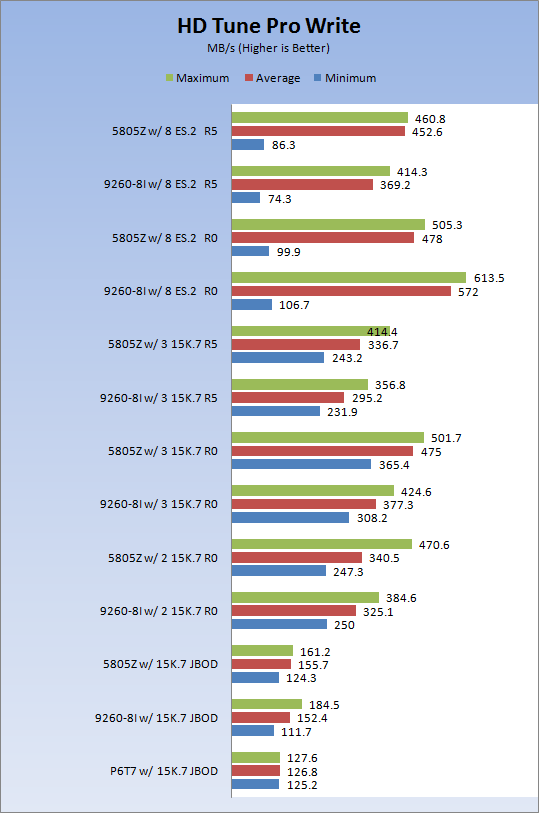 The cache found on both of the discrete controllers in JBOD increases the write speed and puts them far ahead of the ASUS onboard Marvell solution. In these tests we see nearly identical numbers from the controllers.
Scaling the array to two drives in R0, we once again see the LSI 9260-8I taking the early lead by making use of the extra headroom given from SAS 2.0 with the 15K.7. At 3D the LSI once again stumbles and the 5805Z moves ahead. In the 3D R5 tests we see the 5805Z scaling well again while the LSI just kind of hovers.
In the large array we see the two controllers split the benchmark results with the R0 going to LSI and the R5 going to Adaptec.
Benchmarks - PCMark Vantage Hard Disk Tests
PCMark Vantage - Hard Disk TestsVersion and / or Patch Used:
1.0.0
Developer Homepage:
http://www.futuremark.com
Product Homepage:
http://www.futuremark.com/benchmarks/pcmark-vantage/
Buy It Here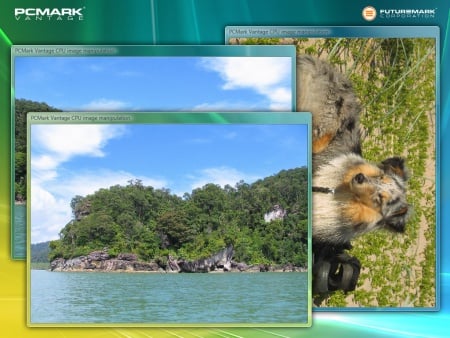 PCMark Vantage is the first objective hardware performance benchmark for PCs running 32 and 64 bit versions of Microsoft Windows Vista. PCMark Vantage is perfectly suited for benchmarking any type of Microsoft Windows Vista PC from multimedia home entertainment systems and laptops to dedicated workstations and high-end gaming rigs. Regardless of whether the benchmarker is an artist or an IT Professional, PCMark Vantage shows the user where their system soars or falls flat, and how to get the most performance possible out of their hardware. PCMark Vantage is easy enough for even the most casual enthusiast to use yet supports in-depth, professional industry grade testing.
FutureMark has developed a good set of hard disk tests for their PCMark Vantage Suite. These tests are based on real world applications that many of us use daily.

HDD1 - Windows Defender
HDD2 - Gaming
HDD3 - Windows Photo Gallery
HDD4 - Vista Startup
HDD5 - Windows Movie Maker
HDD6 - Windows Media Center
HDD7 - Windows Media Player
HDD8 - Application Loading
Talk about a huge graph with a lot of data!
In all tests we don't see a large variation in performance except for a few tests where one controller works better than another at a specific task.
Benchmarks - Passmark
Passmark Advanced Multi-User TestsVersion and / or Patch Used:
6.1
Developer Homepage:
http://www.passmark.com
Test Homepage:
http://www.passmark.com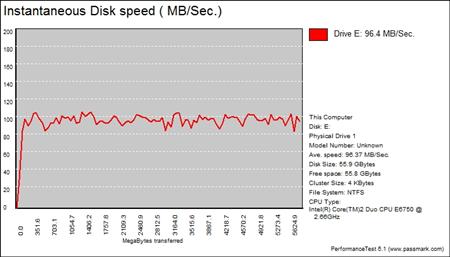 Many users complain that I/O Meter is too complicated of a benchmark to replicate results so my quest to find an alternative was started. Passmark has added several multi-user tests that measure a hard drives ability to operate in a multi-user environment.

The tests use different settings to mimic basic multi-user operations as they would play out on your server. Variances is read / write percentage as well as random / sequential reads are common in certain applications, Web Servers read nearly 100% of the time while Database Servers write a small amount of data.
The Workstation test is the only single user environment and will be similar to how you use your system at home.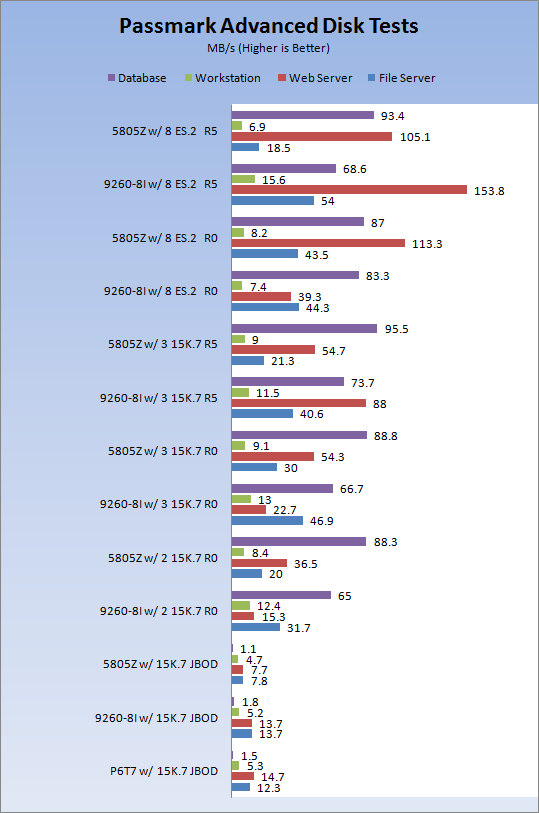 Our server tests also show where each controller works is able to perform better than the other. For these tests the adaptive cache of the LSI controller makes it difficult to get a good read on its real world performance. Just like what we are planning on with the Adaptec MaxIQ tests where we show how and when it will help performance, we are also preparing a special set of tests that show where the LSI adaptive cache is able to aid its performance.
Final Thoughts
Storage adapters are changing rapidly. For years companies used the brute force method to increase performance, more processing power, more cache and more drives. Today we are starting to see how technology and innovative R&D is leading to smarter, more efficient controllers. Adaptec has come up with a great way to reduce the total cost of ownership over the life of a controller with the Z-Series Zero-Maintenance Cache Protection for the 5805. The solution was really so simple, you have to wonder why no one has used it before. Either way, isn't it always the little things that make the biggest differences.
In a few weeks we will have our heads wrapped around the MaxIQ system that uses an Intel X25-E to store what Adaptec is calling Hot Data. The SSD will then be part of a hybrid storage system that has been reported to increase performance by up to ten times.
As a stand alone controller, the Adaptec 5805Z offers great performance no matter what application or use you use it for. Our review is just a standard usage overview with mostly default settings, but Adaptec's Storage Manager Software will allow you to fine tune your card to run your applications or storage server at peak performance.
PRICING: You can find products similar to this one for sale below.

United States: Find other tech and computer products like this over at Amazon.com

United Kingdom: Find other tech and computer products like this over at Amazon.co.uk

Australia: Find other tech and computer products like this over at Amazon.com.au

Canada: Find other tech and computer products like this over at Amazon.ca

Deutschland: Finde andere Technik- und Computerprodukte wie dieses auf Amazon.de
We openly invite the companies who provide us with review samples / who are mentioned or discussed to express their opinion. If any company representative wishes to respond, we will publish the response here. Please contact us if you wish to respond.