QNAP TS-419P Four-Bay Turbo NAS Server
QNAP unleashes a new processor in their consumer flagship NAS that packs more features than most enterprise units.
Published Mon, Nov 2 2009 12:23 AM CST
|
Updated Tue, Nov 3 2020 7:03 PM CST
Rating:

89%
Manufacturer: QNAP
Introduction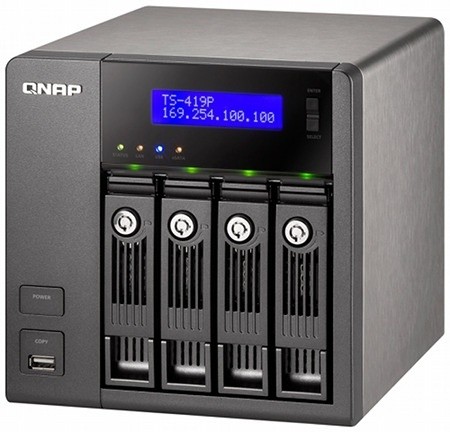 Until now consumer NAS servers have been stuck in the past. Last year we reviewed the Thecus N4100 Pro NAS server and found that its 500 MHz AMD processor was really holding the transfer speeds back. After looking around it was clear that most consumers NAS servers were all in the same boat, great specifications for the entire NAS except for the processor. QNAP has taken note and has just released the new TS-419P Turbo NAS with a 1.2 GHz processor that is bound to perform better than the slower offerings from others.
Generally a large speed increase means a significant price increase, but the new TS-419P is priced well within the consumer market range and is one of the best values going into the 2009 holiday shopping season. If there is someone special in your life this shopping season and they take pictures on a digital camera often, then what could be a better gift than the gift of security?
Today we are looking at the TS-419P Turbo NAS from QNAP, a four drive RAID 0, 1, 5 or 6 NAS server that features an exciting new 1.2 GHz processor from Marvell and is priced at less than 600.00 US Dollars. Let's move on and take a look at the hardware and software specifications.
Specifications, Availability and Pricing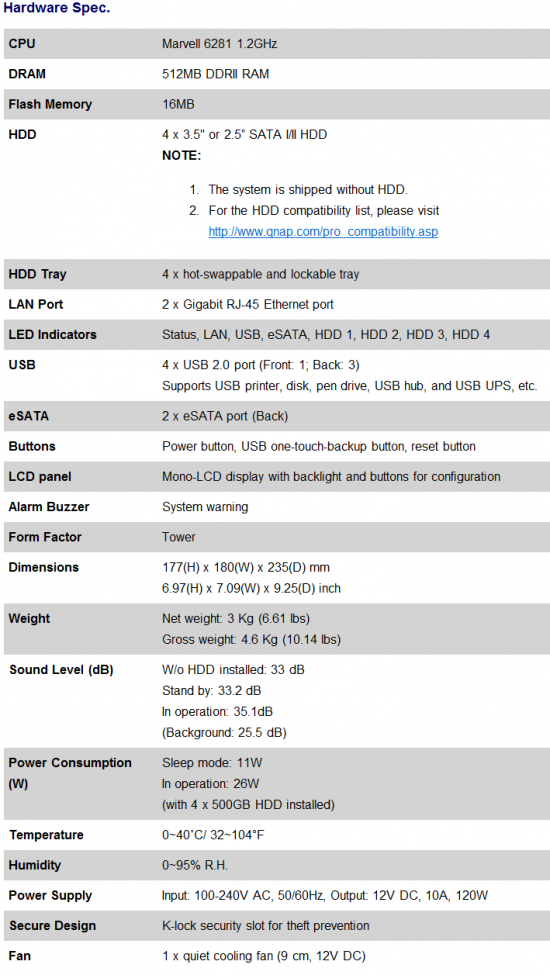 Judging from the hardware specifications alone, the TS-419P will be the fastest 4-bay NAS we have tested to date. Gigahertz plus speed processors are generally kept for much more expensive units, so the TS-419P is a bit of a rarity. The NAS comes with 512MB of RAM which is in line with other products in this price range. If you decide to start using more than a handful of the software features, you may think about adding more RAM to the system to keep everything running smoothly.
Per the QNAP standard, the TS-419P also has a LCD display that gives the user the ability to setup the basics without a PC connected. The display also gives other useful information like system status and IP information while the system is running. The Dual Gigabit Ethernet ports are also used in this system, another feature normally found on higher cost systems.

When it comes to the software, QNAP could have made it easier for us if the spec list just stated Everything Plus the Kitchen Sink. If someone were to make an Ethernet connected sink, I am sure QNAP would have an app on their NAS to control it and if not then one of the many unofficial programmers that make third party apps would come up with something. The QNAP software community is quite large and if there is something that you could dream of that QNAP doesn't include out of the box, just like the iPhone commercial goes, "There is an App for That."
Newegg currently stocks the TS-419P Turbo NAS and it comes in
just shy of 600 USD
without drives. With 640GB drives available for less than 40 Dollars and 1TB drives now at 85 Dollars or less, you can have a fully configured RAID 5 server to store all of your digital keepsakes for less than 900 Dollars.
The good thing is that NAS servers last a very long time and for home users there really isn't a strong need to upgrade after you get a really good one. 900 Dollars may seem like a significant investment, but once you really start to consider how long it will stay in service, say 5 years, your monthly cost for peace of mind comes out to around 15 Dollars a month.
The question now is, is this the right NAS for you? Let's have a look at the hardware.
The Packaging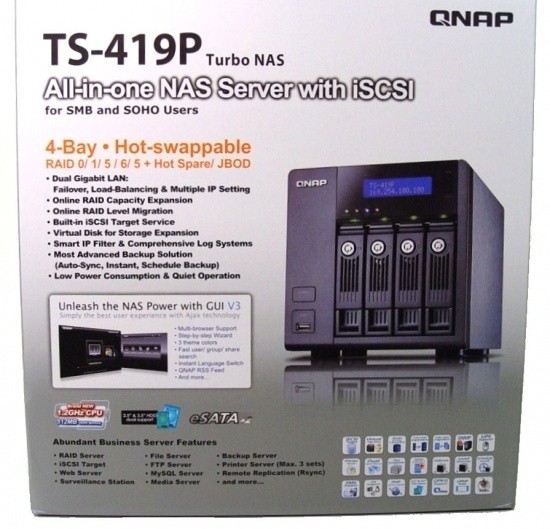 QNAP uses a full retail package with their NAS servers. Here we see quite a few of the features listed right on the front of the box. QNAP also wanted the consumer to see that the new NAS uses a 1.2GHz processor, something that other servers on the shelf will not be able to claim.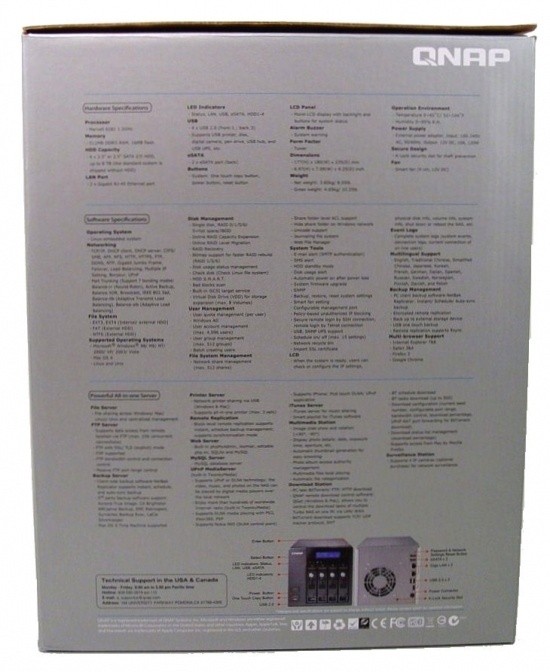 On the side of the package a full list of specifications is given.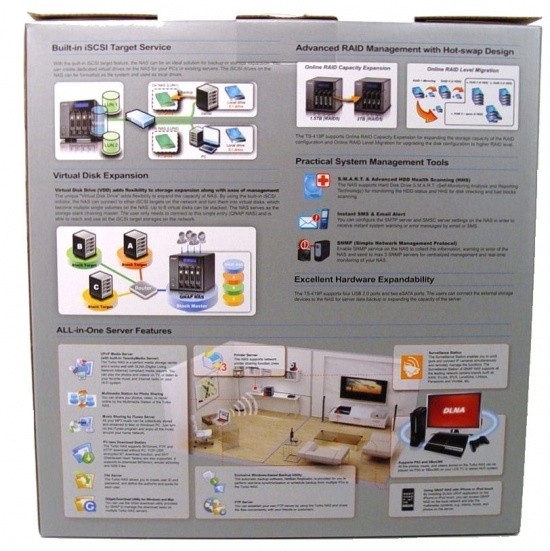 The back of the package shows several features and setup scenarios, most of which will be over the typical consumers head. At the bottom right you can see the DLNA information and how the TS-419P Turbo NAS will work with Playstation 3 video game systems; another really good reason to call the NAS server "a gift."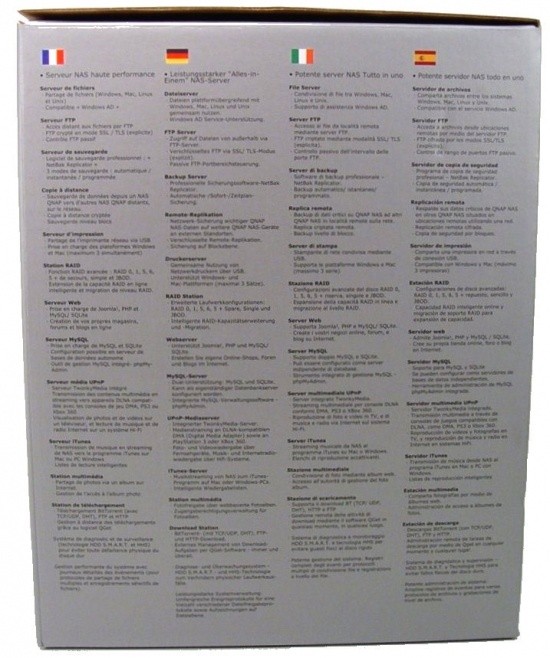 The other side of the box talks about some of the software features. QNAP was not able to get them all listed, which isn't a surprise since the Turbo NAS Series is able to do so much.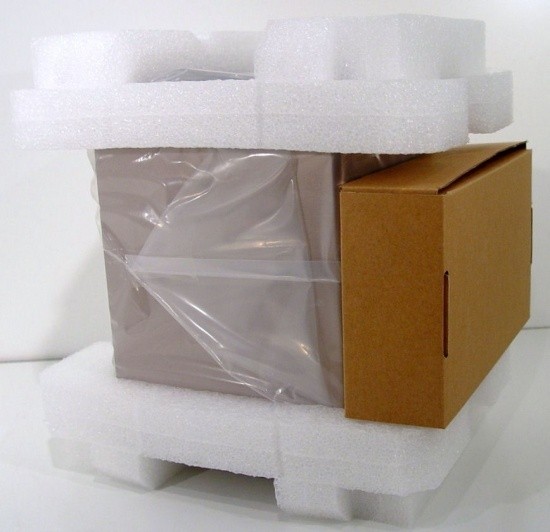 With the outer box removed we see how everything is packaged. QNAP has yet to disappoint me with their safety and attention to detail on the packaging.
The QNAP TS-419P Turbo NAS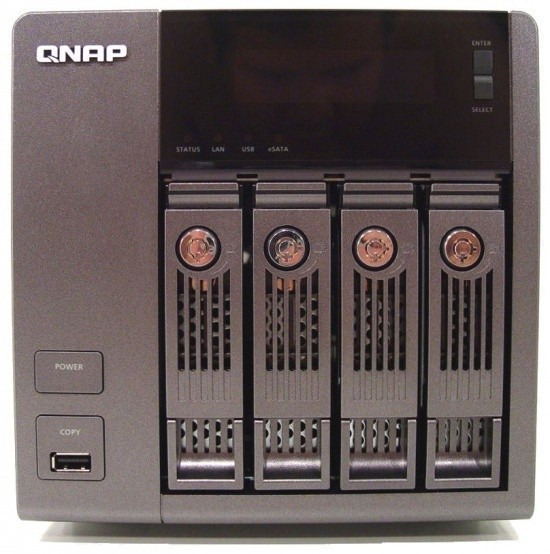 QNAP released a new look for their NAS servers in January at CES. The new line has a cleaner, smoother look that is more appealing to the consumer market since it looks less enterprise like.
There are a lot of features right on the front of the TS-419P. On the lower left side you will find the power button and one touch USB backup. This feature makes it easy to copy the content from your USB devices to the NAS. At the top is the display for easy access to the basic setup features as well. Your four drive sleds are also accessible in the front of the unit.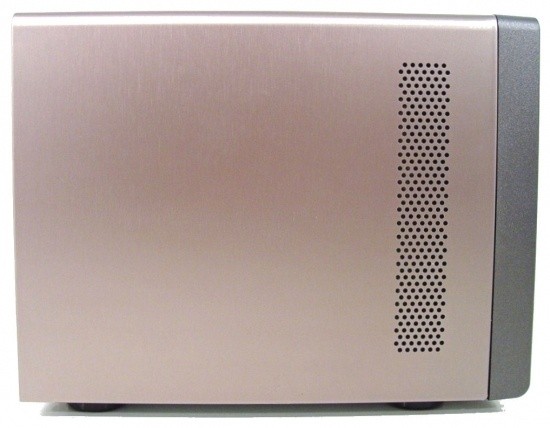 The TS-419P is surprisingly light since the power supply is external. With the PSU outside of the box there isn't a lot of hardware to cool, so the unit is very quiet and still able to keep the drives cool. Here we see some of the cooling vents.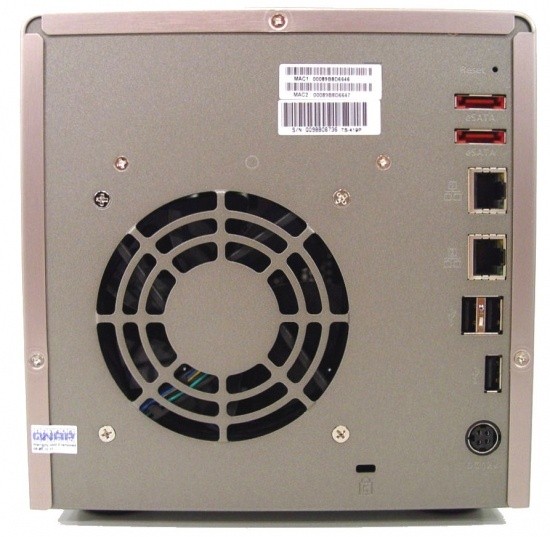 All of the power and data connections (other than the front mounted USB) are located on the back of the unit.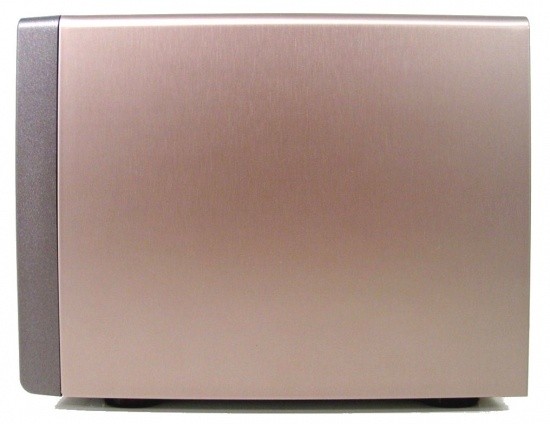 The other side of the NAS is just a standard case.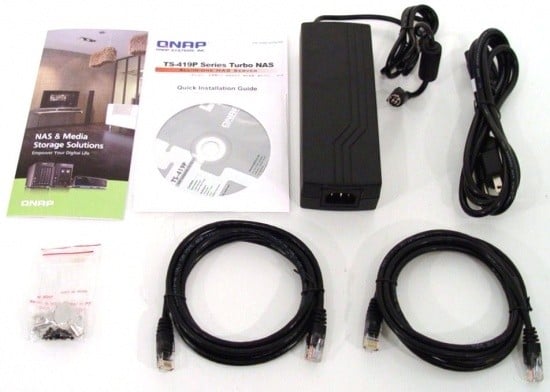 QNAP has always been very generous with their accessories. The PSU is a brick style and it uses a standard power cord. QNAP has included several sets of keys to lock the drives and they have even included an extra set of screws just in case you misplace a few.
Test System Setup
Test System
Motherboard
: ASUS P6T7 WS SuperComputer (Supplied by
ASUS
)
Processors
: Intel 975 EE (Supplied by
AVADirect
)
Memory
: Corsair Dominator 1600 MHz Triple Channel Kit
Graphics Card
: Leadtek Quadro FX1700 (Supplied by
Leadtek
)
Enclosure
: Lian Li V2000
Cooling
: Noctua NH-U12P SE2 (Supplied by
Noctua
)
SAS Controller
: LSI MegaRAID SAS 9260-8i (Supplied by
LSI
)
Operating System
: Microsoft Windows Vista Ultimate X64
Today we are going show the results of testing the QNAP TS-419P Turbo NAS on the new Storage Product Test System. To spice things up we will also include the results of the N4100 Pro tested on a similar system.
Intel NASPT
The Intel NAS Performance Toolkit (NASPT) is a file system exerciser and analysis tool designed to enable direct measurement of home network attached storage (NAS) performance. Designed to emulate the behavior of an actual application, NASPT uses a set of real world workload traces gathered from typical digital home applications. Traces of high definition video playback and recording, office productivity applications, video rendering/content creation and more provide a broad range of different application behaviors.
With the latest version of NASPT, users may even add their own custom traces. NASPT reproduces the file system traffic recorded in these traces onto whatever storage solution the user provides, records the system response, and reports a rich variety of performance information.
As far as our testing methods go, we test in several different configurations because most users will start out with one or two drives and add them as needed, migrating the RAID array along the way.
For a comparison we chose to use the Thecus N4100 Pro, a 4-bay NAS server that we tested in 2008. The N4100 Pro uses an AMD processor running at 500 MHz and uses 256MB of cache. Newegg
still lists the N4100 Pro and it is available for 419.99 USD
. The QNAP TS-419P should beat this NAS in all of the benchmark tests; let's see how they fared.
Benchmarks - HD Playback
HD Video Play - 720p HD stream from Windows Media Player* 256kB reads
2HD Video Play - 2x playback
3HD Video Play - 3x playback
4HD Video Play - 4x playback
QNAP TS-419P Turbo NAS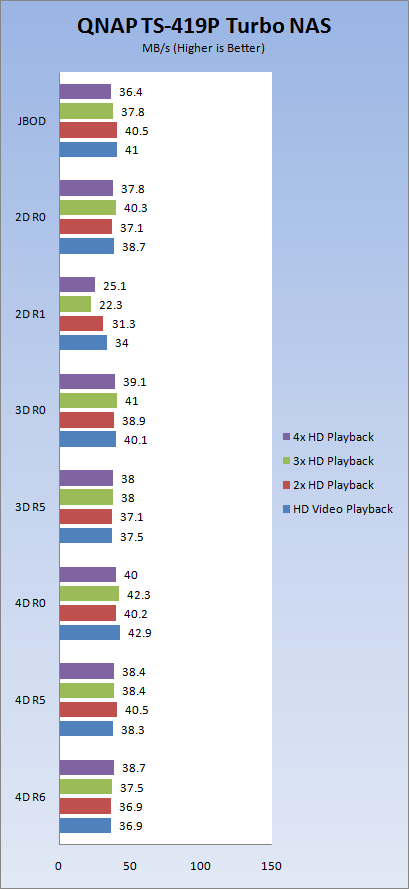 Thecus N4100 Pro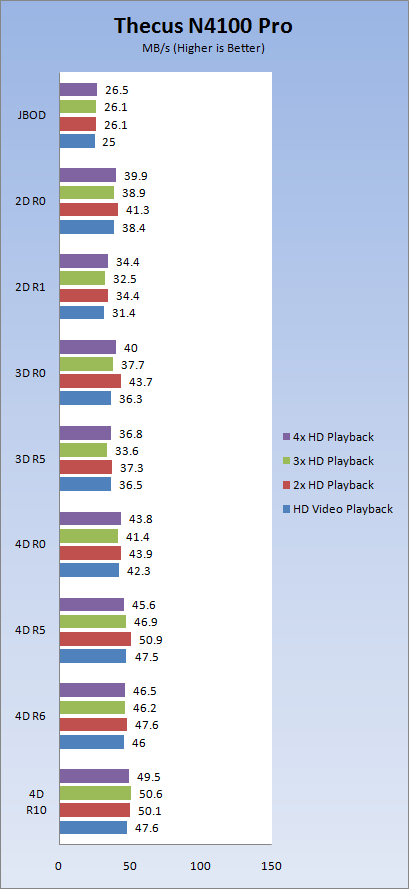 Who would have seen that coming? I am really surprised to see both NAS servers running so closely in the Playback Tests. Let's get to some of the more demanding tests and see if the TS-419P Turbo NAS can show its might.
Benchmarks - HD Record
HD Video Record - 720p HD stream, 256kB writes
HD Video Play & Record - 1 playback, 1 record simultaneously
2HD Video Play & Record - 2x playback, 2x record
HD Play with Office Apps - Playback concurrent with office productivity
HD Play with Backup - Playback concurrent with backup
QNAP TS-419P Turbo NAS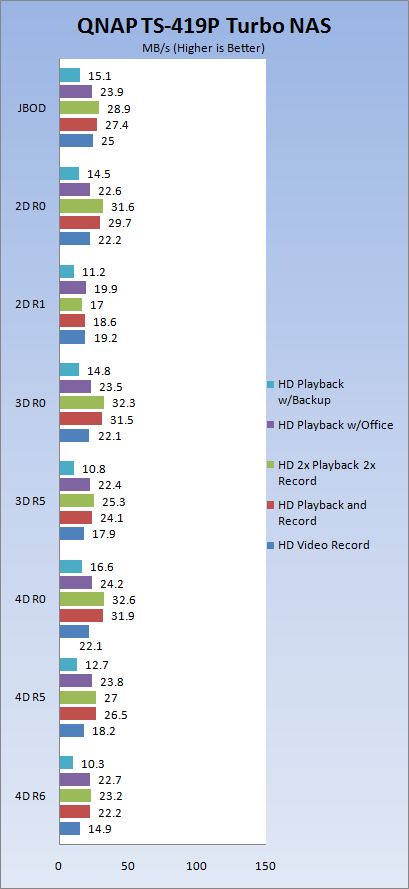 Thecus N4100 Pro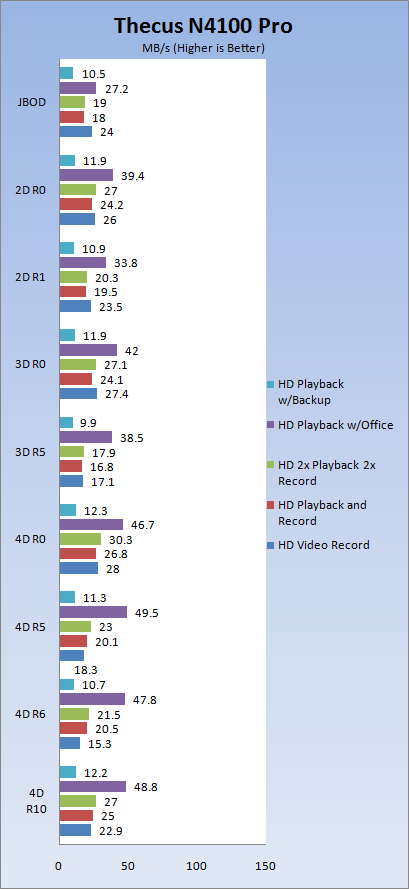 Uhh....hmmm...Houston, we have a problem. Here we see the QNAP running nearly identical benchmark numbers until we get to the Office with Playback test. In this test the Thecus N4100 Pro puts a decent margin on the QNAP. As more drives are added the distance between the two gets larger.
Benchmarks - Copy
Directory Copy From NAS - 64kB reads
Directory Copy To NAS - Predominantly 64kB writes, wide scattering under 16kB
File Copy From NAS - 4GB file copy, 64kB reads
File Copy To NAS - 64kB writes
QNAP TS-419P Turbo NAS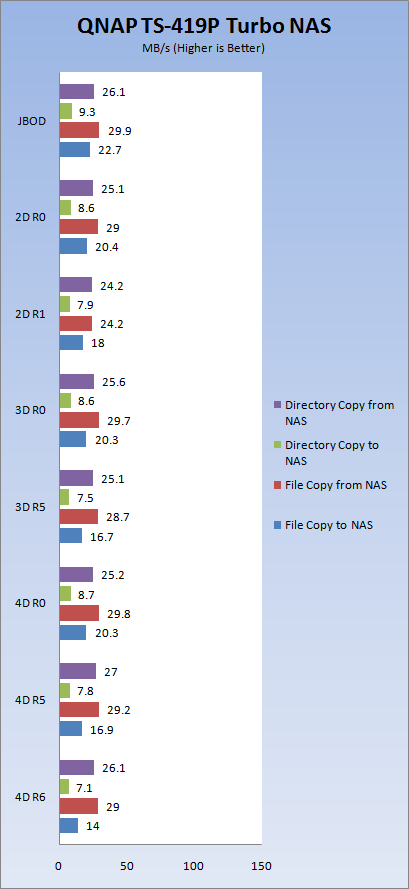 Thecus N4100 Pro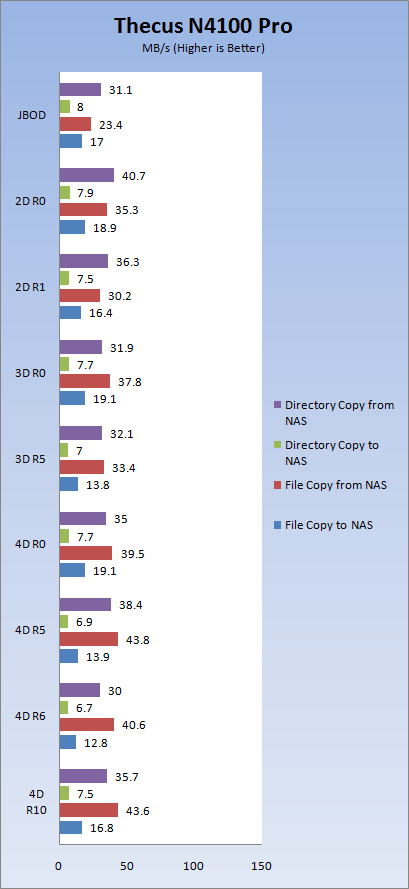 Here we are again with both NAS servers performing very close to each other. The File Copy from NAS test easily goes to the Thecus box, a test that I thought would easily go to QNAP.
Benchmarks - Backup / Content
Restore - 30GB restore from above backup, 1MB reads
Backup - 30GB backup using Windows* built-in utility; 8kB writes
Photo Album - All reads - wide distribution of sizes
Content Creation - 95% writes; 1k, 4k & little reads; Writes up to 64kB
QNAP TS-419P Turbo NAS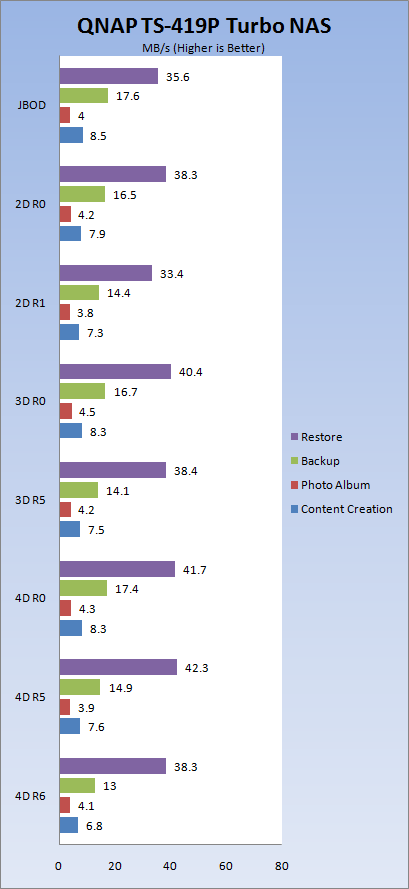 Thecus N4100 Pro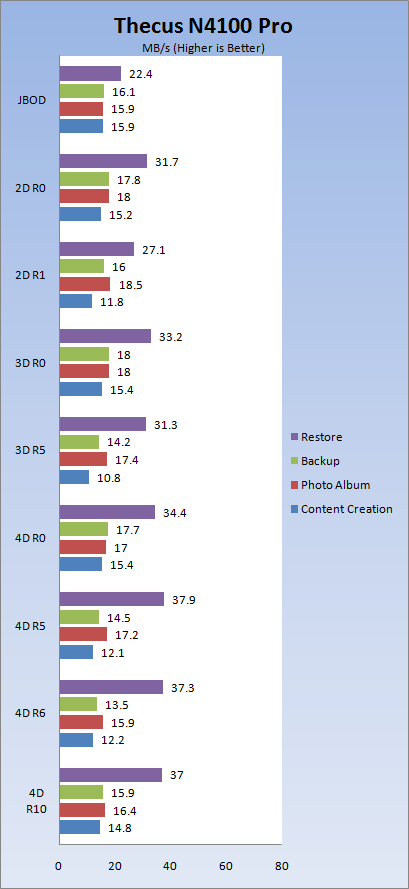 The QNAP TS-419P Turbo NAS once again failed to spool up and leave the Thecus N4100 Pro in the dust. When I think of the consumer market and the users who will be using this product or who you would purchase this for as a gift, I think of pictures, lots of pictures.
The women in my family are all picture people; my wife even keeps her digital camera in her purse in hopes of getting that great action shot of the kids doing something wonderful. In the Photo Album Test the QNAP simply doesn't deliver performance equal to its price.
Final Thoughts
Everything was going so well for the QNAP TS-419P Turbo NAS. QNAP released the new AJAX interface that gave it a big boost over the competition in ease of use and until now just about every time we compared a QNAP product to a competing Thecus unit, the QNAP has performed better in the benchmarks. You can't win them all you say?
The negative notes don't stop with the performance. The cost of the TS-419P compared to the N4100 is also offset and with this economy the cost weighs more on consumers purchasing decisions than performance. 600 compared to 420 Dollars, the margin of difference is quite large and given an informed choice it is pretty clear which is the better value based on performance per Dollar.
Luckily for QNAP NAS server transfer performance is just one part of the equation. The faster processor and twice the amount of memory will allow users to run more applications on the NAS and also take less of a performance hit when those applications are in use. When it comes to applications QNAP has always delivered a full dose, allowing you to run a web, file and email server right on the NAS. Other applications include Download and Surveillance Station which are both quite useful if you use the features.
When it really comes down to it, I think QNAP dropped the ball with the TS-419P. In a standalone review the TS-419P would have looked like an average performer with a lot of great features, but once the benchmark numbers were laid out it appears that QNAP needs to look for ways to optimize the programming to work with the new Marvel processor.
UPDATE:
TweakTown had the opportunity to inquire about the performance numbers of the new TS-419P. In our conversations it was revealed that QNAP engineers are hard at work optimizing the source code for the Marvell processor and the next firmware release will include these optimizations that increase both read and write performance.
QNAP also wanted to be mention that the Marvell chipset is designed for multiple concurrent accesses and provides for a very stable NAS platform.
PRICING: You can find products similar to this one for sale below.

United States: Find other tech and computer products like this over at Amazon.com

United Kingdom: Find other tech and computer products like this over at Amazon.co.uk

Australia: Find other tech and computer products like this over at Amazon.com.au

Canada: Find other tech and computer products like this over at Amazon.ca

Deutschland: Finde andere Technik- und Computerprodukte wie dieses auf Amazon.de
We openly invite the companies who provide us with review samples / who are mentioned or discussed to express their opinion. If any company representative wishes to respond, we will publish the response here. Please contact us if you wish to respond.