Introduction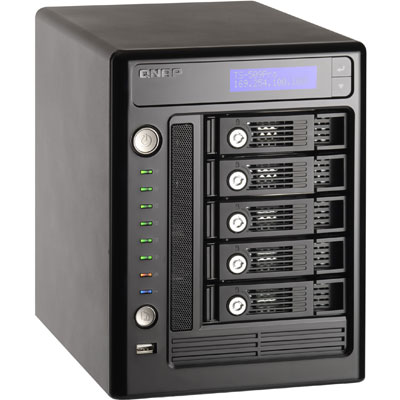 Late last year
we looked at
the Thecus N4100PRO, a 399 Dollar NAS appliance designed for personal, home and small office use. I received a few questions following the publishing about my use of the term
appliance
in the N4100 review. In my mind there are three types of NAS products, appliances and servers. The appliances, for the most part, are cheaper and less powerful. And while they are feature rich, they are not as powerful as NAS servers. The servers cost quite a bit more than their appliance counterparts, sometimes twice as much as their appliance counterparts that utilize the same amount of drives. The servers come with more features, user management options and most importantly, faster transfer speeds.
Today we are moving the spot light to NAS Servers with the QNAP TS-509 Pro. The 509 isn't designed to sit in an enthusiast's computer room, but many will eventually end up being used by power users like myself. If the
Thecus N4100PRO
impressed you with features, prepare to be blown away. The TS-509 Pro goes far beyond anything a normal consumer or prosumer would ever use under normal circumstances. The good thing is that QNAP has mastered ease of use when it comes to configuration. Many features that you may have passed off as unusable for your situation will eventually get used because they are just so easy in implement.
As you can imagine, feature rich comes at a cost. After digging through the web I was able to find the QNAP TS-509 Pro Turbo NAS listed at MWAVE for 899 USD. For comparison Thecus makes a similar 5-drive NAS, the N5200PRO. The N5200PRO is a step above the N4100PRO and has a few more features, but not as many as the QNAP TS-509, with a 664 USD price to reflect that.
Today we will take a deep look at the QNAP TS-509 Pro Turbo NAS and benchmark it against the Thecus N5200PRO to see what the extra couple of hundred Dollars gets you performance wise. Both systems use the same Seagate Barracuda ES.2 1TB drives for all tests so that we are able to get true apples to apples benchmark comparisons.
Hardware and Software Specifications
Hardware Specifications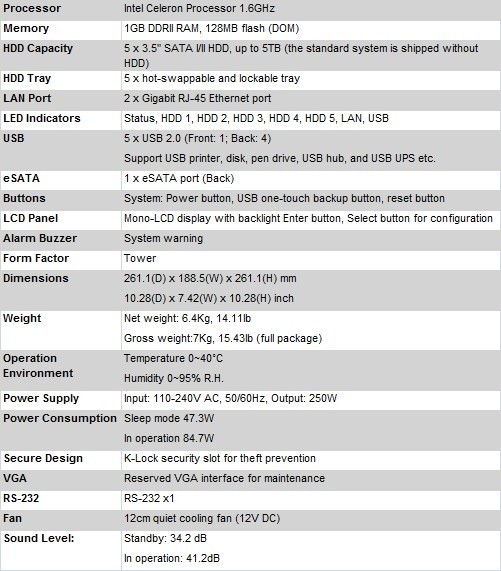 At the heart of the QNAP TS-509 Pro stands an Intel Celeron processor running at 1.6GHz. General purpose CPUs are often used in NAS servers, but for the most part they are clocked closer to 1-1.2GHz. QNAP has chosen to use a faster processor since the TS-509 Pro is designed for use in a corporate office environment where several back up operations may need to take place at the same time. The TS-509 Pro also uses a single 1GB DDR2 memory module that can be upgraded if needed, but many NAS servers only come with 256 or 512MB.
Making an appearance in the TS-509 Pro is the dual LAN or WAN and LAN ports that support 802.3 ad-Link aggregation through its two gigabit Ethernet ports. This is a very useful feature in a business environment where multiple computers are pushing and pulling data to the NAS, but a compatible switch must be used to enable this feature.
Of course, the biggest feature of the TS-509 Pro has to do with the number five, the amount of hard drives that the NAS can use in everything from a single disk to RAID 6. Recently QNAP released an official patch that allows the use of Seagate's 1.5TB drive, so it is possible to have up to 7.5TB of space in RAID 0. However, RAID 5 and 6 would be a much better choice for users since you gain redundancy of data. This protection comes at a cost to available disk space, but if a single drive fails in RAID 5 you will not lose data, in RAID 6 you can fail two drives and still retain all of your data.
Software Specifications

The TS-509 Pro uses a dedicated Linux installation that is kept on a 128MB NAND flash module. The open source nature of Linux invites end users to make software packages that run on the fast Celeron processor. QNAP has used the power of the Celeron to produce software that goes far beyond just a storage device.
QNAP recently updated the firmware on the TS-509 Pro which added some new features. The biggest check box in that particular update was enabling support for iSCSI. iSCSI target servers are starting to gain momentum in small to medium sized offices and until recently the feature was only found on much more expensive NAS servers.
Server Capabilities, Availability and Cost
Server Capabilities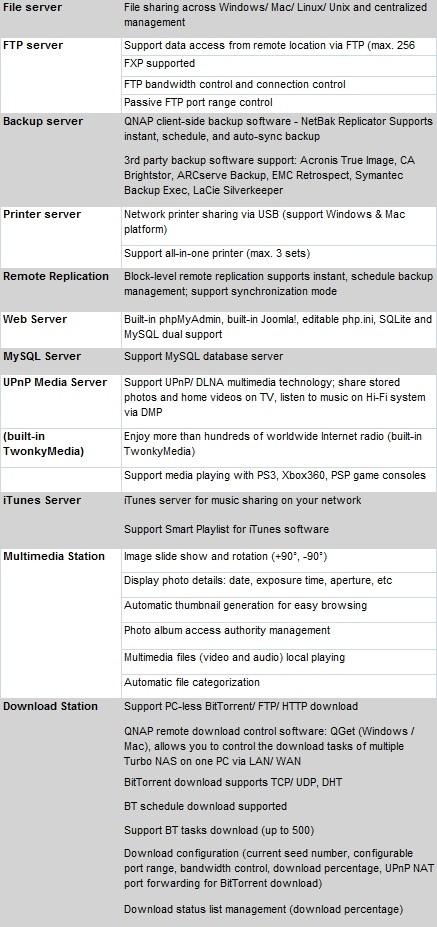 Officially the QNAP TS-509 Pro is a 12-in-1 solution, but since the system is based on Linux the enthusiast users may add additional features. To be honest, I don't see anything that QNAP has left out, but don't under estimate the power user groups that frequently program new software modules that add additional features.
Business users will enjoy easy software setup and user management. Batch changes can be made on the individual or group level, granting or removing access to folders on the NAS.
The TS-509 Pro can also double as a web server. I found this feature every exciting as it allowed me to load a copy of a website I have been tinkering around with for years, make changes and try new features before implementing them in a live, public environment. All of the usual software components are also included like phpMyAdmin and SQL. Things can really get interesting once you enable the built in Joomla! support and start making an in house intranet for your files, pictures and other bits stored on the NAS.
Availability and Cost
QNAP currently has their products available at every major e-tail vendor that I looked at, so getting a unit should not be a problem. As a product targeted for business and corporate use, the price may set you back a little more than a consumer NAS appliance. Newegg currently lists the TS-509 Pro for 899.99 without drives. Once you fill the unit up with five 1TB drives, currently available for right around 100 USD, the total cost of ownership comes close to 1400 Dollars. It is possible to start out with a single drive or a pair of drives for redundancy and add more as needed. We test with several variations of drives and levels of RAID so you will be able to see how adding more drives affects performance.
The Packaging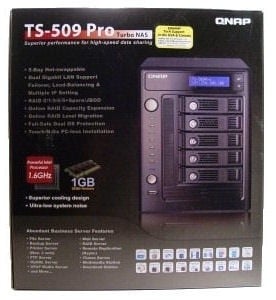 The QNAP TS-509 Pro comes in a large box. Several of the general features are listed on the front of the box as well as a very large picture of the product.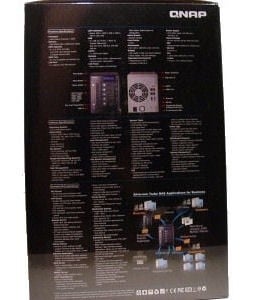 It is a good thing that the box is so large because the TS-509 Pro packs a lot of features. Here you can see that QNAP was able to list most, if not all of them.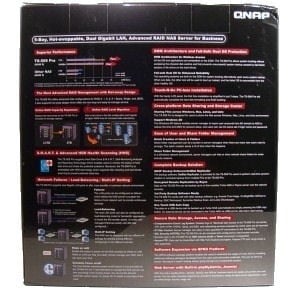 In reality there isn't enough room on one side to list the features and specifications, so QNAP also loaded the back of the package with more information. I spent an hour one afternoon just going through the information presented on the box. If you are looking at the TS-509 Pro in a store, look for a nice place to sit down, like the coffee shop inside Fry's; it will take a while.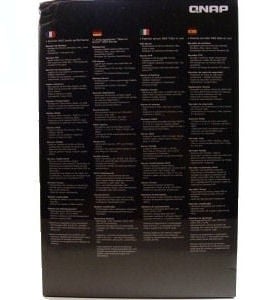 The other side lists a small portion of the features in alternative languages.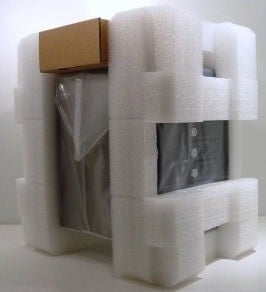 With the unit pulled out of the box we see that it is protected from shock damage by thick close cell foam.
The QNAP TS-509 Pro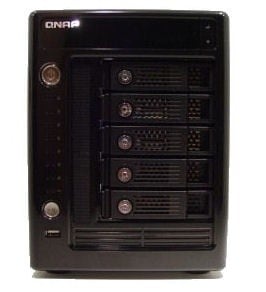 QNAP wasn't aiming for aesthetic appeal when they designed the TS-509 Pro, but for a business product it didn't turn out too bad. The obvious features found on the front are the power and reset buttons, front USB port and indicator LEDs. At the top, covered by a smoke colored shield is a display system that allows basic functions and changes to the system. This can be useful in a pinch, but using a keyboard and mouse is a lot easier.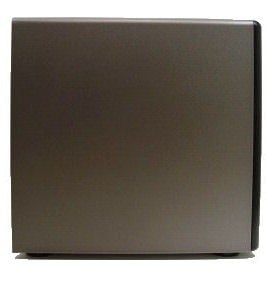 The outer casing is gray and can be removed to gain access to the system board and to upgrade the memory.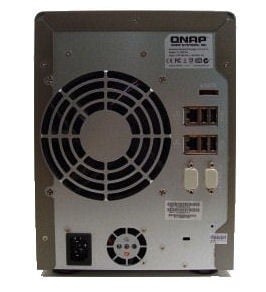 On the back we find the two gigabit Ethernet ports as well as four USB ports for attaching additional storage products or printers. The upper right connector is for eSATA, a great feature if you plan to only use the NAS with a single system. The two blocked off ports are VGA and RS-232. QNAP uses these for system checks and final checks before the products leave the factory.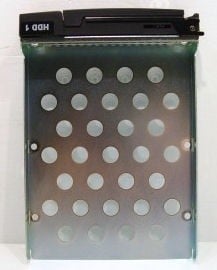 The TS-509 Pro uses steel drive planes and as you can see here they are numbered. This caught me off guard at first as you rarely find sleds with labels preinstalled.
Accessories and Documentation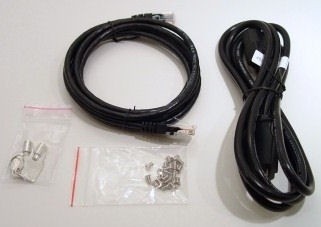 The TS-509 Pro comes with everything you need to get started. QNAP even includes a Cat 5e cable just in case you don't already have one.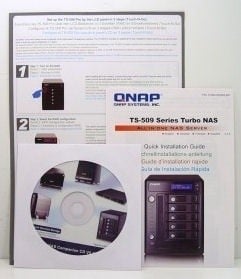 The documentation is very thorough; you get a full manual, quick start guide and software CD filled with everything needed.
The Software Basics
Form over function, or is it function over form? - Either way, a NAS server needs to be both feature rich and user friendly at the same time. If a consumer or network administrator cannot setup a function of the system, it will most likely go unused.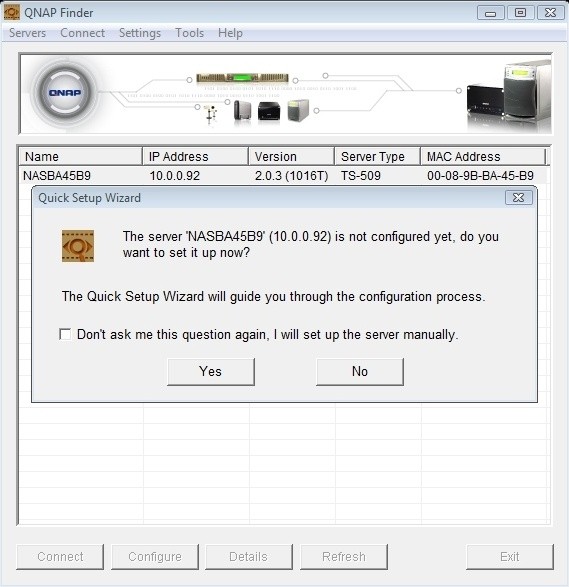 You start off with the QNAP software installed on your PC. This allows you to find the NAS and get things going in the right direction.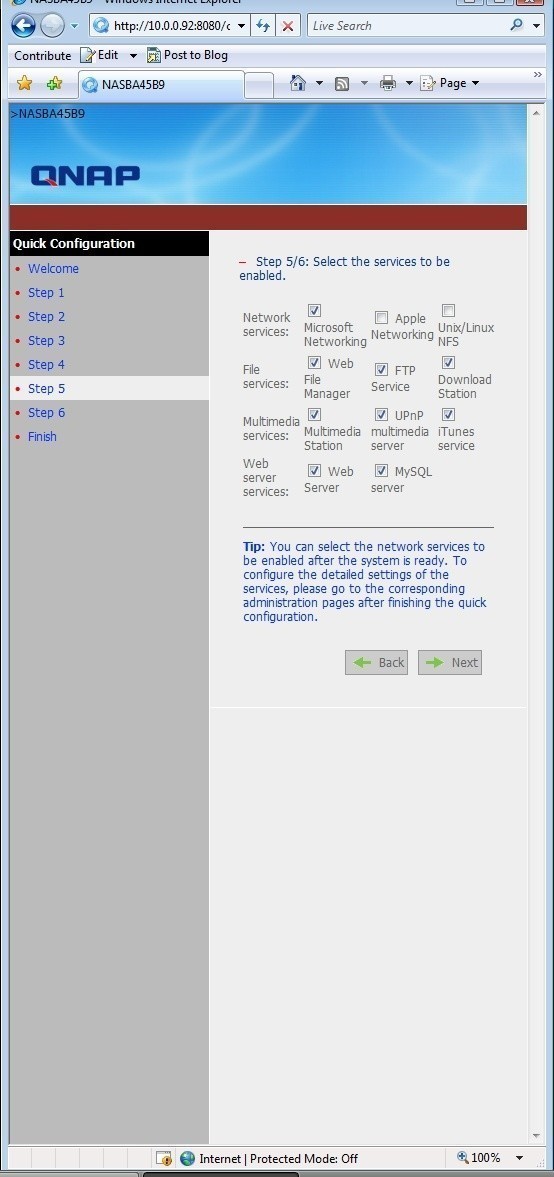 Just a few questions and you are ready to start picking the features you would like to use on your new storage product.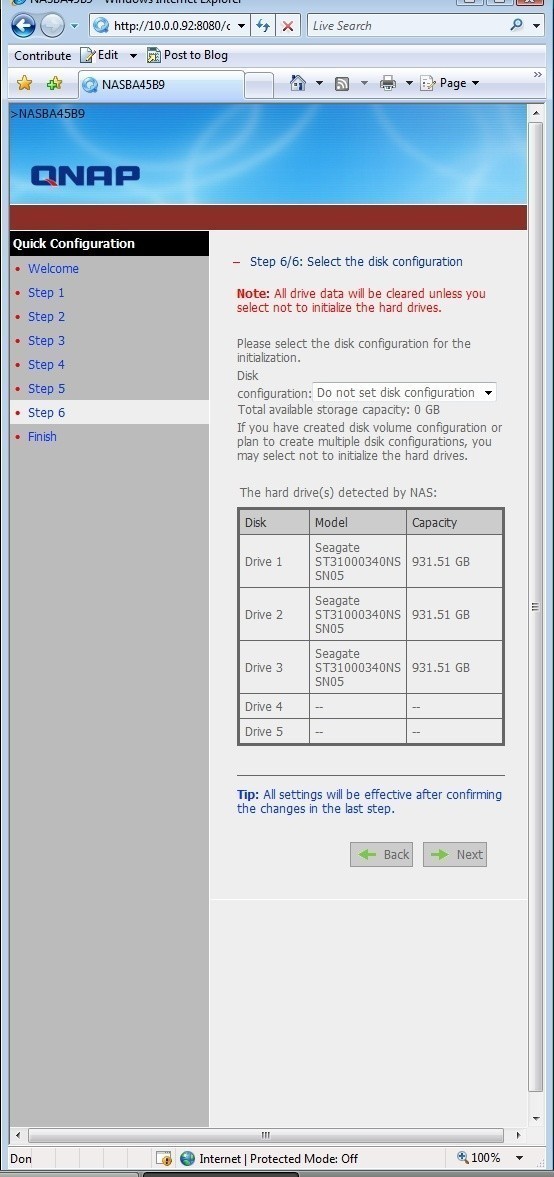 Setting your RAID array the first time couldn't be easier.
The Menu System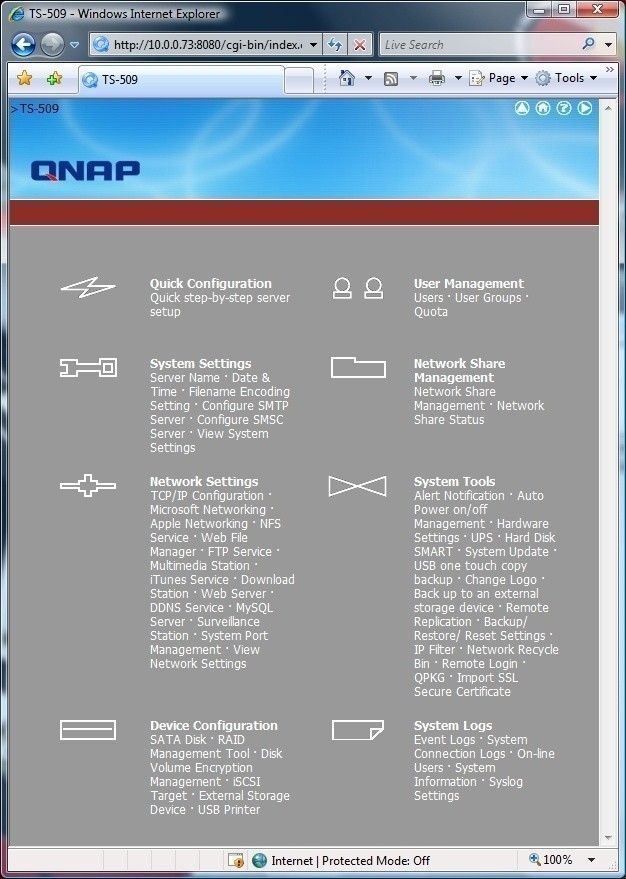 In our very condensed view of the configuration menu you can see all of the options that are available to the user. The TS-509 is very feature rich, even more so than the Thecus unit we have looked at.
Testing Methodology
Test System
Processors
: Intel QX6700 2.66GHz OCed to 2.93 GHz (Supplied by
Intel
)
Motherboard
: GIGABYTE X38-DQ6 (Supplied by
GIGABYTE
)
Memory
: Thermaltake / Geil RAM Orb PI (Supplied by
Thermaltake
)
Graphics Card
: XFX 8800 GTX (Supplied by
XFX USA
)
Disk Drives
: 3x Western Digital 150GB Raptors in RAID 0
Enclosure
: Cooler Master Cosmos (Supplied by
Cooler Master
)
Cooling
: Thermaltake MAX Orb (Supplied by
Thermaltake
)
Operating System
: Microsoft Windows Vista Ultimate X64 (Supplied by
Microsoft
)
NAS Control Drives
: Seagate 1TB Barracuda ES.2 ST31000640SS (Supplied by
Seagate
)
Intel NASPT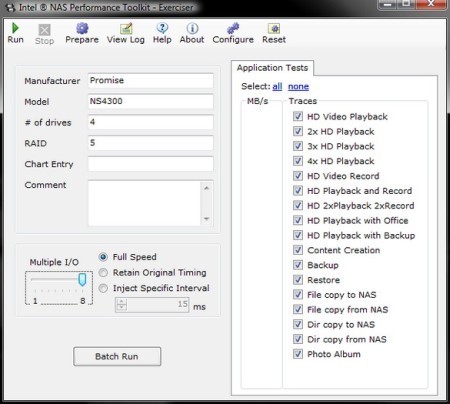 The Intel NAS Performance Toolkit (NASPT) is a file system exerciser and analysis tool designed to enable direct measurement of home network attached storage (NAS) performance. Designed to emulate the behavior of an actual application, NASPT uses a set of real world workload traces gathered from typical digital home applications. Traces of high definition video playback and recording, office productivity applications, video rendering/content creation and more provide a broad range of different application behaviors.
With the latest version of NASPT, users may even add their own custom traces. NASPT reproduces the file system traffic recorded in these traces onto whatever storage solution the user provides, records the system response, and reports a rich variety of performance information.
As far as our testing methods go, we test in several different configurations because most users will start out with one or two drives and add them as needed, migrating the RAID array along the way.
I chose the Thecus N5200 BR 5-Drive NAS for the control since it is the TS-509's closest competitor. Both NAS appliances used the same Seagate 1TB drives for testing. Seagate graciously supplied us with eight of their flagship 32MB cache enterprise Barracuda ES.2 drives for NAS appliance testing in 2009.
Benchmarks - HD Playback
HD Video Play - 720p HD stream from Windows Media Player* 256kB reads
2HD Video Play - 2x playback
3HD Video Play - 3x playback
4HD Video Play - 4x playback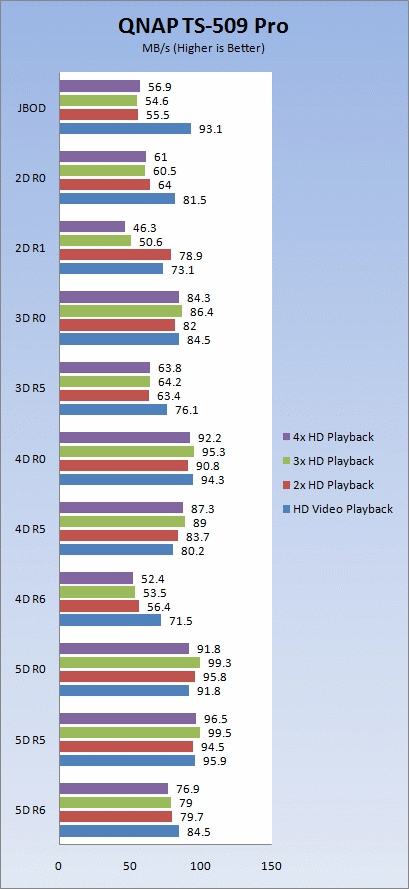 The QNAP TS-509 Pro was considerably faster than the Thecus N5200 Pro in all of the playback tests. The TS-509 also shows that it scales well in relation to the number of drives and the array configuration.
Benchmarks - HD Record
HD Video Record - 720p HD stream, 256kB writes
HD Video Play & Record - 1 playback, 1 record simultaneously
2HD Video Play & Record - 2x playback, 2x record
HD Play with Office Apps - Playback concurrent with office productivity
HD Play with Backup - Playback concurrent with backup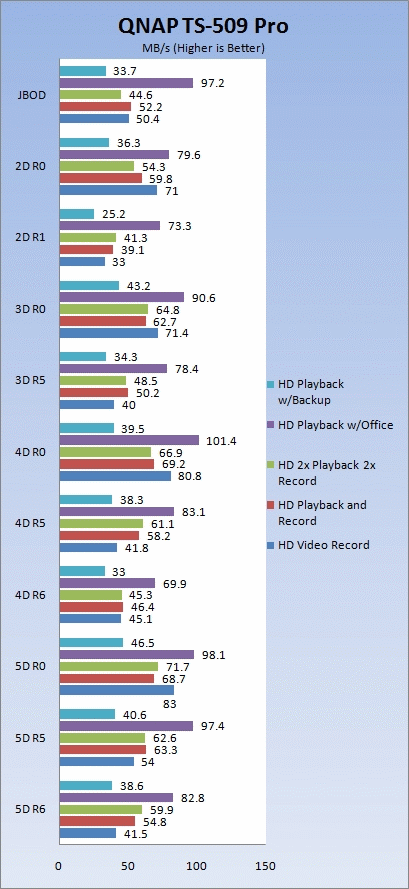 Once again we see the TS-509 performing very well against the Thecus N5200. In many cases the QNAP was able to double the performance of the N5200.
Benchmarks - Copy
Directory Copy From NAS - 64kB reads
Directory Copy To NAS - Predominantly 64kB writes, wide scattering under 16kB
File Copy From NAS - 4GB file copy, 64kB reads
File Copy To NAS - 64kB writes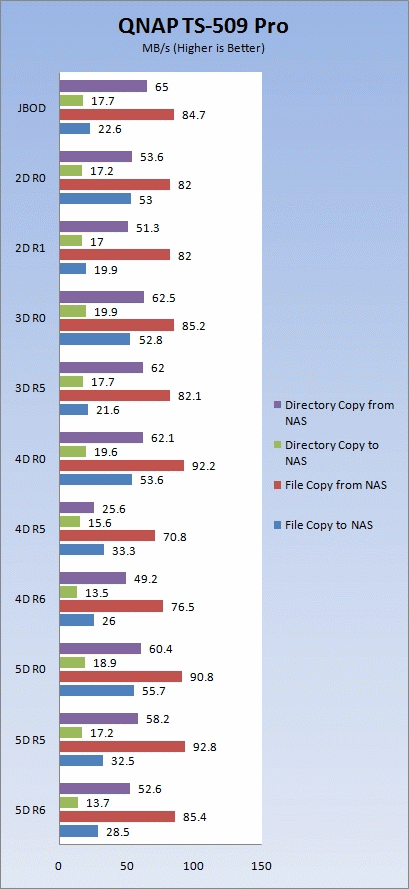 For many users, copying files to and from the NAS is the most used task. Here we see that the QNAP once again was able to outperform the Thecus N5200 under identical conditions. The TS-509 was able to make 90+ MB/s transfer standard in our testing.
Benchmarks - Backup / Content
Restore - 30GB restore from above backup, 1MB reads
Backup - 30GB backup using Windows* built-in utility; 8kB writes
Photo Album - All reads - wide distribution of sizes
Content Creation - 95% writes; 1k, 4k & little reads; Writes up to 64kB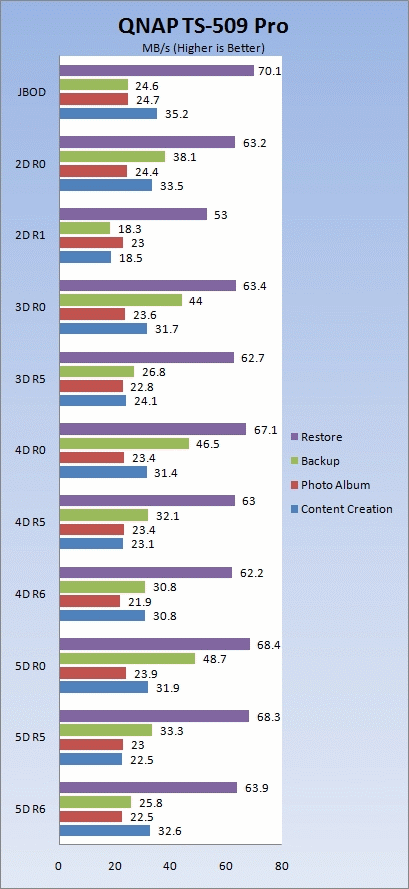 Backup and restore functions are easily the most strenuous for a NAS server. These operations require a lot of CPU power and when paired with RAID 5 and 6 can bring a good NAS down to really slow transfer speeds. Great products take the stress and push through it.
Here we see the QNAP TS-509 Pro excelling at the restore function and doing a decent job with the backup. To date the TS-509 has given us the best backup performance, but with a larger memory module installed I think the performance could be even better.
Final Thoughts
Newegg lists the QNAP TS-509 Pro at 899.00 and the Thecus N5200PRO at 749.00. From a feature standpoint both products have more or less the same functionality but ease of use and as we put on display today, performance clearly goes to the TS-509. So why start off with price you may ask? - With today's economic climate many businesses are looking for a way to shave costs and in some cases will do it when they shouldn't. With that said, on paper the difference between cost of the QNAP TS-509 and the Thecus N5200 appear to be much larger than they really are. It really comes down to 150 US Dollars, an amount that as stated previously, on paper might sway a CIO to lean towards the Thecus. In reality that 150 Dollars may be saved at least in part before the TS-509 gets its first bit of data saved to it.
Setup on the TS-509 is surprisingly easy compared to the other NAS servers I have worked with. Only the Netgear products can even compare with how fast you can have the entire NAS setup the way you need it to be. Don't get me wrong, the Thecus products can be setup quickly with basic functions to get you started, but the QNAP software allows you to get everything setup much faster. If you are paying outside techs to set your system up then expect to pay much less in hourly fees with the TS-509.
Transfer rates on the TS-509 Pro are also more favorable when compared to the Thecus N5200PRO. This will also reduce the cost of ownership due to not paying your employees to wait for a file to become available on the NAS. In the long run I think this is the best selling point for the TS-509 since it is much faster than the N5200PRO and allows the users to work much more efficiently, saving both time and money.
The feature set of the TS-509 Pro is impressive even though most users will not use all of them. Don't feel bad if you don't use them all, I was not able to make use of everything, but it is good to know that one product is able to cover so many users needs. QNAP has really taken the feature set to new levels, adding new features with each firmware release. Since I started this article they have added at least five new tasks that the TS-509 Pro can perform and have even more in the works.