TweakTown's Rating: 83%
The Bottom Line
The AMR5 offers a uniquely designed Mini PC for an office or entry-level gaming.
Pros
+

Unique chassis design

+

Good for entry-level gaming

+

Easily Upgradable

+

Price
Cons
-

Limited to Gigabit ethernet

-

Included storage is slow
Should you buy it?
Avoid
Consider
Shortlist
Buy
Introduction, Specifications, and Pricing
The Mini PC market has seemingly begun to gain steam as our inbox has been slammed since Intel announced its own NUC was shifting production to ASUS. Today, we have an offering from a relatively new vendor and new to us here at TweakTown. Ace Magician, also known as Kamrui in the USA, has sent over a few of their newer solutions for us to look at. We start with the AMR5.
The AMR5 is available in two SKUs. There is an AMD Ryzen 5600U solution alongside the Ryzen 5800U that was sent to us for review. Both units use DDR4 memory, which is expandable via two SO-DIMM slots; our unit arrived with 16GB. Storage includes two NVMe slots; the bottom slot on our unit was populated with a 512GB SSD.
Connectivity includes four USB 3.2 Gen 1 and a single USB 3.2 Gen 2 that uses a Type-C connection. We also have one DP 1.4 and one HDMI 2.0 for display connectivity, and LAN is handled by a single RJ45 offering gigabit connectivity and WiFi6.
The Ace Magician AMR5 carries an MSRP of $499.99 as configured, and the warranty stands at one year.
Overview and BIOS
Overview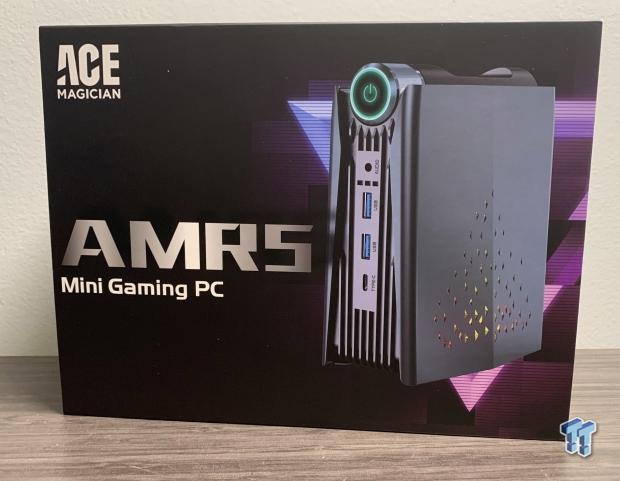 AMR5 was delivered in retail form, including an image of the Mini PC on the front.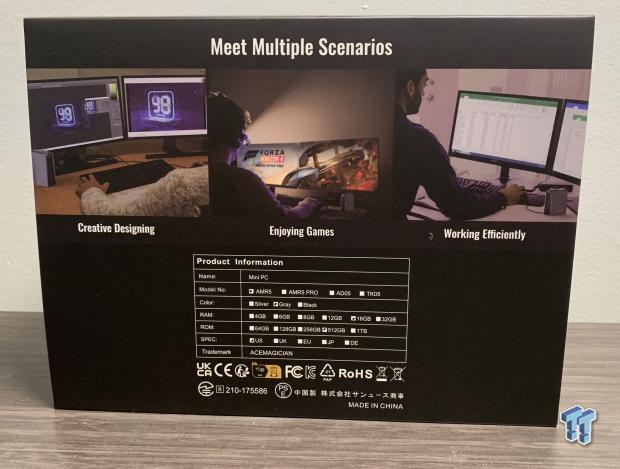 We have a series of boxes marked on the back to determine the build.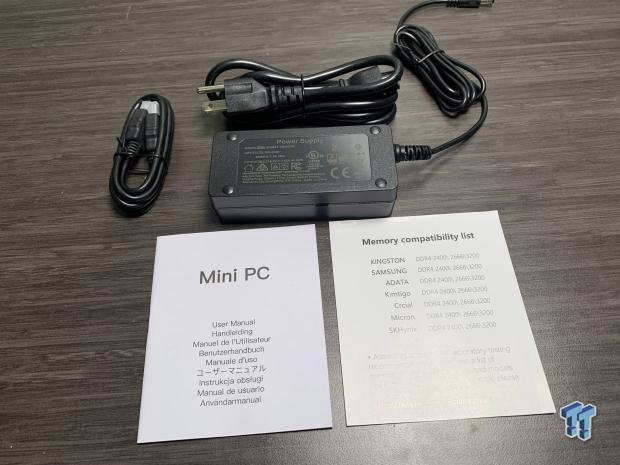 Included are the power adapter, HDMI cable, and reading materials.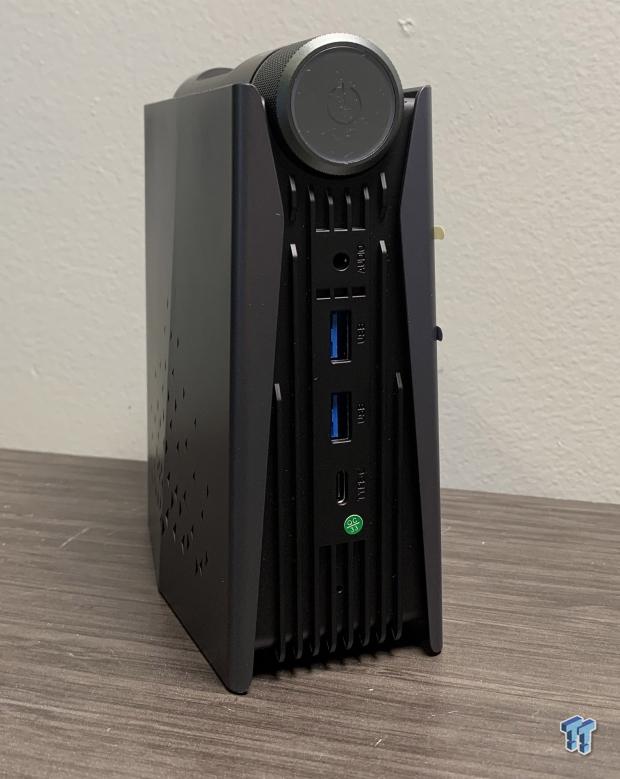 The front of the unit carries a decent I/O that includes three USB 3.2 ports and audio up top. The round button at the top is multi-functional and is used to turn the unit on and rotates to choose a power mode.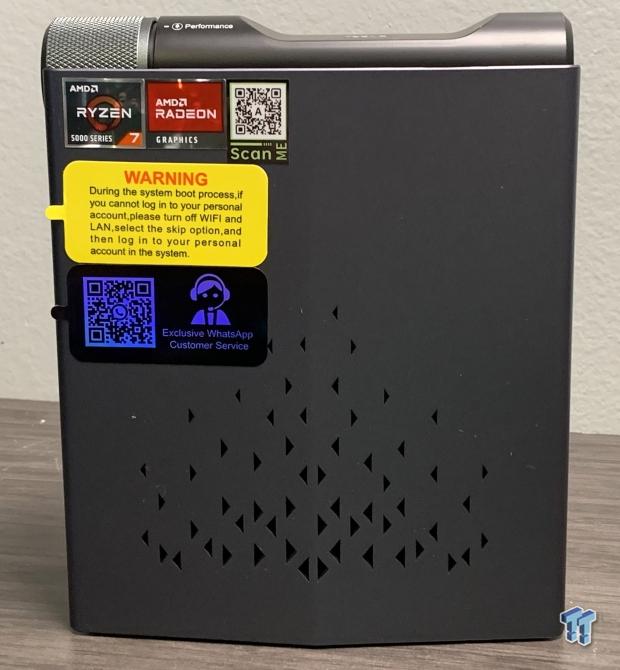 The side panel has some venting for the system and is where the hardware and warning stickers were placed.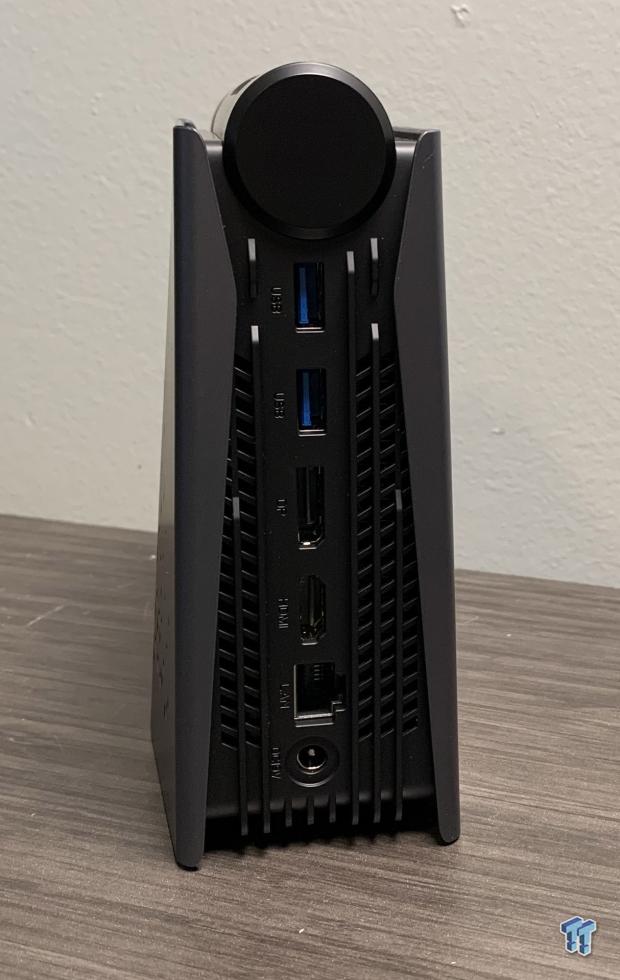 The back of the PC offers two more USB 3.2 ports at the top, followed by DP and HDMI, with LAN at the bottom.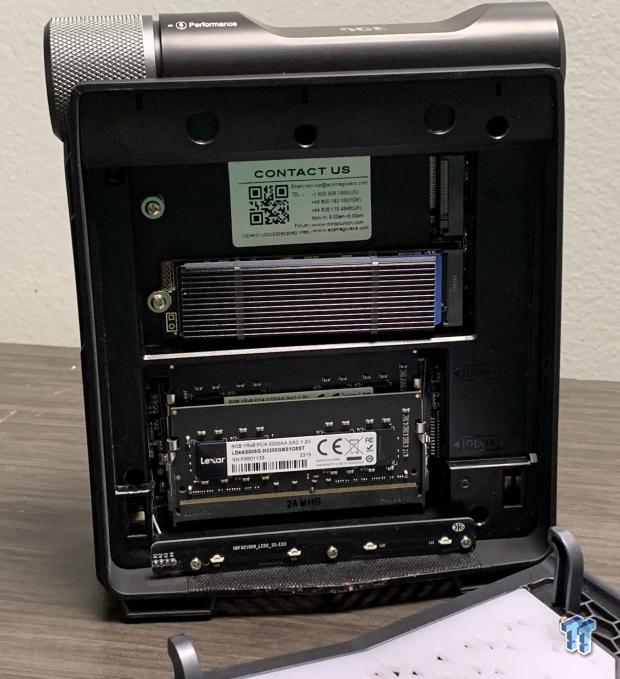 Upgrading is made simple with the side panel able to pull off to reveal both SO-DIMM slots for memory upgrades and NVMe up top.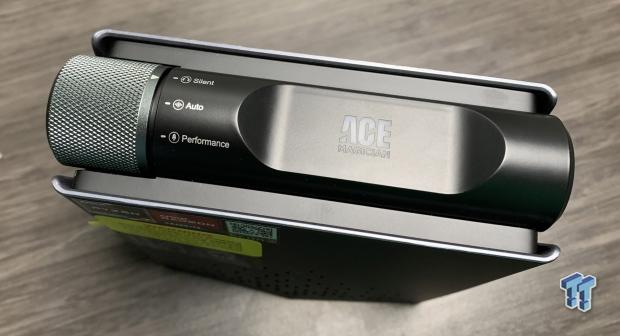 Above, we have a better look at the rotating power switch to choose a performance mode.
BIOS/UEFI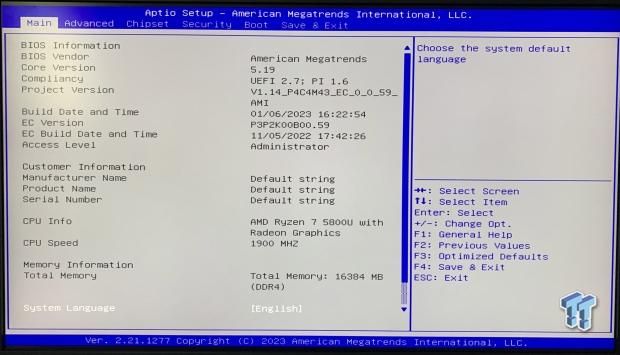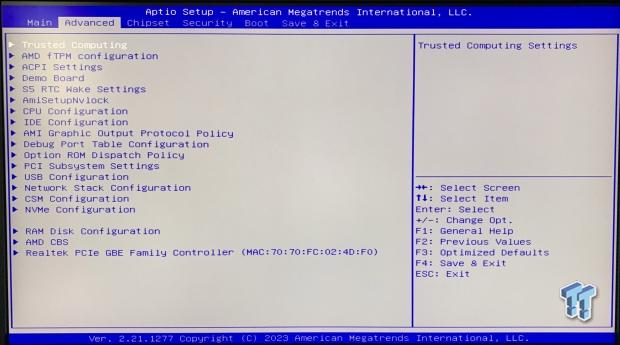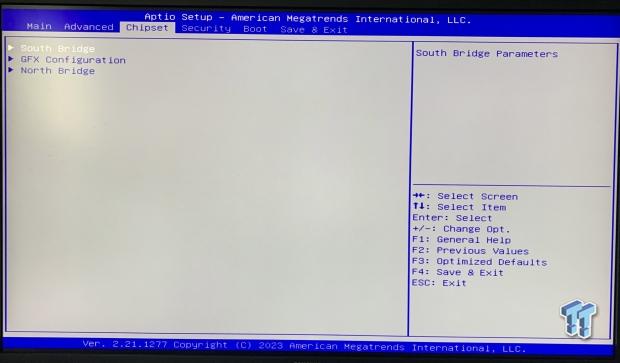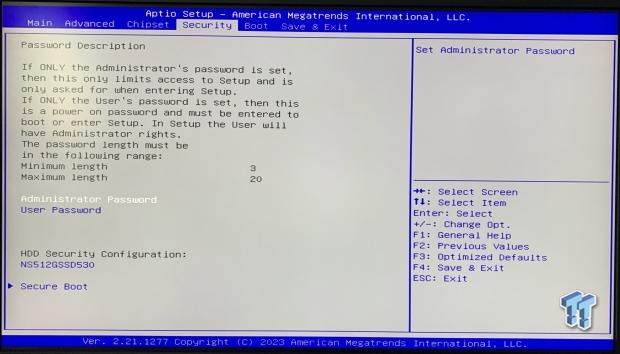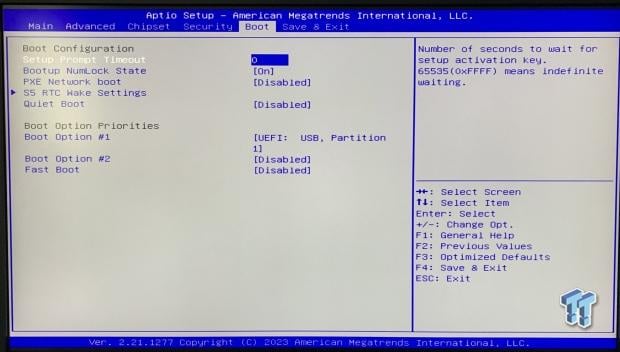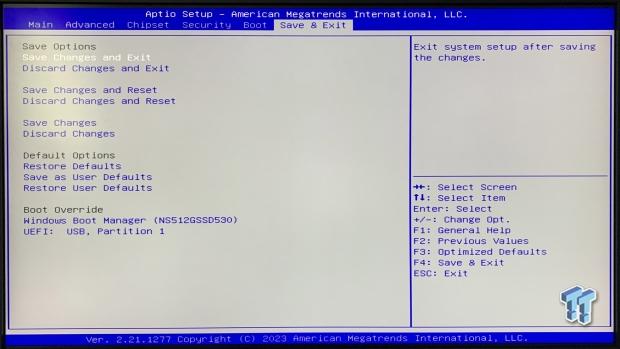 The BIOS on this machine uses the older, basic BIOS system. The first page offers hardware information. The advanced tab carries most of this system's configuration options, including CPU configuration, USB, and NVMe.
The chipset menu offers options for the motherboard's north bridge and south bridge, along with the integrated Radeon graphics. The boot menu allows you to change and configure the bootup process.
System/CPU Benchmarks
Cinebench
Cinebench is a long-standing render benchmark that has been heavily relied upon by both Intel and AMD to showcase their newest platforms during unveils. The benchmark has two tests: a single-core workload that will utilize one thread or 1T. There is also a multi-threaded test that uses all threads or nT of a tested CPU.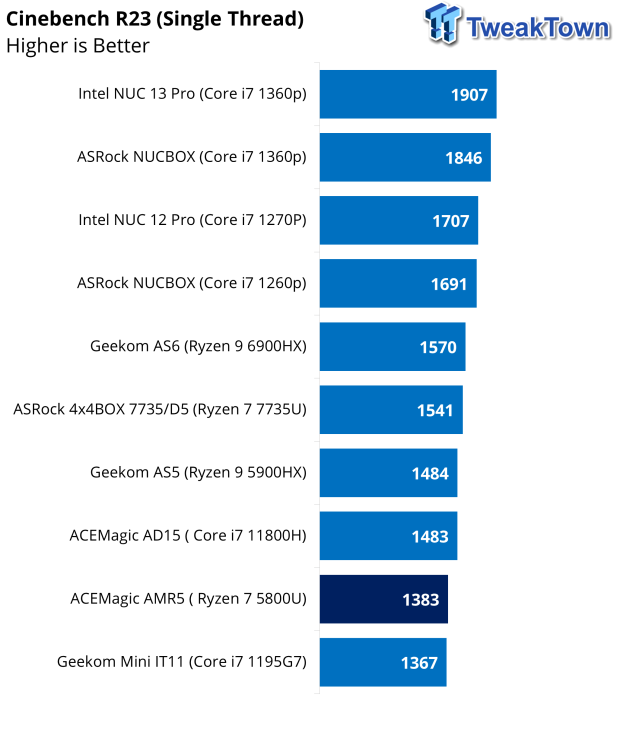 We start with R23, as always, with single thread at 1383.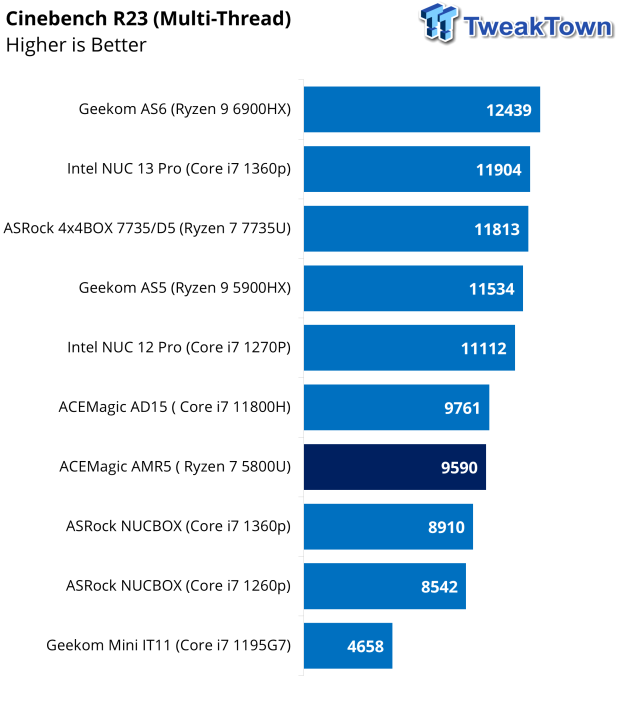 nT was a bit higher, 9590, for the AMR5.
BAPCo CrossMark
CrossMark™ is an easy-to-run native cross-platform benchmark that measures the overall system performance and system responsiveness using models of real-world applications. CrossMark™ supports devices running Windows, iOS, and macOS platforms.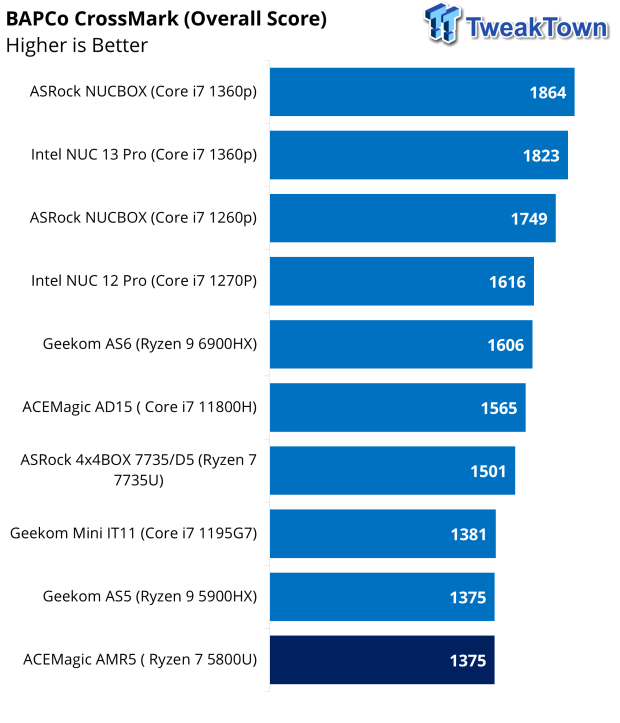 Crossmark landed at 1375, identical to the AS5 we tested with the 5900HX.
AIDA64 Memory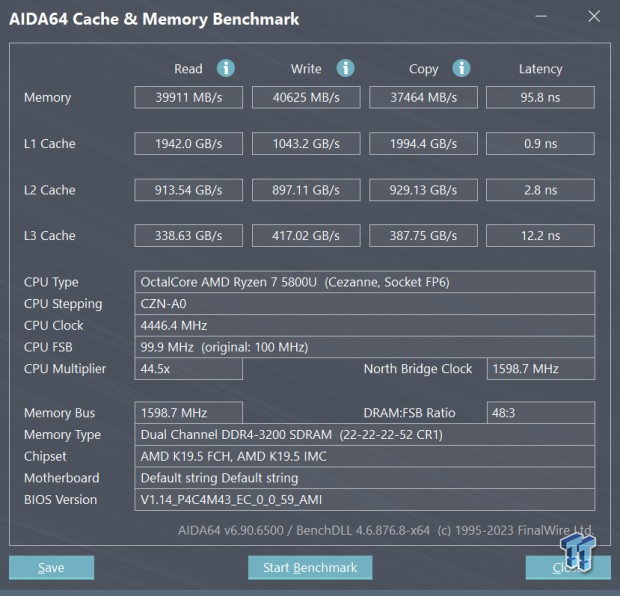 Memory bandwidth landed at 39K read, 40K write, and 37K copy. Latency was very high at 95ns.
Geekbench 6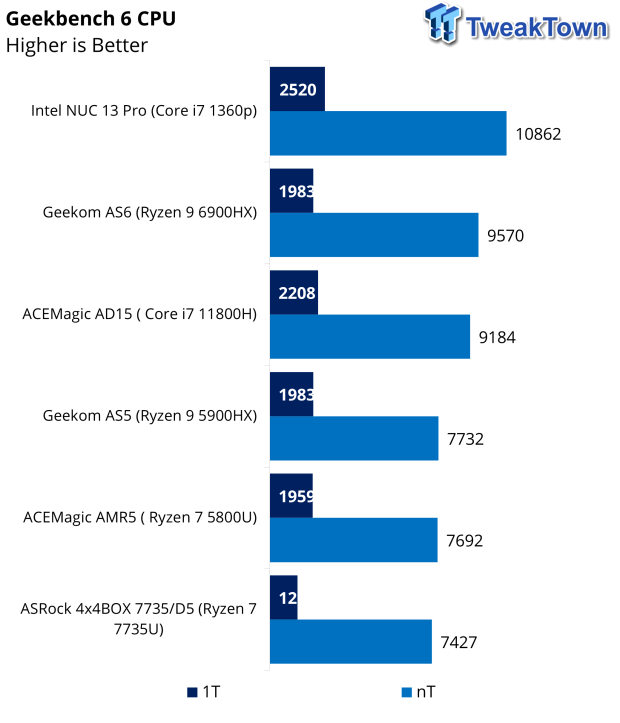 Geekbench showed the AMR5 better than the 4x4BOX from ASRock, 1959 single thread and 7692 multi-thread.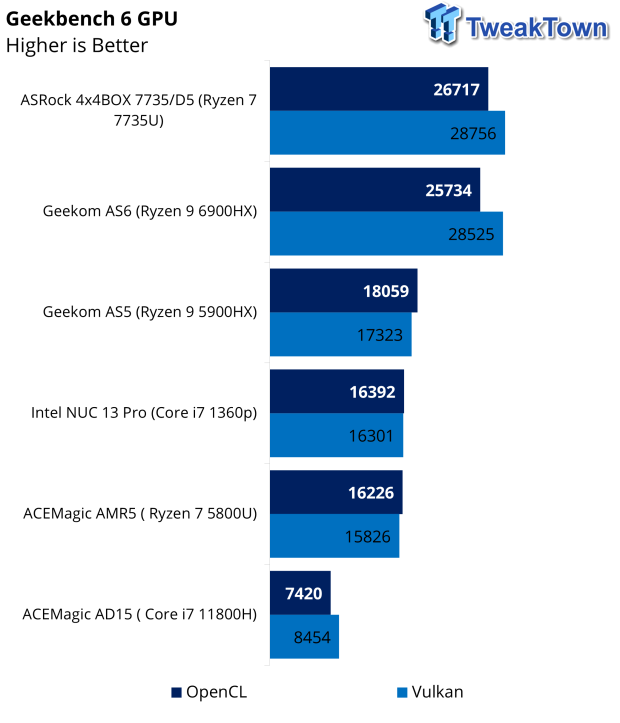 OpenCL finished up with a score of 16226, while Vulkan scored 15286.
UL Benchmarks and Final Thoughts
UL Benchmarks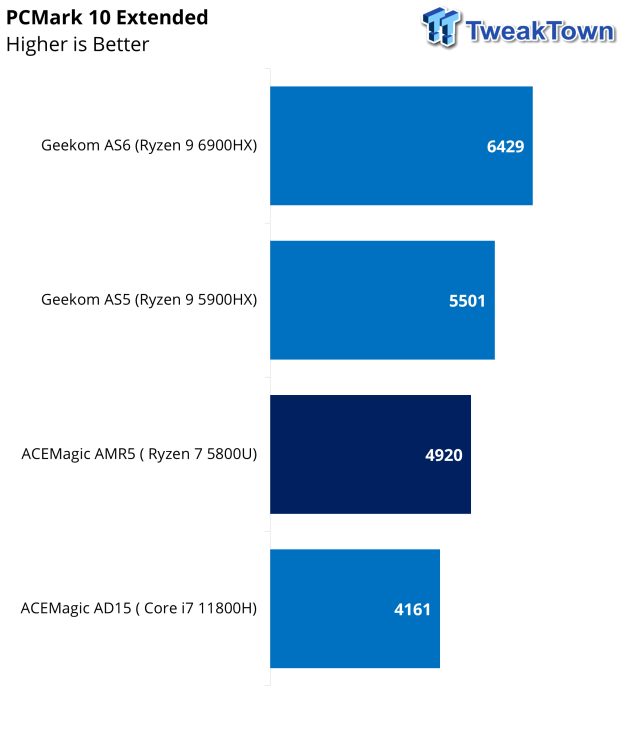 PCMark Extended landed at 4920, a few hundred points under the AS5.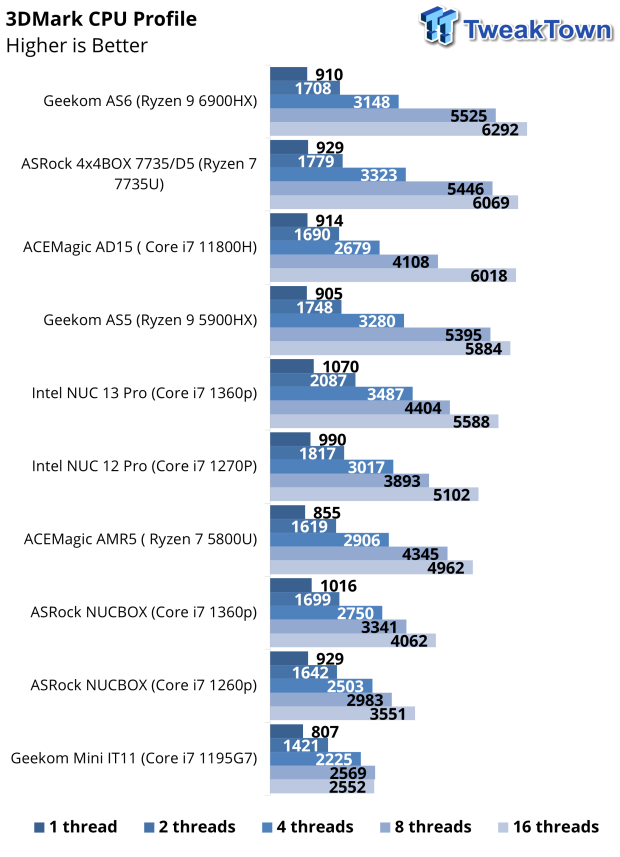 CPU Profile kicked off our 3DMark benchmarks, with the AMR5 landing at 855 single thread and 4962 with sixteen threads.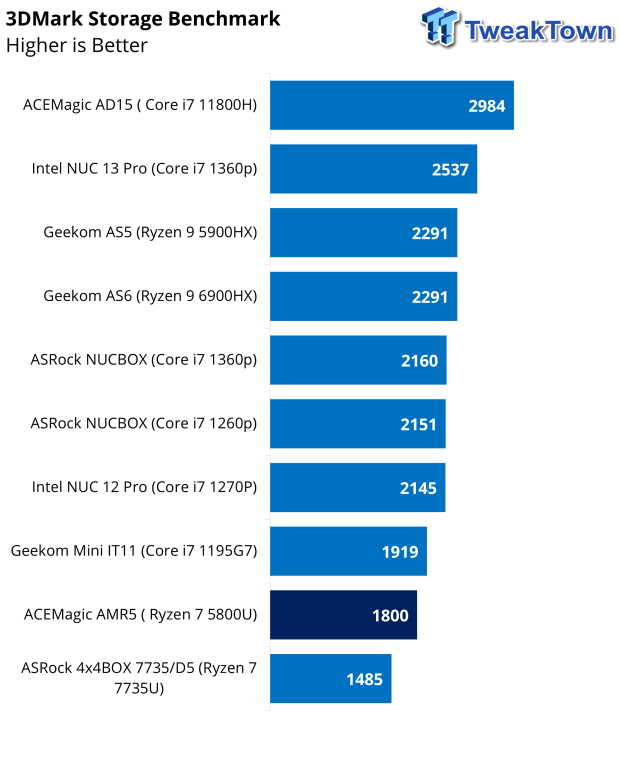 3DMark Storage gave us an overall score of 1800, the second slowest to date.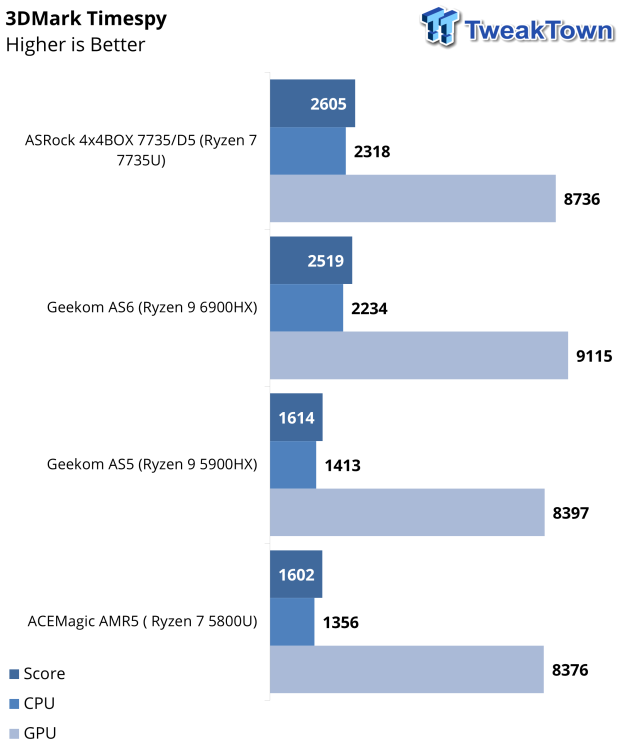 Gaming performance was just as good on this machine as on the AS5, the AMR5 having a slightly slower CPU, enough to make a 13-point difference overall.
Final Thoughts
The AMR5 was a solid PC in testing. The unique design was quite a bit more user-friendly than your typical 4x4 box design, allowing for easy upgrades with a removable side panel and adding a performance mode switch to the power button is a fantastic idea.
That said, I am not sure we would recommend it for gaming unless you are comfortable with lower resolutions like 1080p and perhaps turning down the quality settings in higher-end titles. Still, this machine can easily handle indie titles with its Vega 8 Radeon Graphics.
As mentioned, testing went off quite well. The 5800U lands between a touch above 11th Generation Intel in single-core performance while multi-core is quite a bit better, beating out mid-range Core i7-1360p in R23. As for the overall system, the AMR5 is just as good as the GEEKOM AS5 we tested last month, both scoring 1375 in CrossMark.
The included SSD is a weak spot for the AMR5. It ended up being the worst we have tested in 3DMark Storage. That said, it's probably one of the first things most of us would upgrade, perhaps straight out of the box. Gaming performance was tested using Time Spy, which again showed equal performance to the AS5.
Pricing is a big one. The AMR5 carries a $499.99 MSRP. It does come in a bit cheaper than the AS5, which now sits at $599.99. Connectivity is similar on both units, though the GEEKOM AS5 does offer 2.5Gbe and Wi-Fi 6e.