TweakTown's Rating: 97%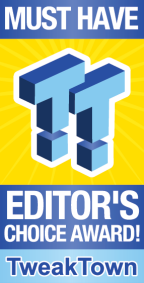 The Bottom Line
With 48GB of density, the Trident Z5 RGB open our eyes to a new market. Not only can G.Skill compete on all levels with this set of DDR5, the headroom with a little more voltage is some of the best in its class.
Pros
+

Familiar styling

+

Overclocking headroom and flexibility

+

Low voltage for its speed

+

Unlocked PMIC

+

48GB of density
Cons
-

No PMIC thermal pad

-

Could have easily been binned as a faster kit

-

Performance slightly less than others in its class
Should you buy it?
Avoid
Consider
Shortlist
Buy
Introduction, Specifications, and Pricing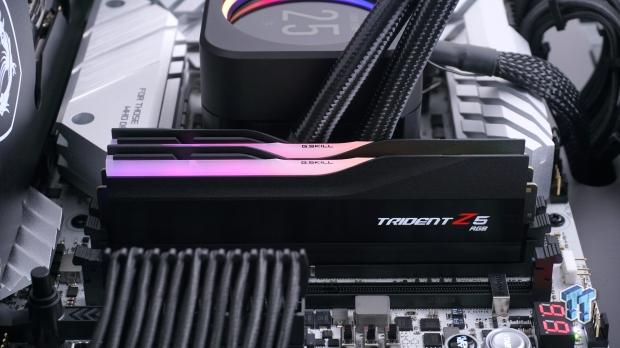 Regarding memory, especially kits released before DDR5, we always tended to gravitate to one company. In the time we have used their products, we have never been disappointed in our purchases, whether from their value-oriented kits or flagship models. Over those many years, we have had a lot of fun in forum overclocking competitions or just showing off the e-peen, mainly due to these kits' potential for overclocking. While the flagship models did come with a premium price tag to go along with their fantastic RAM, in the end, it was always worth the investment.
It has been a while since we last saw anything from this manufacturer, and while we had quite a few of their DDR4 sets for testing, DDR5 is an entirely new game, which leaves us with little to go on as to what they have developed, other than what we see in news blasts or on forum pages. Although, with what we have seen, G.Skill still seems to be one of the top brands in memory. Even as we write this, we just saw an email blast about their newest 8800 MHz kit they showed at Computex, proving that they are willing to push boundaries and offer some of the fastest products in the game.
While we have seen a few kits that have totally blown us away, we hope today is another of those when we look over what G.Skill has been up to. In our hands is a set of G.Skill Trident Z5 RGB sticks, but not only are they rated at 7200 MHz and the first kit to arrive with 48GB of density, which is all the rage right now.
We genuinely hope that density does not incur a penalty and that these Trident Z5 RGB can keep up with the likes of Patriot, TEAM, XPG, and Kingston, all already trading blows in this category for the top of our charts. Rather than continuing with our hopes and dreams, we feel it is time to dive in, see what G.Skill has in the box, and see how well it stacks up to its competition.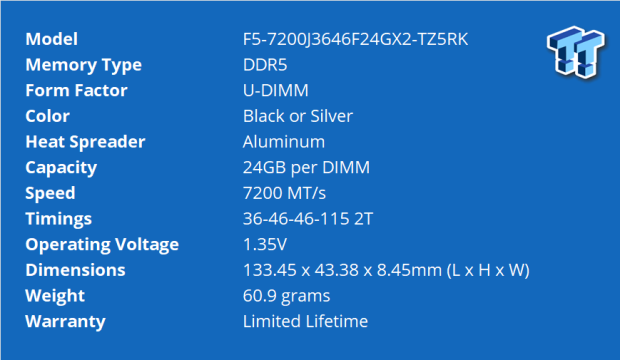 The Trident Z5 RGB in question is the F5-7200J3646F24GX2-TZ5RK. To help break that down a bit, the F5 at the start means it's DDR5. Following that is the 7200MHz speed, a J, and then the 36 stands for the CAS latency. The F24 shows the density, and the GX2 means there are two sticks at this spec. The ending is a bit of a mystery, but we can say that the RK at the end means that they are black. As the chart shows, these kits can also be had in silver if black clashes with your build.
The heat spreaders are made of aluminum and use a combination of brushed and textured aluminum for their aesthetic that harkens back to the older Trident and Trident Z sticks. Next on the list, we see that these are not the typical 16GB density sticks, but they are our first look at the newer 24GB modules. The XMP profile sets the speed at 7200 MHz with the timings of 36-46-46-115 2T. While every other set of 7200MHz RAM has shown up needing either 1.40V or 1.45V, G.Skill delivers this kit needing just 1.35V to pull it off.
Dimensionally, these sticks are 133.45mm long, 43.38mm tall, and 8.5mm wide. Each stick in the kit weighs 60.9 grams, which is heavier than most, meaning there is more aluminum to dissipate the heat. Lastly, should there be an issue with your set of DDR5 from G.Skill, they back it up with a limited lifetime warranty.
As we looked to Amazon for a kit, we found these Trident Z5 RGB listed for $264.99 on sale, five percent less than usual, and the standard price is $279.99. Strangely, Newegg lists the same kit with a $259.99 regular price, with the current price being $249.99. Pricing is more than many are used to in 32GB kits, but you are getting more density here.
However, cross-checked against the other kits we see, TEAM is sporting the same MSRP as Newegg, but they aren't currently on sale. Comparatively to the 32GB kits with similar specifications, the cost is around $180, some $80 less. Essentially getting another stick's worth of density in this kit, we feel the price is on point for the density offered.
G.Skill Trident Z5 RGB Series (Intel XMP) 48GB Dual-Channel Memory Kit
Packaging and G.Skill Trident Z5 RGB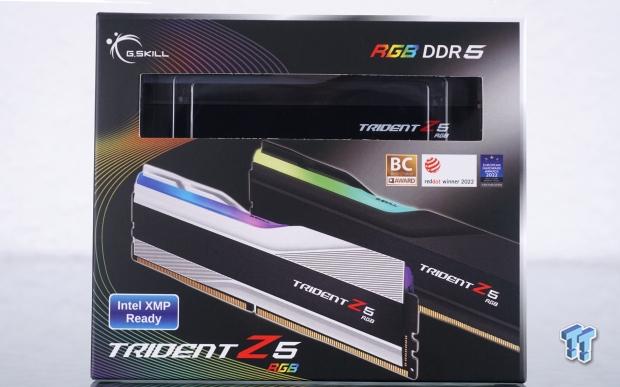 The front of the packaging is bright and colorful, with a window allowing a look inside, under the G.Skill logo at the left and RGB DDR5 at the right. Along with some awards is a look at both the silver and black Trident Z5 RGB, and along with that name at the bottom, we can see that these are Intel XMP-ready.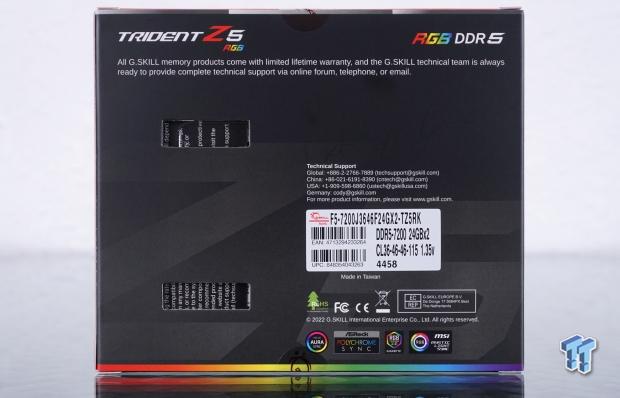 The back of the box is primarily black, with a ghosted Z5 in the backdrop. At the top, the warranty and support are discussed, and you can find the phone number and email address to the right of the windows, which are supposed to show the product stickers. Along with the product sticker, and the mention of being made in Taiwan, the last bits include legal information and the sync methods tested to work with the Trident Z5 RGB.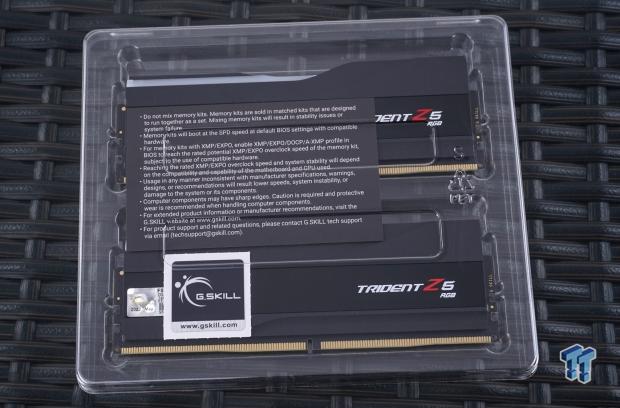 We could not see the product stickers because it was covered by a card with information on how to use this kit of DDR5 best. Along with that comes a case badge, and of course, all of that, along with the sticks, showed up in excellent condition due to the tight-fitting plastic companies use to ship them in.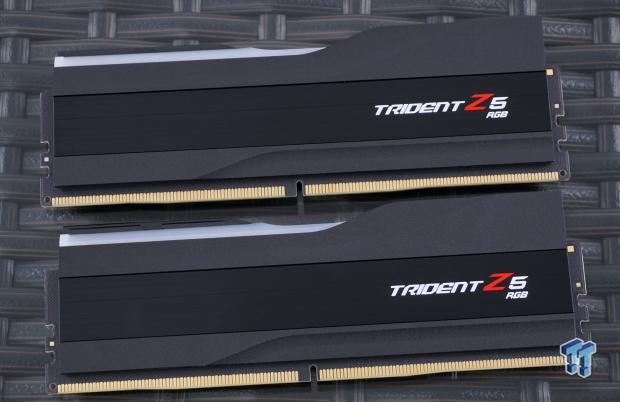 There is so much to like with the new Trident Z5 RGB styling. At the top and the bottom, the heat spreaders are made of textured black aluminum, which also sports gently curved body lines. Between them is a strip of black brushed aluminum, where the Trident Z5 RGB is delivered with white and red paint to contrast against the backdrop. At the top, from this angle, we see only a part of the milky white diffusers.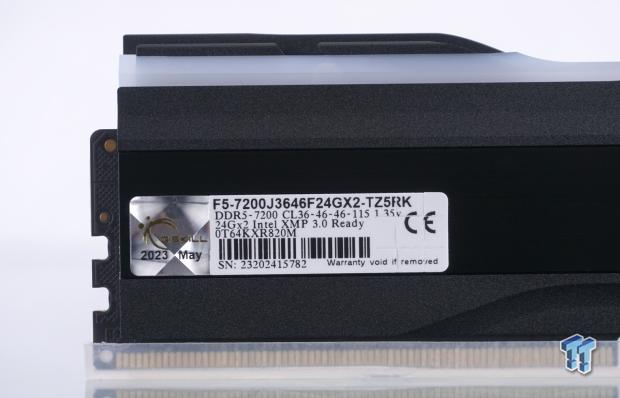 The other side of each stick looks the same as we saw in the last image, except for the addition of the product sticker we were meant to see through the packaging. The holographic part of the sticker has the G.Skill logo and the year and month of manufacture. The white portion delivers the model number, speed, timings, voltage, density, serial number, and notice not to remove them.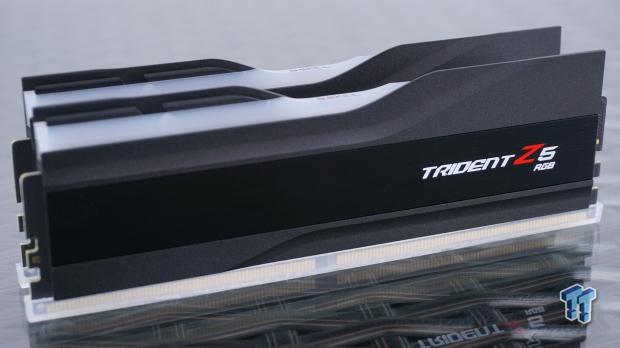 From this angle, we can clearly make out much more than was visible laid flat on the table. The textured aluminum and the brushed strip are more detailed, the curves are much more apparent, and we can see that the diffusers do go past the center line.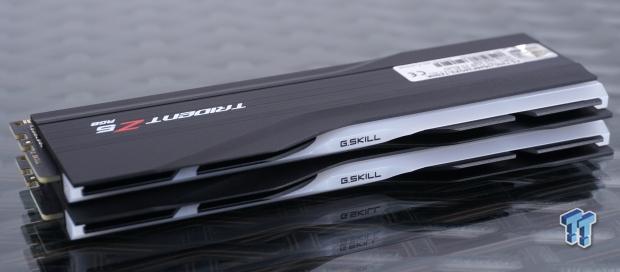 The diffusers lock around the aluminum at either end and use posts where the grooves are, at the top, to offer four contact points to lock them into place. The shape is angled to whichever side you can see the diffuser from, but the center is flattened, allowing G>skill to paint their name onto the diffusers.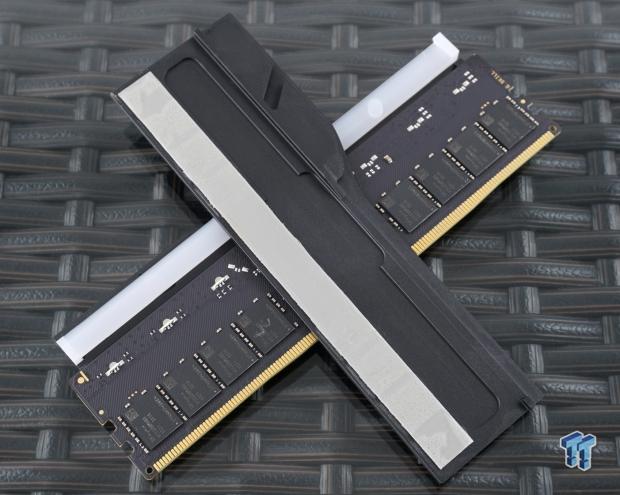 Removing one side of the spreader from the PCB, we noticed a lack of a PMIC thermal pad above the gray thermal tape used to cool the ICs. We find eight 3GB SK Hynic chips on the PCB, delivering 24GB of density per stick. For those wondering, the SK Hynix chip model used is the H5CG08MH80, which is brand new to us.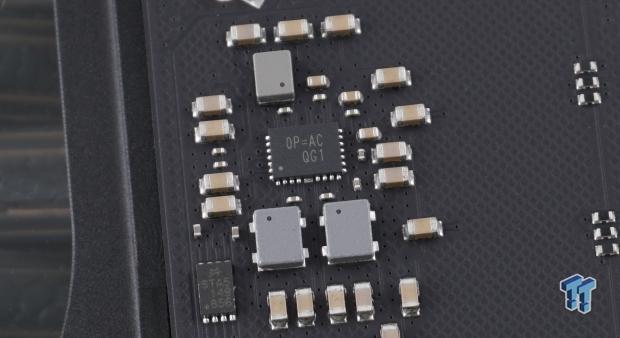 Taking an educated guess, we assume this to be a newer Richtek PMIC due to the 0P=AC model name, which resembles many of their previous ones. We can tell you that with a touch lower voltage needed, with more density involved, these may very well be more efficient than previous models, and we also know this PMIC is unlocked.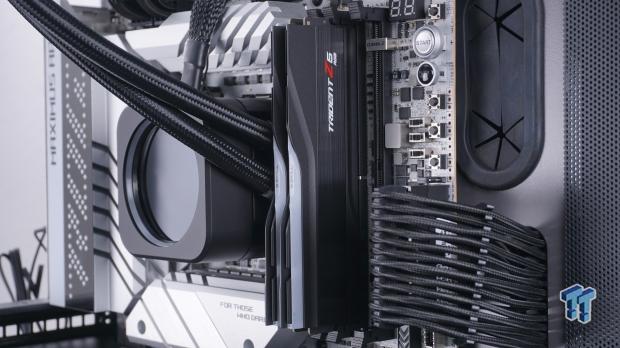 Even though they are not an exact thematic match to our build, we like the look G.Skill presents with the Trident Z5 RGB. Even with the new appeal, they are a blatant reminder of the kits that came before them, and the familiarity makes us all warm and fuzzy.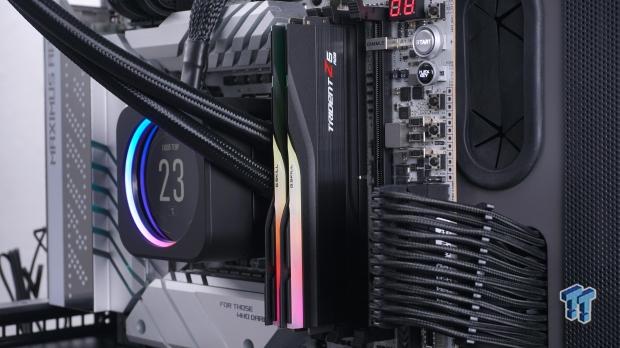 With power added, things get better, much better. With some of the best lighting in the industry, our Trident Z5 RGB comes to life with a brilliant RGB display to look at. The switching of colors is smooth, they quickly synced with our Armoury Crate software, and even under the bright lights, the illumination intensity shines right through without hotspots.
Test System Details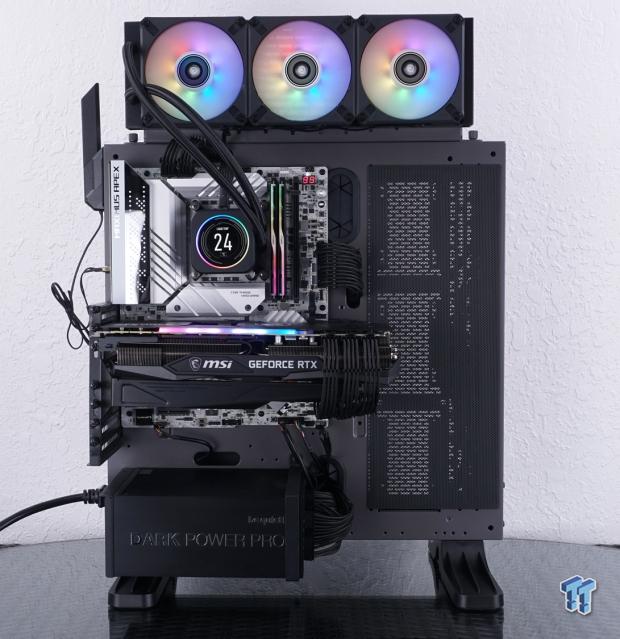 To obtain the Intel CPU-Z screenshots, you will see directly following this image; this is the system we used to do it, as well as in getting the results seen in the following pages. Thanks to Intel, be quiet!, ASUS, MSI, Corsair, and Sabrent for supporting us with this venture. Detailed specifications of the system can be found below.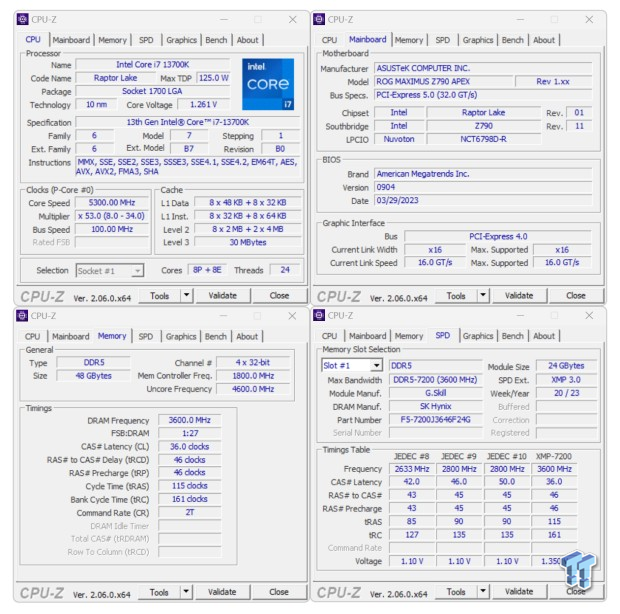 As it should have, once we enabled the XMP setting in the BIOS, we were greeted with a 48GB set of 7200 MHz RAM with 36-46-46-115 2T timings. The VDIMM requires 1.35V, while our motherboard set 0.833V for the system agent and 1.119V for the memory controller.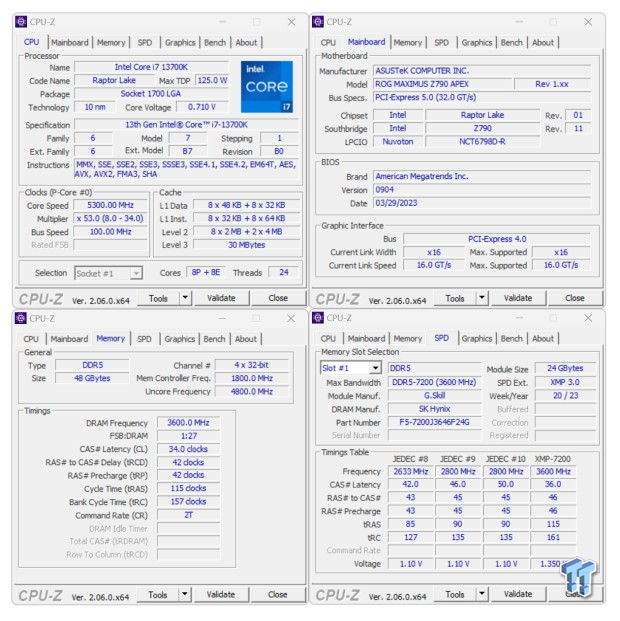 We tinkered to find the lowest stable timings at 7200 MHz and were surprised to see that these Trident Z5 RGB can go lower than many of the 32GB kits we have seen in the past. Getting down to 34-42-42-115 2T required us to raise the VDIMM, VDDq, and Tx voltages to 1.45V while increasing the system agent and memory controller to 1.381V and 1.40V, respectively.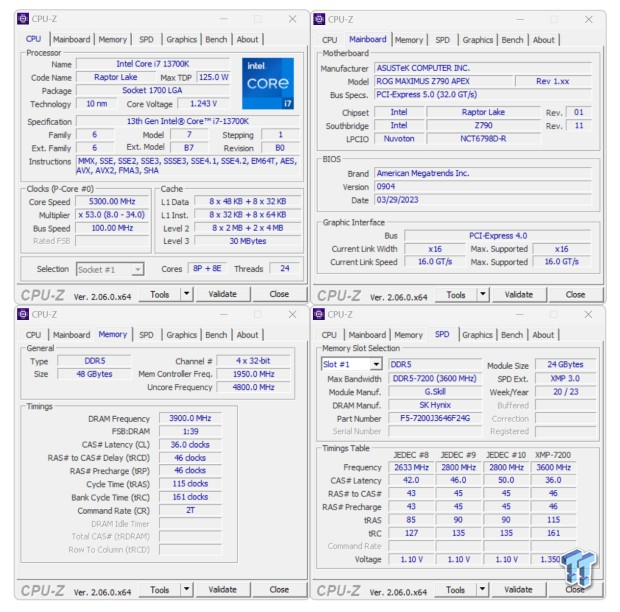 Keeping the voltages the same for finding the maximum speed as we did to find the lowest timings, we were shocked to see them reach 7800MHz with 36-46-46-115 2T timings. 32GB offerings tended to stop at 7600 MHz, where these shot right past that. If you are willing, we also booted them at 8000MHz, but it takes 1.5VDD/q/Tx.
Chad's Intel DDR5 Dual-Channel Test System Specifications
Intel Performance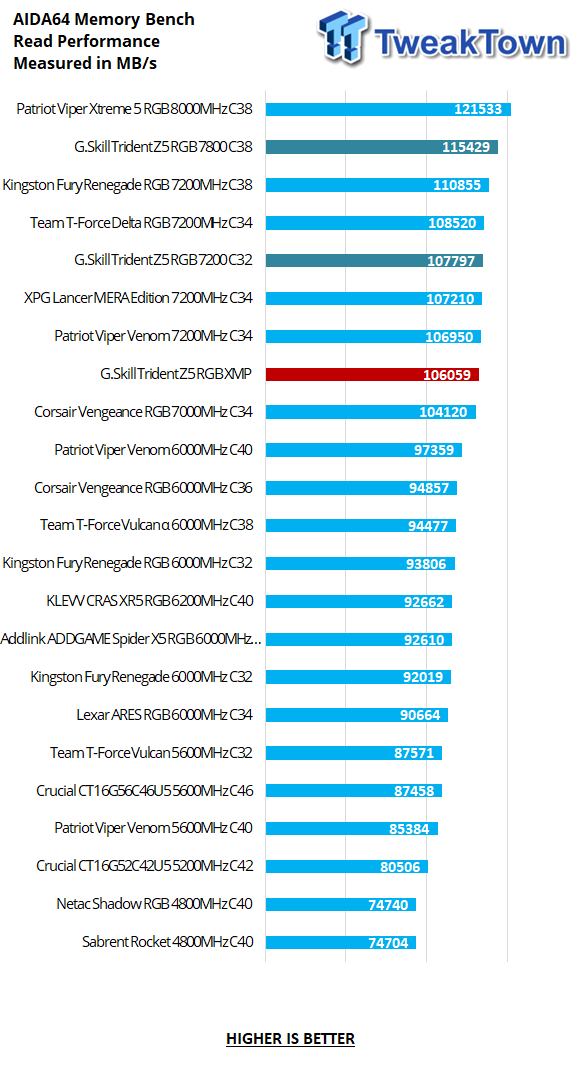 Even though we assumed there would be a performance penalty, even with a fifty percent increase in density, the Trident Z RGB falls within a margin of error of the Viper Venom, where G.Skill's XMP profile delivers 106,059 MB/s throughput in read performance. Running them with tighter timings nets us an increase of 1738 MB/s, while at 7800 MHz, the kit can provide 9370 Mb/s more than XMP.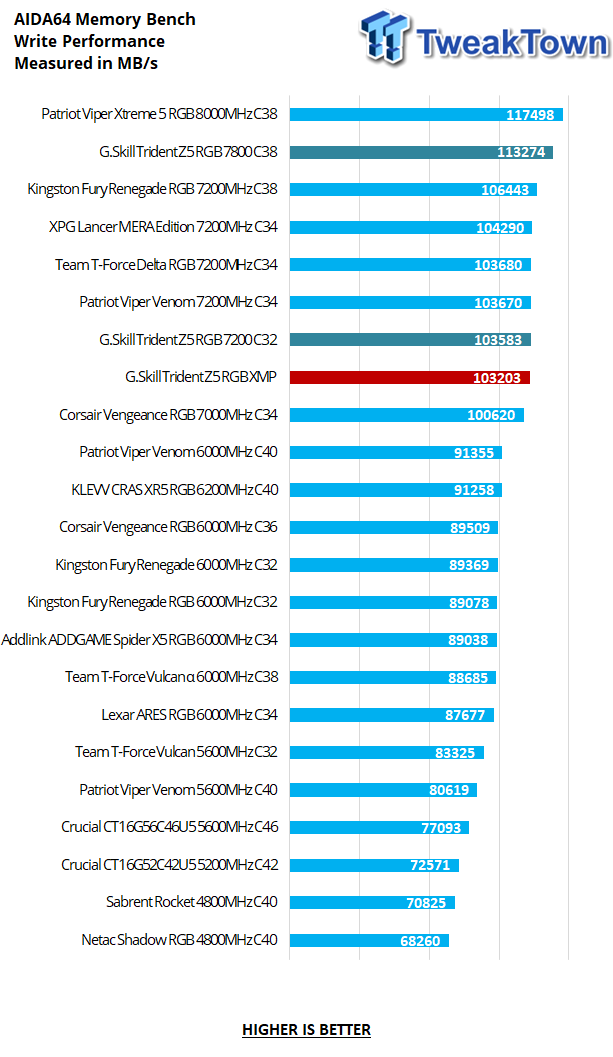 Again, the Trident Z5 RGB baseline at 103,203 MB/s write performance, which is slightly behind Patriot and TEAM scores. Reducing the timings offers minimal gains at 380 Mb/s over XMP, but with more speed, they shot up the chart, some 10,071 MB/s past what they did out of the box.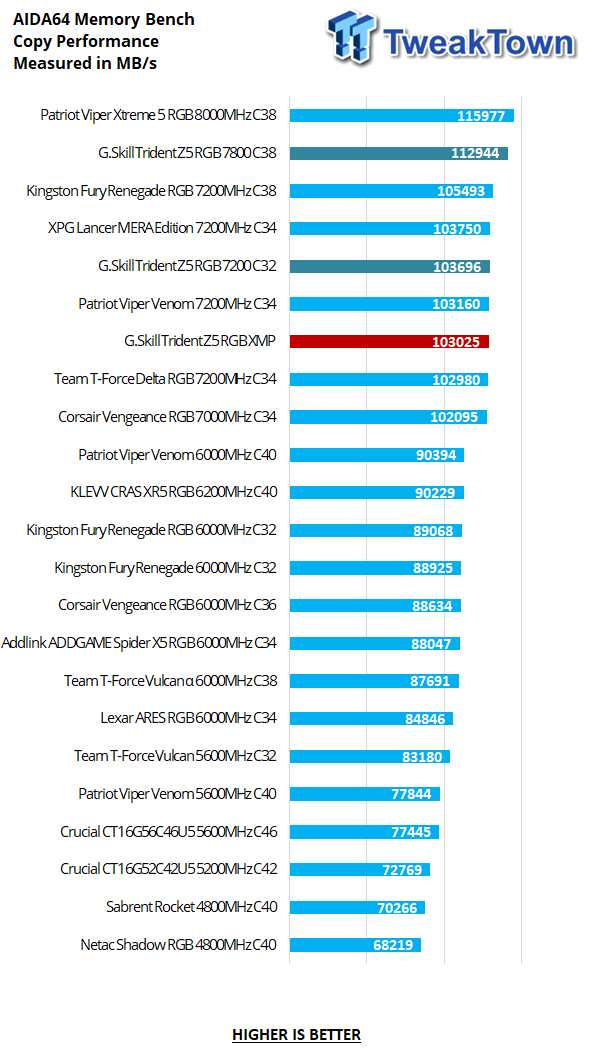 When looking at the copy results, we see Kingston and XPG well above the G.Skills, but on par with Patriot. Starting with 103,052 MB/s, we feel the Trident Z5 RGB is fine. Lowering the timings did little for us, only 671 MB/s more, but at 7800 MHz, that 9919 MB/s boost is greatly appreciated.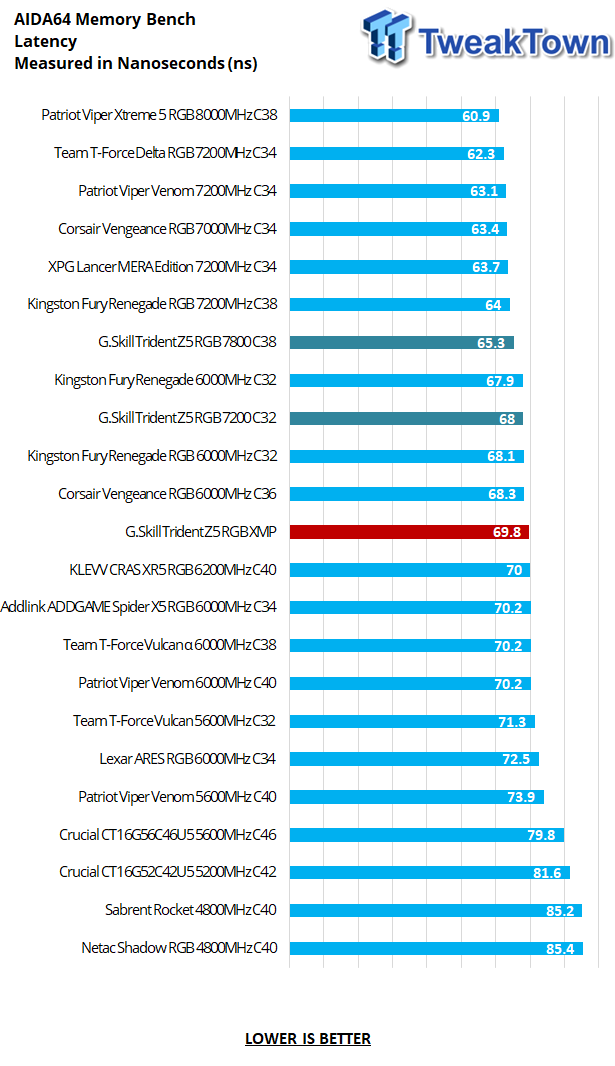 We fully expected that with more density would come more latency, and while we were right on the one hand, the other hand tells us it could have been much worse. At nearly 70ns, it isn't anything to write home about, but it is easy to see that you can lower that time quite a bit with the slightest bit of tinkering.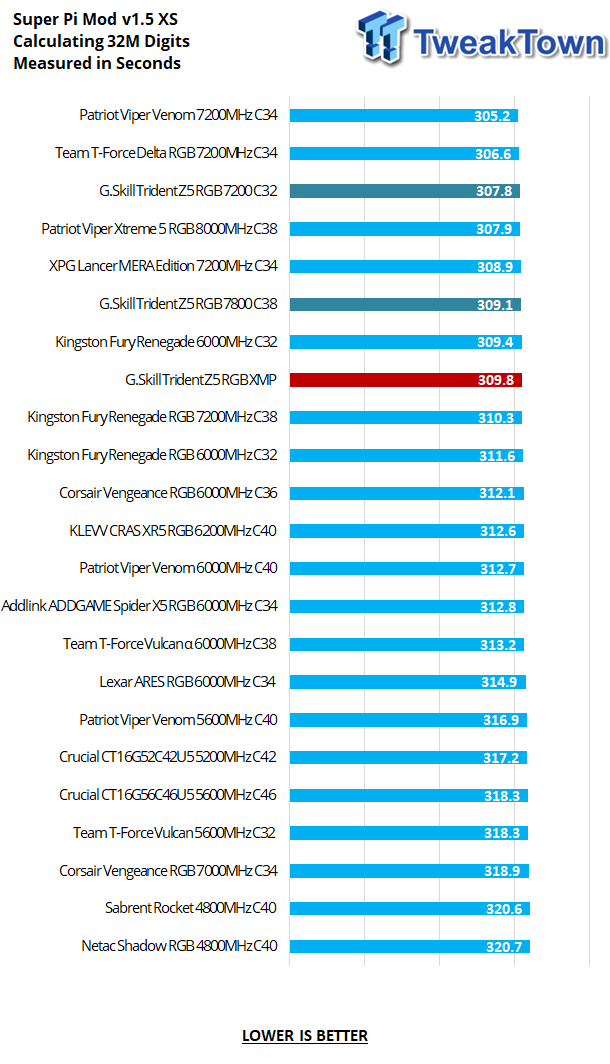 Super Pi does not mind the density, leaving the Trident Z5 RGB well above average in the time to complete this test. We are pleased by what we see at nearly three minutes and ten seconds. If you lower the timings, you can gain a little time back, but it is less than a second, where an increase in speed got the third best time, two seconds faster than XMP results.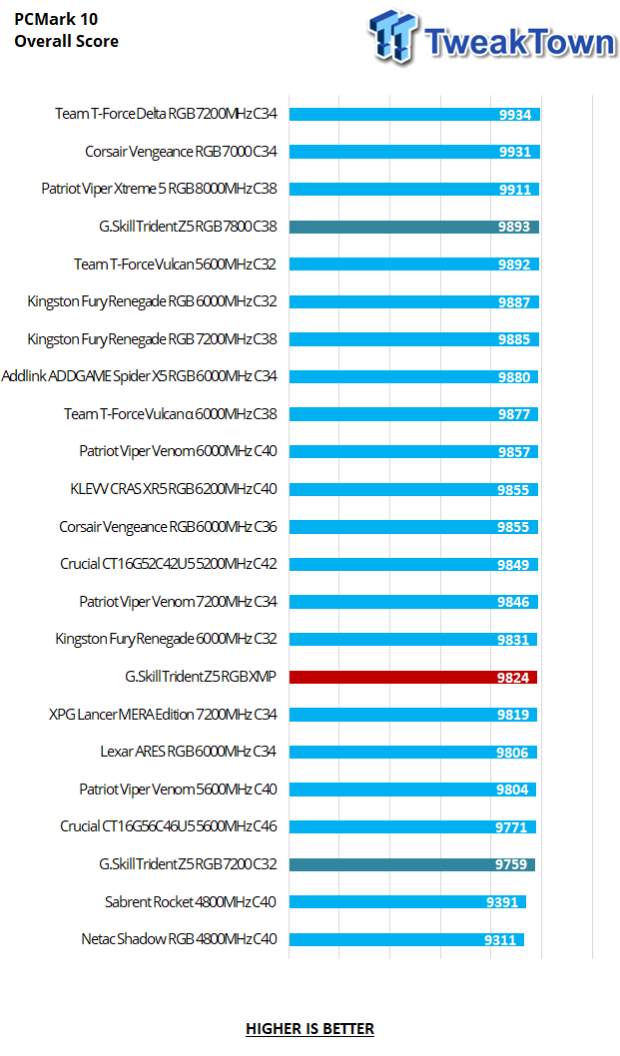 PCMark 10 did not enjoy the XMP profile or our attempts to lower the timings on the Trident Z5 RGB, as they placed near the bottom of the chart. However, to help save them, with increased speed, these sticks jumped way up to fourth place overall.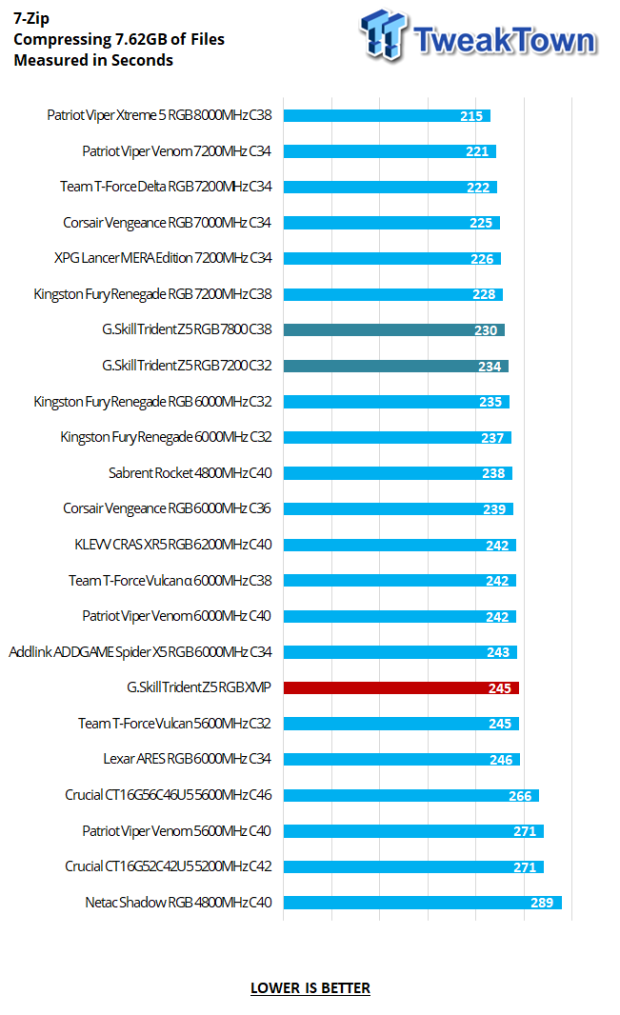 Somewhere around the average of all kits tested, we find the G.Skill Trident Z5 RGB results for the XMP run. We did get quite a bit of time back overclocking this set of DDR5, where we see an eleven-second advantage by lowering the timings and fifteen seconds back by increasing the overall speed.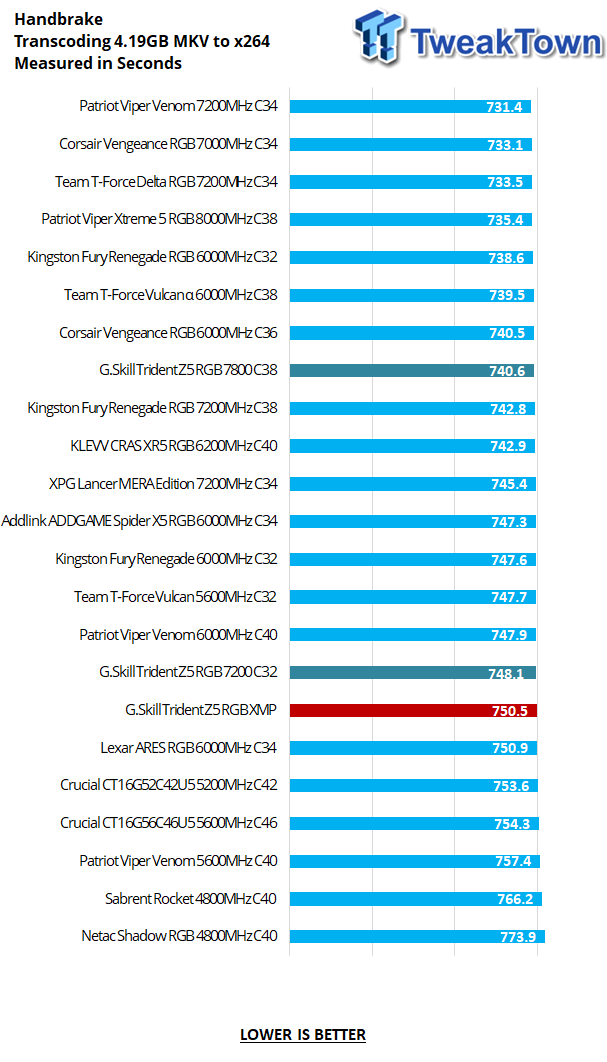 A touch slower than average, the Trident Z5 RGB falls into place, taking 750 seconds to transcode a little more than 4GB of data. Trying different timings got us a little back, but only 2.4 seconds. Running them as fast as we could, we took almost ten seconds off that time for every 4GB of data.
Final Thoughts
We love the visual appeal of the Trident Z5 RGB. They keep much of their heritage while being unique from the previous options, yet with just a look, most people will know who made them. The combination of textured and brushed surfaces is excellent, but the gentle curves in the body lines are a slick touch many can appreciate. While keeping the tradition alive, these are by far the most elegant-looking set of Tridents we have ever had. On top of that, the lighting and the ease of syncing it, while some of the best in the game, is just the cherry on top. If the sticks are the ice cream, and the lighting is the cherry, the overclocking ability is the whipped cream, lots and lots of whipped cream.
These Trident Z5 RGB, while bigger ICs than all the others in our charts, clocked easier and higher than any others to date. Not only that, the new PMIC, although not actively cooled, allows us to do things with less volts than the others. As we said, we did see more from this kit beyond our standard testing measures, and we know they have even more to give than we have shown, but you will want to actively cool them to go further.
When we initially made our charts, we were not thinking of everything needed to come up with a solid conclusion. At first glance, the likes of TEAM, Patriot, Kingston, or even XPG may be better bang for the buck, but that is not the entire story. Unless specifically marked as something other, the other kits tested are all 32GB kits. With an increase in density, there will inherently be more latency involved. Even so, the Trident Z5 RGB can keep up with the pack in many metrics. They may not trounce all of our 7200 MHz kits in the charts, but the fact that they can trade blows with them is more than good enough for us.
All things considered, doing the math along the way, there is nothing to be upset about or warrant us from dissuading you from looking to G.Skill for your set of DDR5. In fact, we feel that G.Skill takes all the proper steps, not just using high-quality components but adding more aluminum to their heat spreaders than others helps to keep things under control and with less voltage required. Delivering a set of 7200 MHz RAM with this much density, still capable of overclocking as it does, we are more in the astounded camp than anywhere else.
At $264 at Amazon, we would try to persuade you to look for a slightly better deal. Still, otherwise, price per GB, the Trident Z5 RGB can not only compete with the other big boys in this segment but isn't exorbitantly emptying your wallet. If you require more than 32GB in your system but 64GB kits are out of your grasp, we can honestly say that you will not be disappointed in what G.Skill delivers in these Trident Z5 RGB kits.