TweakTown's Rating: 89%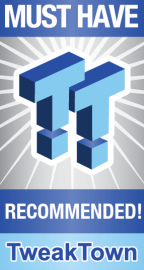 The Bottom Line
The NUCS BOX-1360P/D4 SFF PC offers high-end options across the board, but it's fairly costly.
Pros
+

SFF design

+

Performance

+

Connectivity

+

Upgradability
Cons
Should you buy it?
Avoid
Consider
Shortlist
Buy
Introduction, Specifications, and Pricing
I was late to the party when we looked at the NUCBOX 1260p in August last year. Since then, Intel 13th Gen has launched for team blue and, subsequently, the new year, which brings forth the launch of H, P, and U series mobile portfolios for any vendor with skin in the game. For us, ASRock was the first to reach out with a 13th Gen solution ready to go, the NUCSBOX 1360p/D4.
Specifications
The NUCSBOX 1360p/D4 is a slim profile offering at just 38mm, eliminating the possibility of a 2.5" SSD or HDD on the lid. The model sent to us is powered by Intel's Core i7-1360p, as its name would suggest, a 28W CPU offering 12 cores, the split being four performance and eight efficient cores, but it does support hyper-threading, so a total of 16 threads are available. This offering does use DDR4 SODIMMs with two slots available and a max capacity of 64GB. Those wanting a DDR5 platform should look for the D5 variant of this machine.
Internally, the D4 offers a single Gen4 m.2 slot. We used our Rocket 4 Plus in testing. This solution also has a Key E m.2 slot for Wi-Fi. The AX210 was installed from the factory, but without CNVi, this could be upgraded in the future.
External ports include two USB 3.2 Gen 2 on the rear I/O, while the front offers two Gen 2 ports as well. In addition, two USB-C ports can be found on the face of the unit, one supporting USB4 and the other 3.2 Gen 2; however, both appear to offer DP functionality. On the networking front, this model provides a single 2.5Gbe connection using the i226LM chipset from Intel. Display functionality includes two HDMI 2.0b ports, and when added to the available DP over USB-C, this system can handle four displays.
Pricing for the ASRock Industrial NUCSBOX-1360p/D4 should hover around $700 in its barebones form. With the memory and storage we added for testing, our system came in close to $1000. The warranty is listed as one year.
NUC BOX Overview and BIOS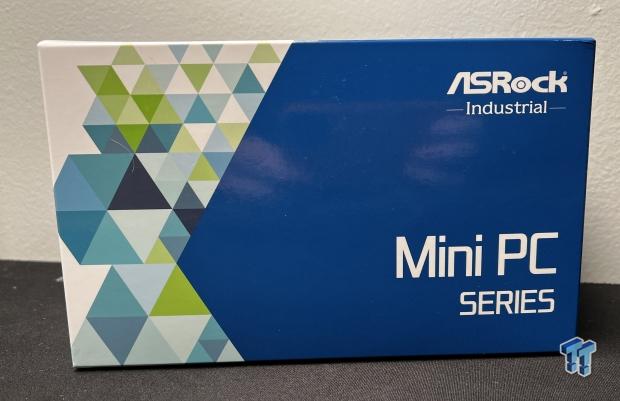 The packaging is non-descript, with ASRock branding top right.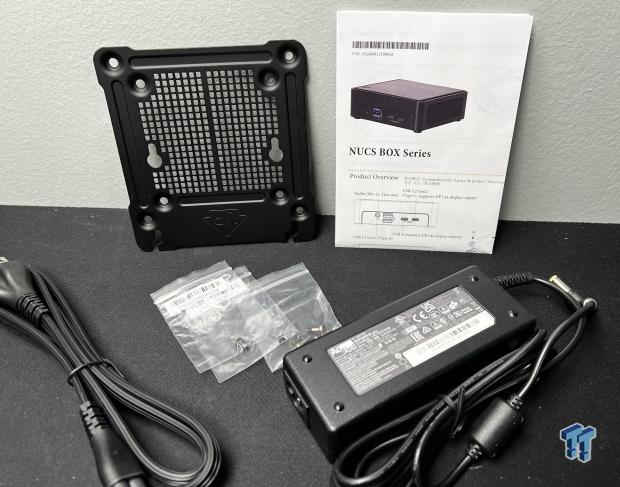 Opening things up, we found a small booklet with information about the NUCSBOX, including port layout. The packaging included a VESA mount and hardware for the NUCSBOX and its power adapter, an ACBel model at 19v 4.5A.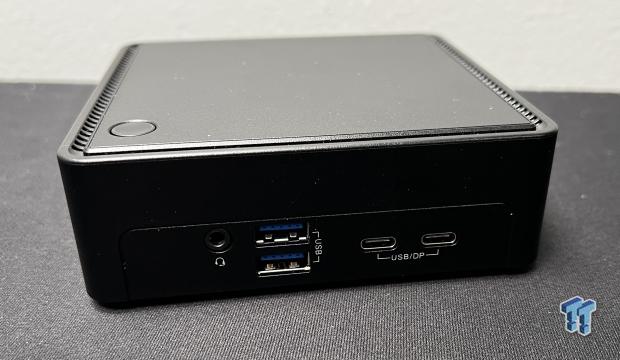 Above, we have the front of the unit. As mentioned, we have four USB ports, split between a single USB4 and USB 3.2 Gen 2. Off to the left, you will find the 3.5mm audio jack powered by the Realtek ALC233.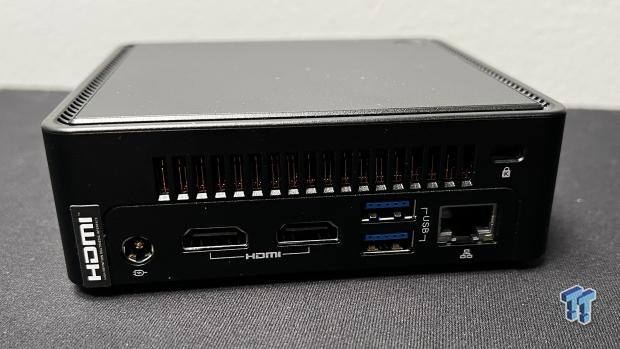 On the rear, we have cooling up top with a copper sink and fan pushing air out. Left to right, we have power input, two HDMI 2.0b, and two USB 3.2 Gen 2 ports. Wrapping this up, we have a 2.5Gbe LAN port and Kensington lock just above.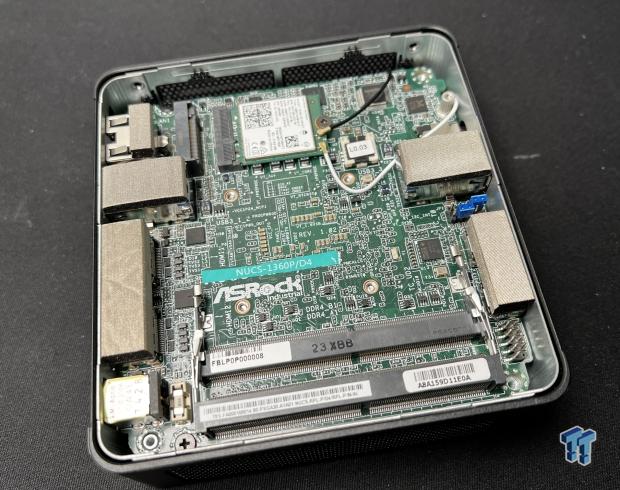 Internally, Wi-Fi and NVMe m.2 sit up top the middle of the unit empty. Towards the bottom, we have the two DDR4 SO-DIMM slots.
BIOSI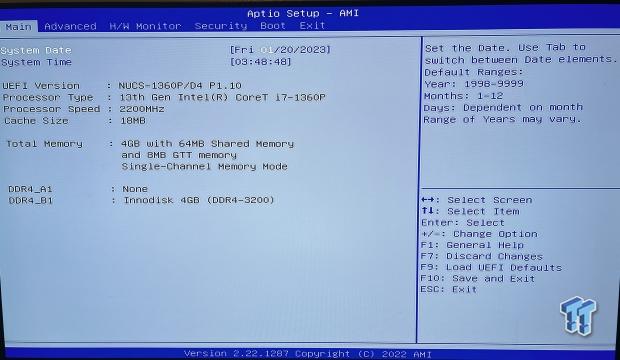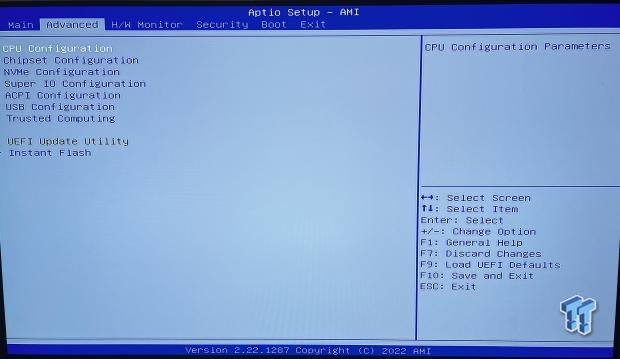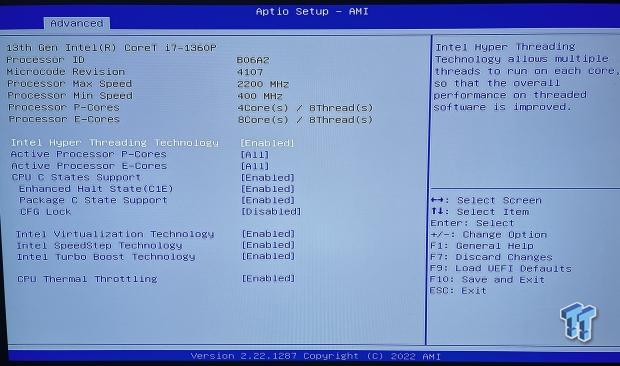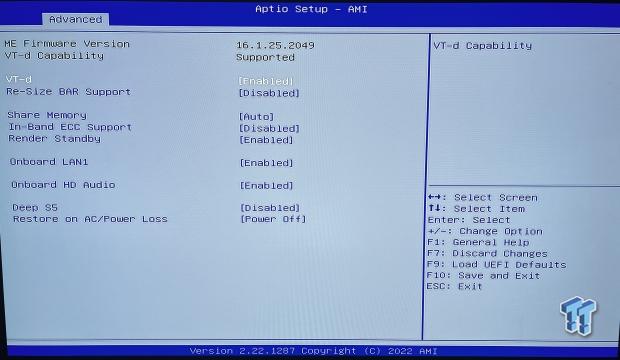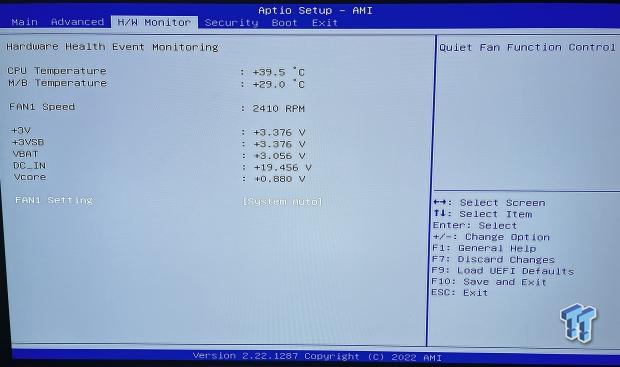 The BIOS is the old-style keyboard setup. The main menu offers hardware information. Into the advanced menu, you have options for configuring the CPU, chipset, and NVMe settings. Further down, you also have the option for updating the BIOS with Instant Flash.
The hardware monitor watches CPU and motherboard temps, the cooling fan, and basic voltages.
System/CPU Benchmarks
Cinebench
Cinebench is a long-standing render benchmark that has been heavily relied upon by both Intel and AMD to highlight their newest platforms during unveils. The benchmark has two tests, a single-core workload that will utilize one thread or 1T. There is also a multi-threaded test that uses all threads or nT of a tested CPU.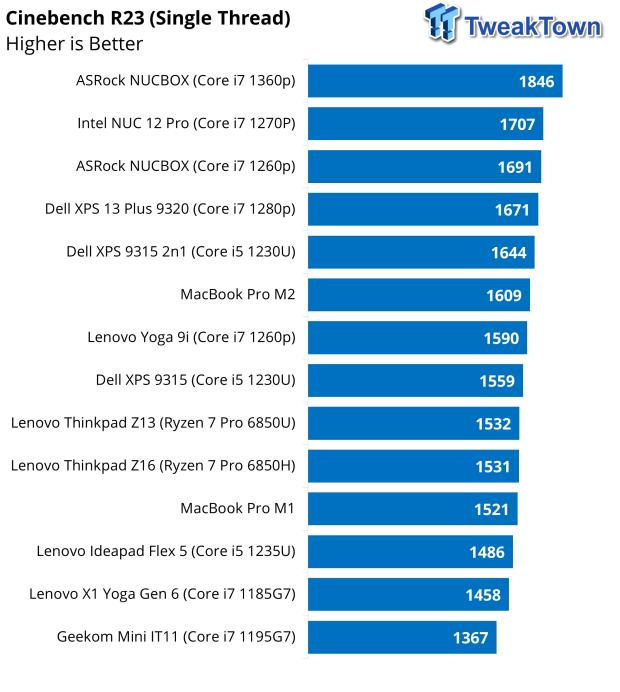 The NUCSBOX did quite well in R23. Noted above, we have a single thread score of 1846, the highest we have seen from a P or U series machine to date.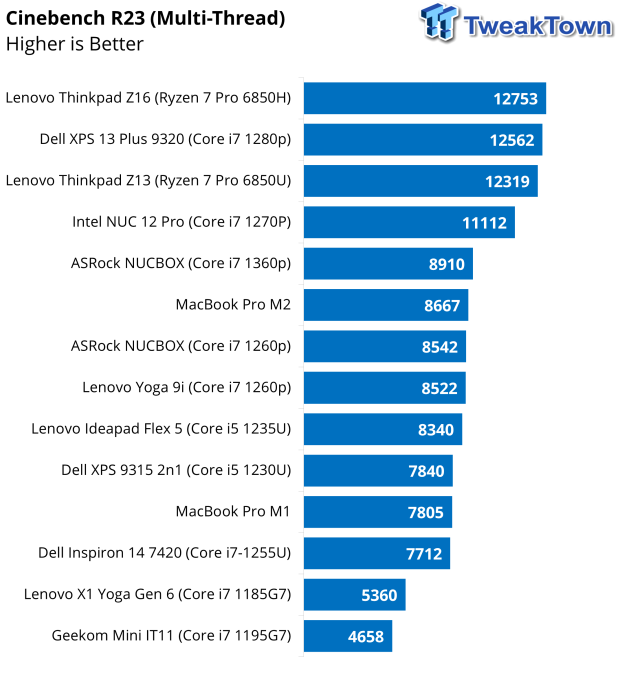 nT pushed our score to 8910, edging the M2 MacBook Pro.
BAPCo CrossMark
CrossMark™ is an easy-to-run native cross-platform benchmark that measures the overall system performance and system responsiveness using models of real-world applications. CrossMark™ supports devices running Windows, iOS, and macOS platforms.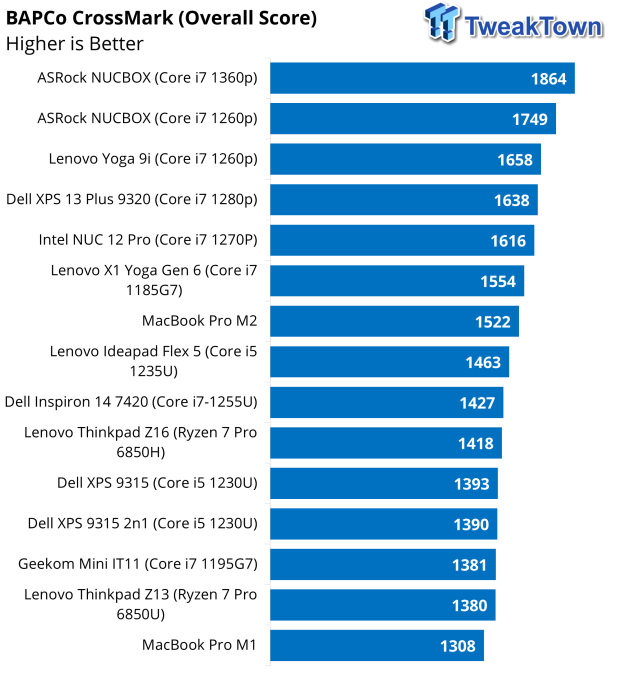 CrossMark gave us a score of 1864, just enough to take over the top spot from the previous NUCSBOX 1260P from ASRock.
UL Procyon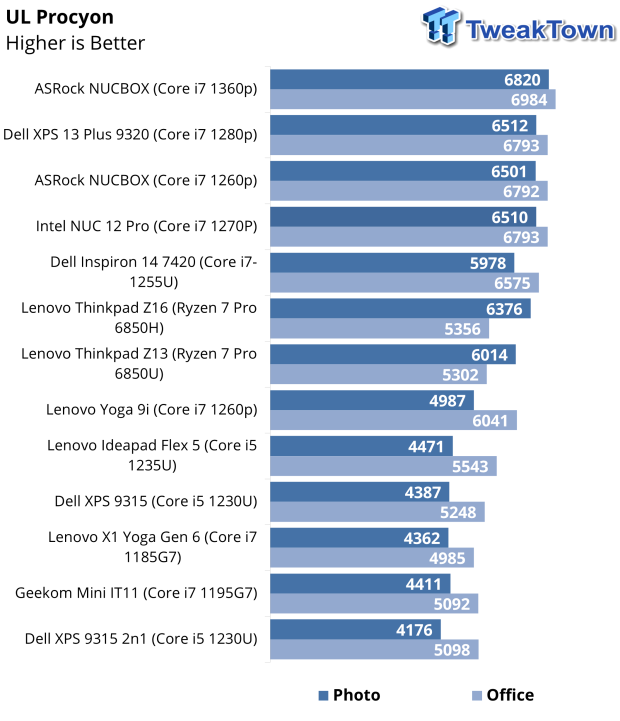 UL Procyon gave us two scores, one for Photo and the other being Office. Photo the 1360p scored 6820, and Office gave us a score of 6984, both being good enough for the top spot in our charts.
3DMark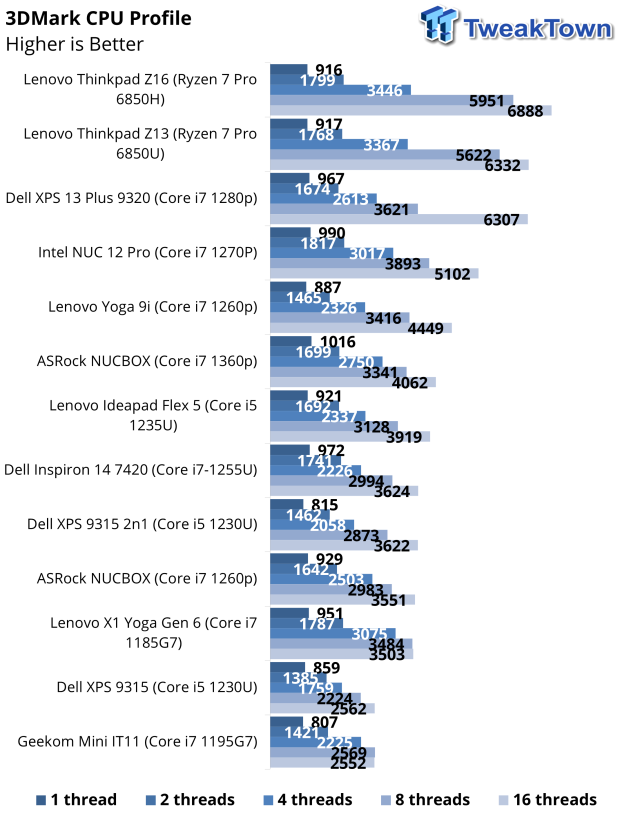 CPU Profile offered a peak score of 4062, a touch over the 1260p variant.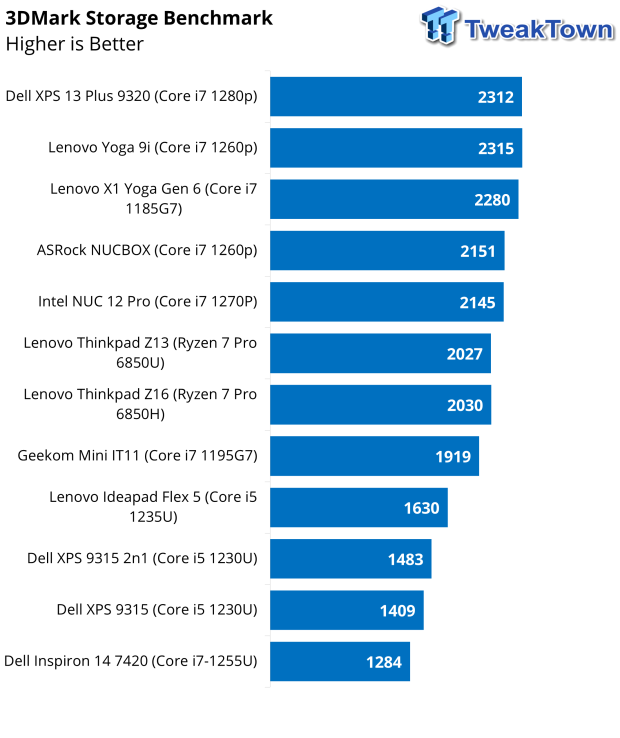 Diving over into 3DMark Storage, the NUCSBOX lands with a score of 2176 and a bandwidth of 548 MB/s.
Networking and Final Thoughts
Networking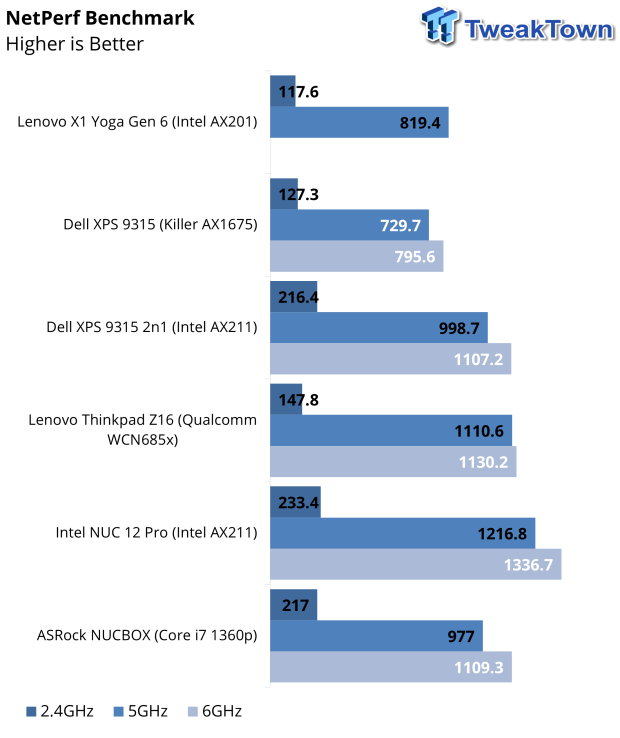 Testing the WLAN capabilities of the NUCSBOX 1360p, we noted similar results to other AX210/211 systems. 2.4GHz gave us 217 Mbps while switching to 5GHz, we noted a sizable improvement to 977 Mbps. Testing 6GHz, we ended up with 1109 Mbps.
Final Thoughts
The NUCSBOX 1360p tested quite good and gave us our first look at Raptor Lake P. Overall, we were impressed with sizable gains in many of our top benchmarks, including R23, CrossMark, and UL Procyon.
Connectivity for the D4, while physically slim compared to our look at the 1260p model last year, is quite good overall and eliminates the congestion we found in that unit. The D4 does offer USB4 on the front panel, alongside a decent amount of USB 3.2 Gen 2 and multiple HDMI 2.0b ports. It provides both WLAN and 2.5Gbe LAN, both coming from Intel, the wired port using a newer i226LM chipset while Wi-Fi uses the AX210 over the AX211, which should give it the ability to be upgraded if ever needed.
Everything considered the NUCSBOX 1360p/D4 is certainly a capable machine. Even with the slimmed-down chassis, we could pull enough performance from this unit for it to take the top spot in many of our charts.
That said, it's not cheap, so while this would be a fantastic place for new consumers to jump in, existing users should probably weigh their decision more closely.