One of the big marketing points in reference to NVIDIA's latest GT200 Series graphics cards is the embedded PhysX support, enabled by means of a recent ForceWare driver update.
It has been assumed for a while now that the advancement of PhysX support on graphics cards was primarily at the hardware/technology level, with corrosponding drivers to make use of it; however, Eran Badit of NGOHQ
heavily indicates
this is most definitely not the case.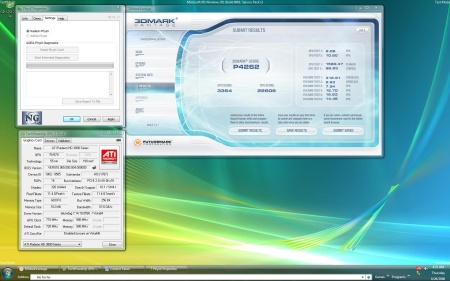 Having spent some time digging deep into NVIDIA's CUDA SDK and PhysX SDK, he has found a way to enable the PhysX layer on HD 3800 series ATI Radeon cards! - A run of 3DMark Vantage confirms it is indeed working, boosting his CPU score to 22,606 and final P score over 450 points higher than without the use of PhysX.
As NGOHQ does not have close ties with AMD, this mod has not yet been tested on the more recent HD 4800 offerings; though I am sure it won't be long before curiosity kills the cat and they get their hands on one to see if this feat is still possible.
Once tested on other cards and platforms to be deemed a success, Eran intends to offer the ATI PhysX-enabling utility on his site. I wonder what NVIDIA thinks of NGOHQ at the moment?