Intel's upcoming low-power architecture has been made slightly clearer thanks to new leaks, where we're learning more about Lunar Lake-MX, which will arrive in laptops and hopefully handhelds in 2024.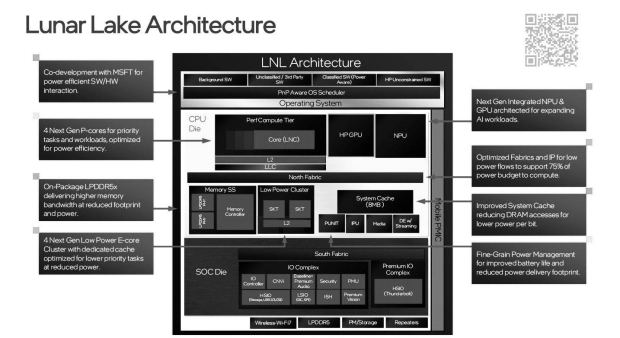 The next-gen Intel Lunar Lake-MX was leaked by "YuuKi-AnS" who shared the slides on Twitter of course, they were removed quickly, but with the internet being the internet, nothing is ever truly deleted. The slides tease Intel's next-gen Lunar Lake CPU series that were designed for low-power systems, where power consumption will start at 8W with designs up to 30W.
Intel has co-developed the Lunar Lake architecture, according to these slides, for the power-efficient software/hardware integration side of things. Inside, Intel will be using a next-gen integrated NPU 4.0 (Neural Processing Unit) for Microsoft to brand Lunar Lake-powered systems as "AI PCs," of course.
You'll also have decent Xe2-LPG graphics, with Lunar Lake-MX being the first product that will feature the power-efficient "Battlemage" GPU series.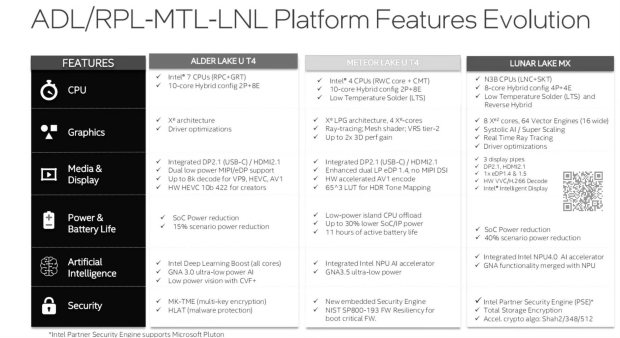 Inside the GPU, you've got 64 Vector Engines that support Systolic AI/Super Sampling technologies and real-time ray tracing support. Integrated DisplayPort 2.1 will be provided over USB-C, but Lunar Lake will also have HDMI 2.1 support for 4K 120Hz+ output. The GPU will offer up to 8K decoding for VP9, HEVC, and AV1 encoding. For content creators, there's hardware HEVC 10b 422, too.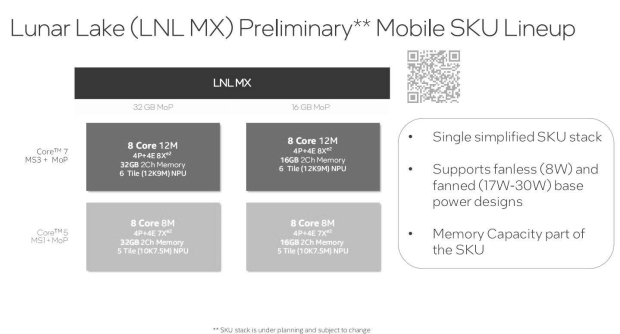 On the CPU side of things, Intel has preliminary Lunar Lake-MX series CPUs coming: an 8-core (4P+4E + 8 x Xe2 GPU cores) with up to 32GB of LPDDR5X-8533 RAM support. There'll be the same CPU + GPU combo with 16GB offered, both of these CPUs will be in the Core 7 family of processors for Lunar Lake. For Core 5, we've got an 8-core CPU as well (4P+4E + 7 x Xe2 GPU cores) with the same 32GB and 16GB dual-channel RAM support.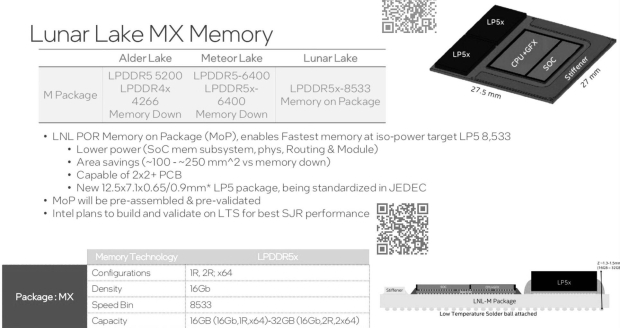 16GB or 32GB of LPDDR5X-8533 memory will be on each Intel Lunar Lake-MX design, and with the Memory on Package (MoP) it enables lower power consumption (SoC memory subsystem, routing, and module), area savings, and more. It will be impressive to see when it's out in the wild.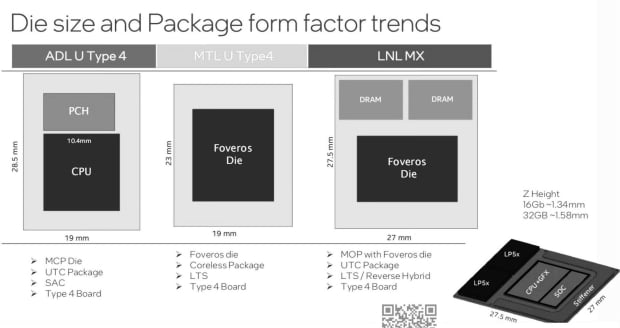 Where things are different here with Lunar Lake is that Intel will be using dual-channel LPDDR5X-8533 memory, which is an on-package memory (MoP). Intel is integrating the memory onto the package itself, with the CPU + GPU and a separate SoC tile for Lunar Lake.
There are also PCIe Gen5x4 and Gen4x4 interfaces here, with Thunderbolt 4 support and up to 3 x USB4 connections. Intel also includes the newer Wi-Fi 7 and Bluetooth 5.4 support through the BE201 network card based on the CNVio3 interface.