Recently, we sat down with Intel's Roger Chandler to find out how the new APO multi-threading tech helps boost game performance on the new 14th Gen Intel Core CPUs - often with sizable double-digit bumps.
At the time, we noted that the new Intel Application Optimization (APO) tech was exclusive to the new Core i9 14900K and Core i7 14700K, and with Intel reiterating this 14th Gen exclusivity to tech channel Hardware Unboxed - it sounds like APO won't be making its way to 12th and 13th Gen products. This is strange when you factor in that the 14th Gen "Raptor Lake Refresh" shares architecture with previous-gen Core products.
APO is a software tool created to work alongside Thread Director (developed for Windows with Microsoft) to manage and optimize threads across Intel's Performance and Efficiency Cores, specifically for PC games. The new optimizations are tested with various games, and if there's a benefit, the existing policy in Thread Director is updated to deliver free performance.
The gains are impressive, with up to a 15 to 20 percent improvement in frame rates in Metro Exodus and Rainbow Six Siege (two titles with APO support so far). It all comes down to how the 'P' and 'E' cores in Intel's CPUs are managed, with the consensus being that it's the sort of software feature or improvement that should be open to more products.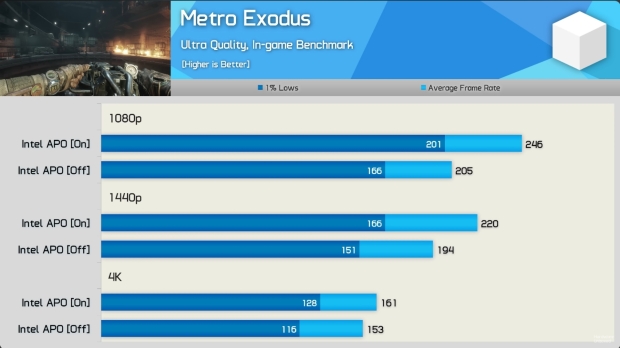 Hardware Unboxed put APO to the test in its latest video, which you can see above, and they witnessed the impressive gains firsthand, which sparked them to reach out to Intel to find out if APO tech would be making its way to previous-gen CPUs. The response was short (and not exactly sweet), with the Intel representative stating, "Intel has no plans to support prior generation products with Application Optimization."
Naturally, the response to this has been mixed - with those sporting flagship 13th Gen CPUs upset that they're missing out on the impressive tech. Also, there's the idea that gatekeeping technology like this is a bad move for Intel competing with AMD and its Ryzen lineup for PC gamer mindshare.
Assuming, of course, that there's not a fundamental or hardware-related reason why APO wouldn't work on 12th and 13th Gen CPUs.