Samsung has announced that it has jointly developed an advanced 3D spatial audio technology alongside Google called IAMF or Immersive Audio Model and Formats. Not exactly the most elegant name, but the open source-based audio technology aims to become the leader in the 3D audio market, including Dolby Atmos, Sony's 3D Tempest Audio on PlayStation 5, and DTS. And when it finally makes its way to the public, it could be called 'Samsung Sound.'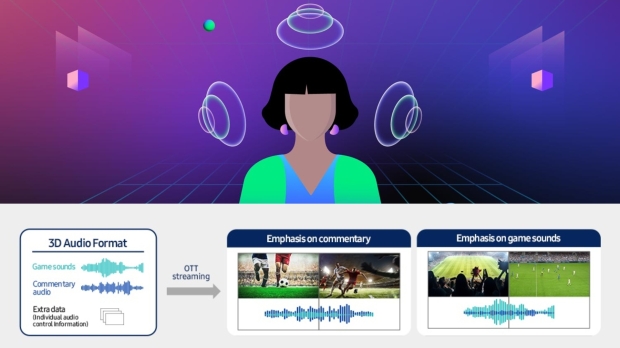 3D Spatial Audio, instead of traditional surround sound, is about highlighting positional audio. IAMF can express audio vertically, so you get sound from the left, right, rear, and above and below. In creating this 3D sound profile, IAMF uses AI and deep-learning technology.
"IAMF makes sound more realistic by allowing listeners to hear audio in front, behind, or to either side and above or below them," said WooHyun Nam from Samsung Research's Visual Technology Team. "When IAMF technology is applied to home TV speakers and sound bars, it allows listeners to hear sounds such as birds flying over their head on their TVs at home."
According to the announcement, IAMF will dynamically adjust audio to create an immersive 3D soundstage and highlight conversations to ensure dialogue is always clear. Users can change the profile, too; for example, the commentary or the sound from the game can be emphasized when watching a sports broadcast.
Samsung and Google have been working together on IAMF since 2000, and the project took nearly four years to complete. Now, it's a matter of making it publicly available - with Samsung developing an advanced version of IAMF technology that can be applied to mobile devices, video games, and more.
"My goal is to develop a technology that consumers will be able to easily distinguish as 'Samsung Sound' when they hear it," SungHee Hwang from Samsung Research's Visual Technology Team said. "I am optimistic that the IAMF standard is a stepping stone toward this dream."