Earlier this year, we reported on Microsoft expanding its compression support in Windows 11 to include native RAR, 7-Zip, and other file formats that aren't your basic ZIP files. For those that have been dealing with archived files over the years, undoubtedly, you've encountered some RAR files - which have been a Windows staple since Windows 95. Native support has been a long time coming; does this mean no more WinRAR? Well, not quite.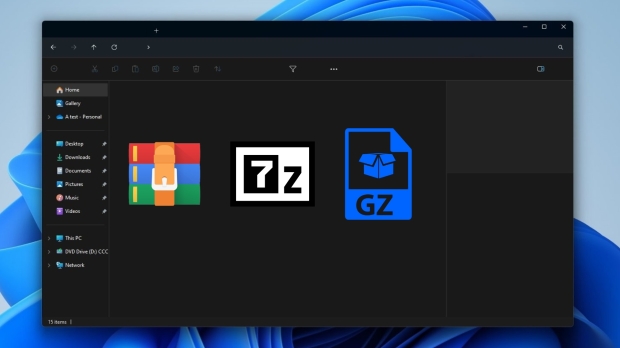 Five months after confirming that Windows 11 would be getting much more compression love, the support arrives as part of the latest KB5031455 (OS Build 22621.2506) Preview update. But there's a catch, at least in this first version. The new compression features in Windows 11 do not support password-encrypted files.
However, the expanded archive support now includes 11 new file formats with the help of the open-source libarchive project, which is described as an "efficient C library that can read and write streaming archives in a variety of formats."
Here's the full list of expanded archive support file formats in Windows 11.
.rar

.7z

.tar

.tar.gz

.tar.bz2

.tar.zst

.tar.xz

.tgz

.tbz2

.tzst

.txz
No password support is strange, though you have to assume that this is a feature that Microsoft is working on. Why it took so long to add native RAR support is anyone's guess; native ZIP support was added back in the days of Windows 98.
This new Windows 11 update isn't limited to archiving files, as it also introduces an overhauled File Explorer, a dedicated Backup app, built-in password management, and the long-awaited AI-powered Copilot. For all of the details on what's in store, check out the Release Notes.