As the spiritual successor to the iconic Sim City franchise, many gamers have highly anticipated the launch of Cities: Skylines II. Before the game's launch, developer Colossal Order and publisher Paradox Interactive warned players that the game would feature major performance issues.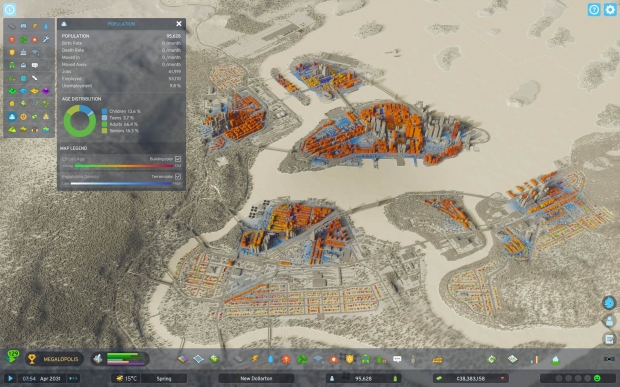 A definite red flag, and with the game's launch seeing the concurrent player count hit over 100,000 on Steam; the current user review rating is sitting on 'Mixed' with most of the negative feedback surrounding the game's notably bad performance and optimization.
The developer and publisher (most likely the latter) thought that simply stating "performance is bad" was enough to lessen the community outrage. Cities: Skylines II is running at 20 FPS for many players, so the game is a mess regarding performance. To make the situation worse, as part of a new "Post-Release Plans & Goals" post, the developer states that "performance is not a dealbreaker" when launching a game on PC.
Based on the state of PC game releases in 2023, that makes sense, but it shouldn't be the directive. Essentially, the team behind Cities: Skylines II says it's okay to release a buggy game that performs terribly. The justification is that if some are having fun, that's okay.
"For us, the number one priority is for the players to have fun with the game, and we had seen enough feedback from players enjoying the game that it would be more unfair to postpone," the post reads. "We know we will keep working on the game and do our best to fix issues as fast as possible, so we wanted to respect the announced release date and allow people to start playing the game."
'Respect the release date' is a strange line because most gamers prefer a game to launch when it's ready.
For those experiencing poor performance, the team suggests lowering the resolution to 1080p, disabling depth of field and volumetric effects, and reducing the global illumination setting. The developer adds that the performance issues are tied to the game's rendering (aka the GPU) and not the game's systems.
It sounds like there's a lot of optimization work to come, with plans to add DLSS and FSR 2 to improve performance further. Based on the game's popularity and franchise, Cities: Skylines II isn't going anywhere. Performance will improve, but the 'release it now and fix it later' approach to launching the game is disappointing.