Microsoft's gaming division outperformed expectations and beat the highest internal forecasts by over $100 million.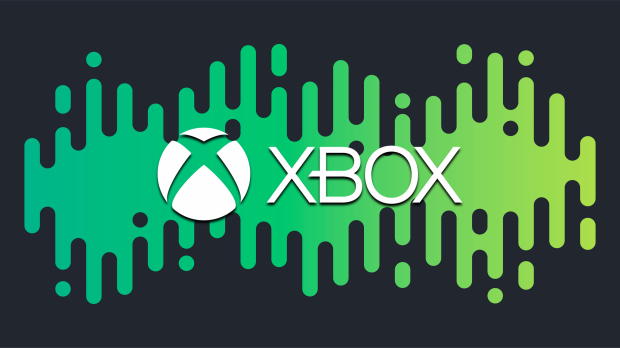 Xbox is soaring right now. Microsoft's gaming branch just acquired Activision Blizzard King, folding in 8 more billion-dollar video game franchises into Xbox's mighty war chest. Starfield has propelled Xbox revenues to all-time highs, setting a record for Q1 results while proving the efficacy of new subscription-based monetization methods.
Starfield's success and subsequent bleed-over into Game Pass not only helped drive $3.92 billion revenues in Q1, making this the highest non-holiday quarter in Xbox history, but the game actually helped Microsoft exceed the highest upper limit of its internal earnings forecasts. Last quarter, Microsoft CFO Amy Hood forecasted that Xbox would make around $3.791 billion as a topline estimate.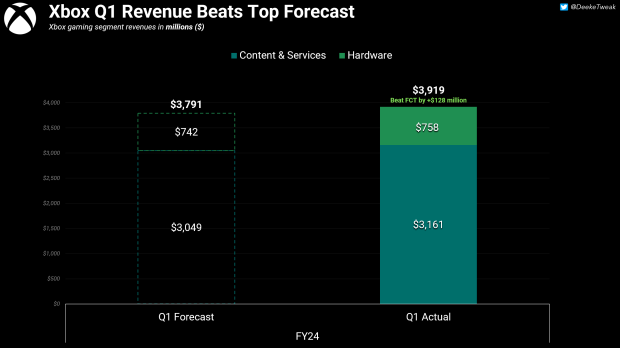 Read Also: Starfield launches Xbox to record-breaking $3.92 billion revenues
Xbox's actual results were much higher. In a somewhat rare occurrence, Xbox beat expectations and delivered $3.919 billion revenues for the Q1'24 period, driven primarily from Starfield's success across the content and services segment. A quick bit of math shows that Xbox managed to surpass this forecast by $128 million.
According to Microsoft CFO Amy Hood, Xbox gaming revenues were expected to rise by "mid-single digits," or about 5%, in Q1 FY24. Xbox revenues actually increased by 9% in the period.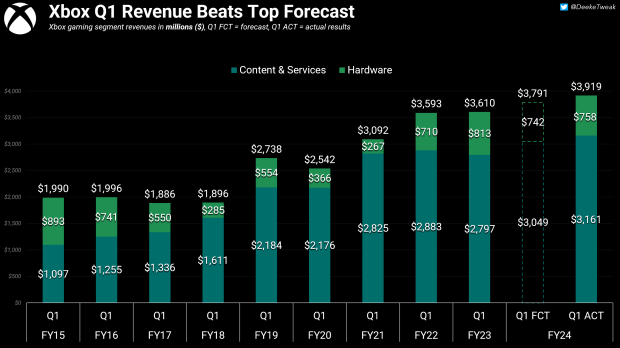 This is a big with for Xbox at a time when the company is spending more than ever on games. Microsoft typically misses its internal earnings targets for its games business; In FY22, Xbox missed forecasted targets by $780 million. It was also revealed that Microsoft had missed its Xbox Game Pass subscriber growth target for FY22 as well.