New internal documents from Microsoft's business leadership shows that Xbox has missed revenue forecasts by over $700 million.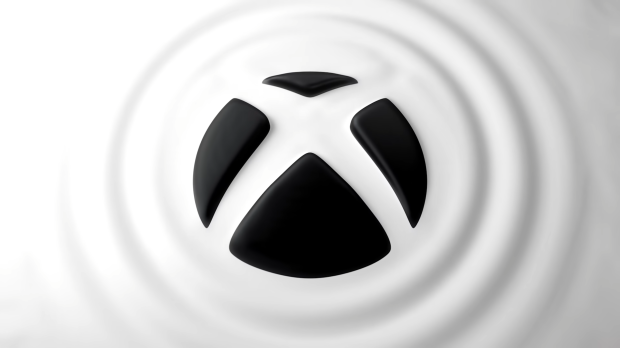 The Microsoft-Activision merger is being challenged in federal courts, (FTC v Microsoft, 3:23-cv-02880-JSC) and a lot of interesting information is being released to the public as a result. Court exhibits have uncovered the dynamics of the Xbox gaming business and the performance expectations from Microsoft's SLT, or Senior Leadership Team. One such metric is Xbox revenues.
The case file exhibit list includes one very illuminating 80-page internal Microsoft document that outlined where Xbox currently is and where it can grow. The slide deck, which was issued during Microsoft's Q3 FY22 (January - March 2023), has assigned an estimated revenue target of $17 billion for the Xbox games division. Actual results were quite different--Xbox made $16.22 billion in FY22, missing the internal target by some $780 million.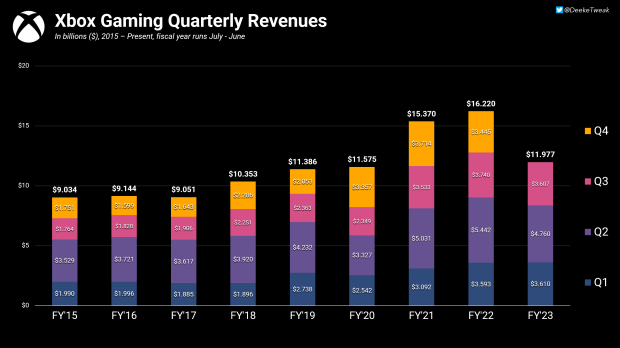 This number is still quite impressive. Microsoft's performance throughout both calendar year 2021 and 2022 was enough to beat Nintendo's revenues for the last two years in a row, despite Nintendo having the best-selling console on the market today.
This wasn't the only target that Xbox failed to achieve in FY22. Microsoft's SEC filings indicate that the Xbox division did not meet the expected growth rate for Xbox Game Pass subscriptions.
Microsoft management wanted to grow Game Pass subscriptions by 72.8% throughout FY22. Our records show that Game Pass grew from 18 million in Q3 FY21 to 25 million in Q3 FY22, representing a growth rate of about 33%.
Xbox Game Pass would needed to have grown to at least 31 million subscribers in order to meet this goal.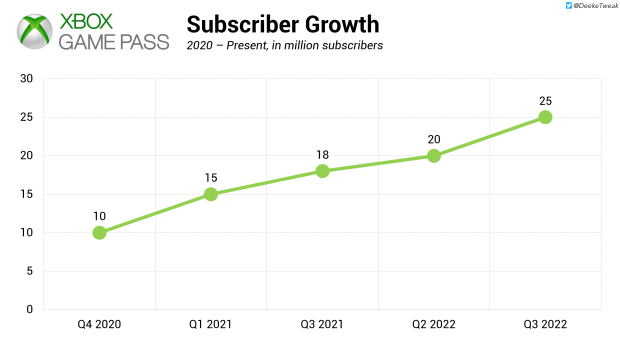 This observation lends credence to testimony offered by Xbox gaming CEO Phil Spencer during during day 2 of the federal case's evidentiary hearing. In a line of questioning from FTC lawyer James Weingarten about the performance of the Xbox games division, Spencer said:
Q Your business is not necessarily meeting its internal targets today?

It is not right now, no.
Microsoft has also said that it sees the console segment of the games industry growing at a slower rate, and that the main reason it chose to acquire Activision-Blizzard was to help establish its mobile business--an area that Xbox has been lagging considerably. As per Microsoft, ATVI is the largest independent mobile games publisher outside of the Chinese market.