Publishers and developers are using Xbox Game Pass subscriptions to help catalyze growth of newer monetization methods, signalling another disruptive shift across gaming.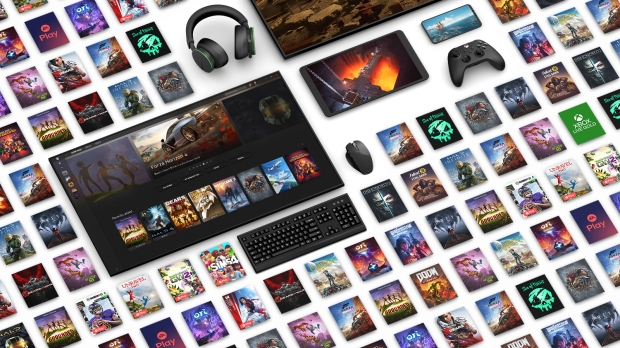 Xbox Game Pass is kind of like a river of revenue, and like a major river, there's all sorts of smaller tributaries and streams that feed into the flow. The main draw of Game Pass is being able to access hundreds of games for a flat fee, but it's the myriad of smaller synergistic monetization paths that help turn the river's flow from a meandering waterway into white water rapids.
The temporary-access, all-you-can-play model behind Game Pass gives way to other avenues, two of which are being leveraged to what appears to be great success. These include early access and incredibly attractive pricing discounts.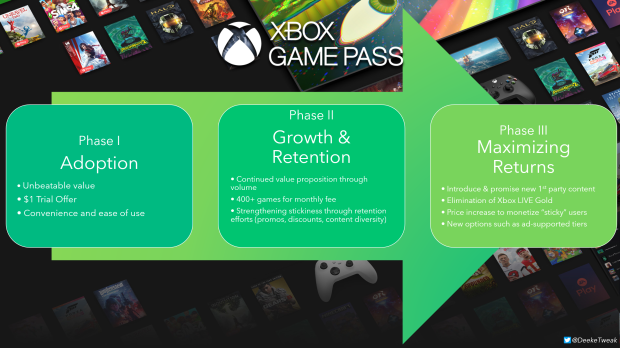 Read Also: Xbox Game Pass subscribers expected to grow to 110 million by 2030
Early access and premium upgrades
The first method isn't new. Early access has been around for some time--even inside of Xbox's own ecosystem--however this time around, publishers seem to be arbitrarily rescheduling game releases in an effort to get more upfront cash.
What sets apart this version of early access is that the game is actually finished. Contrary to the normalized early access approach, players aren't paying a reduced fee to play a game that's in development and helping shape the game through their feedback.
This new model is just tacking on an extra fee to play a game X amount of days early.
Under this model, early access is lumped in with the higher-priced $99 version of games. This price point is often the typical Premium/Deluxe editions offered by publishers, which normally includes a base game at $69.99 and then a $29.99 season pass with extra DLC content.
Microsoft has apparently enjoyed success with this method, especially with Starfield, which offered 5 days early access to gamers that bought the Premium Edition.
Another big part of this early access approach is allowing Xbox Game Pass subscribers to upgrade to the premium version of games for a one-time fee. This is called the "premium upgrade" path.
The fee is lower than buying the game outright, however the game cannot be access without an active Game Pass subscription. So in essence, gamers aren't actually buying anything with this model other than temporary access to the content. It's basically how PlayStation Plus Essential games have worked for years.
Steep discounts for Game Pass subscribers
The second model is centered around a simple concept: Saving a bunch of money.
Subscriptions need three things in order to be successful: Content, value, and convenience. Game Pass hits all three of these boxes, and it does so in a way that's unavoidable and obvious to the everyday consumer. Game Pass can save you a lot of money if you're a budget-savvy gamer.
Some Game Pass models go beyond everyday cost savings. Oftentimes we will see such incredibly steep discounts and offers available to Game Pass subscribers that there's simply no better way to access a specific game.
Case in point: The new High On Life Game Pass bundle discounts the base game plus the new DLC for just $15.99. The deal is exclusive to Game Pass subscribers. That's a massive savings compared to the $49.99 DLC bundle that is offered for non-Game Pass subscribers.
This is a trend that could catch on for older catalog titles that may receive DLC over time, or for publishers/developers that are trying to move more unit sales of their games, especially within the framework of lucrative Xbox Game Pass content deals.
And, as we know, developers can receive bonuses from Microsoft if their games are played more on Game Pass. The steep discounts would encourage not only sales, but also playthroughs of specific games.
These two monetization points may gain traction over time as Microsoft and its partners iterate the subscription model over time.