With a resolution of 1100 x 3840 pixels, the 14.1-inch capacitive touchscreen display on the new Y70 Touch case from HYTE makes it the first '4K' PC case we've seen. The latest edition to the company's slick Y-Series of cases puts a big display on one of the corners of the fishbowl-like see-through design.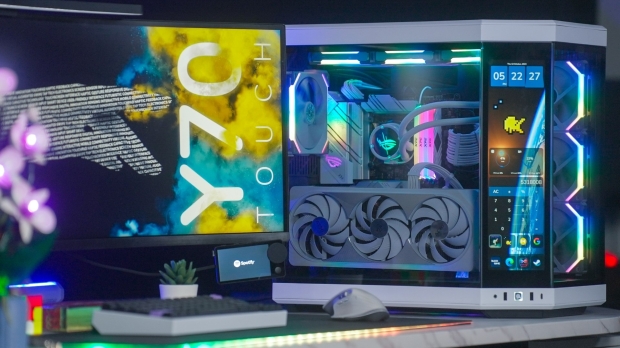 The 10-point multi-touchscreen display with a 283 PPI pixel density and 60 Hz refresh rate arrives pre-installed on the HYTE Y70 Touch. Per the images provided, the HYTE Nexus Touch interface for the display is all about integrating handy features for users to play and engage with.
In addition to being able to monitor PC performance (naturally), there's even an option to display Twitch chat for streamers and viewers (that you can interact with), Google calendar features, weather reports, a notation system, and more. As far as fancy features for a PC case designed for gaming go - this is right up there!
And yes, you can play Tetris on it.
As for the rest of the HYTE Y70 Touch, you're looking at a pretty large capacity to house components with support for four-slot vertical GPU orientation (HYTE includes a PCIE 4.0 x 16 Luxury Riser Cable), a 360mm radiator on the top and side, and support for up to 10 fans. The overall design has been optimized for airflow, cable management, and ease of installation thanks to tool-free accessibility.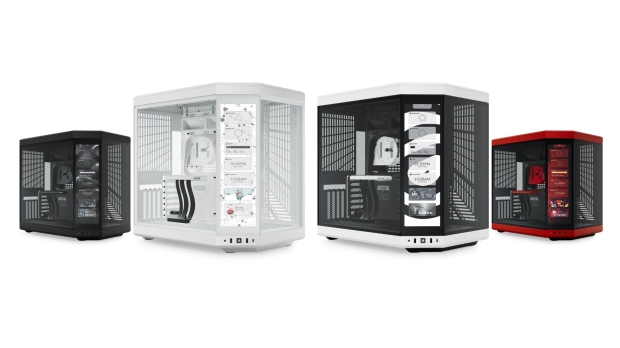 Available in four colors - snow white, white/black, red/black, and black - the HYTE Y70 Touch features an MSRP of USD 359.99 and is available now in the United States and Canada. HYTE notes that PC gamers in other countries can look forward to the case hitting their shores sometime in December.
For more info, check out the official product page.