Rockstar Games is expanding its GTA+ subscription to include mobile games.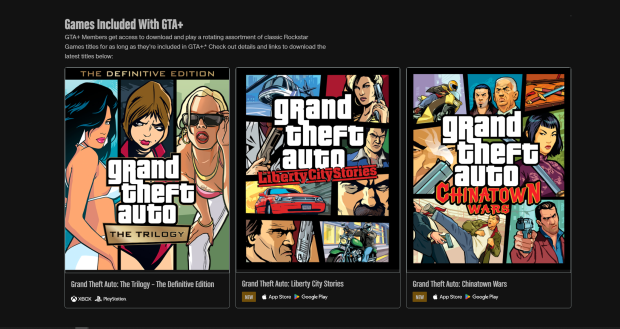 GTA+ is essentially Rockstar Games' own personal publisher-specific Game Pass subscription. The service was originally created to supplement GTA Online content by offering a slew of bonuses and extras, but recently expanded to include classic games.
Users who pay $5.99 per month will now get access to a handful of Rockstar titles across consoles and mobile, complete with a cyclic catalog that rotates games in and out on a specific timed basis.
The subscription has added two new games to its lineup and looks to be the definitive place to access and play classic GTA games across a spectrum of devices. Rockstar added the GTA trilogy remaster collection earlier this month, and has now dropped two more GTA titles in the mix as well: GTA Liberty City Stories and GTA Chinatown Wars, both of which will be available to download via the App Store for iOS devices and Google Play for Android tablets and smartphones.
Back in June, dataminer Vadim M. uncovered even more classic Rockstar games that could show up on GTA+ including Max Payne and Bully. It's unknown when (or if) these titles will show up, but both the aforementioned Liberty City Stories and Chinatown Wars were also on this list and those have just been announced.
GTA+ is currently only available on PS5 and Xbox Series X/S consoles and may expand to PC at some point.
We have to wonder how--if at all--GTA+ will interact with Grand Theft Auto 6. Years ago, TweakTown predicted that GTA 6 would not only have its own GTA Online mode, but potentially even connect to the existing GTA Online infrastructure in a bid to link the games together in an ambitious way, however Rockstar rebooted GTA 6's development in 2019, so it's anyone's guess what exactly will happen.