The Open Compute Project (OCP) Global Summit 2023 is underway. KIOXIA is showcasing its extensive data center and enterprise SSD solutions lineup alongside next-generation technology, Software-Enabled Flash technology, and PCIe 5.0 SSDs. Its presence at the Summit is about connecting and collaborating with customers focused on the same goals across enterprise and hyperscale data centers.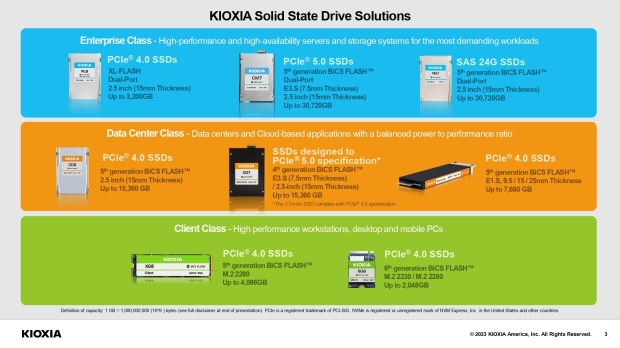 Collaboration is one of the key reasons why the Software-Enabled Flash technology movement and KIOXIA's involvement are so impressive. Spearheaded by the Linux Foundation, Software-Enabled Flash technology is all about open-source SSDs designed to meet the needs of hyperscale environments like the cloud. It gives developers direct control to maximize the benefit of flash memory - KIOXIA's specialty.
KIOXIA's presence includes a broad portfolio of products, including low-latency KIOXIA XD7P Series EDSFF E1.S SSDs and the new PCIe 5.0 KIOXIA CD8P Series U.2 Data Center NVMe SSDs.
"Whether it's increasingly dynamic workloads or more data-intensive technologies, today's businesses are facing many challenges - and we're here to be part of the solution," said Neville Ichhaporia, senior vice president and general manager of the KIOXIA SSD Business Unit. "On our journey with the Open Compute Project community, we have witnessed firsthand the commitment that this growing alliance of companies has to collaborative innovation. These united efforts will shape the data center landscape for years to come."
Here's a look at what to expect from KIOXIA at OCP Global Summit 2023.
KIOXIA XD7P Series EDSFF E1.S SSDs: KIOXIA E1.S drives will be shown running a RocksDB workload showcasing high throughput and low latency.

KIOXIA LD2-L Series E1.L SSDs Running High Throughput FIO: Showcasing the extreme density of 960 terabytes in a single rack unit. FIO workload showing sequential read workload to highlight performance. Maximum throughput from 32 SSDs tops 100 gigabytes/s of sequential read.

KIOXIA CD8P Series U.2 Data Center NVMeTM SSDs: The KIOXIA CD8P Series SSD is one of the first data center class PCIe 5.0 SSDs coming to the market. Providing high performance at a reasonable cost for data center workloads, the KIOXIA CD8P Series can be used to rapidly access large data sets used by cloud and data center providers.

Software-Enabled Flash: KIOXIA will showcase the first software-defined flash storage hardware device in an E1.L form factor supporting the Linux Foundation Software-Enabled Flash Project.
For more info, head to www.kioxia.com