AMD has updated the AMD Software: Adrenalin Edition Technical Preview Driver for AMD Fluid Motion Frames, with Version 23.30.01.02 adding a new and notable update over the weekend. Per the release notes, AMD Fluid Motion Frames, the company's frame generation technology, is similar in functionality to NVIDIA DLSS 3 Frame Generation and can now be "globally enabled on all DirectX 11 and 12 titles."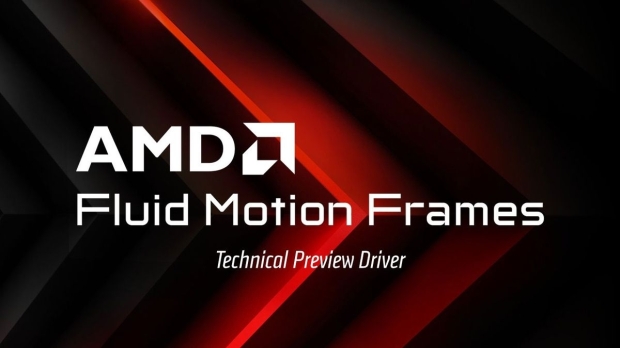 This is a pretty major update as it allows the driver-level implementation of AMD's frame generation tech to be enabled across all major PC games - with the option to turn AMD Fluid Motion Frames on or off per app. The other major update related to the quality of Fluid Motion Frames, with improvements made to frame pacing "resulting in an overall smoother gameplay experience and improved image quality." Finally, the update also adds HDR support to AMD Fluid Motion Frames.
Frame pacing has been one of the issues for those testing Fluid Motion Frames, alongside having to enable v-sync for the best results. As with NVIDIA DLSS 3, the technology generates frames - a process that adds latency - so AMD recommends using AMD Radeon Anti-Lag and the newer Anti-Lag+. But based on recent reports, you should hold off on enabling the technologies in online multiplayer games like Counter-Strike 2.
Per our report from Friday, enabling Anti-Lag+ technology in Counter-Strike 2 has resulted in VAC bans for players, with the reason coming down to how Anti-Lag+ works. Unlike NVIDIA Reflex, which is integrated into a game, the Radeon RX 7000 Series exclusive Anti-Lag+ messes with game dlls and code - which, for an online game susceptible to hacks and cheating, is a big problem.
It doesn't stop there, as Anti-Lag+ is causing issues with Call of Duty and Apex Legends. AMD is looking into the matter, advising not to use Anti-Lag+ in a competitive shooter. For those wondering, this is not an issue with NVIDIA Reflex, as it's a tech integrated on a per-game basis in the most popular competitive titles.
AMD's driver-level solution for latency reduction and frame generation is exciting in that it opens the door to all games, but it looks spotty in its current state. It's great to see support for all DirectX 11 and 12 games alongside support for Radeon RX 6000 Series GPUs. But, with ongoing Anti-Lag+ issues and the driver-level version only supporting the older and inferior FSR 1.0 for upscaling, there are limitations. Interestingly, the preview driver update adds Anti-Lag+ support to a bunch of new games:
MechWarrior 5: Mercenaries

Deep Rock Galactic

Warhammer 40,000: Darktide

Sniper Elite 5

Returnal

Remnant II

Spider-Man: Miles Morales

Spider-Man Remastered

PUBG: BATTLEGROUNDS

Call of Duty: Modern Warfare II

Tiny Tina's Wonderland

Hogwarts Legacy

Resident Evil 3
But as of now, it's best to avoid enabling it in the online competitive and co-op titles in the list - like Call of Duty: Modern Warfare II.
More updates are expected in the coming days/weeks.