AMD currently has its codename "Phoenix" APUs in the form of Ryzen 7040 series mobile processors, but now we're expecting the upgraded codename "Strix Point" and "Strix Point Halo" APUs that will arrive in 2024 under the Ryzen 8050 series mobile processors.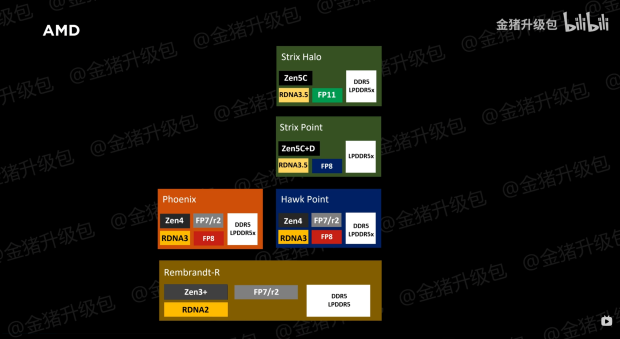 Before that, we'll see AMD release its new Phoenix APU refresh APUs codenamed Hawk Point, which will be a refresh of the current Ryzen 7040 series APUs. They'll use the current Zen 4 architecture, topping out at 8 cores and 16 threads, compatible with FP7/r2 and FP8 platforms bringing support for DDR5 and LPDDR5X memory.
AMD's next-gen Strix Point APU will use the new Zen 5 CPU architecture based on the 4nm process node at TSMC, on a monolithic design. We'll see up to 12 cores in a hybrid configuration -- so, Zen 5 + Zen5C + with 32GB of shared L3 cache. Performance-wise, we're to expect a 35% performance uplift over the current Phoenix APU at 50W.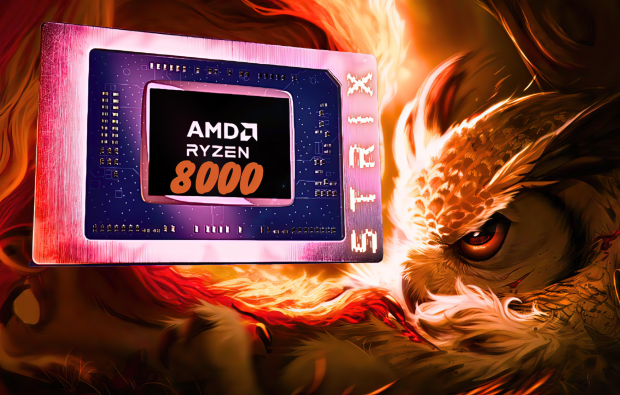 GPU-wise, the new Strix Point APU will have 16 RDNA 3+ Compute Units offering gaming performance that should meet NVIDIA's GeForce RTX 3050 Max-Q graphics. AMD will be using a 128-bit LPDDR5X memory controller, XDNA Engine integrated, 20 TOPS AI engine, and more. As for when we'll see Strix Point APUs hit laptops, current rumors suggest Q2 2024 or Q3 2024 at the latest.
The beefier Strix Point Halo APU will reportedly feature a Zen 5 chiplet design -- versus the Zen 5 monolithic on the Strix Point APU -- with up to 16 cores (only up to 12 cores in the hybrid configuration of Strix Point) -- and a whopping 64MB of shared L3 cache. We're expecting performance that's 25% faster than the 16-core "Dragon Range" APU at 90W, which makes for a beefy laptop CPU.
GPU cores get upgraded in AMD's next-gen Strix Point Halo APU, with an expected 40 RDNA 3+ Compute Units (up from just 16 on Strix Point) with gaming performance expected to be on-par with NVIDIA's GeForce RTX 4070 Max-Q graphics at 90W. Not bad, not bad at all, AMD.
AMD is reportedly using a wider 256-bit LPDDR5X memory controller (versus the 128-bit on Strix Point) with a release in the second half of 2024 expected at this point.
AMD Ryzen 8050 Strix Point Mono Expected Features:
Zen 5 (4nm) Monolithic Design

Up To 12 Cores In Hybrid Config (Zen 5 + Zen 5C)

32 MB of Shared L3 cache

35% Faster CPU Versus Phoenix at 50W

16 RDNA 3+ Compute Units

On Par With RTX 3050 Max-Q

128-bit LPDDR5X Memory Controller

XDNA Engine Integrated

20 TOPS AI Engine

Q2-Q3 Launch (Expected)
AMD Ryzen 8050 Strix Point Halo Expected Features:
Zen 5 Chiplet Design

Up To 16 Cores

64 MB of Shared L3 cache

25% Faster CPU Versus 16-Core Dragon Range at 90W

40 RDNA 3+ Compute Units

On Par With RTX 4070 Max-Q (90W)

256-bit LPDDR5X Memory Controler

XDNA Engine Integrated

40 TOPS AI Engine

2H 2024 Launch (Expected)