There's been a lot of discussion around the PC version of Starfield since the game officially launched last week, and a lot of it has centered on whether or not optimization looks to have been primarily focused on AMD GPUs compared to those from NVIDIA and Intel. And with that, the latter looks to be suffering the most, but Intel is hard at work releasing multiple driver updates for Starfiled on PC for its Intel Arc line of desktop GPUs.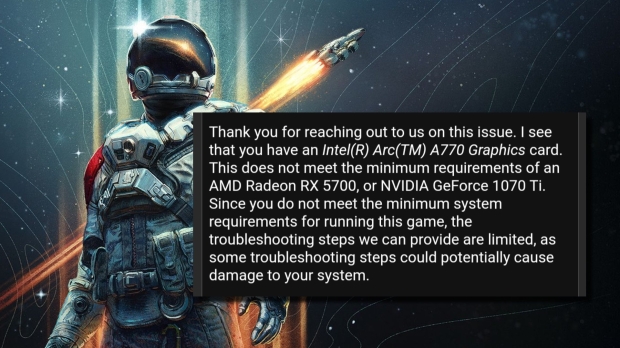 The latest driver update from Intel fixes a few more Starfield issues, from improving performance and stability to fixing some visual bugs and glitches like missing character eyebrows. Per the release notes for the new Intel Arc 31.0.101.4676 Non-WHQL driver release, several outstanding issues remain to iron out.
Some are related to performance, while others are still associated with glitches like low-res textures loading instead of high-quality assets and flickering objects with certain light sources. So Starfield on Arc isn't a great experience (yet), and kudos to the Arc driver team for working hard to improve things. However, Bethesda's comments on Arc graphics are a little surprising.
According to Reddit user GeneralAkAbA, who's rocking an Intel Arc A770 Graphics Card (which featured 16GB of VRAM), Bethesda's support team informed them that this GPU "does not meet the minimum requirements of an AMD Radeon RX 5700 or NVIDIA GeForce GTX 1070 Ti." The implication is that the GPU is not powerful enough to run Starfield, even though the Arc A770 specs on paper should lead to greater performance than the Radeon RX 5700 and the GeForce GTX 1070 Ti without breaking a sweat.
Most likely, this is a case of Bethesda's support team not having any official documentation or troubleshooting guides for Intel Arc graphics, as the support ticket was in relation to crashes and overall lag. Of course, Starfield can run on Intel Arc graphics, and the company will release driver updates as soon as it has more fixes for the game. Currently, the outstanding 'Known Issues' for Starfield on Intel Arc graphics are as follows:
Starfield (DX12) may experience sporadic instability in some areas of the game.

Starfield (DX12) may exhibit corruption when using Dynamic Resolution Scaling. A workaround is to change the Render Resolution Scale slider value.

Starfield (DX12) may exhibit low texture details on certain objects in the game.

Starfield (DX12) may exhibit texture flickering on light sources during gameplay.