The James Webb Space Telescope has aimed its extremely powerful instruments at Supernova 1987A, or more specifically SN 1987A.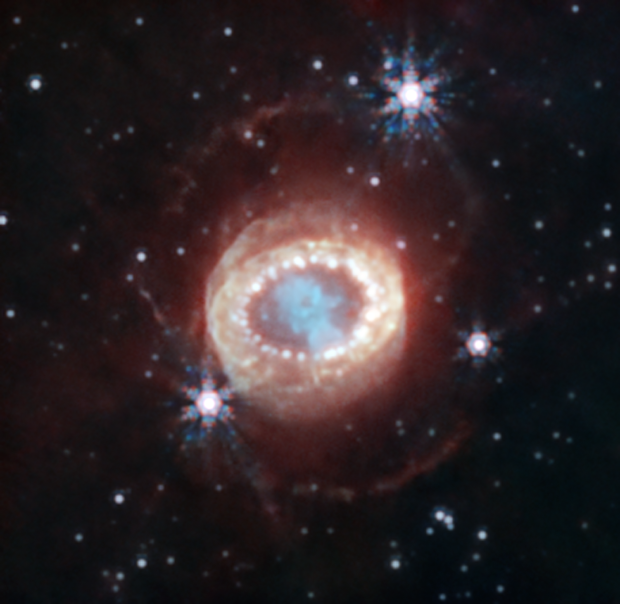 The supernova is located 168,000 light-years away in the Large Magellanic Cloud, and over the course of 40 years since its discovery, the supernova has been a target of intense observation. Hubble originally spotted the cosmic structure in 1987, and now, with Webb's new observations, NASA has published what it's calling the "most clear & detailed look yet".
According to a new blog post on NASA's website, the image reveals a central structure like a "keyhole", which is jam-packed with clumps of gas and dust that has been ejected by the supernova explosion. Notably, the dust at the center of the image is so dense that even Webb's infrared instruments are unable to pierce it, which is what they are designed to do.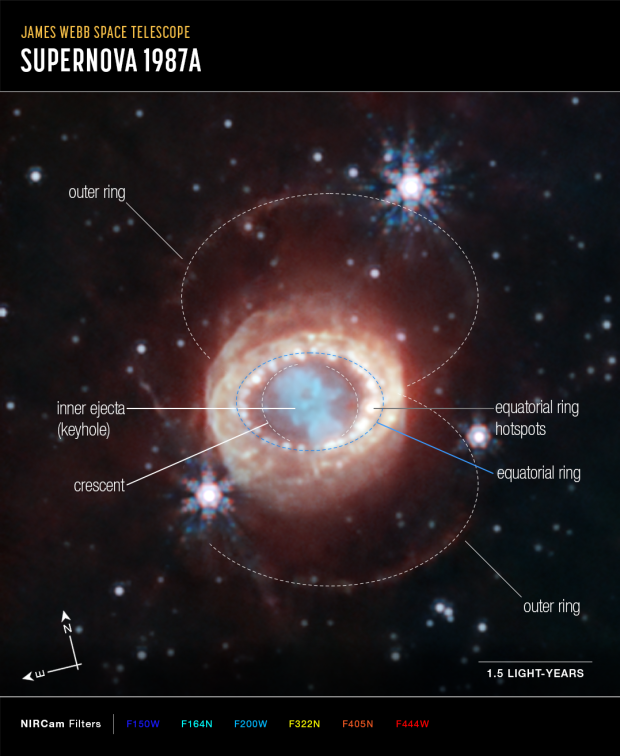 "A bright, equatorial ring surrounds the inner keyhole, forming a band around the waist that connects two faint arms of hourglass-shaped outer rings. The equatorial ring, formed from material ejected tens of thousands of years before the supernova explosion, contains bright hot spots, which appeared as the supernova's shock wave hit the ring. Now spots are found even exterior to the ring, with diffuse emission surrounding it. These are the locations of supernova shocks hitting more exterior material," writes NASA
"Webb revealed a new feature in this supernova remnant - small crescent-like structures. These crescents are thought to be a part of the outer layers of gas shot out from the supernova explosion. Their brightness may be an indication of limb brightening, an optical phenomenon that results from viewing the expanding material in three dimensions. In other words, our viewing angle makes it appear that there is more material in these two crescents than there actually may be," adds NASA