When Apple announces the new iPhone 15 Pro and iPhone 15 Pro Max, likely next month, it's expected hat they will both get a new titanium construction. If that happens we can likely expect the new handsets to be noticeably lighter than the models that came before them.
How much lighter will the new iPhones be? That's a difficult one to try and figure out, but that hasn't stopped 9to5Mac from having a go at it. The figures produced are prefaced with a few caveats including the fact that the figures might not be all that accurate. But they could at least give us an idea of what we can expect from the new models.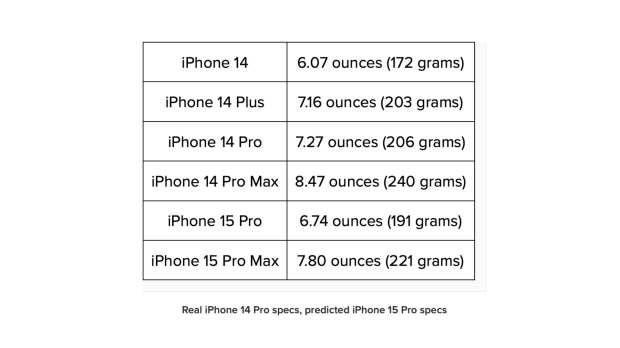 Apple's Pro iPhones have historically used a stainless steel construction which makes them heavier than the aluminum constriction associated with the non-Pro models. But the move to titanium could change that, and these figures make for some interesting reading.
According to the report, the iPhones will come in at 191 grams for the iPhone 15 Pro and 221 grams for the larger iPhone 15 Pro Max. To put that into some sort of perspective, the iPhone 14 Pro weighs 206 grams and the iPhone 14 Pro Max weighs a whopping 240 grams.
If these figures are even remotely accurate then we can probably expect the new iPhones to be a fair bit lighter when compared to their iPhone 14-series counterparts. Whether people will notice that in the day-to-day use of these handsets remains to be seen of course, and the Pro models are still likely to weigh more than the non-Pro handsets regardless. But any closing of the gap is sure to be a welcome one for those who lambast the weight of Apple's best iPhones.
If all of the rumors are true we can expect Apple to announce the new iPhones in September, likely on the 12th or 13th. The former seems the most likely, with the iPhones then going up for preorder the Friday of that week. The new handsets will then likely go on sale on September 22.
The iPhone 15, iPhone 15 Plus, iPhone 15 Pro, and iPhone 15 Pro Max aren't the only new devices set to be announced next month of course. The Apple Watch Series 9 and Apple watch Ultra 2 are also expected to make their debut at the same event and then go on sale at the same time. That should make Apple Stores particularly busy towards the end of September.