AMD is all set to unveil its new mid-range and enthusiast RDNA 3 GPUs later this month, with the Radeon RX 7800 XT and Radeon RX 7700 XT set to fill the gap between the mainstream Radeon RX 7600 and the flagship Radeon RX 7900 Series. Sources indicate that the reveal is expected at the upcoming Gamescom event in Germany, with the launch soon after that.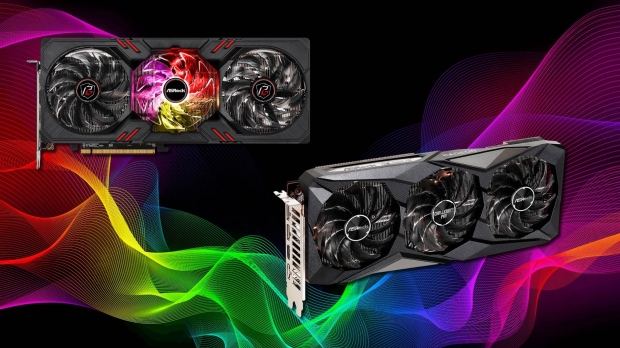 Although AMD has yet to confirm these GPUs' existence officially, we're now at the stage where product info and specs are popping up online. Last week PowerColor inadvertently posted the full product page for its newPowerColor Radeon RX 7800 XT Red Devil graphics card, and today we've got info on new Radeon RX 7800 XT and Radeon RX 7700 XT models coming from ASRock.
Not a leak per se, but a filing (via @momomo_us) for new products that confirm that the Radeon RX 7800 XT will indeed feature 16GB of VRAM while confirming that the Radeon RX 7700 XT will feature 12GB of VRAM. With the Radeon RX 7700 XT set to feature a cutdown 'Navi 32' GPU, 12GB of GDDR6 memory implies it will have a 192-bit memory bus.
The memory configuration is similar to what's found in the GeForce RTX 4070, though in NVIDIA's Ada GPU, it's faster 12GB of GDDR6X memory on a 192-bit bus. Based on the ASRock listing, the company is planning to launch two Radeon RX 7800 XT models in the company's Steel Legend (SL) and Challenger (CL) series, with the Radeon RX 7700 XT getting three models with an additional Phantom Gaming (PG) model.
It's worth noting that as this is a regulatory listing, companies can submit products and models for approval without ever releasing them - but this is definite proof that the AMD Radeon RX 7700 XT will feature 12GB of VRAM in a similar configuration to the previous generation's Radeon RX 6700 XT.