Flash Memory Summit 2023 is kicking off this week, and KIOXIA will be on hand to demonstrate the latest next-gen applications and SSD technologies at its Making the Future of Flash keynote presentation and educational sessions. The new KIOXIA CD8P Series, which brings PCIe 5.0 performance and speed to data centers, will be on hand, plus a live demo of the SSD tech featured on the International Space Station.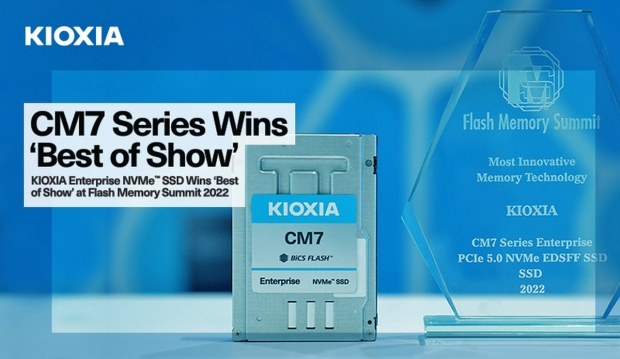 The company plans to showcase the latest advances made to the company's s BiCS FLASH 3D flash memory, including the newly announced CD8P data center SSDs. KIOXIA has been developing flash memory solutions for data centers and enterprises since it invented the technology 35 years ago - and the company's Flash Memory Summit presence is all about what the future holds, from data centers to automotive to mobile applications, AI, and more.
"Flash memory continues to be a disruptive technology - even decades later," said Scott Nelson, executive vice president and chief marketing officer for KIOXIA America, Inc. "High-density, scalable storage technology from KIOXIA is enabling new applications in both emerging and existing markets."
Architectural advances have seen BiCS FLASH 3D flash memory evolve over the years, not only in terms of performance and density but also in cost-effectiveness. The "KIOXIA: Making the Future of Flash" keynote will be presented by Shigeo (Jeff) Ohshima, technology executive, SSD Application Engineering for KIOXIA, and is set to be a deep dive into the company's portfolio.
This will be followed by several education sessions ranging from 'Design a Flash-Centric Storage Architecture for an Optimized Cloud Data Center' to 'Applications, Use Cases and Benefits of a Linux Foundation-Managed Open Source, Software-Defined Flash Solution.' A nod to the recent announcement and exciting open-source SSD breakthrough from KIOXIA and the Linux Foundation.
KIOXIA will also have a sizable two-level boot (Booth #307) at Flash Memory Summit 2023, taking place at the Santa Clara Convention Center from August 8-10 with demos covering:
Next Generation KIOXIA BiCS 8 FLASH 3D Flash Memory: Display showing CMOS Bonded Array (CBA) architecture and a lateral density model.
KIOXIA CM7 Series E3.S Enterprise NVMe SSDs: Live demo with XINNOR and SuperMicro highlighting the EDSFF form factor.
KIOXIA CM7 Series Enterprise NVMe SSDs: Live demo with NeuroBlade running an analytics workload.
KIOXIA CD8P Series Data Center SSDs: Live demo highlighting the performance of this newly released product.
KIOXIA CXL Solutions: Introduction to BiCS FLASH 3D flash memory and XLFLASHTM high-bandwidth, low-latency CXL solutions.
Spaceborne Computer-2 program: Kiosk demonstration that details how HPE and KIOXIA are working together on the HPE Spaceborne Computer-initiative in the International Space Station.
KIOXIA XFMEXPRESS XT2: Live demo showing XFM DEVICE Ver.1.0-compliant removable PCIe attached, NVMe storage device.
KIOXIA Automotive UFS: AEC-Q100 Grade 2 compliant UFS device on a Qualcomm Snapdragon SA8295P automotive development platform.
KIOXIA Flash Hardware: Showcasing flash hardware to support the Linux Foundation's "Software-Enabled Flash" Open Source Project.
For more info, head over to www.kioxia.com.