Getting a brand new 4K TV in 2023 is an exercise in setting things up via connecting multiple devices - especially if you own one or more videogame consoles. Multiple HDMI 2.1 inputs that can handle a 4K 120Hz signal with HDR are a must for modern lounge-room displays - and LG's OLED range is no different.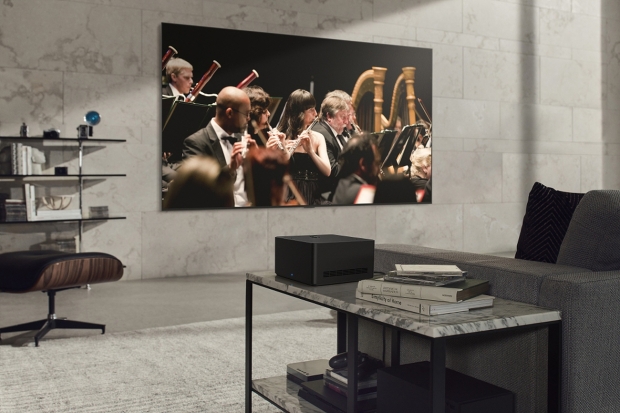 However, LG's latest signature OLED TV presents an experience "completely free of cables" outside of connecting up power. LG notes that its Zero Connect Box is the world's first wireless solution to handle real-time video and audio at 4K 120Hz (including Dolby Vision and Dolby Atmos). It is "a new, hassle-free way of managing cables and connected devices," according to the announcement.
The only catch is that the Zero Connect Box is limited to the 97-inch LG SIGNATURE OLED M (model 97M3), currently only available in South Korea. The company plans to roll out the flagship display to the North American and European markets later this year.
The Zero Connect Box supports HDMI 2.1, USB, RF, LAN, and Bluetooth - so there is no need for cables to be plugged into the TV. Transmitting a signal at this high fidelity is no easy feat, with LG saying that data via the box is being sent at three times the speed of the Wi-Fi 6E standard - and includes the ability to adjust the antenna to ensure an "optimal transmission path."
LG's 97-inch OLED TV is not what you'd call affordable by any stretch, but the good news is that the Zero Connect Box will make its way to 83 and 77-inch OLED Evo M models "in the near future." When will wireless technology reach the popular 55 and 65-inch models? Time will tell; undoubtedly, LG plans to bring the tech to a more mainstream audience.
"The technical feat of the 97M3 was made with LG's decade-long commitment to creating new customer value as a market pioneer," said Baik Seon-pill, LG Home Entertainment Company's Product Development Division leader. "As well as delivering the ultimate viewing experience on an ultra-large screen, our first-of-its-kind wireless LG SIGNATURE OLED M presents customers with a new level of freedom in arranging their living spaces."