Samsung has been careful not to use the word affordable for the launch of its massive Samsung 98-inch QLED Q80C 4K Smart TV, now available in the US, Europe, and Australia - because we're not at a stage where displays this size are anywhere near affordable. But, using the word 'accessible' makes sense as the USD 7,999 and AUD 11,649 is almost half the price of its predecessor, the Samsung Neo QLED 98" QN90A 4K Smart TV.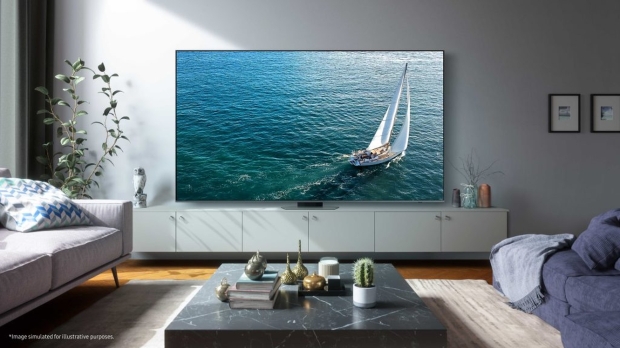 It's a massive price drop, with the display still sporting the same high-end QLED features across Samsung's premium line-up - from Quantum Dot technology to improve colors to Quantum HDR+ and a 4K resolution at 120 frames per second via HDMI 2.1. 98 inches is huge for a TV, so if you've got the space (and the money to spare), getting one of the biggest TVs on the market could be the thing to take your gaming and movie watching to the next level.
Sporting the company's latest processor and Tizen Operating System, it's a display packed with great gaming features - including changing the 16:9 aspect ratio to an ultrawide 32:9.
Throw in the Game Bar that displays all the info you need, including VRR stats and performance, and this could be the ultimate screen to pair with a GeForce RTX 4090 to play all of the latest PC games. An ultrawide 32:9 aspect ratio at 98 inches? Yeah, it sounds amazing. Of course, with an attached Xbox Series X or PlayStation 5, you get the full benefits of game-specific calibration (including Motion Xcelerator Turbo+ for low latency) and HDMI 2.1 features. There's also Samsung Gaming Hub for cloud streaming.
Although the price makes the Samsung 98-inch QLED Q80C 4K Smart TV unattainable for most, it's great to see the massive Samsung QLED offerings come down in price, just like we saw with 65-inch and 75-inch models.